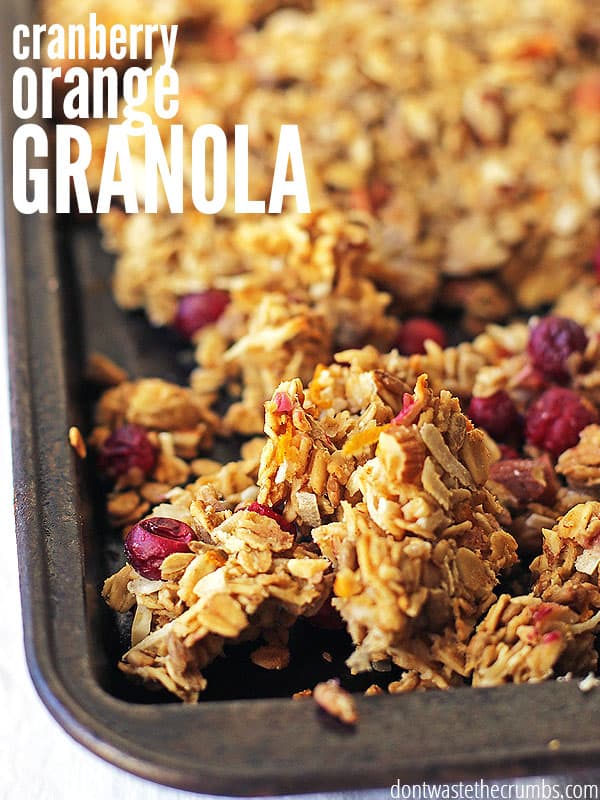 Oh my gosh you guys, I think I might have fallen in love with granola. When Renee shared this granola recipe, I was practically drooling on my keyboard.
She reminded me of two very important things:
1) how much I love the flavors of cranberry and orange
2) how much I miss the convenience of a bowl of cereal.
When we cleaned out the kitchen of junk food early in our real food journey, cereal was on that list. Every box had a looooong list of ingredients and enormous amounts of sugar.
And those are the same two reasons why I haven't bought a box of cereal since.
BUT NO ONE TOLD ME YOU COULD EAT GRANOLA AS CEREAL!
I say that in all caps, because if someone had told me this sooner, I'm sure I wouldn't have given all those bags of granola on store shelves the stink eye, or maybe made a quadruple batch of this amazing granola.
Perhaps – just maybe – I would have been more open to granola if I had known that…
you can eat granola hot or cold, with milk or without
it's a hearty, filling, real food meal that's low in sugar
it's very inexpensive to make
it's a very hands-off recipe
You guys. WHY DIDN'T SOMEONE TELL ME SOONER?!?!
So here's the deal. I'm making more granola. And I'm sharing the recipes. For two reasons.
(1) Because sometimes you just want of a bowl of cereal too.
I totally understand that sometimes you need a bowl of cereal (and that "you" sometimes means "the people you feed" because you can't possibly muster the time/energy to make one.more.meal.).
But I have a question to ask you: Do you still buy boxes of cereal? Are you diligently reading labels?
Kudos to you if you're reading the labels and turning down an easy breakfast. If you're not there yet, no worries. Just know that there are better options, and homemade granola is one of them.
(2) Because every time my husband walked through the kitchen, he snagged some from the tray.
I'm totally not kidding here. I distinctly remember standing in the kitchen, cleaning up my mess and Mr. Crumbs walking by, grabbing handfuls of granola off the cookie sheet with each pass he took.
"I thought you didn't like granola," I asked him.
"I didn't think I did either. Guess I was wrong," he says as he pops another handful in his mouth.
Proof that even picky eaters can change their ways!
So let's break the silence of the awesomeness of granola together, and celebrate with the flavor of the season – Cranberry Orange Granola.
What's awesome about this particular recipe is that you can use fresh or dried cranberries (how to make your own dehydrated cranberries). My family actually preferred the fresh cranberries because of the tartness they gave when you bit into them with the chunks of granola.
Speaking of chunks, there's a trick to making granola CLUSTERS versus just granola and I explained it in my first granola post.
That method still works in this recipe too, so feel free to adapt to make clusters. I promise you won't regret it!
Also note that this recipe includes almonds and sunflower seeds – both vital staples in my frugal real food kitchen. Feel free to substitute with pecans, walnuts, cashews or any other seeds/nuts you have leftover from the holidays. That's one of the beauties of granola – you can mix/match however you want!
Homemade Cranberry Orange Granola
Author: Tiffany
Prep Time:

10 mins

Cook Time:

15 mins

Total Time:

25 minutes

Yield: approx

8 cups

1

x
Category:

Breakfast

Method:

Bake

Cuisine:

American
3 cups

old fashioned rolled oats

1/2 cup

coconut flakes

1/2 cup

sunflower seeds

1/2 cup

almonds chopped (measured after chopping)

1/4 tsp

cinnamon

1 1/2 cups

fresh cranberries OR

1/2 cup

dried cranberries

3 Tbsp

coconut oil, melted

2 Tbsp

orange zest (about

one

orange)

5 Tbsp

orange juice (about

one

orange)

3 Tbsp

maple syrup

1/2 tsp

vanilla

1

egg white (optional, for making clusters)

3 Tbsp

flour (optional, for making clusters)
Instructions
Preheat the oven to 300F. Combine dry ingredients in a large bowl.
Combine wet ingredients in another bowl.
Mix dry ingredients with wet ingredients until all dry ingredients are fully moist.
Spread mixture onto 1-2 cookie sheets and bake for 20-30 minutes, or until golden brown.
Flip carefully (if making clusters) or stir and continue to bake, checking every 10-15 minutes to ensure the granola doesn't burn.
Remove from the oven and allow to cool completely. The granola will crisp up as it cools.
Store in a container with a lid.
Keywords: Cranberry orange granola
Cost Breakdown
oats: $0.42
coconut flakes: $0.57
sunflower seeds: $0.33
almonds: $0.83
vanilla & cinnamon: $0.15
maple syrup: $0.69
coconut oil: $0.57
orange: $0.50
cranberries: $1.00
Total cost for making a batch of Cranberry Orange Granola is $5.06.
How do you feel about granola? Love it? Hate it? Have a favorite flavor? Leave your ideas in the comments below!