This man bread recipe is so easy to make! Create an awesome, man-sized loaf, or a dozen rolls of homemade bread in just a quick 90 minutes. Easy and healthy recipes for novice or men cooks alike!

Written by Mr. Crumbs
Aight ya'll. You asked for it. We shared with you a picture of a new bread recipe on Facebook and Instagram last week and you responded – no, wait – you demanded that we share the new recipe with you.
With some spur of the moment decision making (a.k.a. choosing between butter or peanut butter while taste testing), recipe refinement (a.k.a. eating more bread) and editorial calendar shuffling (we had to push back the rosemary sea salt flatbread), we proudly present:
Man Bread.
Man Bread?
This bread recipe is so easy, even a man can make it. It was, after all, developed by one!
It's just as easy (if not easier?) than the No-knead Overnight Artisan Bread, which many say is the easiest bread in the world.
And if you doubt me and say "baking bread is too hard" or "I'm scared of yeast," I'm here to tell you that this loaf is your new best friend (and here's a beginner's guide on using yeast).
Why is 90 Minute Man Bread so great?
For starters, there's no refined sugar. It's sweetened with honey and has a tasty hint of coconut oil.
A healthy bread recipe developed by a man who once survived on Doritos and soda? Proof that picky eaters really can switch to real food!!
Next up, you can treat yourself to this ginormous, football-sized loaf of delicious goodness in just 90 MINUTES. That's a quick rise, little effort, and yum-o in your belly in no time.
Finally, this recipe was a complete accident. Which means it's highly unlikely you can get it wrong. Perfect for the novice cook, or fellow husbands out there.
It's crusty on the outside, soft on the inside. When we pulled the first loaf out of the oven, Mrs. Crumbs and I were like, "Holy moly! That is one huge loaf…. wonder if it's any good?"
Well, I'm going going out on a limb by saying this may be the BEST and easiest sandwich bread we've ever made. At first bite, we rejoiced.
Despite its size, it holds up to the hacking of a knife and smearing of butter and peanut butter very well. Granted, we love our Potato Bread, Maple Oatmeal Bread, Rosemary Olive Oil Bread (and more) – but this is just SO much easier!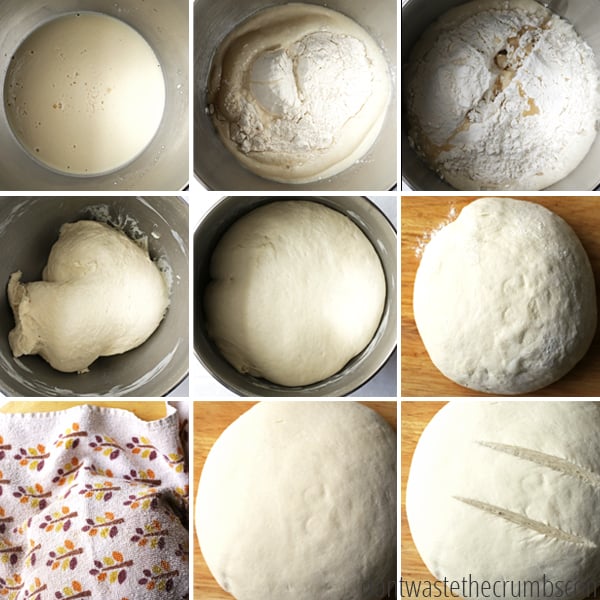 Even funnier: we've made 3 loaves of this stuff in 2 days.
The first was obliterated by the family with a couple sticks of butter. The second loaf was used for grilled sandwiches.
The third was a final test loaf to ensure we could replicate this recipe and that it wasn't too good to be true. I'm eating that one as I type this.
Cutting the Man Bread
Making this recipe will likely yield a Joe Montana-sized football-loaf-of-bread. Which means cutting it can be awkward. Here's how we do it:
Cut in half.
Take one of your halves, and cut into slices. Trust me, the slices are plenty big for your sandwich. These are man-sized slices.
Smear with lots of butter.
Additional Tips for a Successful Loaf of Man Bread
Flour
I recommend using all-purpose flour (plus an optional 1 Tbsp of vital wheat gluten per cup of flour, if you're looking to bake a softer, more pliable loaf). This is how you make homemade bread flour. If you have purchased bread flour from the supermarket, you don't need to add the vital wheat gluten for softer bread. You can also use up to 50% whole grain flour in lieu of bread flour or all-purpose flour. I haven't tested more than 50% whole grain flour personally but check the comments below to see if someone else has tried this successfully.
Coconut Oil
If you don't have or want to use coconut oil, you can use melted butter or olive oil – although the flavor will be slightly different. If the flavor of coconut oil concerns you, rest assure this bread does NOT taste like coconut oil.
Believe it or not, coconut oil is mildly sweet and tricks the taste buds into thinking it's eating something sweeter than it actually is (cinnamon also does the same thing). That's one reason why this loaf is loved by so many people who only eat white bread. Store-bought white bread has added sugar, but this homemade loaf TASTES sweet – despite the fact it only has 1 tablespoon of honey.
By the way, this is the coconut oil I use and recommend.
Baking Supplies
Most breads call for loaf pans, but we used our pizza stone. This is the one we have. It's over 5 years old, been through hundreds of pizza nights and is still going strong. No cracks, despite moving across the country!
Plus it makes your pizza and bread taste pro-artisan (a.k.a. makes you look like you know what you're doing).
Update: A reader tried this in loaf pans and it works great! After the first rise, split the dough into two loaves and place into two greased loaf plans. Rise again and bake as directed. For more options on baking, read the comments below. There are lots of ideas to make this recipe work for you!
Watch How to Make Our Man Bread
90 Minute Man Bread
Author: Tiffany
Prep Time:

1 hour 15 mins

Cook Time:

25 mins

Total Time:

1 hour 40 mins

Category:

Breads

Cuisine:

American
Instructions
If your kitchen is not warm, turn your oven to low. This is simply to warm your kitchen up a little bit (since it's cool where we live).
In your mixer bowl add warm water, honey, and yeast. Stir a few times until honey dissolves. Once yeast starts foaming (5 minutes or so), add flour, melted coconut oil, and salt. Using dough hook, knead for 10 minutes on low/medium low. Leave your dough ball in the bowl and cover with a towel. Let rise for 30 minutes.
After the first rise, lightly flour a surface and scoop your dough ball on it. Knead your lump of dough by hand a few times, until it forms a firm ball. Cover this ball of dough with a towel.
Preheat oven to 400 degrees. If you have a pizza stone, make sure this is in the oven to warm up. Alternatively, you can use a cast iron skillet while the oven is preheating – as one reader had great luck with! (Note: We have only tested this recipe with a pizza stone.)
Let rise for 30 minutes.
After the second rise, place dough ball directly on pizza stone, cut two slits on the top of the dough ball and bake for 25 minutes at 400 degrees. If you are using a loaf or cast iron skillet, the cook time may need to be increased an additional 10-15 minutes. (bread is done when the internal temp is 220 degrees).
Let cool and enjoy.
Notes
*We move this dough from the counter to the pizza stone, but if you don't feel confident in that transition, flour a piece of parchment paper and shape the dough on that for the second rise. Then move the entire paper with the dough to the oven for baking.
**Vital wheat gluten is optional but helps create a more pliable, softer loaf.
Two Week Sample
Do you need step-by-step help with meal planning? Frugal Real Food Meal Plans is an all-in-one meal plan with recipes, shopping lists, shopping guides, money saving tips and more! Sign up below for a free sample!