Nothing compares to the aroma of bread baking in the oven.  For a couple of quarters, you can have homemade bread ready in time for lunch. 
Homemade bread is a simple and delicious way to treat your family.  It doesn't take all day to make bread and it's very economical.  A typical loaf of buttermilk bread (or potato bread) will cost you $3.50 in the store.  You can make this entire recipe for $1.50, making each loaf only 50 cents!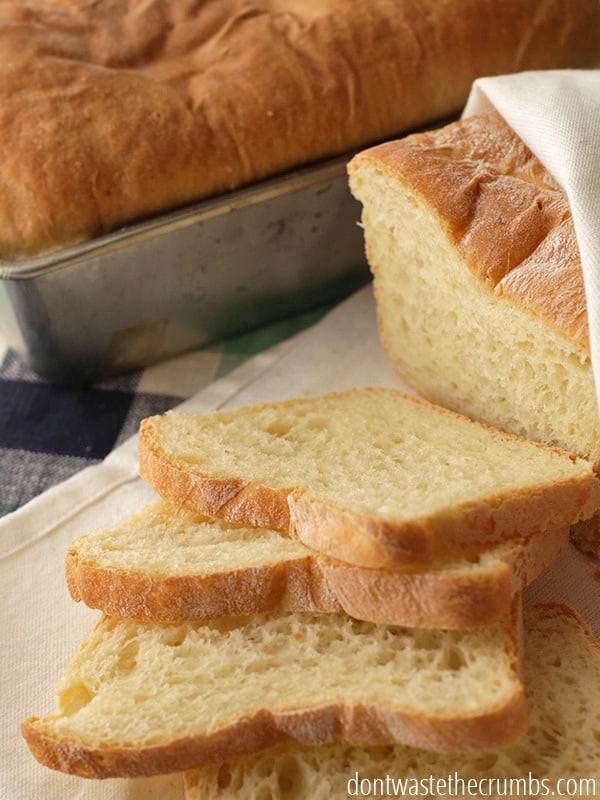 Why Make Buttermilk Potato Bread?
Until a month ago, I was like most Americans and I bought my bread at the store.  We ran out of bread and I thought that it couldn't possibly be that difficult to make.  So I attempted my first batch of bread and while it was good, I wasn't sure I wanted to put forth the work to make it every few weeks.
My second batch was the potato buttermilk loaf you see above.  One slice and I was hooked.  It was delicious and suddenly I didn't mind the work that it took to make.  While it took a little bit of time, baking bread wasn't rocket science and it didn't require crazy ingredients or skills to make.
However, what SOLD me on never buying store-bought bread again was this:
Unbleached enriched wheat flour, buttermilk, sugar, yeast, soybean oil, salt, water, wheat gluten, calcium propionate, monoglycerides, calcium sulfate, citric acid, soy lecithin, calcium carbonate, datem.
In a single store-bought loaf of bread, there are more ingredients listed that I DON'T know than I DO know.
What are the ingredients in homemade potato buttermilk bread?
This recipe uses potatoes, which are more than likely in your pantry (or my garage), and buttermilk.  I personally don't have buttermilk in my fridge often, but when I do, I have a lot.  I can't seem to find buttermilk in the stores in a smaller size than a quart, and often times the recipe only needs 1/2 cup or so.  Now I'm secretly looking for buttermilk recipes, just so that I can use the rest in Potato Buttermilk Bread
Does anyone have any problems with those ingredients?
Me neither.  Let's move on then, shall we?
What is the cost of Homemade Potato Buttermilk Bread?
One loaf of Orowheat's Buttermilk bread costs $3.19 at Target.
After breaking down the price per unit for each ingredient in the homemade version, the total cost for the recipe is $2.99.  The recipe makes three loaves, so each loaf costs $0.99.  (This could be reduced even further if you chose to substitute regular milk and vinegar instead of buttermilk, or had 4 loaf pans… because I think this recipe could make four loaves.)
What does Homemade Potato Bread taste like?
I've had Orowheat's version and it's very good.  Armed with a knife and butter, I can take out my fair share.
My husband can do (and already has done) the same thing with the homemade version.  He's come home on numerous occasions and pulled out a knife and the butter before the kids had a chance to run in from the other room to wrap their arms around him (and I'm sure biking to and from work doesn't contribute to his hunger 😉 ).  He's asked me to make this instead of buying bread, which I think speaks mouthfuls.
I say homemade bread is the winner. It's just melt-in-your-mouth delicious!!
Potato Buttermilk Bread
Scale
Ingredients
2

potatoes, peeled and quartered

8 tbsp

unsalted butter, room temperature

4 tsp

active dry yeast

2 cup

s buttermilk, room temperature

2

large eggs, slightly beaten

2 tbsp

sugar

1 1/2 tsp

salt

6

to

6 1/2

cups of bread flour

1

egg, slightly beaten
Instructions
Have all ingredients ready at room temperature. Bring a small to medium pot of water to a boil. Boil potatoes until done. Add hot potatoes and butter to a mixer and stir well. Add yeast, buttermilk, 2 beaten eggs, sugar and salt and mix well.
Gradually stir in bread flour until the dough is moist but not sticky. Knead on low to medium speed until the dough is smooth and elastic. Transfer to an oiled bowl and turn it over to coat with oil. Cover with plastic wrap and let it rise at room temperature until it's doubled in volume, 1 to 1 1/2 hours. (If your kitchen is too cold, you can preheat the oven to the lowest setting, then turn it off and place the dough inside.)
When the dough has doubled in size, grease two 9 x 5 inch loaf pans. Punch the dough down, divide in half and form into two loaves, placing them seam-side down in the pan. Cover with plastic wrap and let it rise again at room temperature until almost doubled in size, about 1 to 1 1/2 hours. (If you don't have loaf pans, you can free-form an artisan loaf on a cookie sheet).
Preheat the oven to 375 degrees. Brush the top of the loaves with the single beaten egg and bake the loaves until they are golden brown and the bottoms sound hollow when thumped, about 40-45 minutes. Allow to cool for at least 30 minutes before serving.
Bread can be wrapped individually in freezer bags and stored for future enjoyment!
Baking bread in the summer?  Don't want to, or can't use an oven?  Try baking bread in a slow cooker instead!  It comes out delicious and extra soft – perfect for sandwiches. 🙂
How do you enjoy freshly baked bread?