Nothing compares to the aroma of bread baking in the oven.  For a couple quarters, you can have homemade bread ready in time for lunch. 
Homemade bread is a simple and delicious way to treat your family.  It doesn't take all day to make bread and it's very economical.  A typical loaf of buttermilk bread (or potato bread) will cost you $3.50 in the store.  You can make this entire recipe for $1.50, making each loaf only 50 cents!
Watch How to Make Our Man Bread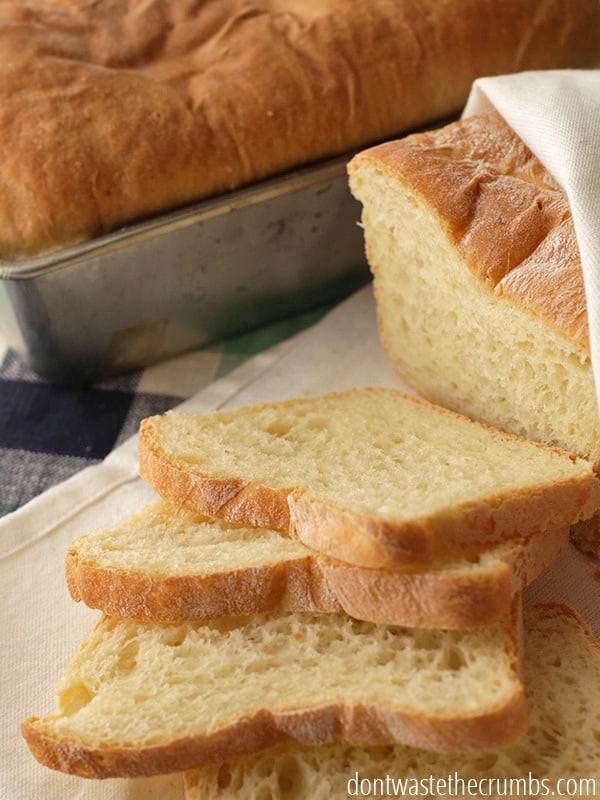 This recipe uses potatoes, which are more than likely in your pantry (or my garage), and buttermilk.  I personally don't have buttermilk in my fridge often, but when I do, I have a lot.  I can't seem to find buttermilk in the stores in a smaller size than quart, and often times the recipe only needs 1/2 cup or so.  Now I'm secretly looking for buttermilk recipes, just so that I can use the rest in Potato Buttermilk Bread!

Potato Buttermilk Bread
Ingredients
2 potatoes, peeled and quartered
8 tbsp unsalted butter, room temperature
4 tsp active dry yeast
2 cups buttermilk, room temperature
2 large eggs, slightly beaten
2 tbsp sugar
1½ tsp salt
6 to 6½ cups of bread flour
1 egg, slightly beaten
Instructions
Have all ingredients ready at room temperature. Bring a small to medium pot of water to a boil. Boil potatoes until done. Add hot potatoes and butter to a mixer and stir well. Add yeast, buttermilk, 2 beaten eggs, sugar and salt and mix well.
Gradually stir in bread flour until the dough is moist but not sticky. Knead on low to medium speed until the dough is smooth and elastic. Transfer to an oiled bowl and turn it over to coat with oil. Cover with plastic wrap and let it rise at room temperature until it's doubled in volume, 1 to 1½ hours. (If your kitchen is too cold, you can preheat the oven to the lowest setting, then turn it off and place the dough inside.)
When the dough has doubled in size, grease two 9 x 5 inch loaf pans. Punch the dough down, divide in half and form into two loaves, placing them seam-side down in the pan. Cover with plastic wrap and let it rise again at room temperature until almost doubled in size, about 1 to 1½ hours. (If you don't have loaf pans, you can free-form an artisan loaf on a cookie sheet).
Preheat the oven to 375 degrees. Brush the top of the loaves with the single beaten egg and bake the loaves until they are golden brown and the bottoms sound hollow when thumped, about 40-45 minutes. Allow to cool for at least 30 minutes before serving.
Bread can be wrapped individually in freezer bags and stored for future enjoyment!
Baking bread in the summer?  Don't want to, or can't use an oven?  Try baking bread in a slow cooker instead!  It comes out delicious and extra soft – perfect for sandwiches. 🙂
How do you enjoy freshly baked bread?