This Potato Buttermilk Bread recipe is a great way to use leftover mashed potatoes! So flavorful & moist and perfect for sandwiches or toast. Serve for dinner with whole roasted chicken and steamed vegetables!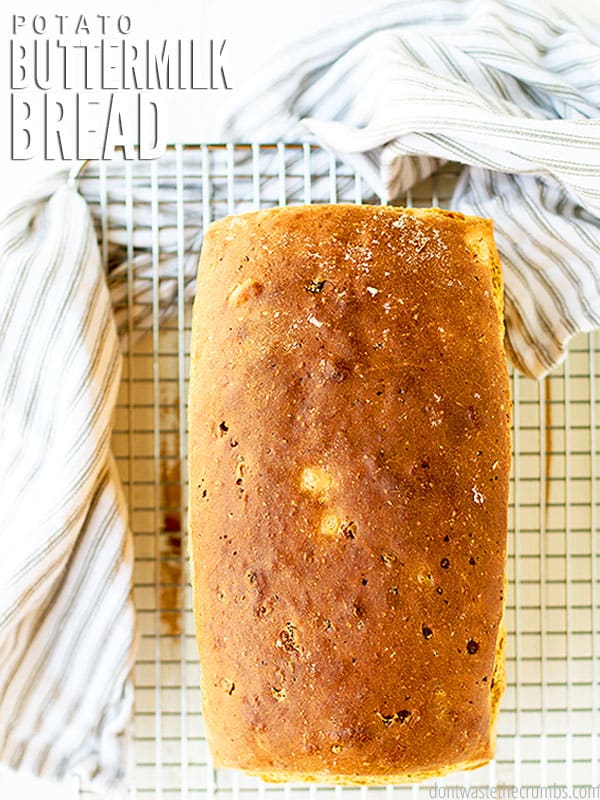 Years ago, like most families, I bought our bread at the store. Then I ran out of bread and I thought that it couldn't possibly be that difficult to make. So I attempted my first batch of homemade bread and while it was good, I wasn't sure I wanted to put forth the work to make it every few weeks.
My second batch was this Potato Buttermilk Bread recipe. One slice and I was hooked! It was SO delicious and suddenly I didn't mind the work that it took to make. While it took a little bit of time, baking bread wasn't rocket science and it didn't require crazy ingredients or skills to make.
However, what SOLD me on never buying store-bought bread again was this:
Unbleached enriched wheat flour, buttermilk, sugar, yeast, soybean oil, salt, water, wheat gluten, calcium propionate, monoglycerides, calcium sulfate, citric acid, soy lecithin, calcium carbonate, datem.
In a single store-bought loaf of bread, there are more ingredients listed that I DON'T know than I DO know.
Since then, I've made my no-knead overnight artisan bread, 90 minute man bread, oatmeal bread, no-yeast bread, and even my whole wheat Einkorn sourdough bread…All of which I know you'll love in addition to this amazing recipe for Potato Buttermilk Bread!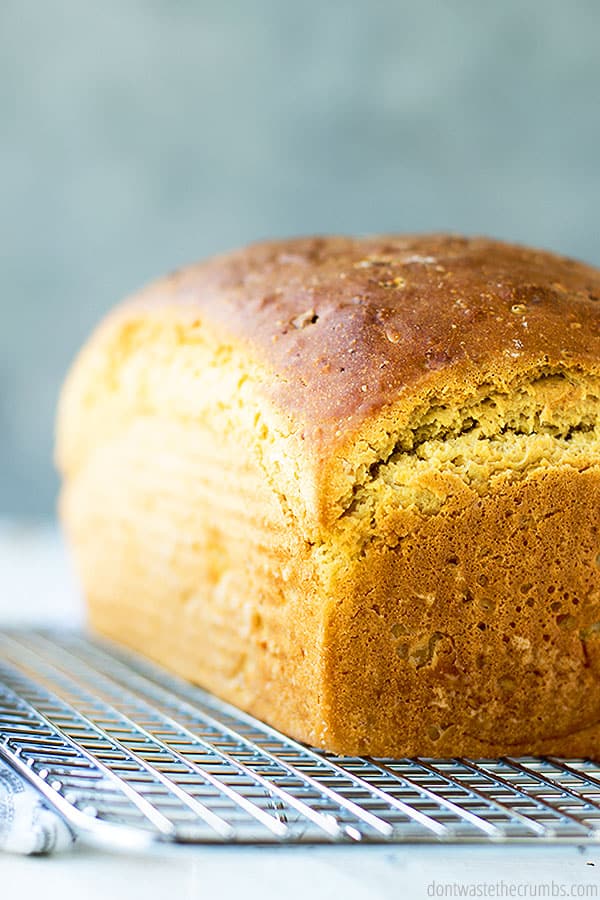 Potato Buttermilk Bread
Not only is this recipe delicious, it's also:
Made of simple, easy to find ingredients
Perfect for toast or sandwiches
The most flavorful white bread ever,
Plus it has a nice firm crust! YUM!
What are the ingredients in homemade potato buttermilk bread?
potatoes
unsalted butter
active dry yeast
eggs
sugar
salt
bread flour (or all-purpose flour)
egg
Can I use leftover mashed potatoes for homemade potato bread?
Yes, if you have leftover mashed potatoes, you can use them for potato bread. This recipe calls for 2 potatoes, so the equivalent of mashed potatoes would be about 1 cup mashed.
Can I make potato bread gluten free?
I haven't made this bread gluten free, but I am sure that you could try substituting the bread flour (or all purpose flour) with gluten free all purpose flour.
How to make Potato Buttermilk Bread
Boil potatoes until done. Add hot potatoes and butter to a stand mixer and stir well.
Add 4 tsp yeast + 2 cups buttermilk + 2 beaten eggs + 2 Tbsp sugar + 1 ½ tsp salt and mix well.
Gradually stir in bread flour until the dough is moist but not sticky. Knead on low to medium speed. Transfer to an oiled bowl. Cover with plastic wrap and let it rise at room temperature until it's doubled in volume.
When the dough has doubled in size, grease two 9 x 5 inch loaf pans. Punch the dough down, divide in half and form into two loaves, placing them seam-side down in the pan. Cover with plastic wrap and let it rise again at room temperature until almost doubled in size.
Brush the top of the loaves with the single beaten egg and bake the loaves until they are golden brown, about 40-45 minutes. Allow to cool for at least 30 minutes before serving.
Note: You can wrap bread loaves individually in freezer bags and freeze for future enjoyment!
What does Homemade Buttermilk Potato Bread taste like?
This bread has a light & spongy texture making it perfect for spreading butter or jam or piling high with sliced turkey! Plus the buttermilk makes it so moist! The flavor is so good that Mr. Crumbs asked me to make this instead of ever buying bread, which I think speaks mouthfuls.
Hands down, this homemade bread is a winner. It's just melt-in-your-mouth delicious!!
What is potato bread good for?
Slice it to make sandwiches with homemade lunchmeat! It also has the perfect spongy texture for spreading jam, butter, nut butter & etc., because of all of the little nooks and crannies in it!
Why is potato bread yellow?
The mashed potatoes give potato bread it's delightful yellowish hue!
More Easy Bread Recipes
Two Week Sample
Do you need step-by-step help with meal planning? Frugal Real Food Meal Plans is an all-in-one meal plan with recipes, shopping lists, shopping guides, money saving tips and more! Sign up below for a free sample!
Potato Buttermilk Bread
How do you enjoy freshly baked bread?