I quit eating lunch meat when I learned about nitrates, but when I learned how to cook paper-thin slices of turkey at home, homemade lunch meat was on!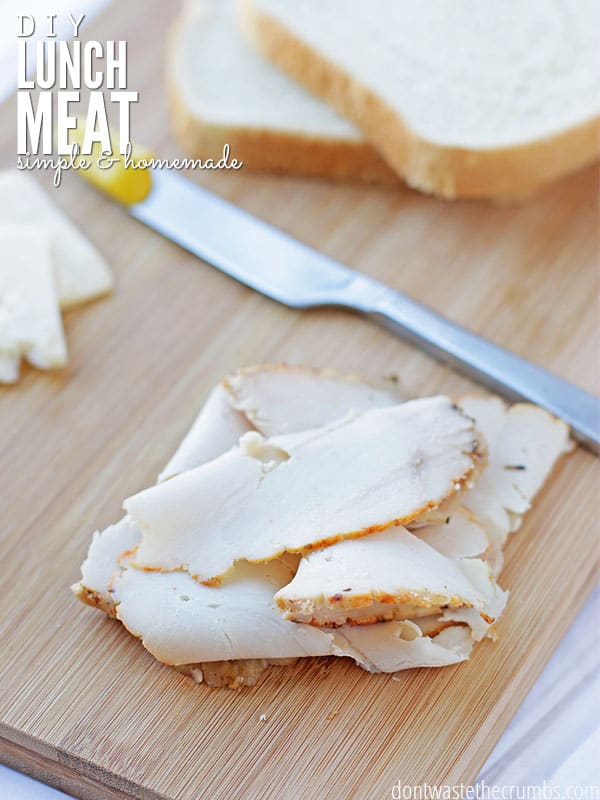 Everything You Need to Know About DIY Homemade Lunch Meat
Turkey on whole wheat. No cheese, a little bit of lettuce, lots of pickles, lots of olives, just a few jalapenos. Mayonnaise and mustard.
Back in my college days, that was the sandwich I ordered every time I went to Subway and I loved every bite.
Until I learned about nitrates. I immediately broke up with all lunch meat and never looked back. That is until my kids starting going to a peanut-free school.
Not being able to make a peanut butter and jelly sandwich made me feel incapable of making lunches altogether. Like someone was holding my hands behind my back and told me to make lunch with my feet.
I know it sounds strange, and it sounds strange to type it out.
OF COURSE, there are other things kids can take to school besides a peanut butter and jelly sandwich.
I know this first hand because 4 of the 5 days of the week they're NOT taking a sandwich. They love homemade Lunchables, Italian meatballs, or chocolate chip hummus in their lunches.
But it was a mental block. Not being able to make a peanut butter and jelly sandwich made making lunch those other 4 days seem practically impossible.
With PBJ out of the question, I went back to my favorite lunch meat again – turkey. I'm still not okay with buying lunch meat.
Now, I know some stores now carry nitrate-free lunch meat, but the last time I saw a 10.5 oz package of sliced turkey it was priced at $8.
I don't know about you, but my budget can absolutely NOT afford paying $12 per pound for sliced turkey every week! I knew there had to be a better way.
My first attempt was to buy a whole turkey. I bought the smallest one I could for just over $1/lb, roasted it in the oven the same way I roast whole chickens, cut off the wings, legs and set the breasts aside to slice thin for sandwiches.
Although this sounds good in theory, it didn't work how I had hoped.
There are tendons in the dark meat that made it tough to get even slices for the kids' sandwiches. Even if I did get a decent slice, the kids kept finding even more tendons in their sandwiches. (The Girl kept spitting them out, saying there were "bones" no matter how careful I was when I cut the turkey).
The breasts were easy to slice through, but the natural grain of the meat made a single slice fall apart into smaller pieces. The kids would have to re-assemble their sandwiches at school because the meat would fall out from between the bread.
Using a whole turkey would have been fine if my goal was to make turkey salads, to dice turkey for dipping or salads or even eating the pieces whole. But using a whole turkey to make lunch meat simply didn't work.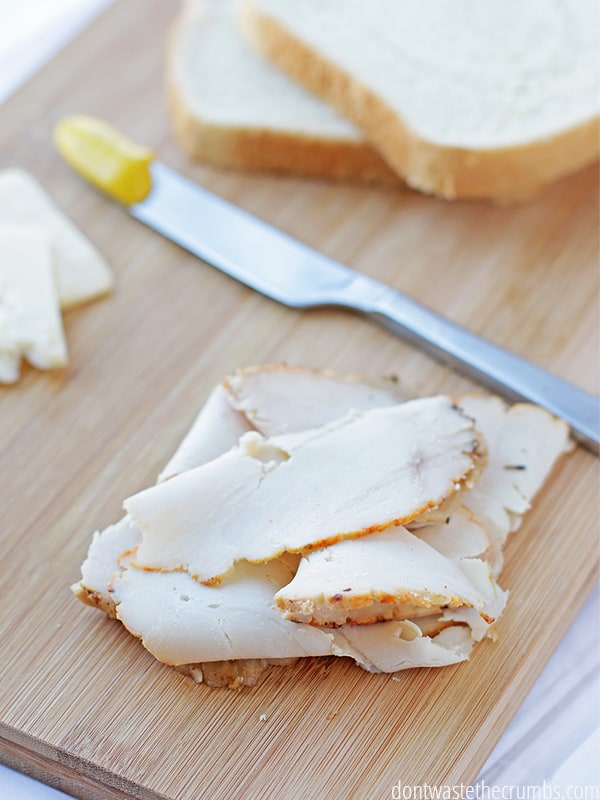 Homemade Lunch Meat
Next, I tried a whole turkey breast. They come in a single package, ready to roast all by themselves. There are no bone to deal with and thanks to salt, the slices won't fall apart when you cut them.
I seasoned the outside with homemade seasoned salt and roasted it in the oven according to the package directions.
The resulting turkey breast was so moist and so flavorful, I knew the kids would love it in their lunches!
Except that the slices were too thick!
My goal in making homemade lunch meat was to re-create the floppy thin slices that lunch meat is known for. Fresh out of the oven, the turkey slices weren't thin at all. They more resembled the slices you get when you carve the Thanksgiving bird – and you and I know that this wouldn't pass as "lunch meat" for the kids.
So I threw a hail Mary pass, stuck the breast in the fridge and tried to slice it thin again after it had been thoroughly chilled.
And it worked!
With a completely chilled turkey breast and a very sharp serrated knife, I was able to cut slices as thin as you'd expect to find in any lunch meat package. They folded, flopped and made absolutely delicious turkey sandwiches – without nitrates or preservatives!
Additional Recipe Notes
I recommend slicing up the whole turkey breast at the same time. You might as well if you've already got the tools out! Use a kitchen scale to weigh the slices into 8 oz portions. Place each portion into a freezer-safe container and pull out one portion each week. This is how we made one turkey breast last a whole month.
Cost Breakdown
The turkey breast I bought was 48 oz (or 3 lbs) and I got it for $8. Making my own lunch meat is the equivalent of paying $1.33 for an 8 oz package of processed lunch meat.
Compared to the store-bought all-natural variety, I'm saving 78% by making my own homemade lunch meat!
Watch How to Make Homemade Lunch Meat