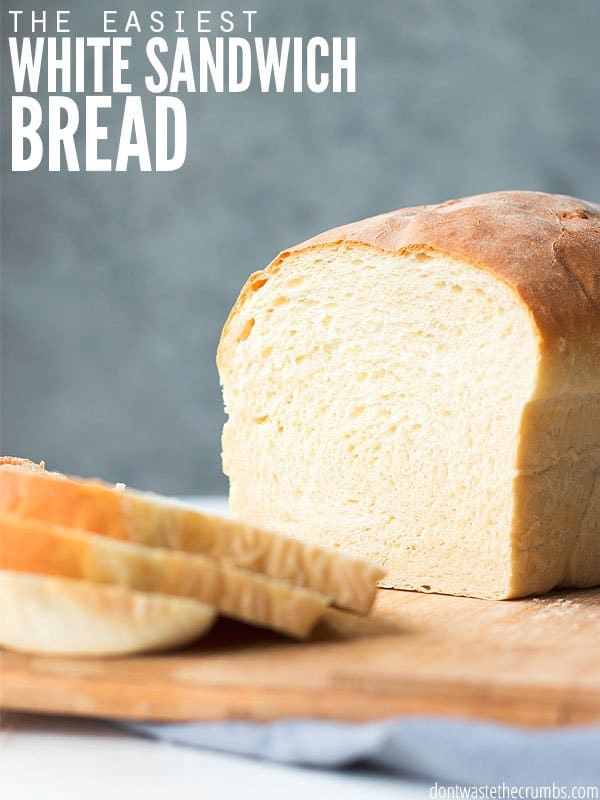 Early on in our switch to real food, I made it my personal mission to switch from white flour to wheat flour. I even took on the additional work of soaking grains, like in my soaked whole wheat bread.
And you know what happened? My family retaliated.
I don't remember his words exactly, but I'm pretty sure my husband said something like, "Wheat bread is too wheat-y. Can't you just make homemade white bread instead?"
Of course, being the stickler that I am, I said no and kept making whole wheat bread for the family.
And they begrudgingly ate it, ONLY because I didn't give them a choice.
I confess that this has been a slow lesson, but I learned that making something from scratch that my family doesn't like creates an awful domino effect:
I spend hours prepping and cooking, thinking I'm doing something good.
They hate it, eat the bare minimum to get by and refuse to eat the rest.
It sits on the counter or in the fridge for days, uneaten.
It gets moldly, wilty or grows antennae and eventually gets thrown away.
I feel bad for throwing food away and inconvenienced for wasting my money and time.
Then, I make my family feel bad for making me feel bad.
Finally, I feel bad for making my family feel bad, and for making them eat something they didn't like.
Does this sound familiar?
This scenario happened more often than I care to admit, especially when we first switched to real food. But then I realized that making food from scratch – even if it's not THE ABSOLUTE BEST QUALITY ON THE PLANET – is still infinitely better than buying pre-packaged, processed foods at the store.
Case in point: homemade yellow cake mix. My homemade version has 4 simple and healthy ingredients. Store-bought boxes have A LOT more ingredients than that, including hydrogenated oils.
This (and homemade chocolate peanut butter cups) helped me to realize that it's okay to make white sandwich bread. Half of my grocery bill every week is fresh fruits and vegetables. The most "processed" food I own is a package of nitrate-free ham I found marked down at the grocery store last week!
When I look at our overall eating habits, I feel like we're on the right track. So heck, why can't we make a loaf of homemade white sandwich bread and actually enjoy it?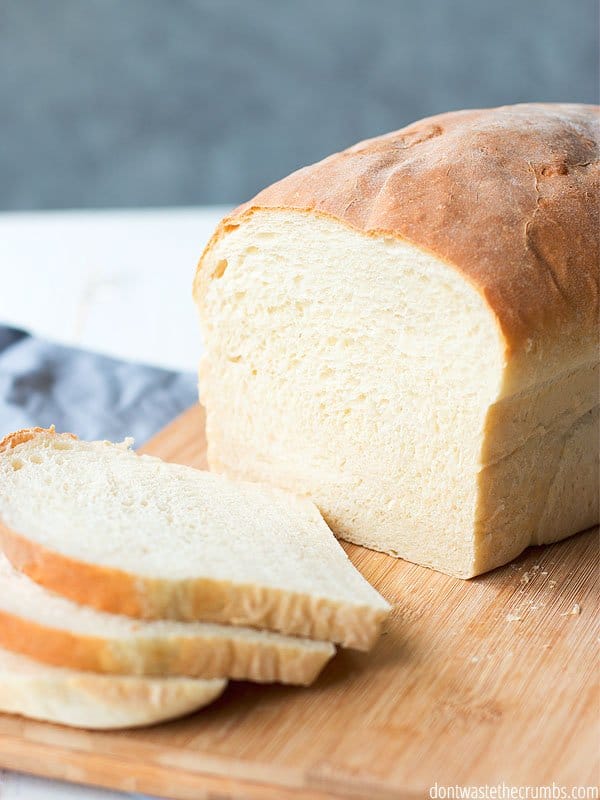 The Best White Sandwich Bread Recipe
Ever since my husband created infamous 90 Minute Man Bread, so many readers have emailed and left comments saying that Man Bread is the only bread they make – because of their picky eaters – and they use it for nearly all their bread purposes, including sandwich bread.
This gave me an idea. Man Bread really wasn't intended to be used for sandwiches. I mean, you CAN use it for sandwiches, and we've done that plenty of times ourselves, but it's denser than the typical soft white bread from the store that we've all come to know and love.
So I took Mr. Crumbs' original idea, modified it slightly and created a homemade white sandwich bread recipe that is everything white bread should be:
White!
A soft, lightly brown crust (that is worth of eating and not cutting off)
Durable enough to hold hearty sandwich fillings
Soft enough for a PBJ to slightly stick to the roof of your mouth
Friends, this is when we ban together and rejoice. YES, we can feed our family healthy food and NO, it doesn't have to taste like cardboard!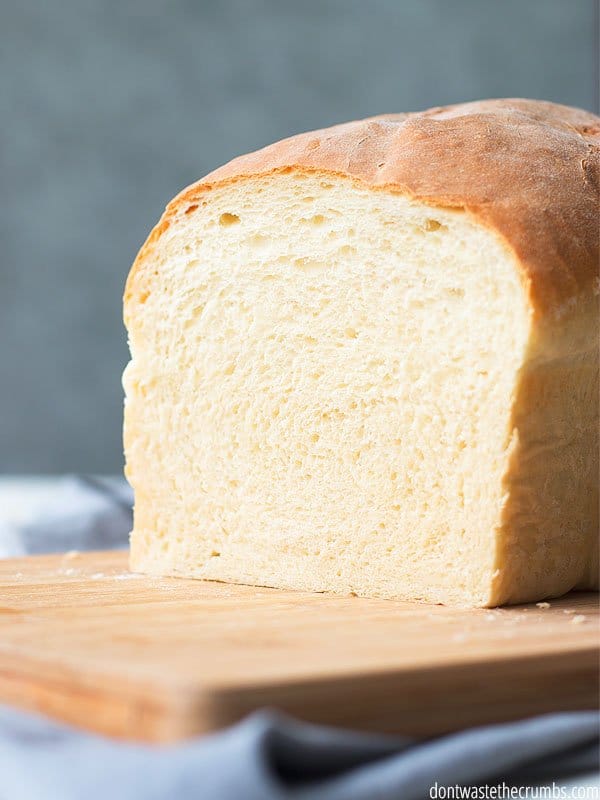 Anytime I talk about food, my inner self is actually teaching about food (which kind of explains why I created a course teaching you how to eat real food on a budget!). So I don't want you to jump into this recipe without a few bits of advice:
Working with yeast is not hard.
This recipe includes proofing the yeast, which is basically making sure your yeast is active. If you get mix yeast and water and honey and get bubbles, keep going. If you don't, get new yeast. (Read more in my Beginner's Guide to Using Yeast.)
Kneading bread is not hard either.
The purpose of kneading bread is to work the strands of gluten. Gluten is what makes bread light and fluffy and sponge-y. This recipe calls for kneading twice. Your mixer can do the first, but you'll do the second.
There is an art to kneading, but if you focus on folding in thirds and pushing the air bubbles out, you'll be fine.
Shaping bread is probably the hardest part.
I'm not an expert at shaping, and I'm not pleased with the shape of my loaf in these pictures, BUT know this: even ugly bread tastes good.
My method for shaping bread is, once I've kneaded it well enough (usually 3 times of the folding in thirds method above), I roll the bread as tightly as I can. This probably isn't the professional way, but I'm not a professional so it works for me!
Some of my other favorite bread recipes that the family loves (and that are easy):
No-knead Artisan Bread // Rosemary Sea Salt Flatbread // Maple Oatmeal Bread // Homemade Hamburger Buns
And a few baking-hack posts to help you in your bread endeavors:
How to Make Bread Machine Recipes By Hand // Ultimate Guide to Freezing Bread // Ultimate Guide to Troubleshooting Bread // How to Cook Bread in the Slow Cooker
The Best White Sandwich Bread Recipe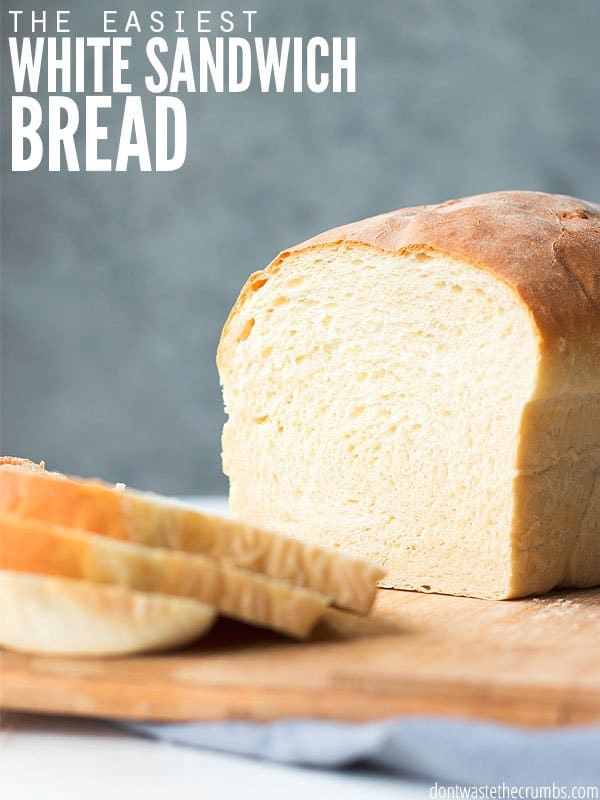 Author: Tiffany
Prep Time:

2 hours

Cook Time:

23 mins

Total Time:

2 hours 23 mins

Yield:

1

loaf

1

x
Category:

Breads

Method:

Bake

Cuisine:

American
1 1/2 cups

milk, warmed to 105-110F

2 Tbsp

honey

1 Tbsp

yeast

4

–

4 1/2

cups all purpose flour, divided, plus more for dusting

2 Tbsp

coconut oil, melted

1 1/2 tsp

salt
Instructions
Whisk together milk, honey and yeast in a large mixing bowl, or in the bowl of a stand mixer. Allow the yeast to proof until the surface is covered with bubbles. If you don't see bubbles, your yeast has gone bad.
Add 1 cup of flour and either mix by hand or on low until the flour is mostly combined.
Next, add coconut oil, salt and 3 1/2 cups of flour and knead by hand or on medium-low until the dough is soft and smooth. Add additional flour if necessary. I consider the dough done when the bowl is mostly clean and it is tacky to the touch (not sticky).
Cover with a towel and place in warm spot to rise for about an hour.*
Meanwhile, butter and flour a loaf pan.
When the dough is about double in size, lightly flour the counter or a baking mat. Turn dough out onto the mat and knead for a few minutes to get rid of the excess air bubbles (see my method in the post).
Shape the dough (again, see the post for my method) and place it seam down in the loaf pan.**
Cover the dough with a towel and let it rise for about an hour.*
Preheat the oven to 350F. Bake the bread for 20-23 minutes, until it is golden brown on top and sounds hollow when tapped on the bottom.
Let it cool on a cooling rack before cutting, about 20 minutes.
Notes
* The rise time of this recipe is very flexible, but you get a softer crumb (the inside) when it rises for at least an hour. You could shorten the rise time to 30 minutes each, but the dough will be more dense.
** To make two loaves, let the dough rise for 90 minutes the first time. Divide into two loaves before kneading and shaping, and then let it rise for another hour or so.
Keywords: white sandwich bread recipe
Does your family prefer white bread, or do they like whole wheat bread? If they like whole wheat, how did you get them to convert without complaining?