Super simple & healthy recipe for homemade bagels – made with 2 ingredients and no yeast! Can be customized with the flavors and toppings of your choice, or even various types of flour, like einkorn flour for those with gluten sensitivities.
Everything You Need to Know About Easy 2-Ingredient Bagels
I've always been a huge fan of bagels, but I've never dared to make them at home. Sure, I can make no-knead artisan bread and I can even make a beautiful loaf of whole wheat einkorn sourdough…
But BAGELS?! No way. That's out of my league.
Friends, if you feel the same way, prepare to be amazed.
These 2-ingredient bagels are SO easy and SO good, you'll be making them all the time!
2-Ingredient Bagels
Apparently, 2-ingredient bagels have been all the rage in the Weight Watchers community for a while, but I had no idea they existed until a friend shared them with me recently. Let me tell you – my life is changed!
These 2 ingredient bagels are:
If you've never made bagels before, you're in for a treat. These aren't the typical New York style bagels that are boiled and require yeast and all that jazz (i.e. work).
These bagels are a super simple, straight-forward batch that satisfies all your bagel cravings and makes you feel like a rock star… because you're making BAGELS!
2 Ingredients for Bagel Dough
As I mentioned (repeatedly), you only need TWO ingredients for this bagel dough:
Flour (any kind)
Plain Greek Yogurt
I use einkorn flour because my daughter is sensitive to gluten. Since einkorn is slower to absorb liquid, you need a little extra to make these bagels. I've included the appropriate measurements and notes in the recipe, so just be sure to pay attention if you're using einkorn too.
I buy whole berries in bulk here and einkorn all-purpose flour in bulk here. You can learn more about einkorn flour and why it's healthier than modern wheat here!
If you don't have any issues with gluten then you can use whatever flour you'd like. Whole wheat, white whole wheat, and all-purpose would all work well.
As for the yogurt, you DEFINITELY want to use Greek yogurt. I recommend full-fat Greek yogurt whenever possible because it's less processed, but this recipe works with non-fat and low-fat Greek yogurt as well.
Be sure to NOT use regular yogurt, as the dough will be way too wet to handle. Trust me!
How to Make Weight Watcher 2 Ingredient Bagels
The process for making the famous Weight Watcher 2-ingredient bagels is really easy:
Combine the yogurt and flour and mix until you have a dough.
Divide and roll the dough into ropes; shape into a bagel.
Brush with egg (optional), top as desired (optional), bake and let cool; enjoy!
I mention brushing the bagels with an egg. This is COMPLETELY optional and I usually skip this step. Brushing the bagels with an egg will give them that dark, crusty look when they come out of the oven.
I chose to use the egg for these pictures, but if we're just baking them at home for fun, I always skip it. The flavor of the bagel doesn't change either way!
Tips for Making the Perfect Bagel
Want 2 ingredient cinnamon bagels?
Just add 1/2 tsp of cinnamon to the dough!
You can see in the pictures that I used Everything But the Bagel Seasoning on this batch. You can find it at Trader Joe's, Walmart, and Costco.
If you prefer, you can top the bagels with sesame seeds, salt, minced onion, poppy seeds… or leave them plain. Jalapeno and cheddar are AWESOME together in my jalapeno cheddar biscuits, so I bet they'd make delicious bagels!
Can you make these 2 ingredient bagels gluten-free?
I haven't tested gluten-free flour, but I'm guessing it will work since this recipe relies on baking powder for a rise instead of gluten. If you test it, please leave a comment and let us know how it goes!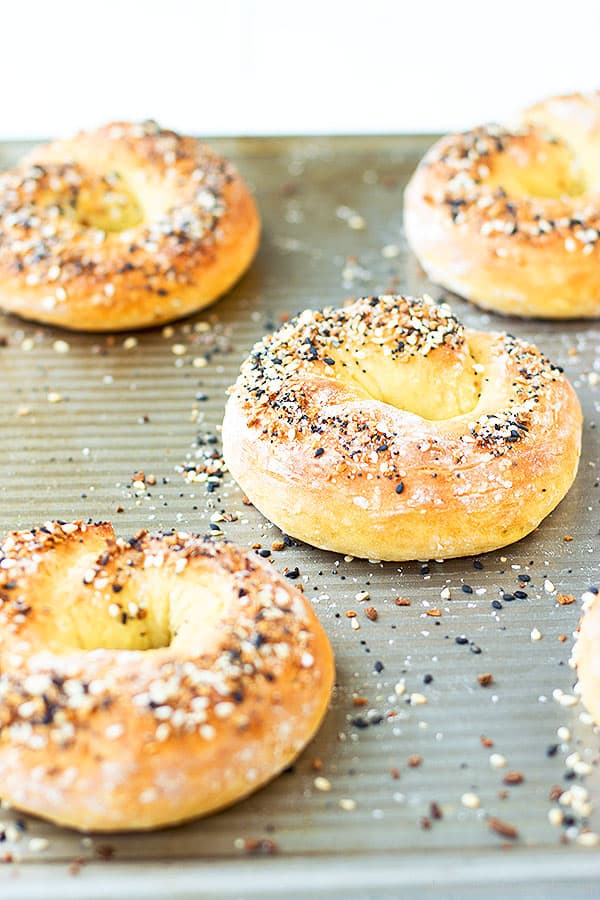 Need More Easy Bread Recipes?
And if you want another no yeast recipe, be sure to try my no yeast bread!
What to Serve with 2 Ingredient Bagels
Easy 2-Ingredient Bagels
Super simple & healthy recipe for homemade bagels – made with 2 ingredients and no yeast! Can be customized with the flavors and toppings of your choice.
Author: Tiffany
Prep Time:

15 mins

Cook Time:

25 mins

Total Time:

40 minutes

Yield:

6

–

8

bagels

1

x
Category:

Breads

Method:

Oven

Cuisine:

American
1 cup

Greek yogurt

1 cup

self-rising flour (recipe below)
Toppings as Desired (optional)

1

Egg, whisked (optional)
Self-rising Flour
1 cup

flour (+

1/4 cup

, if using einkorn)

2 tsp

baking powder

¾ tsp

salt
Preheat the oven to 375F. In a large bowl, combine the yogurt and the self-rising flour. Using your hands, mix the ingredients until you have a mostly smooth dough.
Using a dough scraper or knife, divide the dough into four equal pieces. Lightly flour your working surface. (I HIGHLY recommend using a Silpat mat for this.)
Working with one piece of dough at a time, roll the dough on the mat in a back and forth motion until you have a rope about 9" in length.
Place the dough onto a baking sheet (I use these USA baking sheets) and shape into a bagel, wrapping each end over the other and tucking the ends underneath the bagel.
Brush the top of the bagel with the egg (if desired) and top with desired toppings (optional).
Bake for 25 minutes. Let cool for 15 minutes before enjoying!