This easy recipe for soft-baked oatmeal apple breakfast bars is naturally sweetened & healthy for you! Vegan, gluten-free and dairy-free options too.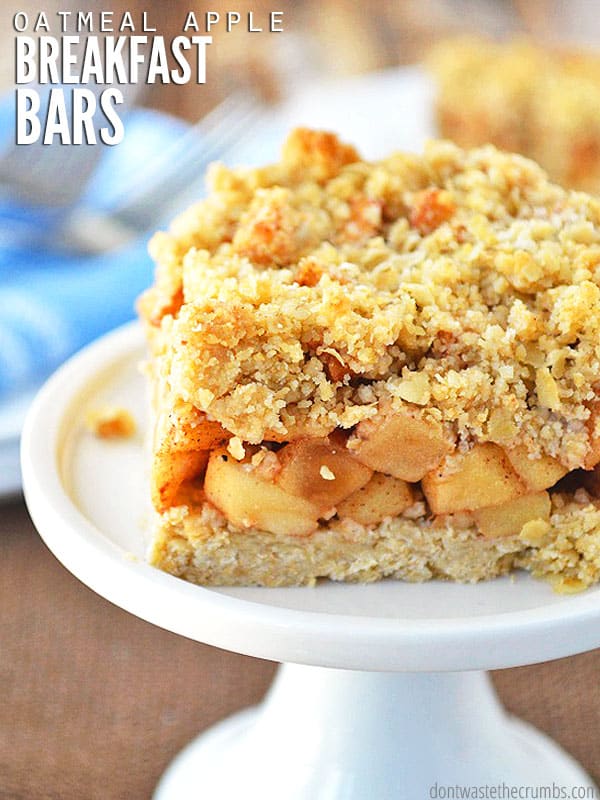 Can you think of anything better than having dessert for breakfast?
Have you ever been apple picking before?
It's a lot of fun, and it's easy to get carried away. You can easily fill a few buckets while chatting away and the next thing you know, you have NINE GALLONS of apples in the trunk of your car!
You could make the typical slow cooker apple butter or homemade applesauce or even dehydrate apples for snacking, but I wanted to make something a little bit more fun…
Something that reminded me of dessert, but healthy enough for breakfast. And these apple oatmeal breakfast bars are perfect!
Apple Oatmeal Breakfast Bars
As I mentioned, these apple oatmeal breakfast bars taste like dessert, but they're healthy enough for breakfast. Here's why I have no guilt starting our days off with these bars:
Whole grain
Naturally sweetened
Taste like apple pie!
Kid-friendly
Freezer-friendly
Great for double or triple batches
Super affordable – about $4 for the whole recipe!
Not overly sweet
Plus we're using oatmeal (which has amazing health benefits) and healthy fats to provide some sustenance to hold everyone over to lunch. (Or snack time, LOL!)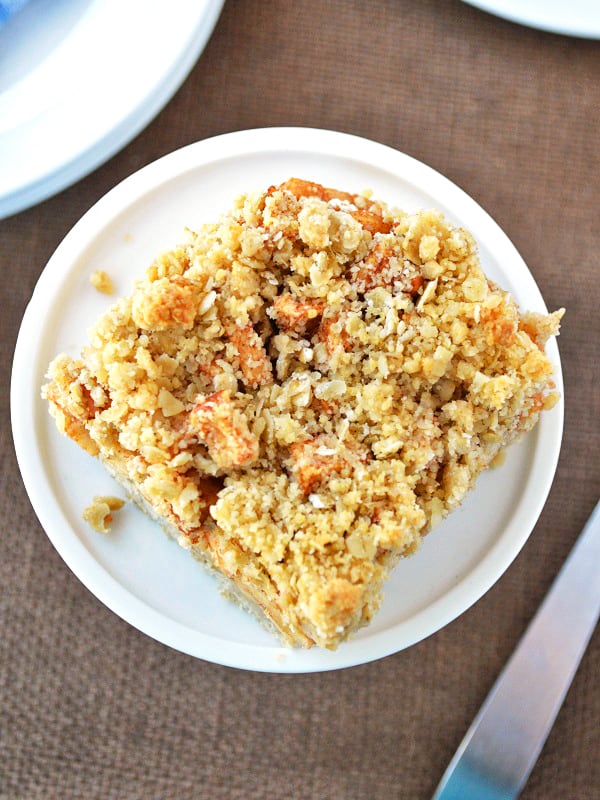 Healthy Breakfast Bars Made with Apples and Oatmeal
Most of my recipes can be made with ingredients you already have on hand, simply because I don't think you should have to make a trip to the store for special ingredients to serve a good meal!
These healthy breakfast bars are no different. Here's what you'll need:
Whole grain flour. I used whole grain einkorn because my daughter is sensitive to gluten. Any whole grain flour will work.
Rolled oats. Total breakfast classic.
Baking Soda + Baking Powder + Salt.
Butter. 
Honey. You could use maple syrup, but the flavor of honey is really good in these bars!
Apples. We'll use both small chunks of apple and pureed apple.
Cinnamon + Lemon Juice + Vanilla. All for flavor!
I've made this multiple times using a variety of apples… gala, fuji, honeycrisp, granny smith, red delicious… it all depends on the type of apple you like to eat and what's available. I like to use two varieties, simply to get a mix of flavors!
How to Make Apple Cinnamon Healthy Oatmeal Bars
These bars come together pretty quickly, once you have the apples diced. So let's start with those…
Prep the apples. I like to cut them into small 1/4'" cubes. You need two cups, and two large apples usually will do this. Set aside the two cups, but keep the cores though because we'll use those!
Start the crust. Combine all the dry ingredients in a bowl and cut in the butter. I use my KitchenAid mixer to make this super easy (here are more creative ways to use your stand mixer!).
Set aside the topping. Scoop out about 1 cup of mixture and set aside.
Finish the crust. Add the honey to the remaining mixture and crumble together with your hands (not the mixer.)
Make the filling. Add leftover apples (everything but the reserved two cups) plus liquid ingredients to a blender or food processor and pulse until your mixture resembles applesauce. Combine in a small bowl with the diced apple.
Press the crust into the bottom of the pan and pour the apple mixture over top, using a spatula to smooth. Crumble the topping over the apples.
Bake, cool, and serve!
One important note!
These bars won't hold shape well until they're cool. I HIGHLY recommend baking these the day before you want to serve them so that they have time to cool and chill in the refrigerator. This also gives the naturally occurring pectin in the apple time to do its magic to the filling.
If you want to serve them warm, you can – but you'll definitely need a spoon to serve and eat, LOL.
Tips for Easy Oatmeal Bars
Just a few tips I've learned since making these bars a hundred times or so…
As I mentioned, let these bars cool COMPLETELY before cutting. This is at least two hours on the counter.
I highly recommend refrigerating them before cutting and serving.
If you store these bars in the freezer, be sure to cut them first and wrap the bar twice to prevent freezer burn.
Make these gluten-free by using a gluten-free whole grain flour.
Make this dairy-free by using coconut oil for butter.
Resist the temptation to slice apples thinly, instead of in chunks.  This method results in bars that are very hard to cut into squares… although they're just as delicious!
Did you make this chunky homemade applesauce?  Or a simple apple pie jam? Try substituting 1/2-3/4 cup of that in place of the apples for another delicious variation.
More Favorite Oatmeal Recipes
Watch How to Make Easy Oatmeal Apple Breakfast Bars
Oatmeal Apple Breakfast Bars
This easy recipe for soft-baked oatmeal apple breakfast bars is naturally sweetened & healthy for you! Vegan, gluten-free and dairy-free options too.
Author: Tiffany
Prep Time:

15 mins

Cook Time:

30 mins

Total Time:

45 minutes

Yield: Makes

16

bars.

1

x
Category:

Breakfast

Method:

bake

Cuisine:

American
2

large apples, diced for 2 cups (keep the cores and any leftover apple pieces)

1 ½ cups

whole grain flour (I used whole grain einkorn)

½ tsp

baking soda

½ tsp

baking powder

¼ tsp

salt

1 ½ tsp

ground cinnamon

8 Tbsp

butter

1 cup

rolled oats

¼ cup

honey

1 tsp

lemon juice

1 tsp

vanilla extract
Instructions
Preheat the oven to 350F. Line a 9" x 9" glass baking dish with parchment paper.
In a large bowl or the bowl of a stand mixer, combine the flour, salt, baking powder, baking soda, and cinnamon. Cut in the butter using two knives, your fingers, or the paddle blade. The mixture should resemble coarse breadcrumbs. Scoop out 1 cup and set aside.
Add the oats and honey to the mixture in the bowl and use your fingers to mix together without creating a paste.
Pour this mixture into the prepared pan and press down firmly and evenly to create a crust.
Add apple cores and leftover apple pieces (if any) plus lemon juice and vanilla extract to a food processor blender and process until the mixture looks like thick applesauce. You will need about ¼ cup of this mixture, so add additional apple pieces if necessary.
In a medium bowl, combine the pureed apple mixture with the diced apples and stir well. Pour evenly over the crust.
Sprinkle the reserved crumb topping over the apples, pressing down lightly.
Bake for 25-30 minutes, or until the topping is golden brown. Remove the bars from the oven and let them cool completely at room temperature, about 2 hours.
For best results, place in the refrigerator for 2 hours before cutting.
Makes 16 bars.
Notes
If you're considering taking these to a fellowship meal, chill the recipe once it's cooled to room temperature and then cut into bars. Store in the fridge and the bar shape will remain intact when brought to room temperature upon serving.
Keywords: oatmeal breakfast bars