Can you think of anything better than having dessert for breakfast?
Me neither.  Which would explain why when I'm thinking of what to make for breakfast, dessert-type dishes usually come to mind… specifically, dishes like leftover oatmeal chocolate cake, oatmeal peach crumble and baked oatmeal (usually in carrot cake or pumpkin pie flavors).
Oatmeal also comes to mind when I'm thinking about breakfast.  Mostly because it's a typical breakfast food, but it's also very frugal.  At less than 10¢ for a 1/2 cup serving, it's the most affordable grain that I know of.  Plus it's packed with nutrients too, making it my preferred grain for the first meal of the day.
A few weeks ago, the grandparents, kids and I went apple picking at a local u-pick farm.  We had picked strawberries there before, but this was our first time picking apples.  My son was concerned that he would need a ladder to reach the branches, but when we arrived, we were greeted with rows and rows of dwarf trees, making picking an incredibly rewarding and fun experience.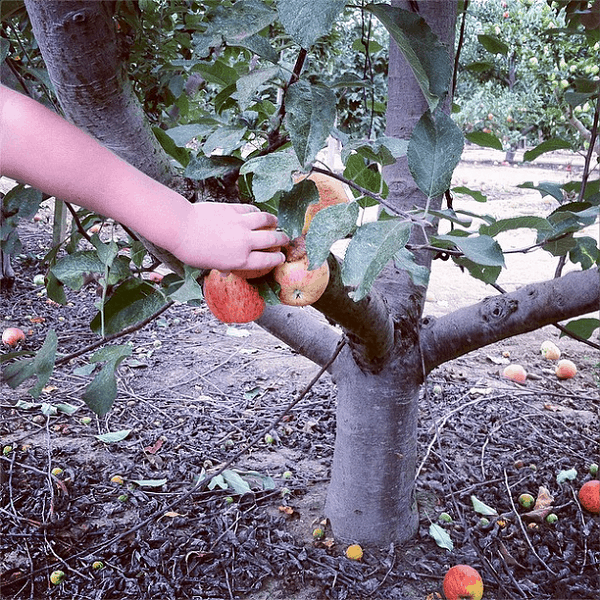 What to do with gallons of apples
We brought home roughly 9 gallons worth of apples in all sorts of varieties.  Hands down, our favorite way to enjoy apples is to eat them fresh, but a foodie can't help but want to make something with them when there's three large buckets full sitting in the kitchen.
My first instinct was the slab apple pie for our weekly family dinner, but my step-mom had already beat me to it.  Our neighbor recently had a baby, so they got the incredibly simple oatmeal apple crumble, but still the craving wasn't satisfied.  Sure I made something, but I didn't get to eat it!
Finally, a recipe from this cookbook inspired me to make a fun breakfast bar that tasted like dessert, although it would certainly need to be modified.  The two main issues were a) using fresh apples instead of jam, and b) reducing the sugar.
That particular recipe called for 1/2 cup sugar, on top of berry jam that was likely made with sugar too.  No doubt it would have been delicious, and 1/2 cup of sugar for 9 bars really isn't that bad of a ratio, but we're doing a fairly decent job of cutting back on processed sugar around here and we're even reducing our intake of natural sweeteners too.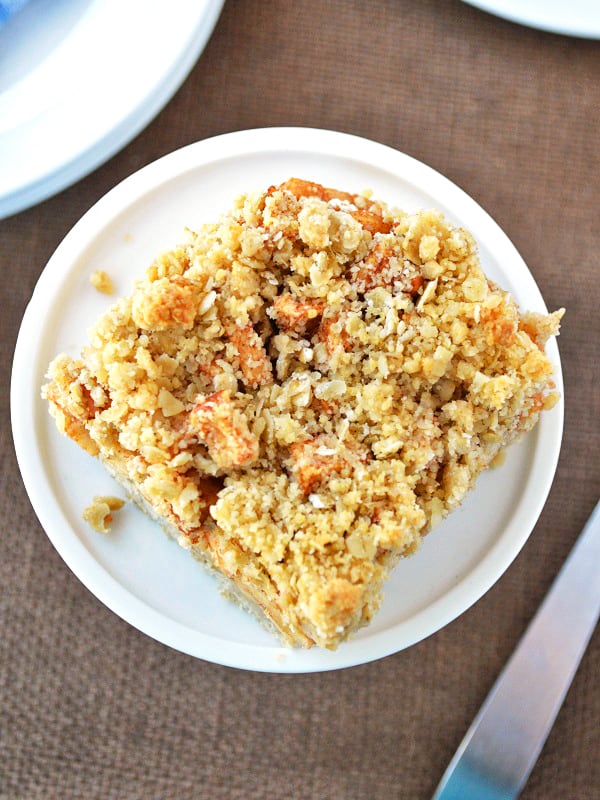 Oatmeal Apple Breakfast Bars
With my thinking cap on, I opted to swap the naturally sweet fresh apples for the berry jam, substitute honey for brown sugar and even then reduce it by more than half.  I also reduced the butter (just a little) and used whole grains in place of all-purpose flour.  All in all, despite the fact that it tastes like an apple pie, it's a pretty darn healthy breakfast that is super easy to put together!
Oh, and I assure you that you'll have no problem whatsoever getting your kids to eat these bars.  Even the ones that don't like oatmeal will devour these, and then ask for more… at breakfast, lunch, snack and dessert!  Good thing the recipe can easily be doubled!
UPDATE 10/10/14:  Thank you to all the wonderful feedback on this recipe!  I thought that making it 3 times before posting was enough, but apparently not!  I've made it two more times, with slightly different modifications and I think I've come up with a way to make them stay together AND increase the moisture – on a consistent basis.  What you see is the updated version.  Feel free to try them again and leave more feedback!

Oatmeal Apple Breakfast Bars
Instructions
Preheat the oven to 350F and butter a 9"x9" glass baking dish.
In a large bowl, whisk together flour, salt, baking powder, baking soda and cinnamon. Add butter and honey and cut with a pastry cutter, two knives or your hands until the mixture is moist and crumbly, about the size of peas. (Do not cheat and use a stand mixer to do this for you otherwise the bars will not turn out.)
Add oats and again, use a pastry cutter, two knives or your hands to evenly distribute the oats Be sure to not allow the butter to melt.
Measure 2 cups of this mixture and press down into the bottom of the prepared glass pan.
Peel one apple and set peel aside. Dice the apple into ¼" pieces. Measure 2 cups worth into a medium bowl. Repeat with the second apple if additional apple is needed to reach 2 cups. (I used 1¼ large apple to reach 2 cups.)
Place the peels and any remaining apple along with vanilla and lemon juice into a blender and puree until mostly smooth. It is okay if some pieces are large, but no larger than ¼". Add this mixture to the diced apples and stir to combine well.
Pour apples evenly over the dough. Using a spatula, evenly distribute and press down the apple mixture.
Crumble the remaining dough evenly over the top and again, press down lightly.
Bake until the top is golden brown, approximately 25-30 minutes. Allow the bars to cool completely before cutting. Cutting the bars before they have completely cooled will cause the bars to crumble.
When cutting, gently use a "sawing" motion, rather than a slice and drag, in order to get a better "bar."
Store in the refrigerator. Bars will be even more "bar" once chilled.
Notes
If you're considering taking these to a fellowship meal, chill the recipe once it's cooled to room temperature and then cut into bars. Store in the fridge, and the bar shape will remain in tact when brought to room temperature upon serving.
Additional Recipe Tips
Gluten-free Option:  Substitute your favorite gluten-free flour (whole grain or blend) in place of the whole wheat
Dairy-free Option:  substitute coconut oil for butter (or try clarified butter)
Resist the temptation to slice apples thinly, instead of in chunks.  This method results in bars that are very hard to cut into squares… although they're just as delicious!
Save time by making this the night before and store in the fridge for a quicker breakfast in the morning.  Simply add approximately 5 minutes to the baking time.
Did you make this chunky homemade applesauce?  Try substituting 1/2-3/4 cup of that in place of the apples for another delicious variation.
Cost Breakdown
whole wheat flour: $0.50
honey: $0.51
salt: $0.01
baking powder:  $0.02
baking soda: $0.01
butter:  $1.12
oats:  $0.18
apples: $1.60
cinnamon: $0.10
Total Cost of Oatmeal Apple Breakfast Bars:  $4.05
This calculation includes higher end ingredients like grass-fed butter, local apples and honey.  If your budget cannot afford these items swap for conventional ingredients and your total for the meal will be approximately $1 less.
What's your favorite apple dish?  Do you love to eat dessert for breakfast?!