Knowing that not wasting food is one of the best ways to save money, I'm always looking for ways to re-use leftovers.
My family loves oatmeal, and it's one of the few grains that sits well in our bellies (in moderation) after completing the Whole30. My famous cinnamon blender waffles are always a hit, but my kids also enjoy Instant Pot oatmeal a few days during the week.
No matter how hungry my people are though, we inevitably have leftovers. In the past I've made leftover oatmeal chocolate cake and maple oatmeal bread, but after one of my readers, Elaine, suggested I freeze and slice and cook slices of leftover oatmeal in butter – i.e. oatmeal cakes – I couldn't help but give it a whirl!
Leftover Oatmeal Cakes
Let's break down the concept of leftover oatmeal cakes.
1. We're using leftover oatmeal.
The primary goal here is to waste less food. We want to avoid the trash can at all costs. Even those 2 Tbsp of oatmeal stuck on the bottom of the pan are worthy of keeping!
Also, we don't want to have to make breakfast from scratch every day. I mean, as much as my kids love peanut butter chocolate muffins and whole30 compliant sweet potato apple bake, sometimes *I* don't want to make breakfast. Sometimes we moms need an easy morning, you know what I mean?!
2. You can't make fresh oatmeal.
Literally, the recipe requires that the oatmeal sit in the freezer/fridge at least overnight, which means it does you no good to make fresh oatmeal right now for this recipe.
Do yourself a favor – put Instant Pot oatmeal or marathon training high protein oatmeal or slow cooker oatmeal or perfect overnight steel cut oats on your breakfast meal plan, intentionally make too much AND THEN put these leftover oatmeal cakes on your meal plan a day or two later.
3. Dress it up with toppings.
I've found that the best oatmeal for leftover oatmeal cakes isn't all dolled up with mix-ins. Sure, you CAN make leftover oatmeal cakes with apples mixed in, or flavored with bananas or even chocolate chips, but it's just not quite as easy.
So here's what I recommend: make your oatmeal (see #2 above) and let everyone top their oatmeal directly in the bowl, rather than making a big batch of cinnamon raisin (or whatever flavor you were going to make).
Then when you make the oatmeal cakes, you won't have a hard time slicing through random chunks of fruit, your chocolate chips won't burn and everyone can still top their oatmeal cakes however they want!
What I think is super funny about this recipe, is how much the kids LOVED it!
I mean, what's not to love about a cake that's cooked in butter until it's crispy on the outside yet still slightly soft and a bit gooey on the inside, flavored however YOU want, super healthy and super filling?
The first time I made this, the kids immediately asked if I could make it again. Something came up in our schedule and I had to post-pone it (which is part of the AWESOMENESS of this recipe – the oatmeal can just stay in the freeze until you're ready to use it!!) and they were legitimately disappointed. Sad faces and "aw's" and all!
Then the second time I intentionally made leftover oatmeal, Mr. Crumbs came along and ate it for breakfast!
We did eventually make this again (and again!), but heads up for you and the kids – they're gonna love it, so be prepared to make it often!
Which is totally okay with me since it's packed with nutrients and super frugal!
The recipe is really as easy as 1-2-3-4:
Make oatmeal
Freeze oatmeal
Slice oatmeal
Cook oatmeal slices in butter
But I've made this a few times and I have a few tricks for you that make the whole process easier.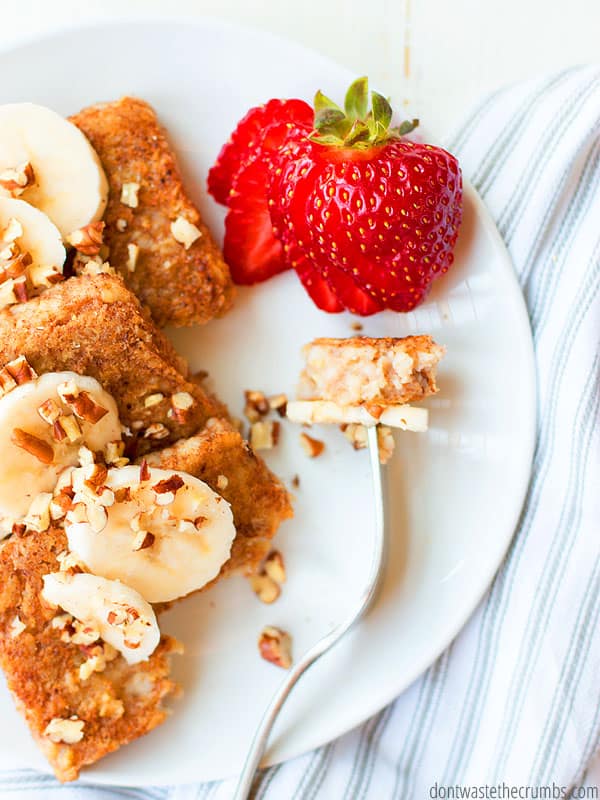 Freeze oatmeal overnight.
Cooked oatmeal as a whole isn't a cohesive unit. Those little pieces of oats like to leave their friends and do their own thing. Freezing the leftovers, packed together, makes the slicing easier.
Use a loaf pan, or a muffin tin.
I prefer using a loaf pan (this is the one I have) and haven't had any issues slicing the oatmeal like a loaf of bread (albeit, the oatmeal is FROZEN and slicing needs some arm muscle).
I've tried using mini loaf pans, but it felt like the slices weren't as pretty.
You could try using a muffin tin, if you don't have either a loaf pan or a mini loaf pan. If you go that route, take each leftover oatmeal muffin and slice it through the middle so you have two round pieces.
Line the pan or tin with something (optional).
If you're the type of person who can't get things out of a loaf pan to save your life, use silicone muffin cups if you're using a muffin tin, or use parchment paper if you're using a loaf pan. I know scraping leftover oatmeal out of the loaf pan is NOT fun nor easy!
When the oatmeal is frozen solid, you can run the loaf pan under hot tap water (on the side of the pan, so the oatmeal doesn't get wet) and the loaf will pop right out!
Cut average size pieces.
Thinner pieces sound like they'd be easier, but they're harder to flip and even harder to cut. Thick slices stay frozen and/or cold in the middle, so you want good "average" size pieces here. I aim for just shy of ½" thick pieces and it has worked well.
I've mentioned already to save the toppings for after you're done cooking, but here are some of my favorite topping ideas:
Butter + maple syrup
Chocolate chips + peanut butter drizzle
Peanut butter + almond butter drizzle
Peanut butter + jelly scoops
Banana + berries + flax seed
Thinly sliced apples or pears + cinnamon
Leftover Oatmeal Cakes
My kids LOVE leftover oatmeal cakes for breakfast, even better than muffins, bread and cookies. We've made raisin, apple, coffee in this super easy recipe!
Author: Tiffany
Prep Time:

3 mins

Cook Time:

10 mins

Total Time:

13 mins

Yield:

4

–

8

slices

1

x
Category:

Breakfast

Method:

Oven

Cuisine:

American
2

+ cups leftover oatmeal, frozen into a bread loaf pan (lined with parchment paper)

2

–

4

Tbsp butter or ghee (or coconut oil)
Toppings as desired
Instructions
Preheat a heavy bottomed skillet (I use my 12″ cast iron skillet) to medium low heat.
Meanwhile, slices the leftover oatmeal into approximately 1/2″ thick slices.
Melt the butter (or ghee, or coconut oil) in the skillet and turn to coat the pan.
Add the slices the slices of oatmeal, filling the pan yet leaving enough room to be able to turn the slices over. If you have any slices that didn't fit in the pan, put them in the fridge until the first batch is done.
Cook until the oatmeal is evenly browned, about 3-5 minutes. Using a flipper, very carefully scoop up each pancake and turn them over. You might need to use your hand to guide the cake as it flips.
Let the oatmeal slice cook on the second side until evenly browned, another 3-5 minutes.
When they're ready, remove to a plate using the flipper. Top as desired and serve warm.
PS – I'd like to know what you do with leftover oatmeal? And if you made leftover oatmeal cakes, what would you put on top?