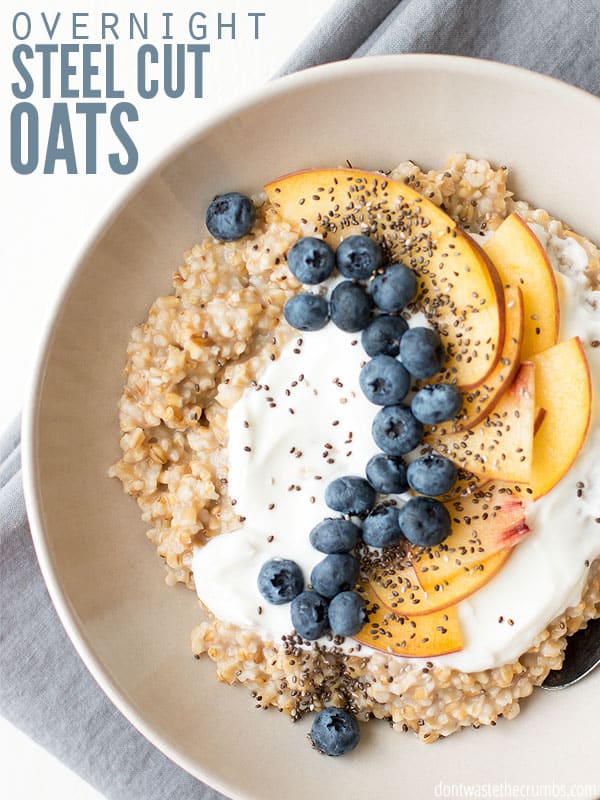 I groomed my kids to love oatmeal early on, and now that they can make homemade instant oatmeal packets in any flavor they want, there's never a battle over oatmeal for breakfast.
Until now, because I just introduced them to perfect overnight steel cut oats.
For a long time, I refused to buy steel cut oats. In my mind, they weren't any different than plain rolled oats. Oats are oats are oats, right?
And besides, they cost a little more than rolled oats did and if all oats were oats, why pay more? I just pretended they didn't exist and went on my merry way.
Never mind the fact that I had never even TRIED them.
Let me just say that I am wrong for ignoring steel cut oats all this time. Steel cut oats are nothing like rolled oats!
Well… except nutritionally. That's where steel cut oats and rolled oats are about equal.
And then there's the shape factor. Steel cut oats are the whole groat CUT into one or two pieces and sort of look like pieces of rice.
Rolled oats are, well ROLLED and are flat.
But really, that's where the similarities end because when it comes to preparing and cooking and eating, steel cut oats and rolled oats are totally different.
Ok, I lied again.
Steel cut oats have this stigma that they take forever to cook. It's true that you can't pop a bowl of steel cut oats in the microwave and have breakfast ready in 2 minutes.
HOWEVER, taking 5 minutes to prepare a bowl of deliciously crunchy steel cut oats isn't that big of a deal, right?
And SURELY sleeping in a warm cozy bed while the steel cut oats become deliciously crunchy overnight isn't worth complaining about either, right?
And if we REALLY want to get nit picky about it, one serving of steel cut oats costs just 4¢ more than one serving of rolled oats.
So to recap, we have a minimally processed whole grain that costs about the same as its more processed counterpart, cooks in 5 minutes and while you sleep, magically overnight turns into a breakfast that's nearly ready to serve.
Without lugging out the big slow cooker.
Seriously, why did I have to be so stubborn for so long?!
I have no answer for that, but I do know the secret to making perfect overnight steel cut oats that are delicious and crunchy and will forever change the way you think about oatmeal as a whole.
A cast iron skillet.
Yep, a little bit of butter in a warm cast iron skillet (I have this one) turns plain Jane steel cut oats into an incredible bowl of oatmeal that looks nothing like the grey mushy bowls you're used to.
Plus toasted oats means better leftovers for future breakfasts, and who is going to turn down the option to cook less?
Certainly not me.
The best part though about perfect overnight steel cut oats (aside from the aforementioned 5 MINUTES and OVERNIGHT factors) is the toppings.
Oh how I love oatmeal toppings!!
One of my favorites is apples + walnuts + maple syrup. Just like how I top my single serve slow cooker oatmeal.
My son adores peaches and cream, using real peaches and real cream (because that's the real food equivalent to dried up and shriveled peaches with powdered "cream")
My daughter likes strawberries and cream and once asked if she could put Nutella on top. A girl after my own heart.
I've also heard that savory oatmeal is a trend. Maybe a fried egg with prosciutto, Parmesan and sun-dried tomatoes? Or some smoked salmon with cream cheese and capers?
Maybe we should aim to eat a different type of oatmeal every day of the month, using this calendar from Bob's Red Mill as a guide?
Oh my. This is going to be a seriously tasty month!
Perfect Overnight Steel Cut Oats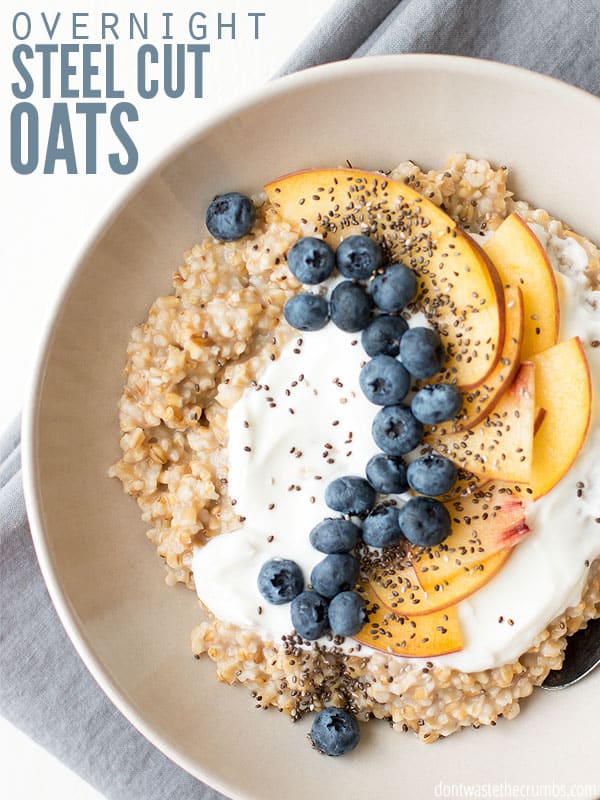 Overnight steel-cut oats made perfect without a slow cooker. Toast the oats first for better flavor, they sit overnight then it's all about the toppings!
Author:
Prep Time:

8 hrs

Cook Time:

10 min

Total Time:

29 minute

Yield:

4

servings

1

x
Category:

Breakfast

Method:

Stovetop

Cuisine:

American
Instructions
Measure water into a medium sauce pan with a lid and bring to a rapid boil. (I like to use my 2.75 qt dutch oven.)
Meanwhile, melt butter over medium low heat in the cast iron skillet. Add the steel cut oats and toast until they're darker in color and fragrant, about 5 minutes.
When the water has come to a rapid boil, add the steel cut oats and salt and stir. Set the timer for 1 minute and allow the oats to cook.
When the timer goes off, cover the oats and turn off the stove. Set the oats aside until morning.
In the morning, reheat the oats until they are the desired temperature and top with desired toppings.
How would you top your own bowl of perfect overnight steel cut oats?
Disclosure:  This post is sponsored by Bob's Red Mill. I've been using Bob's Red Mill products in my kitchen for a long time now, and long before this blog was born. As always, I would never recommend anything on Crumbs that I wouldn't recommend to a close friend or neighbor, and all opinions here are my own.