Make Instant Pot oatmeal using rolled oats instead of steel-cut for super easy breakfasts. Top with bananas, stir-in pumpkin, or even apples and cinnamon! Serve with homemade coconut milk, or homemade almond milk for a perfect creamy finish.
I look forward to spending mornings before school with my kids. I like to make breakfast "special" whenever I can, making batches of peanut butter chocolate chip muffins or protein pancakes once a week. My kids especially like cinnamon granola for "cereal Fridays."
But sometimes I run out of special items, and that's when I turn to the old stand-by, oatmeal.
I've been making it on the stove-top for years, because that's the only way I knew how to make it (other than in the microwave using DIY instant oatmeal packets).
But now that I've been properly introduced to Instant Pot oatmeal, I must say, I don't really want to make it any other way!
Don't get me wrong – stove-top oatmeal isn't hard. You measure the oats and water, add butter or salt if you want (which we ALWAYS want), turn it up and let it cook.
But for some reason, mornings have felt busier lately and I simply don't have a few spare minutes to stand at the stove. So for me, being able to dump the ingredients into the Instant Pot, turn it on and walk away is a huge time-saver.
I've joked with my friends that the Instant Pot is like a second set of hands in the kitchen. I love making Instant Pot brown rice while I'm working on the meat, or making Instant Pot whole chicken while working on the side dishes.
With Instant Pot oatmeal, breakfast is 100% hands off and I can go do something else, as it turns out perfectly!
Instant Pot Oatmeal
Not only is it the perfect hands-off breakfast, it's also:
Completely Customizable
Super Frugal
Perfect to make ahead in big batches
Cleaner than using the stove-top
Ingredients for Instant Pot Oatmeal Recipe
Really you only need to have two ingredients – rolled oats and water. We always add the butter and salt though!
Old fashioned rolled oats
Water
Butter (optional)
Salt (optional)
Can I make Instant Pot oatmeal steel cut?
Most Instant Pot oatmeal recipes call for using steel-cut oatmeal. I haven't tried using steel-cut oats because my perfect steel-cut oatmeal recipe is just that – perfect. I don't want to mess up a good thing!
Plus my kids aren't huge fans of steel-cut oats anyway. We've done side-by-side taste tests and they simply prefer rolled oats instead. So that's what I used for my Instant Pot oatmeal recipe.
What do I serve Instant Pot oatmeal with?
My Instant Pot oatmeal recipe is pretty basic because every family likes their pressure cooker oatmeal differently. Heck, ask my family how they like their oatmeal and you'll get four different answers!
But that's the beauty of the recipe – it's entirely customizable.
Add raw fruit and spices with the oatmeal and they'll cook at the same time… just like stove-top oatmeal. Instant Pot oatmeal with apples is so good!
Some people like to make oatmeal with brown sugar, but if I wanted to make it sweet, I'd prefer to add a little natural sweetener like maple syrup or honey.
Or you can make it plain as written and add your toppings separately – it's completely up to you.
I chose blueberries, coconut and chopped walnuts for this batch of oatmeal, but you can choose whatever you want. Eating seasonally will keep the costs down, and while oatmeal is already a stick-to-your-bones type of breakfast, adding a healthy dose of fat will keep bellies satiated until lunch.
There are also ideas in my marathon training high protein oatmeal, if you're looking to boost the protein of your oatmeal too!
How do you cook oatmeal in the Instant Pot?
Combine ingredients in the Instant Pot.
Close the lid + seal valve + and manually select medium pressure, 4 minutes.
When the oatmeal is finished, use the Quick Release method.
Serve and top as desired!
That's it!
Can I make extra IP oatmeal?
Yes! My kids don't care if their oatmeal was cooked yesterday, so I can make a really big batch at the beginning of the week and have enough to cover breakfast for several days.
When you make oatmeal on the stove, you have to adjust the cooking time depending on how much you make. With Instant Pot oatmeal, you can make as much as you want and the cook time doesn't change. That's one of the reasons why I love the Instant Pot!
I have the 8-quart DUO Instant Pot, so I can REALLY make a lot of oatmeal, but you should be able to at least double this recipe in a smaller Instant Pot. Just make sure you don't go above the max fill line!
We prefer to reheat it on the stove and add milk to make it creamy again.
Psst – if your family doesn't like leftover oatmeal, consider making extras anyway. Leftover Oatmeal Chocolate Cake is always a hit in our house, as is Maple Oatmeal Bread! Sometimes I intentionally make extra oatmeal so I can make Crispy Oatmeal Cakes!
Why does my oatmeal burn in the Instant Pot?
You'll want to make sure that your Instant Pot is sealing properly and the sealing ring is secured in place and clean. Also, be sure that the sealing valve is clear.
Be sure to add the five full cups of water, that the recipe calls for, with your two cups of oats, and only add any optional sweetener (like maple syrup or honey) to your finished oatmeal – Not into the Instant Pot while it cooks, or you may get a burn notice as the oatmeal sticks to the bottom of the pot.
Using an Instant Pot isn't difficult, but there are a few learning curves if you're brand new. Believe me, I have learned the hard way. I actually ended up burning breakfast the first time I made it. With that said, follow the directions above and you'll be fine!
More Reasons to Make Instant Pot Oatmeal Rolled Oats
You Don't Have to Clean Up Oatmeal Splatter Messes
Have you ever turned on the stove and walked away with the intention of coming right back… only to completely forget you were cooking something and come back to an empty pot? Or oatmeal splattered all over the stove and counters?
I've done this more times than I can count, but the Instant Pot saves me from all this mess. Not only does it beep at me to tell me when it's done, but it doesn't splatter either. And if it did by chance, it'll be confined to inside the pot!
Oatmeal in General, is Cheap
Per ounce, oatmeal is one of the most affordable whole grains you can buy. That's why we use it often in recipes like cinnamon oatmeal blender waffles and oatmeal chocolate chip cookies and no-bake peanut butter chocolate chip granola bars.
My buy-price for rolled oats is 50¢ per pound and I usually buy this package from Costco (although Costco's price is better than Amazon's).
Kids love it, it's cheap, and packed with nutrients. Win-win-win!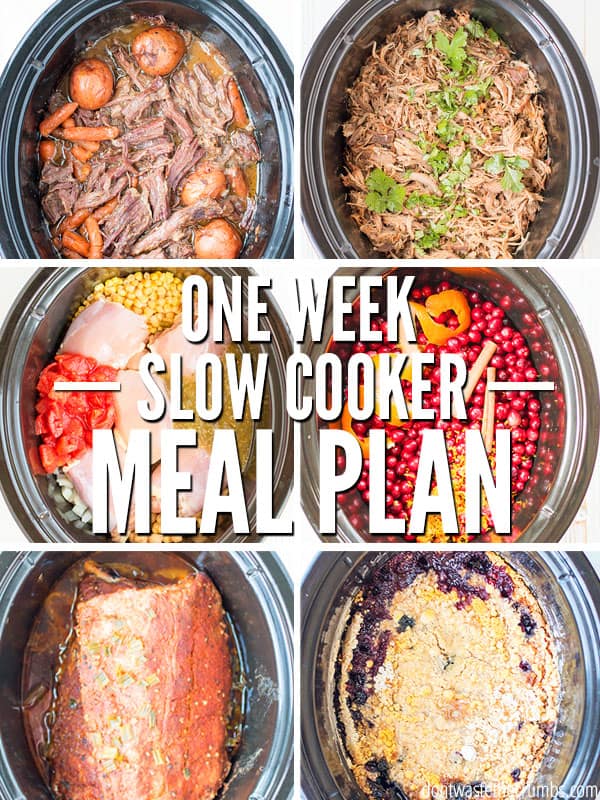 Slow Cooker Meal Plan
Sign up to get instant access to my Slow Cooker Meal Plan, complete with recipes and shopping list!!
Watch How to Make Instant Pot Oatmeal:


Instant Pot Oatmeal
Make Instant Pot oatmeal using rolled oats instead of steel-cut for super easy breakfasts. Top with bananas, stir-in pumpkin, or even apples and cinnamon!
Author: Tiffany
Prep Time:

5 minutes

Cook Time:

4 minutes

Total Time:

9 minutes

Yield:

4

servings

1

x
Category:

Breakfast

Method:

Instant Pot

Cuisine:

American
2 cups

rolled oats

5 cups

water

1 Tbsp

butter (optional)

1/2 tsp

salt (optional)
Instructions
Combine ingredients in the Instant Pot.
Close the lid and make sure the sealing valve is turned to the sealing position.
Press the "manual" button and make sure the Instant Pot is on HIGH pressure.
Adjust the time to 4 minutes.
When the oatmeal is finished, use the Quick Pressure Release method by carefully turning the sealing valve from the sealing position to the venting position. Make sure your face and hands are not over the valve when you do this.
When the pressure has released, serve and top as desired!
Keywords: instant pot oatmeal
How do you use leftover oatmeal? Share with me your ideas and your favorite recipes in the comments below!