Before you run out to buy an Instant Pot, you must read this! Super helpful info on the 6 quart vs 8 quart comparison, how fast the Instant Pot really cooks food, hacks to make it work for you and so much more! Plus some of my go-to recipes, like Instant Pot whole chicken and Instant Pot beans.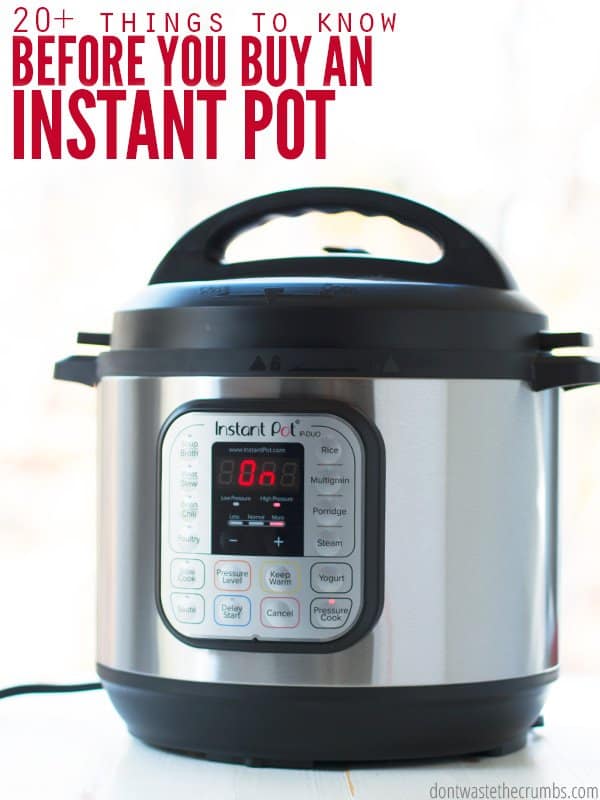 I put off buying an Instant Pot for at least two years because I honestly thought it was just a craze.
However, they don't seem to be going anywhere and readers keep asking me for Instant Pot recipes… so I bit the bullet and I finally bought the 8 quart Instant Pot DUO.
But the biggest question is, should YOU buy an Instant Pot? Here is EVERYTHING you should know before buying an Instant Pot.
First, what is an Instant Pot?
Most people think the Instant Pot is a pressure cooker, which is true. But the Instant Pot is an electric pressure cooker that is ALSO capable of performing the functions of a:
slow cooker

electric pressure cooker

rice cooker

yogurt maker

saute pan

steamer

warmer
Basically, it's a multi-cooker – a kitchen appliance that can replace MANY of your other kitchen cooking appliances by being 7 tools in one.
2 BIG Things to Know About the Instant Pot Before You Buy
1. No recipe is truly "instant."
Pressure has to build inside before the appliance actually starts cooking, and then the pressure has to come back down once the set cooking time has ended.
This means that when a recipe says to cook for 20 minutes, you have to add time before AND after to allow for this. The amount of time depends on how full the Instant Pot is. (See the "hacks" section below for a way to make the Instant Pot build pressure faster!)
2. The size of the Instant Pot matters.
For safety reasons (and so it operates correctly), the Instant Pot should be filled no more than 2/3 full. That means if you buy the 6 quart Instant Pot (which is the most popular), you can only safely put 3 1/2 quarts of food inside. If you buy the 8 quart Instant Pot, you can put 6 quarts of food inside.
This may not be a big deal, but I know that one batch of chicken stock in my 6-quart slow cooker gives me a full gallon worth of stock. I would have to make multiple batches of stock in a 6-quart size Instant Pot to get the same yield.
10 Pros to Buying an Instant Pot
You can saute in your Instant Pot.

If your recipe calls for browning and then moving to the appliance, you can do that all in the Instant Pot.

The Instant Pot CAN save TONS of time. From start to finish, you can make Instant Pot chicken stock and Instant Pot beans and Instant Pot whole chicken, each in about an hour. Ordinarily chicken stock would take 24 hours, dry beans would take 4 hours and a whole frozen chicken would take several hours to thaw, and then an hour to cook.
The Instant Pot uses less energy than a slow cooker.

The Instant Pot is on for a shorter amount of time, so it uses less power overall. It's also insulated much better than a slow cooker, which contributes to less heat loss and quicker cooking of food.

The Instant Pot doesn't heat up the house.
You can delay the cook start time.

For example, if you want hot soup when you come home but don't want mushy vegetables, you can set the recipe to start at 4 pm. It'll come to pressure, cook for the time you specify and release pressure naturally. Come home to a soup that just finished cooking with perfectly al dente vegetables.

You don't have to babysit the Instant Pot.

Liquid levels don't have to be checked, and you don't need to stir your food with the Instant Pot, as you may with a stovetop or slow cooking. You can literally walk out the door and leave it be. You'll come home to dinner done, with no burning, no scorching (because the liquid is gone) and the only stirring you'll do is right before you serve.

The Instant Pot can turn off when it's done.

You can turn off the "warming" function on the Instant Pot, so food doesn't continue to receive heat. It will stay warm, however, since the pot is sealed, but it won't be "cooking" per se.

The flavor is AMAZING!

I think it's how everything stays inside – the ingredients, liquid, aromas – that makes the flavor of foods so concentrated. Everything I've made has come out SO GOOD. It's like good food, on steroids.

You don't have to convert recipes if you have a different sized Instant Pot.

Some might think that you have to convert 6 quart recipes to fit in the 8-quart model, or the other way around, but you don't! You just have to be careful that you: A) don't exceed the max fill line, and B) the ingredients for the recipe will fit in your Instant Pot.

The Instant Pot insert is stainless steel. There was a point in time when many slow cooker crocks were made with lead. Fortunately, the Instant Pot insert is made with stainless steel, so you don't have to worry about heavy metals leaching into your food or your family getting sick.
2 Cons to Consider Before Buying an Instant Pot
While the HOUSE doesn't smell like whatever you're cooking, the inner seal of the lid might. The inner seals transfer flavor, but there's a great solution to this problem: buy a second seal! Several vendors on Amazon make "sweet and savory" seals, with the idea being one seal is for sweet things, and the other is for savory. This is a great idea if you plan on using your Instant Pot more than a few times each week AND/OR for more than just dinner.
The Instant Pot isn't ALWAYS faster.

Whether or not you save time depends on the recipe you're making. My

Instant Pot chicken noodle soup

, for example, would take just as long on the stove as it would in the Instant Pot. (However, see pro #2 above.)
Tip: Earn Amazon gift cards via Swagbucks so you don't have to pay for this out of pocket. I'm saving up to buy a set of colored seals – this set of tri-color three seals is the best deal I've found so far.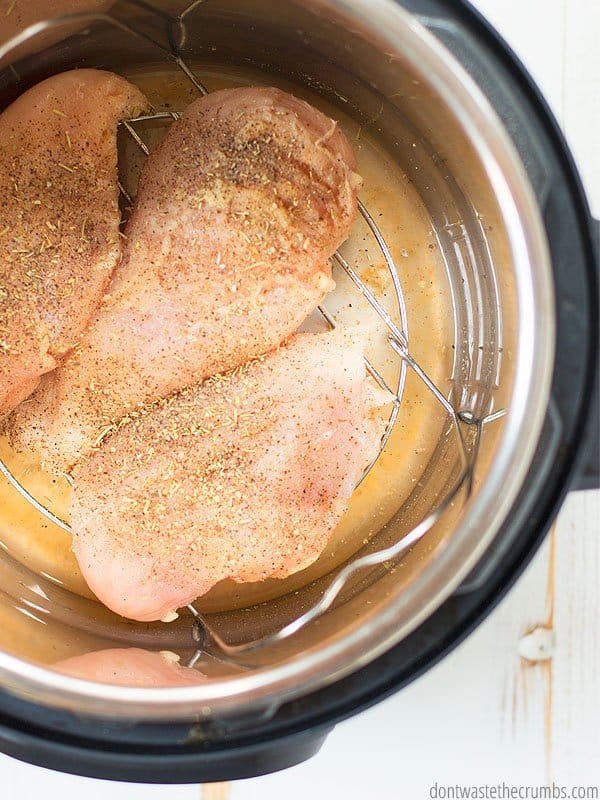 6 Hacks to Make You Love Your Instant Pot
1. You can get a second insert!
Sometimes dinner needs a few different components… maybe you're making kung pao chicken and you're going to serve it with rice. Or maybe dinner is in one pot AND you're serving from it… which means you can't use the Instant Pot for dessert until dinner is over AND the insert is washed.
Here's the solution – get a second insert! You can buy a second insert (available for both the 6 quart and 8 quart sizes) and you'll be able to make things back to back (to back!).
2. Turn your 8 quart Instant Pot into a serious ONE-POT-COOKS-ALL machine.
I was looking for a beef and broccoli recipe and what I found was either people were eating mushy broccoli (because it was put in the pot at the very beginning) OR they were steaming the broccoli separately (which in my mind, seems counterproductive to cooking dinner in the Instant Pot).
The fix is to use a 6 quart insert INSIDE the 8 quart pot.
Basically, you put the meat and sauce directly in the 8 quart liner (that comes with the 8 quart Instant Pot) and follow the recipe directions. When it's done, you put the 6 quart liner ON TOP of the cooked meat, inside the Instant Pot and make steamed broccoli in it using the trivet. The extra few minutes of cooking won't hurt the meat, and you truly can cook your entire dinner in the Instant Pot! The only downside is that this only works for the 8 quart Instant Pot…
(Here's a step-by-step on my own Instant Pot beef and broccoli recipe.)
3. Speed up the "coming to pressure" time by using the saute function.
A little expansion of pro tip #1 above. Yes, you can saute in your Instant Pot, but you can also use this function to speed up your "come to pressure" time.
Pour any liquids of the recipe in first, hit saute, and let it warm up while you prep the rest of the ingredients. This will reduce the time it takes for the Instant Pot to come to full pressure for your recipe.
4. You can use the Instant Pot to reheat food – for real!
I was kind of skeptical on how you could reheat food in the Instant Pot at first. I mean, if you're reheating stew or soup or something else that's okay to touch the cooking surface, I can see how it would work. But what if it was a casserole… or shredded chicken… wouldn't that make a mess? Or ruin the leftovers?
Solution – steamer insert pans. These pans fit in 5, 6 or 8 quart Instant Pot and allow you to put food inside while putting water or something else on the outside. The Instant Pot heats the water, and the water reheats your leftovers. Done!!
5. Take it with you on vacation!
How much do you spend on eating out when you're on vacation? What if you took that money and invested in an Instant Pot instead? Odds are it would pay for itself in one or two dinners!
Instead of going out to eat EVERY night, bring the Instant Pot with you and plan for "one-pot" meals you know your family loves, like pot roast or chili or even a whole chicken. You'll save money AND invest in a kitchen appliance that will quickly become one of your favorites (tied with the stand mixer and blender, of course!).
6. The Instant Pot comes with built-in handles.
You know those little "edges" on the lid? If you stick those into the holes inside the handle of the Instant Pot itself, you don't have to put a (wet) lid on the counter!
In terms of function, which Instant Pot should you buy?
Different models offer different capabilities. Some LUX models have cake and egg functions, the DUO has the yogurt, bean/chili, and poultry functions, and the SMART model is blue-tooth compatible. Then there are the ULTRA and NOVA and DUO PLUS models to consider too.
Personally, you can cook almost anything with the basic Instant pot. As long as you have the manual button and a pressure release valve, I think you're good to go.
Which Instant Pot is Best for a Family of Four? Or for a Large Family?
I have a family of four and I personally wouldn't buy the 6 quart Instant Pot.
My slow cooker is 6 quarts and there have been plenty of times where my recipe barely fits (like when I use a larger cut of chuck roast for slow cooker pot roast). If I bought the 6 quart model, there's NO WAY that recipe would fit because I could only safely put in 4 quarts worth of food!
So then, what is the best Instant Pot to buy?
Taking it all into consideration – both the functions AND the max 2/3 full aspect AND the size of my family – I ended up purchasing the 8 quart DUO 7-in-1 Instant Pot (because of the yogurt setting) on Amazon and I couldn't be happier! It is perfect for my family of four.
Here are some of my favorite Instant Pot recipes: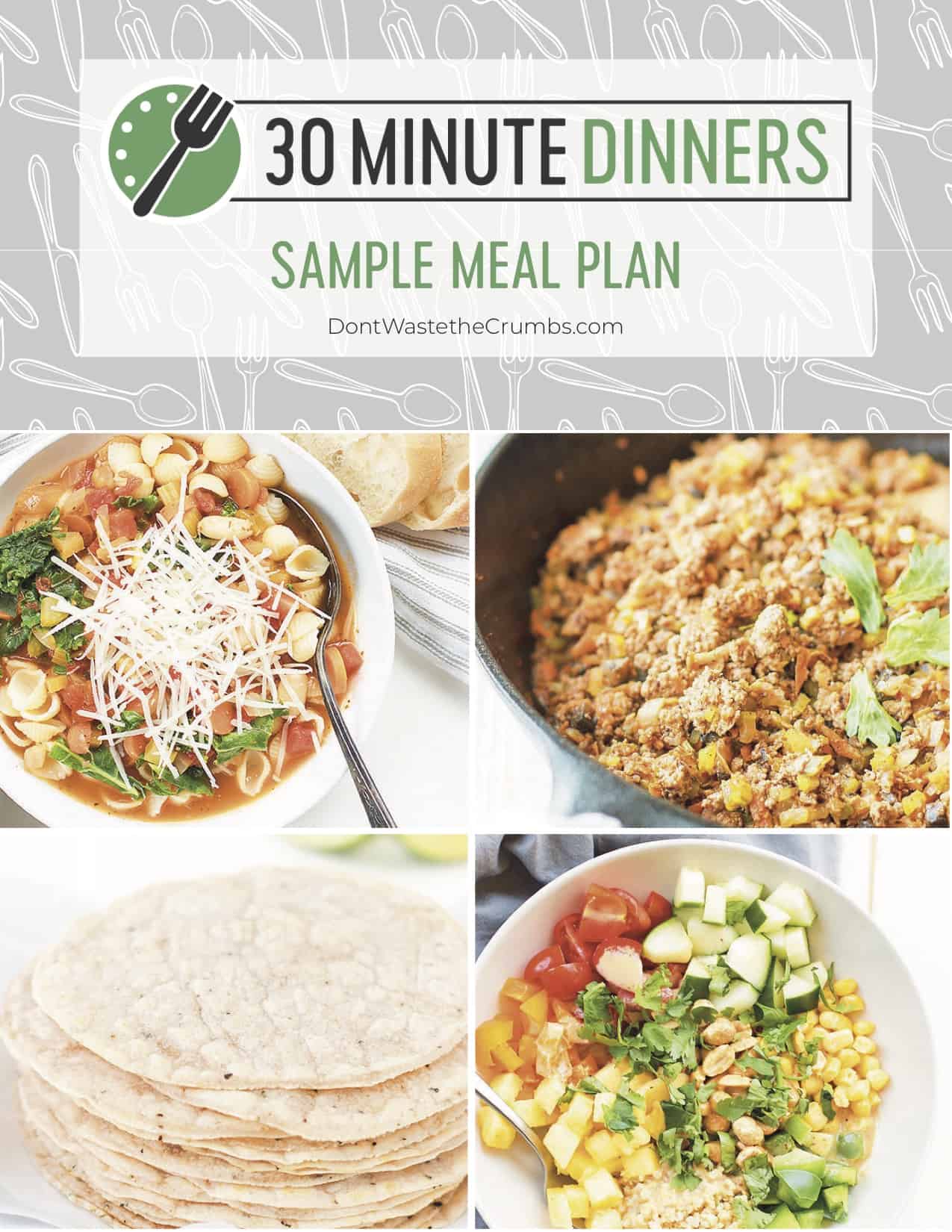 30 Minute Dinners Sample Meal Plan
Sign up to get instant access to my
30 Minute Dinners Sample Meal Plan
, complete with recipes and step-by-step instructions!
Are you in the market for an Instant Pot? Do you own an Instant Pot? Can my fellow IP owners share their favorite tips with the IP shoppers? Leave them in the comments below!