For the first week or so of our Whole30, we had fried potatoes for breakfast every day.
Can you blame me? If you're used to bowls of oatmeal or homemade granola for breakfast AND half of your kids don't like eggs, there's definitely a Whole30 learning curve.
However, a few days in, my son asked if we could have something else besides potatoes for breakfast. The poor kid. We still had several weeks to go!
I started digging around and found a recipe for a sweet potato and apple breakfast casserole that sounded good. The kids cheered the first time I made it and they've been requesting it ever since!
My recipe below is inspired by the original, although I've tweaked it just a bit to ensure it comes out right every time.
First things first though – let's talk about what this sweet potato and apple breakfast casserole entails.
Sweet Potato and Apple Breakfast Casserole
Sweet Potatoes – pretty sure this is obvious, but you can use whatever sweet potatoes you can get your hands on.
We had orange ones, but white ones would work. I also kept the skin on the potatoes (because I'm lazy like that), but you can peel the potatoes first if you'd like. Be sure to save those skins for homemade Instant Pot chicken stock (or slow cooker chicken stock, if you don't have an IP).
Apples – I've tested with fuji, gala and granny smith and they're all really good.
If you want to get picky about it, you can choose an apple that's naturally sweeter. But to be honest, the end result tasted the same to me regardless of which apple we used. My advice – just use what you have.
Eggs – Because this is a casserole, we're using eggs as a binder.
Don't worry – this isn't an "eggy" casserole. I can't promise your egg-haters won't notice the eggs (mine did), but if you can get them past the "two bites no thank you" rule, there's a 95% chance they'll finish it off (because it's THAT good).
If you have egg lovers, feel free to add a third egg. I've done it both ways and it was delicious each time.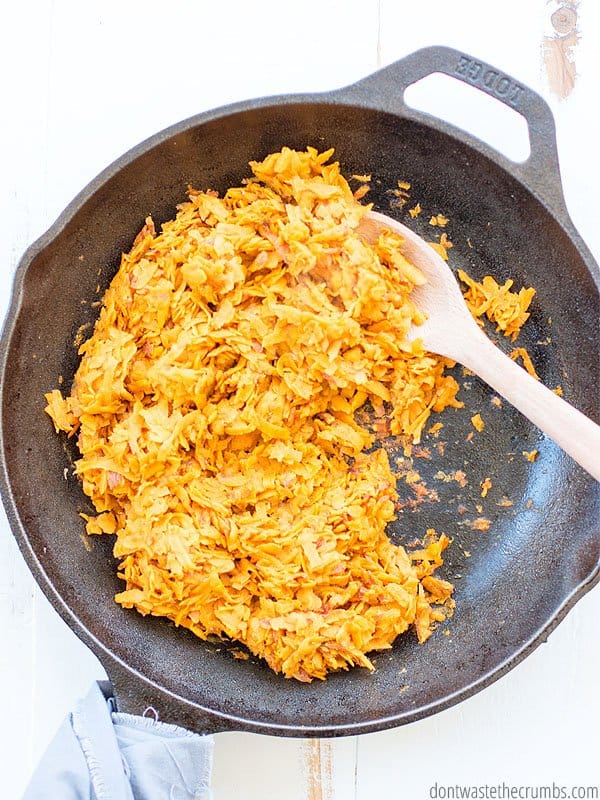 Raisins – Generally speaking, dried fruit should be used "sparingly" on the Whole30.
With the exception of this recipe, we haven't had any dried fruit at all and I think that fits well in the "sparingly" arena. There are some inside the bake itself, and then a few more sprinkled on top.
If you have egg-hating kids, putting raisins inside helps to make the fact that there are eggs less noticeable. If your kids are used to sweet, I'd recommend putting the raisins on top.
I liked having both – the raisins inside plump up and get warm inside the oven, while the raisins on top gave a boost of concentrated sweetness that worked so well with the casserole.
Coconut Milk – This gives the casserole it's creaminess, and it's Whole30 compliant.
You can substitute any milk here though, just make sure it's full-fat. If you use reduced fat milk, it will create excess liquid in the casserole. It certainly won't taste bad, but it won't cut or serve quite as nicely.
Cooking Fat – You can use your choice of ghee or coconut oil (or butter, if you're not concerned with being Whole30 compliant).
Personally I'm not a big fan of the flavor of ghee. I've tried it several times now and every time I wish I had used coconut oil. That's what I'm recommending in this recipe, but you can substitute for a different cooking fat if you'd prefer.
Spices – Cinnamon and nutmeg are the stars here, with a pinch of salt.
The last time I made this I used 1 tsp of cinnamon (and that's how the recipe is written). Next time though, I'd like to double the cinnamon or even use one drop each of cinnamon bark vitality oil and nutmeg vitality oil in lieu of both spices!
Pecans – These are entirely optional, but I highly recommend.
I've tested this recipe plain, with pecans and then with walnuts (which are also to be used "sparingly") and hands down, this sweet potato and apple breakfast casserole tastes best with pecans.
As written, this recipe doesn't make a lot of food. This is a great component of a breakfast, but shouldn't necessarily be served as breakfast alone. You'll definitely need a side of bacon, homemade sausage or fresh fruit to round out the plate.
The good news though, is that this recipe easily doubles and reheats well. I haven't tried this myself, but I'm betting you can freeze a batch of this for later in the month. That way when you're so tired of cooking you'd rather not eat, at least your family doesn't have to suffer!
Sweet Potato and Apple Breakfast Casserole will give you variety on your Whole30:
Real food eating requires a lot of cooking from scratch. But that also helps you save money! I've compiled all my knowledge on saving money on groceries in my signature eCourse Grocery Budget Bootcamp. Go HERE to find out when enrollment opens back up!
This recipe is featured in my FREE Budget-Friendly Whole30 Meal Plan!
Sweet Potato and Apple Breakfast Casserole
My kids LOVE this sweet potato and apple breakfast casserole. It takes a few minutes of prep, a few minutes to bake and it's a nice alternative to eggs! Whole30 compliant and you can use whatever apples you have (I used granny smith). I like to make two double batches and have leftovers all week!
Author: Tiffany
Prep Time:

10 mins

Cook Time:

15 mins

Total Time:

25 mins

Yield:

3

-

4

servings

1

x
Category:

Breakfast

Method:

Oven

Cuisine:

American
1

large sweet potato, shredded (about

1 1/2 cups

packed)

1

–

2

apples, shredded (about

3/4 cups

packed, juices reserved for another recipe)

1 Tbsp

coconut oil

1/4 tsp

salt

1

–

2

tsp cinnamon

1/4 tsp

nutmeg

2

eggs

1/2 cup

full fat canned coconut milk

1/4 cup

raisins

1/4 cup

chopped pecans
Instructions
Preheat the oven to 400F.
If you haven't already shred the sweet potato until you have about 1 1/2 cups, packed.
Shred the apple until you have about 3/4 cup, packed. As you pack the shredded apple, you'll naturally squeeze the juice out. You can save the juice for a recipe later, or drain in the sink. Be sure to press the apples into the measuring spoon very well, in order to get as much of the juice out as possible.
In a large bowl, whisk the salt, cinnamon, nutmeg, eggs and milk together well.
Heat coconut oil in a cast iron skillet. Add the sweet potato and cook, stirring often, until the majority of the sweet potato is golden in color.
Pour the sweet potato into the egg/milk mixture and add the apples and half of the raisins. Stir well so the ingredients are thoroughly mixed together.
Pour this back into the skillet, smooth the top and sprinkle the remaining raisins and pecans on top.
Bake in the oven for 10-15 minutes, or until the eggs are set and begin to brown.
Notes
If you want to double this recipe, cook the sweet potato as directed but in a bigger pan. Instead of transferring the egg/milk/sweet potato/apple mixture back into the pan, transfer to a 9×13 glass baking dish. Bake as directed.
Adapted from Paleo Running Mama.
Can you think of any tasty Whole30 breakfast ideas that you really enjoy? We could use help breaking up the monotony!! Leave your ideas in the comments below!