My family and I have officially been on the Whole30 for a full week, and if there's one thing I've learned about eating Whole30 on a budget, it's that you need to cook things from scratch.
There are a lot of things you can't have on the Whole30, with one of the big ones being sugar. As it turns out, sugar is in EVERYTHING.
Well, not "everything," but it's in far more things than you'd think, including sausage. That's why I've started making our own homemade breakfast sausage recipe instead!
What's funny – or odd, really – is that breakfast sausage is SO EASY to make. Truly, it's a wonder how sausage companies are making any money at all.
If everyone knew that homemade breakfast sausage recipe was nothing more than ground meat and a handful of spices – and NO sugar – we'd all make it ourselves and the breakfast sausage companies would be out of business!
Homemade Breakfast Sausage Recipe
Let's talk about the two main ingredients, shall we?
Ground Meat
In testing this homemade breakfast sausage recipe, we tested several different ground meats, including ground chicken, ground turkey, ground lamb and ground pork.
Hands down, our favorite was the ground pork. The kids and I both loved how it was meaty, and juicy, and it held together very well.
The ground turkey was our least favorite, mostly because the patties were very crumbly. I had a hunch this would be the case and intentionally used 85/15 lean ratio (where 15% of the turkey was fat), yet they still didn't hold up well.
We tested the ground chicken alongside the ground lamb, and that batch was good as well. I suspect that using ground chicken alone would yield a crumbly patty much like the ground turkey, and that the main reason that particular batch held up was because of the fat in the ground lamb.
Feel free to use whichever ground meat you have or whatever is on sale. I would recommend though, that if you want to choose a leaner meat like chicken or turkey, that you make it a 50/50 ratio with either lamb or pork. This will offer juicy homemade breakfast sausage that holds together well.
Spices
Another great reason to make your own homemade breakfast sausage recipe is that you likely have all the spices you need in your spice cabinet: garlic, sage, onion, celery seed, cayenne, salt and pepper.
I've made a few substitutions, like onion flakes (like the ones used in DIY dry onion soup mix) instead of granulated onion, and the sausage was delicious both times.
If you have kids who aren't fans of spicy things, you might want to cut back on the cayenne. My daughter does NOT like spicy things, but this sausage written as is wasn't too hot for her. I'll leave it up to you!
The only spice you might not have is celery seed, but in my opinion, this one is worth picking up at the store. It really makes the sausage so flavorful, and I don't think it would taste nearly as good without it.
Since you'll probably have some celery seed leftover, feel free to use it in Instant Pot chicken stock or slow cooker chicken stock. I've done it in both recipes and it's simply delicious.
You can also add it to Instant Pot chicken noodle soup for that deep, rich soup-y flavor (which I know doesn't make much sense, but I know you know what I'm talking about)…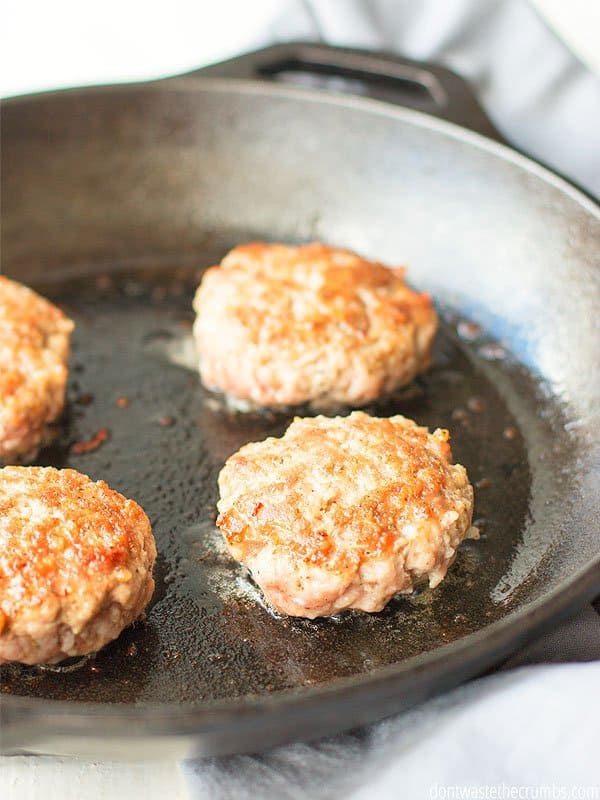 More Recipe Tips
Don't forget that one of the awesome ways to use a KitchenAid mixer is to mix up ground meat! It'll keep your hands clean for a little bit longer, but really it helps to evenly distribute the spices among the ground meat.
Once you've prepared your meat, divide the meat into 2 oz patties. This is where having a simple kitchen scale is super handy, but it's not required. 2 oz is about 4 Tbsp, which is about ¼ cup. Feel free to eyeball it if you don't want to wash another dish.
I also recommend making all of your patties – or at least dividing up the meat into balls – before you cook any of them. The cooking process goes fairly quick, and if you have all of your patties formed before you cook, it'll save you some hand-washing in the process.
It will also speed up the cooking process a bit too.
I cooked all of my homemade breakfast sausage in a cast iron skillet (I have this 12" skillet and another 8" skillet), but you can use a griddle (I have this griddle) if you'd like.
Be sure to use a little bit of healthy cooking fat – like coconut oil, lard or butter – before you begin otherwise your meat will stick to whatever surface you're cooking on. That means you'll end up with ground breakfast sausage, instead of sausage patties.
It will still taste good, don't get me wrong, but it might not be as easy to eat with your eggs!
These homemade breakfast sausage patties freeze BEAUTIFULLY. You can flash freeze on a sheet pan first (here's the tutorial for that) or you can place a small piece of parchment paper between each patty before freezing. This makes it easier to pull out however many you need for that particular meal.
Because these breakfast sausages keep so well, I tend to double this recipe. The measurements are easy to halve – or double – if you want to make less or make more!
Homemade Breakfast Sausage
Skip the Jimmy Dean and make your own homemade breakfast sausage recipe instead! Use seasoning from your pantry, learn how to make patties or links, and use your choice of ground pork, turkey, or chicken. Top with maple syrup if you'd like too! These freeze very well, and make for a fast, easy healthy breakfast!
Author: Tiffany
Prep Time:

5 mins

Cook Time:

10 mins

Total Time:

15 mins

Yield:

16

patties

1

x
Category:

Breakfast

Method:

Stovetop

Cuisine:

American
2

lbs ground meat (chicken, turkey, lamb, or pork)

2 tsp

granulated garlic

2 tsp

ground sage

2 tsp

onion powder

2 tsp

salt

1 tsp

celery seed

1 tsp

cayenne pepper

1 tsp

pepper

2 Tbsp

healthy cooking fat (I used coconut oil)
Instructions
Combine all ingredients except cooking fat in the bowl of a stand mixer OR in a large bowl. Use the paddle attachment and mix on low speed for one minute, or use your hands to thoroughly mix the spices with the meat.
Preheat a cast iron skillet to medium low or a griddle to 350F.
Meanwhile, prepare the patties. Measure 2 oz (or about 1/4 cup) of meat and use your hands to form into a tight ball. Then press lightly to create a patty. Place patties on a plate while waiting.
When the skillet or griddle is ready, place a single layer of patties in the pan, leaving an inch or two between each. Let the patties cook undisturbed for about 3-5 minutes, or until they are golden brown on one side. You should see cooked meat creep up the sides of the patties.
Flip and continue to cook until they are cooked through, another 3-5 minutes.
Best served warm. Refrigerate or freeze leftovers.
Have you ever made homemade breakfast sausage recipe before? Having this on hand makes breakfast time so much quicker!