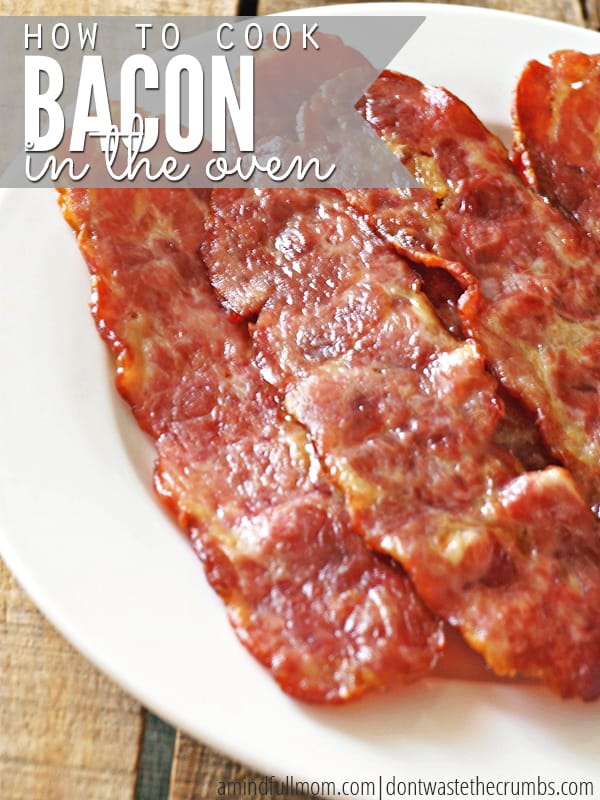 Bacon. We LOVE it at our house.
In fact, my son once said that he NEVER wanted a dog because he had seen a movie where the dog ate the bacon off the table. This equaled devastation to him!
We do have a dog now, but she is too small to be jumping up for ANYONE'S bacon!
As much as I love bacon, I used to hate cooking it. FEARED would be a better word.
I grew up watching my mom cooking bacon in a frying pan over the stove, so I just thought you had to do it that way. But the mess it made and the grease that flew up and burned me several times made me NEVER want to cook bacon.
And then I heard about roasting bacon in the oven. In the oven? Would grease splatter all over my oven? Would it get crispy? How long would it take?
Well, it couldn't hurt to give it a go. I experimented many times and have found a perfect oven method for roasting bacon. And now I am here to share it with you!
How to Cook Bacon in the Oven
Supplies
aluminum foil
bacon (yum)
Method
First things first. Preheat the oven to 400 degrees.
Next, line a rimmed cookie sheet with foil and place a wire cooling rack on the cooking sheet.
If you do not have a cooking rack to place on cookie sheet, use your broiler pan (it is pictured below – I have been asked so many times what a broiler pan is!).
Line the bottom of it with foil as well before fitting the top on the pan.
Then you lay out your bacon in strips.
Roast the bacon for 15-20 minutes. This is approximate based on how crispy you like your bacon, your oven, and how thick your bacon is cooked. I like my bacon crispy, so I usually roast for 20 minutes.
If you like your bacon less crispy, or are doing this for the first time and don't want to mess it up, set the timer for 10 minutes and check the bacon. Add more time if necessary.
The great thing about using the wire cooling rack is that heat circulates all around the bacon, so you NEVER have to flip it over. If you use a broiler pan, flip after 10 minutes of cooking. 
BUT the absolute best thing about cooking bacon in the oven? NO MESS!!!
I drain the grease off the foil into a mason jar and throw the foil away, leaving a clean sheet pan, a clean oven (I promise no splatters!) and bacon grease for cooking.
All that gets dirty is the wire rack – which goes right into the dishwasher!
Once your bacon is cooked, transfer to a plate lined with a paper towel, to drain off excess grease.
Now there is no excuse NOT to cook bacon. Especially when it adds so much flavor to so many dishes!
A Few More Bacon Tips:
I always buy nitrate free, uncured bacon for a "clean" product. Learn more about nitrates HERE.
Freeze your cooked bacon so you can pull out a strip or two for garnishes or to make a quick BLT sandwich. To freeze, simply layer bacon in between wax paper and freeze in freezer storage bag. The wax paper will keep the bacon strips from all freezing together, so you can pull out just what you need.
Don't toss your bacon grease. It's a key ingredient in Savory Pasta with Greens, Onions and Bacon, adds AWESOME flavor to Homemade Chicken Creole, but you can also use it to saute potatoes, make a salad dressing, or in my BLT pasta salad.
Always pour off your bacon grease while it is warm (so it will pour easily and not solidify just yet) and use a glass or metal container – plastic will melt!! I like to use 16oz pint mason jars since I already have them on hand. Remember that you can continuously add more grease to the jar too!
My new favorite way to eat bacon is this Warm Kale and Bacon Salad….
What's YOUR favorite way to eat bacon?
Disclaimer: This post contains affiliate links. By making a purchase through those links, I will earn commission that helps to keep the lights on in the Crumbs house – with no additional cost to you. Thank you for supporting Crumbs in this way. Read my full disclosure statement here.