Here is a simple tutorial for building an easy & versatile Master Pasta Salad Recipe from scratch. Enjoy the gluten-free, vegetarian, and dairy-free options! Try our Greek Pasta Salad, Cobb Pasta Salad, Italian Pasta Salad, and our Skillet Pizza Veggie Pasta.
Do you have a favorite potluck or backyard BBQs dish that you bring every time?
Mine is pasta salad. It's SO versatile, can be made with almost anything, and they're a great way to use up almost any leftover ingredient in the fridge (which helps save money by reducing our food waste).
Frankly, I used to never even think about making pasta salad from scratch. That's what the boxes were for, the kind where you "just add oil and water" to the seasoning packet.
But when my husband said our kitchen was filled with boxes, instead of food, that box got tossed out with the other processed foods. I learned how to transform the random ingredients from my kitchen into a delicious pasta salad!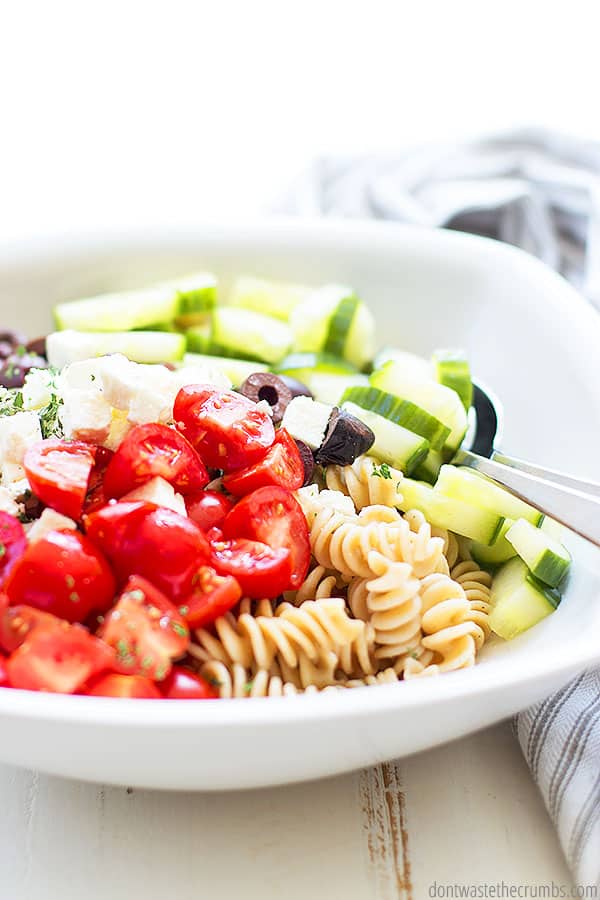 Easy Pasta Salad Recipe
As it turns out, making an easy pasta salad recipe from scratch isn't any more difficult than the boxes that say "just add this." Aside from being super easy, we make our own pasta salad because:
You control the ingredients. Need gluten-free noodles or dairy-free? No problem!
It's quick. Whenever the noodles are ready, so is dinner.
It's versatile. Seriously, use what you have. No extra trips to the store!
Let's talk about the elements you toss together to make an easy, delicious pasta salad!
Which Pasta is Best for Pasta Salad?
Any! A great pasta salad recipe starts with great noodles. Pasta is one of the real food staples we always have on hand, and having a few different varieties in the pantry is handy. No noodle is off-limits, and the type of noodle you use should fit with the flavor of your salad, but there are two basic guidelines:
Smaller noodles tend to work better than bigger ones. For a heavy salad that could be a main dish, try noodles where the sauce can hide (like shells). For lighter, side dish salads, use shaped noodles or noodles that don't have nooks and crannies (like bow-ties).
Cook the noodles appropriately. For serving a cool pasta salad (chilled in the fridge and then brought to the party), cook the noodles 1-2 minutes beyond the al dente stage (check the package for the exact time on the al dente stage for the noodle you chose). This makes the noodles soft but not mushy and prevents the noodles from getting hard after they've cooled. For serving warm pasta salads immediately, cook the noodles al dente according to package directions.
Note: Options for allergy-friendly noodles are endless. We're fortunate to not have allergies in the family, but I know some families use alternative options (including rice and even zucchini noodles) in lieu of wheat noodles!
Which Dressing Should I Use for Pasta Salad?
The key to dressing a pasta salad is using ingredients that won't go weird on you if the weather starts to change.
That means avoiding butter-based dressings or heavy meat-based ragus. Buy the best olive oil you can afford, choose an olive oil-based sauce and go minimal on the vinegar (if you add any at all) since the vinegar can cause an unpleasant aftertaste. Here are our recipes for delicious and simple Italian Salad Dressing, and Greek Salad Dressing.
Add Some Tang for Flavor
Pasta salads usually have a signature tang, and we think it comes from vinegar. Instead, the best pasta salads get their tang from a few pickled ingredients.
Vegetables like pickled carrots or kalamata olives from a tangy brine bring that bright, tart flavor to the salad without overpowering everything else.
You can also "quickly pickle" a vegetable for pasta salad by letting it sit in vinegar for about 15 minutes. Choose a mild cooking vinegar like sherry, rice, or homemade apple cider vinegar for the best flavor.
Using vinegar for tang isn't completely off-limits, and works fine if you're in a pinch. Go light though, and remember that a little bit goes a long way in flavor.
Pasta Salad Add-ins
Three is key.
A combination of three items added in with the pasta is the perfect amount of "stuff" in the pasta salad. Less than three can be boring and more than three can make the pasta salad too complicated to enjoy.
Another key to success in pasta salads is using only one bold add-in (like kalamata olives). Two bold add-ins create competition in flavor, which also makes the pasta salad complicated. Think of the bold flavor as the main character, and the other two playing supporting roles.
Tip: Save leftover vegetables from each meal separately. Then at the end of the week, you can mix/match the vegetables to create a specific flavor for pasta salad!
Using up food that you already have is such a great way to save money! Check out 38 more ways to save money on food year-round.
Adding Cheese
Cheese is totally optional, but it can add a huge punch of flavor. Fresh cheese (i.e. mozzarella or feta) and hard cheese (i.e. Parmesan) are great options for big flavor and great performance in the salad.
If you add cheese, avoid the ones that are super soft (i.e. Brie) and even semi-soft (i.e. cheddar) because they have a tendency to get a bit "sweaty" as it co-mingles with the other pasta ingredients.
My Favorite Recipe Combinations for Pasta Salad
Ready to get cooking? Choose your pasta and start opening the cupboards to take stock of what you have. Here are some of my favorite pasta salad recipe combinations to get you started!
Tex-Mex: black beans + corn kernels + tomatoes + homemade salsa. Mix it up by using homemade chili verde salsa or pureed mango salsa in place of a traditional red salsa.
Cobb: garbanzo beans + avocado + tomatoes + gorgonzola + homemade ranch dressing. (Gorgonzola is very similar to blue cheese, but it's more affordable.)
Caprese: tomatoes + fresh basil + mozzarella cheese + olive oil + balsamic vinegar.
Greek: kalamata olives + sundried tomatoes + cucumbers + feta cheese + Greek dressing. Feel free to substitute black olives and/or fresh tomatoes in a pinch.
Steakhouse: cubed chicken + bacon crumbles + tomatoes + gorgonzola
Italian: black olives + cucumber + tomato + Parmesan cheese + Italian dressing
Can pasta salad be frozen?
Yes. With a little extra care, it should thaw fine and taste just as delicious. Be sure to freeze the liquids (dressing) and high-liquid vegetables (tomatoes) separate from the pasta in individual freezer bags/containers. When thawing, be sure that all ingredients thaw separately and allow for complete thawing before adding and mixing the dressing.
Are pasta salads healthy?
Yes! There is so much versatility in making pasta salads, so you can mix and match different vegetables and proteins for your nutritional needs. I love to add vegetables of different colors and textures to make it as healthy as it is delicious!
Can pasta salad be made the day before?
Yes, of course. Just be sure to refrigerate the dressing and the vegetables with higher water content separate from the pasta. Mix them in before serving so you don't serve soggy pasta.
Make Your Own Pasta Salad Bowls!
This is my favorite method because as I mentioned earlier, we include it in our meal plans weekly to help use up every last bit of leftovers in the fridge and save money by reducing our food waste.
Start by making enough pasta for everyone in the family. Put each leftover from the fridge in its own bowl and put all of the bowls along with olive oil, fresh herbs, and spices on the table. Let each person top their pasta however they want!
The next time you're invited to a potluck or BBQ or any other social function, offer to bring a fresh pasta salad! Use this guide to build the perfect pasta salad with what you already have on hand and your dish will be the highlight of the table!
More Easy Salad Recipes
Two Week Sample
Do you need step-by-step help with meal planning? Frugal Real Food Meal Plans is an all-in-one meal plan with recipes, shopping lists, shopping guides, money saving tips and more! Sign up below for a free sample!
What is your favorite flavor of pasta salad?