My zesty homemade Italian dressing recipe is fresh, authentic & a great marinade mix! We think this Italian vinaigrette it's the best dressing, better than Olive Garden or Hidden Valley any day!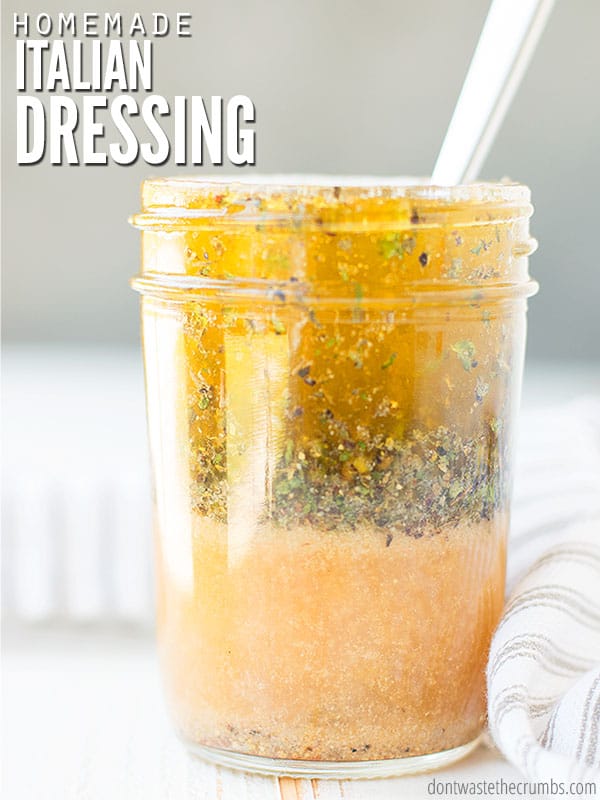 Have you ever looked at the Wishbone Italian dressing or Good Seasons Italian dressing mix and wondered what in the world all those ingredients were? Or licked your plate because the Olive Garden Italian dressing recipe was out of this world?!
I can tell you right off the bat that hydrogenated oils and high fructose corn syrup are two of the most harmful "ingredients" you'll ever come across. Unfortunately, they're in almost every bottled dressing or restaurant salad dressing. When we first started eating real food, these ingredients were the first to be banned from our kitchen!
Learning how to make our own salad dressings was one of the first baby steps I took towards healthier eating, and to this day, Italian dressing is still one of my go-to easy salad dressing recipe and marinades!
Italian Dressing
I love making our own Italian dressing for a few reasons:
It mixes up in a jar in less than 2 minutes
I can use the dry Italian seasoning mix as a spice on vegetables
I almost always have everything I need to make it in my kitchen… and if I don't, the recipe is flexible
It's 100% sugar-free!
It's the perfect balance of tang and Italian spice we've come to know and love!
Homemade Italian Dressing Recipe: What's in Italian dressing mix?
A list of 8 ingredients might seem long, but it's really a bunch of dry herbs and spices you likely already have in your spice cabinet.
If by chance you DON'T have any of these, go get them! You'll use them in other homemade spice mixes like homemade poultry seasoning, homemade taco seasoning, and Montreal steak seasoning.
I recommend pulling out all of the spices at the same time. That way you can whiz through the recipe in no time. Here's what you need:
Oregano
Salt and Pepper
Garlic powder
Onion powder
Parsley
Basil
Thyme
As I mentioned, it's worth investing in the single dry spices. You can take the single herbs and make SO MANY of your own spice blends and dressings, and this will save you a lot of money in the long run.
To save time, I usually triple or quadruple the dry portion of the Italian dressing recipe and store it in a jar in my spice cabinet. I write "2 Tbsp" on the jar and that's to let me know I need that much dry seasoning mix to make a batch of dressing. (Although you can always use more or less, depending on how you like your dressing to taste.)
Plus, when I have a batch of the dry seasoning mix made, I can use it on other things like pasta, rice, vegetables or even in my 15-minute Italian meatballs!
How to Make Italian Dressing
Once you add all the ingredients to a jar, it's just a matter of adding oil, vinegar and a splash of water to a jar and shaking it all up!
Is Italian dressing vegan? Gluten-free? Healthy?
Yes, yes, and yes! All of the ingredients needed for Italian salad dressing are plant-based and gluten-free. If you use quality extra virgin olive oil instead of vegetable oil, then this can be healthy too!
Can Italian dressing go bad if it's left out?
You can easily leave this dressing out on the counter for a day or two without any issues. Both oil and vinegar are natural preservatives.
Because we're using just a splash of water though, you'll want to refrigerate it for longer storage.
Can Italian dressing be used as a marinade? Or for pasta salad?
Yes and yes! Have you ever had Italian dressing chicken? It's where you marinate the chicken in Italian dressing and it's SO good… and super easy!
This is also the same dressing we use when we make Italian pasta salad. We sprinkle a bit of freshly grated Parmesan cheese on top and OH MY – it's so good!
Tips for Loving this Italian Salad Dressing Recipe
Anytime I make this easy homemade Italian dressing for pasta salad, I always put a green salad on the menu for later in the week to use up any leftover dressing.
I don't recommend using fresh herbs for this recipe.
Use this as a marinade! Add it to your meats when you first come home from the store and then freeze them. As the meat thaws, the flavor will marinate the meat.
Use the dry seasoning mix liberally for pasta, rice, or vegetables. Or even to make Italian meatballs!
I prefer apple cider vinegar and extra virgin olive oil, but you can use red wine vinegar and/or lemon juice. Both will affect the flavor in the end.
Make this a CREAMY Italian salad dressing recipe by swapping Greek yogurt for all or part of the oil!
To get that signature Olive Garden Italian dressing recipe flavor, add a pinch or two of sugar.
Looking for other homemade salad dressing recipes?
Here are some of our favorites:
Homemade Italian Salad Dressing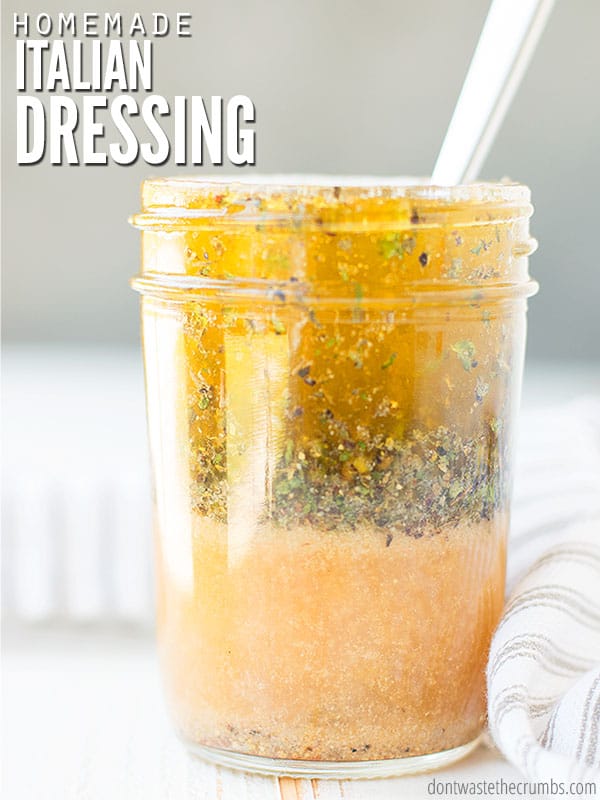 My zesty homemade Italian dressing recipe is fresh, authentic & a great marinade mix! We think this Italian vinaigrette it's the best, better than Olive Garden or Hidden Valley any day!
Author: Don't Waste the Crumbs
Prep Time:

2 mins

Cook Time:

0 mins

Total Time:

2 mins

Yield: scant

2 cups

1

x
Category:

Sauces/Condiments

Method:

Combine and shake

Cuisine:

Italian
1/2 tablespoon

garlic powder

1/2 tablespoon

onion powder

1 tablespoon

dried oregano

1/2 tablespoon

dried parsley

1 tablespoon

salt

1/2 teaspoon

black pepper

1/4 teaspoon

dried thyme

1/2 teaspoon

dried basil

2 tablespoons

water

1 cup

vinegar (any flavor works well)

1 1/2 cups

olive oil
Instructions
Combine everything above in a jar or container capable of holding at least 2 1/2 cups. Cover and shake well. Recipe makes just scant of two cups of dressing.
Keywords: Italian dressing