Salads are my all time favorite food. They're quick, easy and delicious.
But somewhere along the way, they've gone complicated. Onions get caramelized, tomatoes are roasted and almonds are tossed with maple and cinnamon before toasted in the oven.
Don't get me wrong – those types of salads are downright delicious. And to be honest, I'm salivating a bit just thinking about a thick bed of greens with caramelized onions, fire roasted tomatoes and sliced maple cinnamon almonds on top.
But in my opinion, one of the benefits of having a salad is the fact that you don't have to cook it. A few rough chops of whatever you have on hand and BAM! Instant meal.
The salad dressing though, gets me every time.
For a long time, I mixed balsamic vinegar with olive oil and seasoned with salt and pepper. That held up well, but it took a serious manipulation of salad ingredients to make each meal taste different from the one we just had before. Night after night of the same salad got real boring, real quick.
We switched up lemon juice for the vinegar, and that was really good too… for a little while. This version become boring too after a few weeks, and while simple, neither the basic vinaigrette nor the lemon version added much flavor. Considering the salads were super simple, comprised mostly of random odds and ends found in my pantry, they needed all the flavor help they could get.
Enter recipe experimentation.
Have you ever heard that fresh strawberries and balsamic vinegar compliment each other?
Well, one night I had the inkling to test this theory. In terms of salad dressing anyway.
I started with the basic balsamic vinaigrette, added a few fresh strawberries and gave it a whiz in my Blendtec.
Mr. Crumbs took a spoon to the jar and said it was awesome. Actually, he said (and I quote):
Oh man. That's good!
While we haven't tested the ice cream theory (yet), he was right – that dressing was good. But it wasn't quite right.
Against Mr. Crumbs wishes, I added a bit of rice wine vinegar to the jar to up the ante on the tang factor. He took another spoon, and this time he said:
Oh man. That's REALLY good. That would even be great on some ice cream.
Jackpot.
It's the perfect balance of sweet and tangy, smooth and bite. And of course, it's absolutely delicious.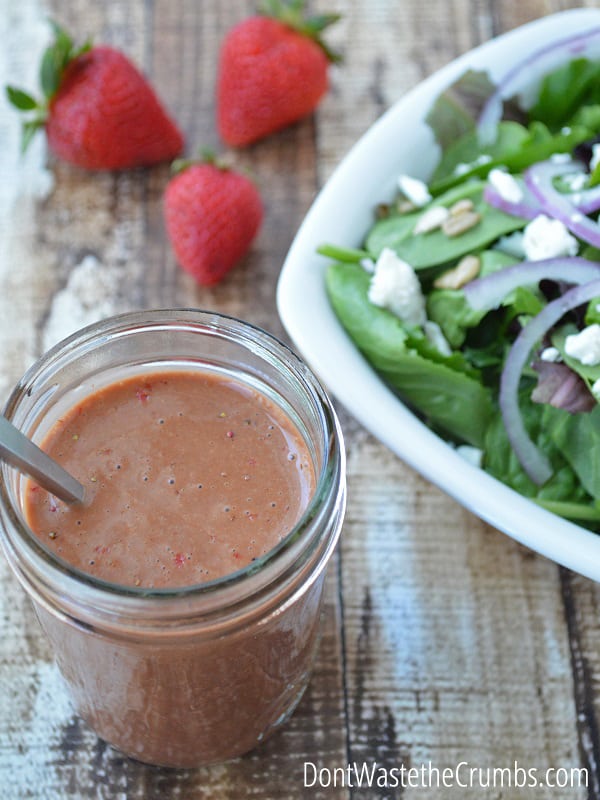 Strawberry Balsamic Vinaigrette
Spring Greens with Strawberry Balsamic Vinaigrette Recipe. Get a super simple recipe that adds depth and flavor to even the simplest spring salad.
Author: Tiffany
Prep Time:

5 mins

Cook Time:

0 mins

Total Time:

5 minutes

Yield:

1 cup

1

x
Category:

Sauces & Condiments

Method:

Blender

Cuisine:

American
Instructions
Combine all the ingredients in a food processor, or a high powered blender, and blend on low for 45 seconds.
Store in a jar with a lid in the refrigerator. Shake well before using. Keeps for 4-5 days.
Cost Breakdown
Prices are based on actual costs paid on shopping trips and/or prices found while researching local stores.
olive oil – 67¢
balsamic vinegar – 22¢
rice wine vinegar – 16¢
strawberries – 25¢
Total Cost for Homemade Strawberry Balsamic Vinaigrette Salad Dressing: $1.30
Note: Overripe strawberries, or "jam berries," are often found at local farmers markets for less than full price. Those, or any strawberry that's past its prime, would be excellent in this dressing!
Simple salad. Delicious dressing. Affordable price.
Sounds good to me!
Salad is in season – what's your favorite vinaigrette dressing?