Learn how to make black bean and corn salsa tacos with this easy recipe! Uses homemade salsa and can be topped with avocado, cilantro-lime rice, lime crema, and more!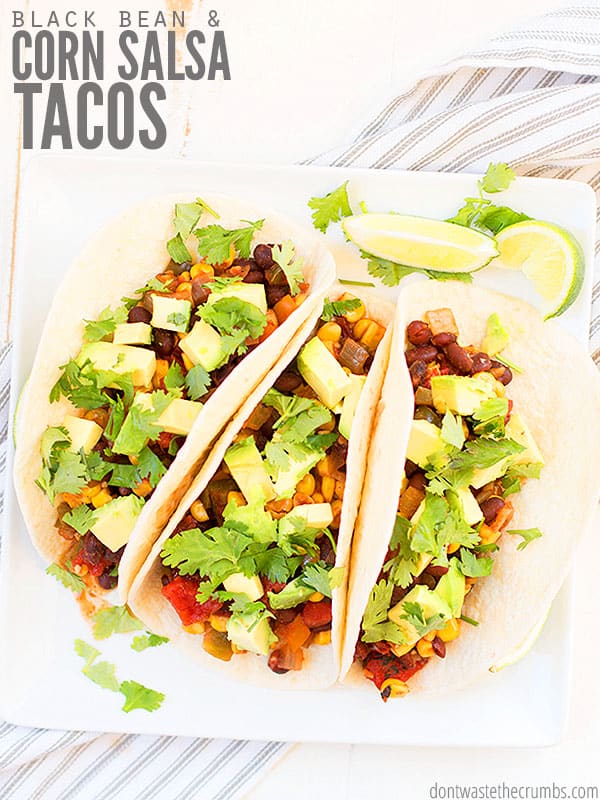 Have you ever thumbed through a magazine at the grocery checkout and found one that you simply COULD NOT pass up?
That's how these black bean and corn salsa tacos were born. I saw the recipe, knew my family would love it, and knew I had everything already at home to make it.
I ended up buying that magazine just for the recipe, but it's been worth every penny. My family CANNOT GET ENOUGH of these tacos!
Learn how to make your own Linen Spray with Essential Oils. Freshen pillows, sheets, fabric or the room easily in any scent with just 2 main ingredients! Pair with our essential oil and epsom salt laundry booster for naturally clean and soft linens and fabrics. 
You know that happy feeling you get when you get of whiff of something that smells really good?
Like when you walk into a home with chocolate chip cookies in the oven, or the scent on your pillow when you've just washed all the sheets?
Wouldn't it be cool if we could bottle it up and sniff it anytime we wanted? Turns out, we can!Click to Continue »
This creamy butternut squash pasta bake is better than one of the casseroles your mom used to make. Roasted squash, seasonal greens and a creamy sauce hit the spot! Bring back all the childhood flavors with mac and cheese and crock pot roast too! Growing up, I LOVED casseroles. They are the ultimate comfort food…Click to Continue »