How to make chocolate covered pretzels using any kind of real chocolate, instead of candy melts. The white chocolate with sprinkles is a hit! These simple, sweet and salty treats make a perfect homemade gift.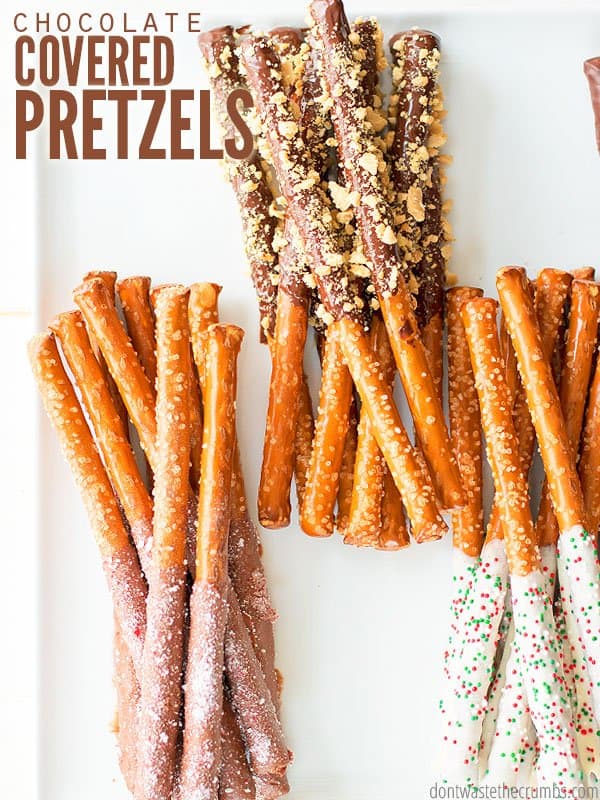 The holidays inspire me to bake a TON. Some of my favorite sweets to make are healthier sugar cookies and candy cane cookies. And here's why: BAKING CHIPS.
I can't resist them. That innocent baking aisle that normally has plain Jane chocolate chips seems to EXPLODE with awesome variations during the holidays… heath bar chips, snicker bar chips, and peppermint patty chips… I'm such a sucker. And what's one of the best things to make with baking chips?
Chocolate covered pretzels, of course.
This sugar cookie recipe makes soft & chewy cut out cookies that keep their shape and are healthier than most. Plus a simple icing that's just sweet enough! Use this great recipe, along with other favorites like Candy Cane Cookies and Peanut Butter Oatmeal Cookies for your favorite cookie decorating party or all year long!
Decorating sugar cookies at Christmas wasn't a tradition in my family growing up.
We made chocolate chip cookies for sure, and even brownies, but setting a day aside to specifically make and decorate sugar cookies just didn't happen in our house.
My step-mom though, started this tradition with my own kids when they were barely old enough to walk.
My step-mom now lives with Jesus, so it's up to me to carry on her tradition of decorating cookies at the holidays with the kids.
We pack two main items to stay healthy during holiday travel, essential oils & natural medicines, and use these other home remedies to stay healthy! Every couple of years we spend the week of Thanksgiving with Mr. Crumbs' family in Outer Banks, North Carolina. Eight adults and seven kids share three floors of anClick to Continue »