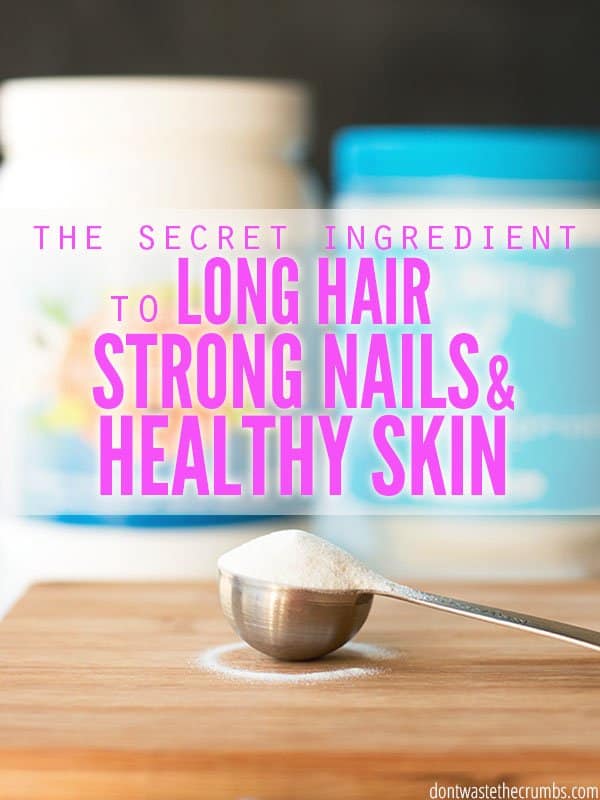 It's been nearly a year since I first introduced grass-fed collagen to my daily routine.
I originally wanted to find a way to increase the protein in my smoothies without using processed powder, but along the way my hair noticeably grew longer and my nails were suddenly really long… and they weren't breaking.
I definitely wasn't expecting either of these, but it started to make sense the more I read about the health benefits of collagen!
Now, the concept of using collagen as a supplement is not new. It's available in face creams, in over-the-counter vitamins and it's touted for being the best anti-aging tool on the beauty market.
In fact, a beauty counter specialist in St. Maartin (one of the ports in our recent cruise) suckered Mr. Crumbs into letting her try an anti-wrinkle cream on the lines around my eyes.
As she's applying the cream, she tells me all about collagen and how it's so great for the skin and so great for the hair and so great for the nails… (you know how the sales pitch goes)… and then she asks me if I've ever heard of it before.
You should have seen the look on her face when I said, "Yes! I use it every day in my green smoothie!"
Here's the thing. One year ago, I never would have thought of using – nor even suggested using – collagen as a supplement to a real food diet. I definitely wouldn't have said to consume it every day.
I thought all the "benefits of collagen" were just hype and propaganda to get us consumers to buy the latest fad.
But I was wrong.
The benefits of collagen are legit…
Improving hair strength and growth
Elasticity and wrinkle reduction in skin
Strengthen nails
Relieves arthritis pain
Promotes healing of injuries
Improves circulation
Supports natural hormone balance
improves digestion
…and I have 12 months of personal evidence to prove it!
Benefits of Collagen for Hair
I have short hair. It looks about chin-length in the front, but it is cut to the nape of my neck in the back. With this haircut, I can go a solid 4 ½ months without having to go back for a trim. Sometimes I can even go a full 5 months.
As my hair grows out, I get a "ducktail" of sorts in the back… weird, but that's how it goes. This ducktail is my signal that it's time to get a haircut.
Last Christmas, that signal came just 3 months after my haircut – a minimum of 6 WEEKS earlier than usual!
As my hairdresser was cutting my hair, I asked her if it felt longer than normal. It did to me, but I thought it was a fluke and needed her third party opinion.
She said yes, she was cutting more off my hair than she normally did (same haircut as normal, mind you) and that she thought my hair grew more in the past 3 months than it did for most of her other clients.
Her one question – did I do anything different to my diet?
I told her that I had started this grass-fed collagen from Perfect Supplements, and she said that would do it.
Research on the topic backs this claim up too. This research claims collagen may be a potential solution for hair loss and other skin-related diseases. Plus, collagen is technically a polypeptide, which means it's made up of a several amino-acids. These amino acids are found throughout the body, including your organs, skin and yes – hair!
Benefits of Collagen for Skin
I've always struggled with my skin, ever since I was a kid. I distinctly remember when I was something-teen and my sister called me pepperoni face.
I've openly shared my struggle with acne on the blog, including how I cleared my acne naturally and my super simple beauty routine using goat milk soap (because truly, that's all my skin can tolerate).
But adding collagen to my diet has been a game changer.
Before collagen, I'd still deal with break-outs on my arms and upper back year-round. My face would break out monthly, according to my cycle. It wasn't fun, and sometimes quite embarrassing.
After collagen though, my breakouts are few and far between. If I get a pimple on my face, it's barely noticeable and it goes away really fast. The breakouts on my shoulders are so rare now, that I'm actually surprised when they happen. Before, I just expected them.
Go figure, 70% of our skin is comprised of collagen. And this article explains that taking collagen orally for 8 weeks showed a "statistically significant improvement" in skin elasticity!
Benefits of Collagen for Nails
For the same reasons I cited above that collagen is beneficial for your hair and skin, it's also encourages nail growth and strength.
Personally, I noticed this when recording the videos for my course Grocery Budget Bootcamp. For as long as I can remember, my nails have always grown to a certain length, and then they broke or chipped. I'd trim them down, and the cycle would repeat.
But as we were getting ready to tape, I noticed that my nails were much longer than usual… so I painted them to look nice.
The next TWO rounds of taping came and sure enough, my nails were still going strong and growing longer by the week!
Eventually I had to trim my nails myself, because honestly, they were getting in the way!
There are other major benefits of collagen to, like relieving arthritis pain, promoting healing of injuries, supporting hormone balance, improving digestion, and improving circulation – but to be honest, I don't have a "before" to compare any of these results with.
I personally haven't struggled with any of these, other than the hormonal balance. But I've been taking maca root in this green smoothie for that… although I've been adding collagen too, so maybe I am experiencing the benefits of collagen after all here too!
If you struggle with any of these issues, I highly recommend taking collagen. It's done wonders for me!
Taking Collagen Orally vs. Topically
Collagen is naturally found in the body, but the amount our amount of collagen our bodies produce decreases as we age. That's why our skin wrinkles and our joints ache as we get older.
The catch with using a collagen supplement though, is that our bodies absorb collagen best when taken INTERNALLY, not topically. According to this article, the molecules of grass-fed collagen are simply too large for the skin to absorb.
That means that in order to reap the benefits of collagen, we must take it orally. It also means you can ignore all those beauty counter specialists!
Grass-fed collagen typically comes in powder form (this is the brand I use and recommend), and it can be added to smoothies, coffee or even water. I already mentioned that typically I take it daily in this green smoothie.
However, as I was experimenting with the slow carb diet and devouring perfect scrambled eggs and slow cooker refried beans for breakfast (don't knock it until you try it!), I added collagen to my coffee. A few quick stirs and it completely disappears and it's entirely tasteless!
What Collagen Brand is Best?
Before I dive in, I have to state that I am not typically brand loyal unless I personally believe – beyond a shadow of a doubt – that one brand is unequivocally better than another.
Every time I recommend a brand, it's because I personally have used it (and probably still am), tested it (repeatedly) and have preferred it over every other brand of that item.
When it comes to collagen peptides, I admit that I haven't tried every single brand of collagen on the market. However, I have tried the two most popular: Perfect Supplements and Vital Proteins.
Perfect Supplements and Vital Proteins
The hair story I told earlier happened after taking Perfect Supplements 5 days a week for about 2-3 months. When that container ran out, I tried the Vital Proteins brand.
Within two weeks, I noticed a difference. My hair wasn't as thick or strong, and my nails started to break easily again. Nothing else in my diet changed except for the brand of collagen.
I compared the containers side by side, and both list 18 amino acids. All were the same, except each had one that was not listed on the other. However, this list is where the similarities stopped.
One serving of Perfect Supplements is one scoop, or 11 grams. One serving of Vital Proteins is 2 scoops, or about 20 grams.
When you look at the amino acid profile in a single scoop of collagen (so roughly 10-11 grams for each brand), Perfect Supplements had MORE of every single amino acids listed but one.
This means, that per scoop of grass-fed collagen, you are getting more amino acids in Perfect Supplements (pictured below). For me, this explains why I noticed dramatic results with this brand compared to Vital Proteins.
And since we're all concerned with the grocery budget around here, this is how it breaks down money-wise:
Add this to my own personal experience and the deal is sealed.
Perfect Supplements Collagen is ON SALE NOW!
I highly recommend Perfect Supplements collagen. (As you can see from my review above!)
Right now you can save 30% on any Perfect Supplements products PLUS save an extra 10% with coupon code CRUMBS10.
There are no minimums and no limits. Usually you have to buy SIX tubs of collagen to get 30% off. This is a great time to buy and try out Perfect Supplements collagen!
CLICK HERE to go straight to their site to buy.
A quick disclaimer – Vital Proteins may have sales on their products, but because I didn't like the effectiveness of their product, I don't pay attention. Feel free to, if you'd like to do your own trial (but don't say I didn't warn you).
Did I finish the other container of collagen?
Yes, I did. I committed to using up the rest of the container, but I was not pleased. As soon as it was empty, I switched back to Perfect Supplements and within 2 weeks my hair and nails were stronger again.
Your results might vary of course, but ever since I shared this with my newsletter subscribers (they get first dibs on these types of stories – you can subscribe and get a free mini course in return), I get emails every week sharing how much they LOVE this brand collagen too. That's how I know my own success is not a fluke!
Do you use grass-fed collagen? What benefits have you experienced? Share them in the comments below so others can see how awesome collagen is!