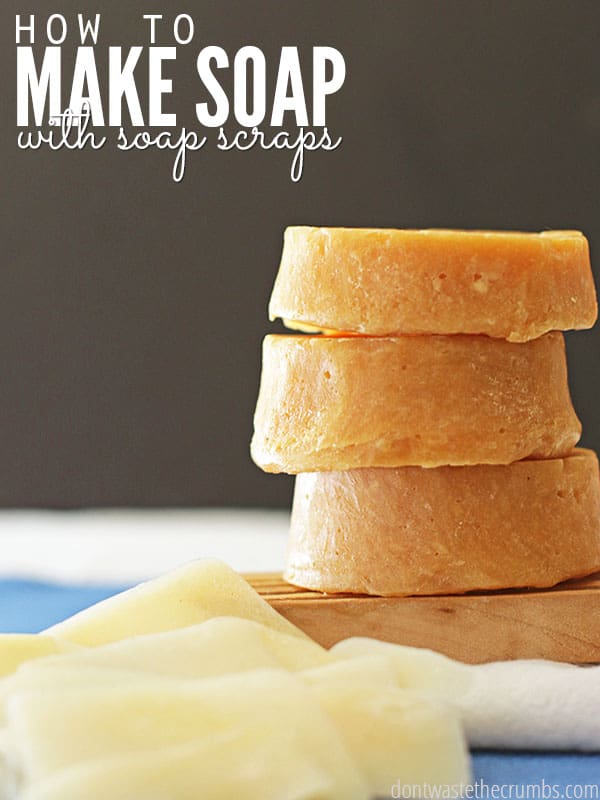 About a year ago, we ditched over the counter body washes and face soaps and switched to all natural goat milk soap from Bend Soap Company.
It started because I struggled with acne. Two days of washing with goat milk soap and my acne-prone skin started to clear up.
Then I figured out how to turn it into a liquid soap (making washing my face at night much easier) and started shredding it to make my own laundry detergent.
Finally this past spring, I started washing my hair with goat milk soap. We essentially eliminated all of the various bottles with weird ingredients in the shower and use one all natural bar of goat milk soap for everything.
So then with four people in our house, as you can imagine, we've gone through MANY bars of soap. Which means I've collected MANY teeny tiny worn down soap scraps. But I can't bring myself to throw them away!
No matter how small and seemingly insignificant, I know that it's the small acts of savings that add up to big rewards. It's re-purposing chicken bones into chicken stock. Turning carrot tops into pesto. Saving butter wrappers for greasing pans and making meals out of food scraps.
It's using simple ideas like those to reign in out of control grocery budgets, and if we're going to do natural living on a budget too, the same frugal mentality needs to carry over!
So what then do we do with all the little scraps of goat milk soap?
The easiest answer is to dump them into a loofah bag and wash your body with it. You'll get awesome lather for sure, and you won't have to worry about dropping little pieces on the shower floor all the time.
Another option is to purposely set those scraps aside and use those for the next batch of homemade laundry detergent.
And STILL another option is to use those scraps to make your own liquid face soap instead of grating from a new bar.
But I didn't want to do any of those.
I already had shreds for laundry detergent (I bought a big bag of shreds just for that, in the lemongrass scent!). And my recipe for liquid face soap makes a big batch, so I still had plenty extra in a jar.
What I really needed was a plain ol' bar of soap, just like I had when I first started. This meant I could wash my hair and my face like I normally do in the shower (the scraps are too small to hold – they get caught in my hair!) and put off buying more soap for just a few weeks longer.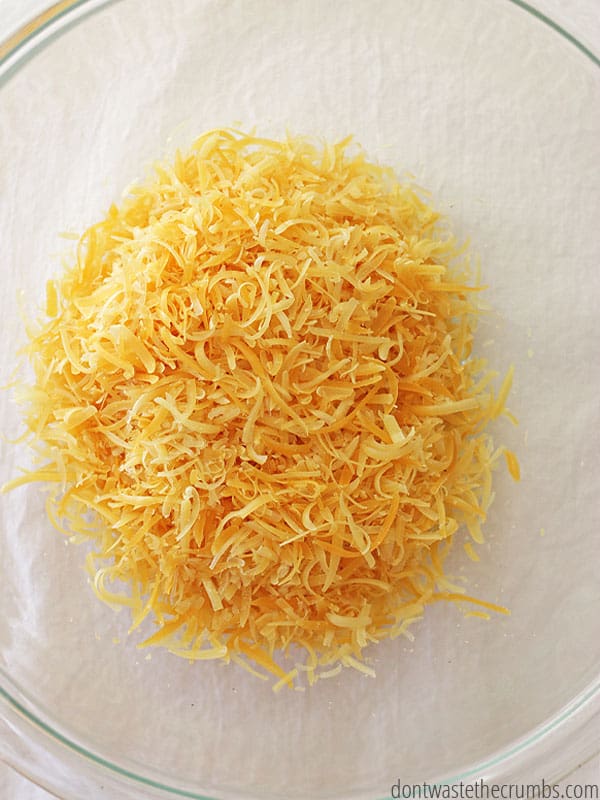 Have you heard of milling soap? The concept is to take an existing bar of soap, melt it and pour it into a new bar of soap.
The idea is perfect for using up soap scraps, but it doesn't work for all types of soap and it definitely didn't work for my goat milk soap scraps.
That is until I found a trick! By adding one simple ingredient, I was able to melt all my soap scraps and create a bigger, practically new bar of goat milk soap!
How to Make Soap

Make Soap from Soap Scraps: Supplies
2+ cups goat milk soap scraps (or any soap), shredded or chopped into small pieces (the smaller the better)
water
medium glass bowl (for a double boiler)
medium saucepan (for a double boiler)
soap molds OR a mini-loaf pan lined with parchment paper (see note below)
Make Soap from Soap Scraps: Method
Fill the saucepan halfway with water and bring it to a low boil. Place the soap shreds in the glass bowl, and the glass bowl on top of the saucepan.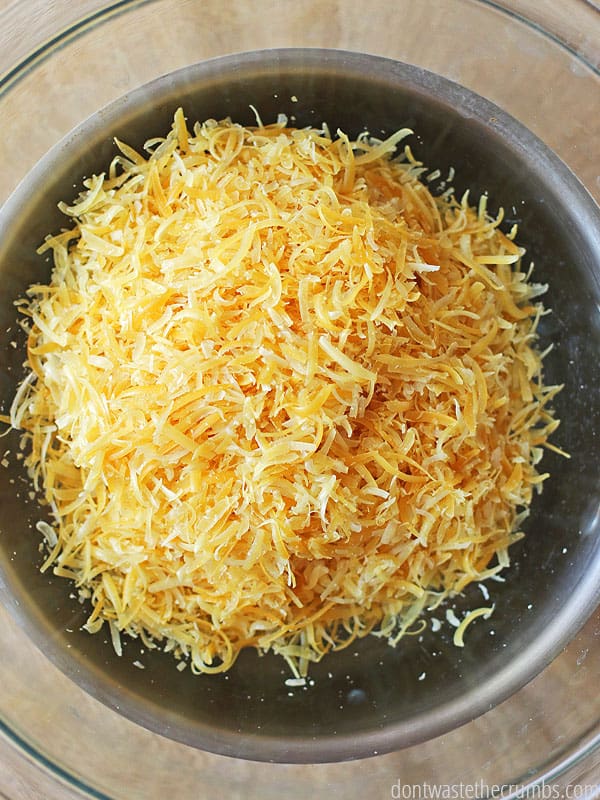 The heat from the boiling water will begin to soften and melt the soap. If you are using goat milk soap, add 1 Tablespoon of water for every 2 cups of soap scraps. This helps the soap scraps bind to each other.
Gently stir the soap every few minutes or so. If you stir too often or too hard, you'll make bubbles. You only want to stir so that the pieces of soap melt into each other and start to create one big lump of soap. If the soap does not start to melt into each other, add additional water 1 teaspoon at a time, up to 3 teaspoons.
When the soap is mostly smooth, turn off the burner. Note that the soap will likely not be entirely smooth. Some texture is normal.
Carefully pour the hot soap into the soap molds or a loaf pan lined with parchment paper.
Note: 2 cups of soap scraps will fill 2-3 soap molds. If you don't have soap molds, use a mini-loaf pan OR wait until you have at least 4 cups of soap scraps. Otherwise you'll end up with really skinny bars of soap, which defeats the purpose of making new bars!
Initial Drying Time
Set the bars out to dry for about one week. The more water you added in the milling process, the longer the bars take to dry. A good rule of thumbs it to allow approximately 1 week of initial drying time per tablespoon of water. The soap might change colors as it dries and hardens. This is normal.
Secondary Drying Time
After the initial drying time, you can remove the soap from the mold or leave it there. In either case, let the new soap continue to dry for an additional 3 weeks.
For example, when I make this recipe as written, it takes one week of initial drying time before I can remove it from the mold without damaging the soap. I carefully remove it from the mold and let it dry for 3 more weeks before using it.
The whole process takes about 15 minutes from start to finish. When you're done, you've made homemade soap for free!
Making soap from soap scraps is an excellent way to stretch your pennies and re-use items originally destined for the trash can. If you want, tell your family to save their soap scraps for you. You'll be making more soap even faster, for no money out of pocket!
You can also do this same process with pre-shredded goat milk soap, in case you over-estimated what you thought you'd need (like me!).
The best part about this is that your finished milled soap will work just as well as the original bars!
What do you do with your soap scraps? Do you re-use them, or toss them?
This post is brought to you by Bend Soap Company and Crumbs is honored to partner with them. One bar at a time, Bend Soap Company is healing and nourishing skin with their all-natural goat milk soap and lotions.
Disclaimer: I received this same gift basket for review and was compensated for my time, but this in no way effected my opinion of this product. I only endorse companies and products we use ourselves and would recommend to a friend or family member. This post contains affiliate links. By making a purchase through those links, you support the ministry of Crumbs without any additional cost to you. Thank you for supporting Crumbs in this way! Read my full disclosure statement here.