Goats milk soap has been part of my new, chemical-free beauty routine for several months now and I am SO thankful that those icky, commercial cleansers are long gone. Not only did they cause my skin to break out, but they were so expensive! Just one tube of cleanser would be $7-8, and that's on sale with a coupon!
Quality goats milk soap is a few bucks less, but it really lasts a long time. Just one bar can last over 3 months!
The only downside to goats milk soap is that it's a bar. When I'm in the shower, bar soap is just fine. It stays on a little drying rack when it's not in use and it's really easy to get a good lather. Call me clumsy, but washing my face at night with bar soap just isn't that easy.
First, you need she-man strength to pry off the dried-onto-the-counter bar soap. Then, you must strategically place your arms and hands in an unnatural position in an effort to avoid getting your pajamas wet. Once you get a good lather going with the bar, it goes back to its glue-like home on the counter so that it can be re-pried off again tomorrow. You finish washing, rinsing and drying, and then wonder why you bothered changing into your pajamas first since they're thoroughly soaked – despite your puppeteer dance – and you have to change again.
Clearly, I have some issues to work on.
I don't know if there's any solution to the wet jammy issue. But today I can offer a simple tutorial for turning your favorite bar soap into homemade face wash, thus eliminating the stuck-to-the-counter-forever bar soap.
How to Make Your Own Homemade Face Wash
Homemade Face Wash Supplies
1 bar of your favorite goats milk soap (my brand recommendation, and why I recommend goats milk soap)
1 medium sauce pan (not the small one, and not the big one – pick one in the middle)
1 1/2 cups filtered water
a storage container with a pump (I recommend re-using what you already have)
small funnel or a measuring glass with a pouring spout
Homemade Face Wash Method
Using a cheese grater, grate soap until you have approximately 1/4 cup of soap shavings. This will be approximately 1/6 of the bar.
In a medium saucepan, combine water and soap shavings.
Heat soap and water over low heat until the soap is dissolved, approximately 5 minutes.
Allow the dissolved soap to slowly cool to room temperature. This could take anywhere from 1 to 4 hours, depending on the temperature of your home.
As the mixture cools, it will turn gelatinous and reduce in volume. Pick up the pan by the handle and gently swirl the mixture until it loosens a bit and thins. Alternatively, you can use a spoon to stir the mixture, or even an immersion blender to puree the mixture into a very smooth soap.
Note: The more rigorously you stir the mixture, the more bubbles you will get. Swirling the pan results in the least amount of bubbles (seen below). Using an immersion blender will result in the most bubbles. Bubbles won't effect the cleansing ability of the soap, but they are difficult to pour and take up more room in a dispenser allowing less room for the actual soap. The bubbles will slowly go away, taking a few hours to a few days to revert back to soap. Until then, you might need an extra pump of soap in order to get enough liquid to adequately lather when you wash.
When the soap is cooled, use either a funnel or a measuring cup with a pouring spout to pour the soap into a container.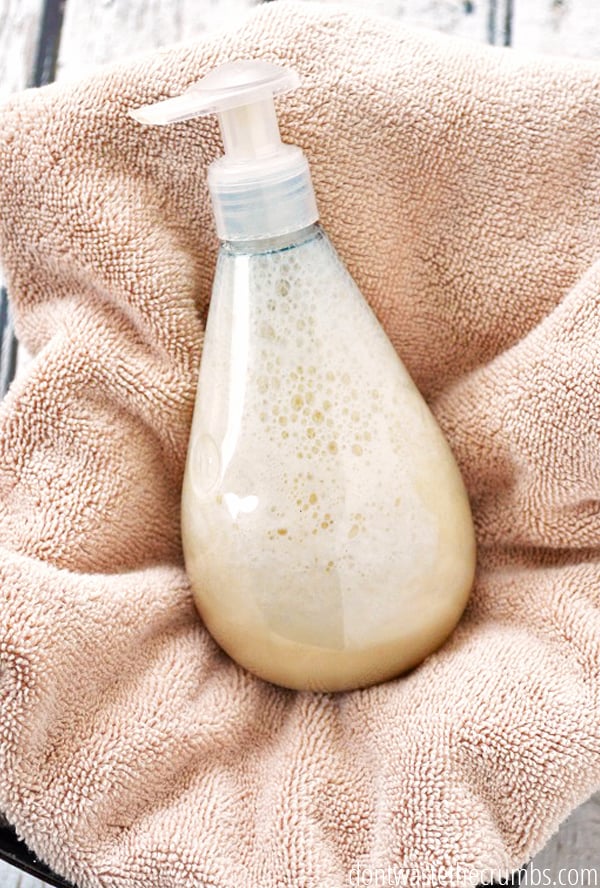 Additional Recipe Notes for Homemade Face Wash
Many recipes on the web suggest adding glycerin to help achieve that silky smooth texture we've grown accustom to in liquid soap. Handmade soap already contains a small amount of glycerin and I didn't find this homemade face wash needed any additional silkiness.
If you're starting with unscented soap, you can add a few drops of essential oils**. Lavender would be a great addition, as would frankincense.
**Note: I really like Young Living essential oils and this is why however, I understand not everyone needs a subscription. Plant Therapy are a great runner up. You can find their shop here.
Cost Breakdown for Homemade Face Wash
The goats milk soap used in this recipe costs $4.95 per bar. But you can save money right off the top by buying bulk scraps of soap. These are the aesthetically "deficient" end pieces of big batches of soap that aren't pretty enough to be sold as bars, but they still wash and lather just as well! One pound of soap scraps costs $8, making each 1/4 cup of shavings just 30¢. You can also make your own bars of soap with these scraps!
8 ounces of homemade face wash = 30¢
Isn't that an incredible savings over the typical store-bought soap?! Amazing!
Note: If you're not able to get bulk soap scraps and start with a whole 3.5 oz bar, your savings is still worthy to note. It's just 83¢ for 8 ounces!

What about you? Do you use bar soap or liquid? Do you prefer one over the other? Am I the only one who can't seem to stay dry when washing my face?!