Trying to ditch the chemicals and use a natural makeup remover? Use this guide to find the best DIY makeup remover!
The most natural makeup remover is the soap you use to wash your face.
I use a very gentle goat milk soap that has done WONDERS for my acne-prone skin. I shared my skin story before, and if you're in the market for a new natural soap, I cannot sing enough praises. If you've already got cleansers that work for your skincare routine, then keep on keeping on!
The not-so-obvious aspect about removing makeup is that sometimes washing your face isn't good enough.
Waterproof mascara? Smokey eye-look for a hot date? Going glam on a girls night out?
I hear you. And I still see your make-up come Sunday morning.
Let's take care of that, shall we?
BEST NATURAL MAKEUP REMOVER OPTIONS
While researching the best natural makeup remover options, I tested over 10 formulas and ingredients. In the end, I found that less is more.
Most store-bought makeup removers will have multiple ingredients that all do the same thing. This isn't usually a problem unless you have sensitive skin (like me) or are trying to find the best natural makeup remover without spending an arm and a leg (like me).
All of the natural makeup removers below are essentially just one single ingredient. Most likely you have at least one of these natural ingredients on hand since they are pretty common. They're gentle enough for all skin types, yet strong enough to remove waterproof makeup.
Use whatever method you have supplies for right now. If it doesn't work for you – or if you have a reaction or allergies to some of the ingredients – then make a mental note to try another one in a few weeks.
The good news is that every ingredient below can be used in something else. You're not wasting your money on something you can only use once, crossing your fingers and hoping it works. Better yet, you're SAVING money because you no longer need to buy chemical make-up remover!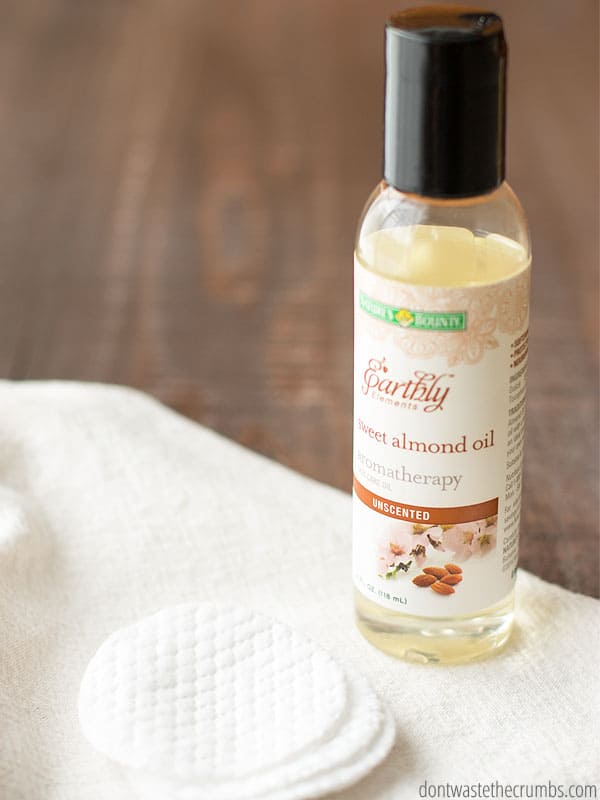 THE CLEANEST MAKEUP REMOVER RECIPES
As it turns out, the cleanest makeup remover is not a soap, but an oil.
Do you know how oil and water don't mix? That's why you see a line of separation in vinaigrette recipes – the vinegar (which is water-based) doesn't mix with the oil.
The same goes for makeup. Your skin produces oil naturally, and makeup is oil-based. This lets you do your makeup in the morning and it does not disappear throughout the day as you work, play, sweat, and live out your day-to-day.
This is why soap and water aren't enough, and the reason for needing an oil-based makeup remover. The oil in the cleanest makeup remover recipes will bind to the oil in your makeup and will get washed away in the end.
There's a huge markup in makeup removers; fortunately, you can make the cleanest makeup remover recipes yourself at home!
COCONUT OIL
Coconut oil is a healthy fat that I use often for cooking, but I also use it as a carrier oil for essential oils, a simple moisturizer when I run out of Homemade Tinted Moisturizer, OR when I'm experiencing a severe acne breakout.
Because I keep a tube of coconut oil in my bathroom (either in a small 5-gram pot jar or in a leak-proof squeezable silicone tube), it's easy to open it up and use it as an eye makeup remover before bed.
I usually buy my coconut oil from Amazon or from Costco.
SWEET ALMOND OIL
Sweet almond oil might not be as common as coconut oil, but you likely have it on hand if you make Homemade Shaving Cream or Homemade Bug Repellent. It's super gentle and light on the skin and doesn't have much of a scent either.
You can likely find sweet almond oil locally, either at a health food store like Whole Foods or Trader Joe's. You could even try a bigger box-store like Walmart or Target. If you can't find it locally, you can get it on Amazon.
OLIVE OIL
Olive oil has long been known to be a key player in the natural beauty routine. It makes an appearance in my Hand-Healing Lotion, as well as in a Detoxifying Salt Scrub, and is likely the most affordable of the single-oil options.
Olive oil is easy to find in your local grocery store and you can find it on Amazon.
SHEA BUTTER
Another one-ingredient wonder, shea butter is reported to be able to take off even the most stubborn eye make-up. It's solid at room temperature, so I'd suggest rubbing a pea-sized amount between your fingers to warm it up before applying.
If you make lotions or creme at home, you likely already have shea butter. I haven't seen it at any local stores, but again Amazon has it for a fair price.
WITCH HAZEL
Although more commonly used as a preservative in beauty DIY's, witch hazel is a natural makeup remover too! Witch hazel is a bit thinner than the oils mentioned above, so I would definitely recommend using a cotton ball for makeup removal.
Witch hazel is fairly common, so check your local stores first. Although you should try to get an alcohol-free witch hazel if at all possible so it doesn't dry out your skin OR burn your eyes.
JOJOBA OIL
Jojoba oil is like sweet almond oil's unpopular little sister, but it shouldn't be! It has natural antibacterial and anti-inflammatory properties AND you already have it if you're making Homemade Shampoo Bars. It's one of the best makeup remover choices in my opinion.
I haven't looked for jojoba oil recently, but the bottle I have is from Whole Foods. Make a pass through the health aisle the next time you're at your favorite grocery and see if they have it. If all else fails, hail the awesome Amazon.
DIY MAKEUP REMOVER: OIL + WATER + WITCH HAZEL
If you feel like your skin needs a little extra kick, this DIY makeup remover recipe is super easy. It's essentially 2 tablespoons of each ingredient measured together into a small travel bottle. Oil and water technically don't mix, so you'll have to shake it well before using it each time.
This homemade makeup remover will also be on the thinner side, so again, reach for cotton balls or cotton pads.
HOW TO USE YOUR OWN DIY MAKEUP REMOVER
This is the skincare routine I suggest:
Wash your face with a natural soap or cleanser (I love goat milk soap) and warm water.
Massage a small amount of makeup remover using your fingers (coconut oil or butter) or cotton balls or cotton pads (liquid oils) into your skin using a circular motion.
Rinse face with warm water. Use a damp washcloth if the skin feels too oily for your preference.
If needed, apply a gentle moisturizer such as pure aloe vera or this DIY Face Serum.
HOW TO STORE NATURAL MAKEUP REMOVER
If you're going to travel with any of these ingredients, you MUST invest in a leak-proof container.
The 3 oz plastic travel bottles pass TSA inspection. They work well for liquids at home, but they're not leak-proof and you could ruin whatever is in your carry-on bag.
For storing coconut oil or shea butter, I like these small 5-gram pot jars. They are not leakproof though, so you will not want to travel with them.
I highly HIGHLY recommend using a leak-proof squeezable silicone tube when you're traveling. They've proven themselves trip and trip again and I absolutely won't travel with any other type of bottle!
WHERE TO FIND THE BEST MAKEUP REMOVER
In addition to goat's milk soap, coconut oil is a huge part of my natural beauty routine. I like to buy it in bulk from Amazon. Or I find it at Costco.
Sweet almond oil and jojoba oil are best priced on Amazon (here and here, respectively). Same with shea butter. I usually buy olive oil at Costco but here are some ideas on finding a good brand.
This brand of witch hazel is the one I prefer. I use it in my After Sun Spray and Homemade Bug Spray too. Multiple uses of ingredients make me so happy!
For traveling with your oils you can put them in these squeezable tubes or these small containers.
If you want more about the non-toxic, DIY natural living lifestyle, check out Kinda Crunchy! A hold-your-hand guide to a more natural life.
QUESTIONS ABOUT NATURAL MAKEUP REMOVER
Is makeup remover important?
Yes! Whether you wear commercial makeup or homemade makeup, you should remove makeup every day. Leaving the makeup on can clog pores and make your skin produce excess oil. Cleaning off the makeup will also cleanse any dirt and impurities from your skin helping it stay healthier.
What is a natural makeup remover?
Can I use natural makeup remover on oily skin?
Yes! Using a facial cleansing oil to remove your make up may actually reduce the oiliness of your skin. Some makeup remover wipes can cause dry skin which then causes the oil glands to overproduce leaving you with oily skin. Natural makeup remover is great for any skin type!
MORE NATURAL SKIN CARE RECIPES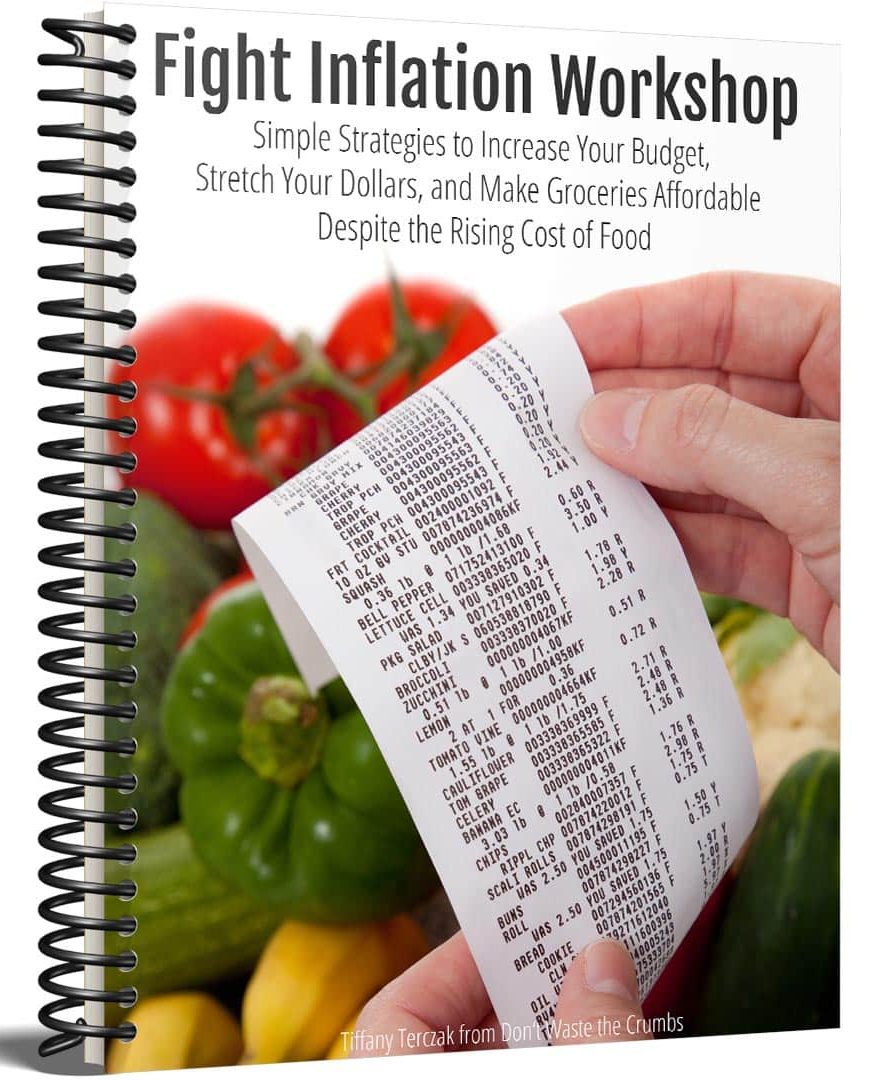 Fight Inflation Workshop
Sign up for my FREE
Fight Inflation Workshop
and learn simple strategies to save money, even with rising food costs!