Before I quit couponing, I used to stock up on make-up remover pads by Almay. They were pricey, but I have sensitive skin and they were the only kind that didn't make my skin break out.
I kept up this routine until I learned I might already have a natural makeup remover in the kitchen!
Wait – so you're telling me I DON'T have to spend extra money on special products to remove my make-up? Count me in!
Strangely, this epiphany happened just before I started writing my hold-your-hand book to living a more natural and non-toxic life, Kinda Crunchy. Since I was researching products for the book, I went ahead and researched the ingredients that were in the make-up remover I had been using for so long as well.
According to the Environmental Working Group (EWG), the Almay Oil Free Eye Make-up Remover scored an overall 2, a "green light" rating according to their standards.
That's definitely not a bad score in general, but the data on the individual ingredients catches my attention.
1 of the ingredients is rated a 4
2 of the ingredients are rated a 5
of the 9 ingredients given a 1 rating, 4 of them are rated based on limited or no research data
the ingredient listed with the most concerns is the second ingredient listed on the label (with water being the first)
"high" concerns listed by the EWG include irritation (skin, eyes or lungs), persistence and bio-accumulation
Um, should we be concerned about using something ON our eyes and skin that is known to be cause irritation TO our eyes and skin?
Those who use make-up remover are likely wearing make-up on a daily basis, which means the persistence and bio-accumulation issues should be a concern too. (In plain English, that means chemicals are going into your body faster than your body can get rid of them.)
Now, in the grand scheme of things, this is probably not the worst make-up remover on the market. And it's likely not the worst offender in your bathroom either (which is one of the reasons why I didn't include it in my book on natural living for beginners).
If you rarely ever use make-up remover, I suggest a change that will have a greater impact on you. Maybe that's attempting homemade toothpaste or a batch of homemade citronella candles instead.
At the same time though, if we can ditch unnecessary chemicals – no matter how big or small – and replace them with something that's just as effective and HEALTHY and quite likely already in our homes, then why not give it a shot?
Obviously, the most natural makeup remover is the soap you use to wash your face.
I use a very gentle goat milk soap that has done WONDERS for my acne-prone skin. I shared my skin story before, and if you're in the market for a new natural soap, I cannot sing enough praises. If you've already got a soap that works for you, then keep on keeping on!
The not-so-obvious about removing make-up is that sometimes washing your face isn't good enough.
Waterproof mascara? Smokey eye-look for a hot date? Going glam on a girls night out?
I hear you. And I still see your make-up come Sunday morning.
Let's take care of that, shall we?
All of these natural makeup removers are essentially just one single ingredient. I have all of them only because I've dabbled in a myriad of DIYs and tutorials. You might not have all of them, and that's okay!
But there IS good chance you have at least one of them, and that means NOT spending more money on special make-up remover and trying to use what you already have instead.
Use whatever method you have supplies for right now. If it doesn't work for you – or if you have a reaction or allergies to some of the ingredients – then make a mental note to try another one in a few weeks.
The good news is that every ingredient below can be used in something else. You're not wasting your money on something you can only use once, crossing your fingers hoping it works. Better yet, you're SAVING money because you no longer need to buy chemical make-up remover!
Natural Makeup Remover Options
Coconut Oil
Coconut oil is a healthy fat that I use often for cooking, but I also use it as a carrier oil for essential oils, a simple moisturizer when I run out of homemade tinted moisturizer OR when I'm experiencing a severe acne breakout.
Because I keep a tube of coconut oil in my bathroom (either in a small 5 gram pot jar or in a leak-proof squeezable silicone tube), it's easy to open it up and swipe some onto my eyes for a natural makeup remover before bed.
I usually buy my coconut oil from either Tropical Traditions (when they have a sale and free shipping) or from Amazon, or from Costco.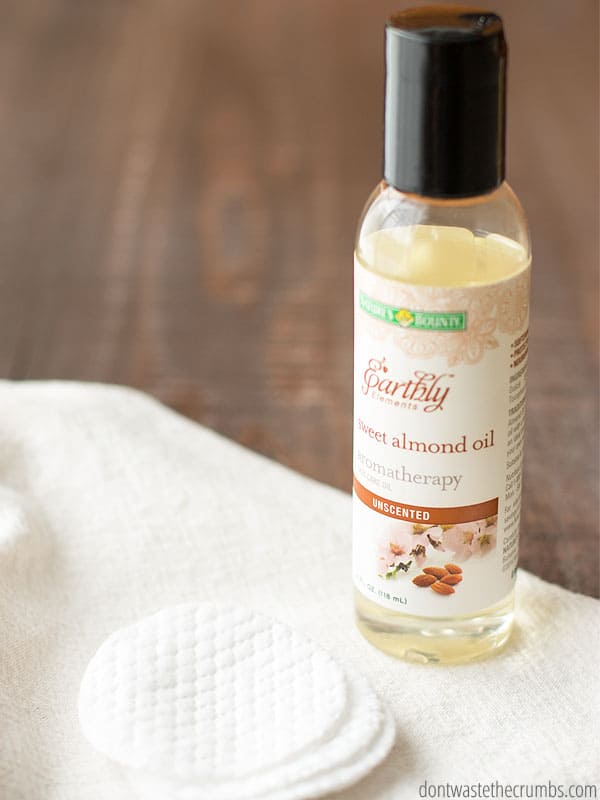 Sweet Almond Oil
Sweet almond oil might not be as common as coconut oil, but you likely have it on hand if you make homemade shaving cream or homemade bug repellent. It's super gentle and light on the skin, and doesn't have much of a scent either.
I use my fingers to apply coconut oil, but it might be easier to use a cotton ball to use sweet almond oil.
You can likely find sweet almond oil locally, either at a health food store like Whole Foods or Trader Joe's. You could even try a bigger box-store like Walmart or Target. If you can't find it locally, you can get it on Amazon.
Jojoba Oil
Jojoba oil is like sweet almond oil's unpopular little sister, but it shouldn't be! It has natural antibacterial and anti-inflammatory properties AND you already have it if you're making homemade shampoo bars.
I haven't looked for jojoba oil recently, but the bottle I have is from Whole Foods. Make a pass through the health aisle the next time you're at your favorite grocery and see if they have it. If all else fails, hail the awesome Amazon.
Olive Oil
The kitchen pantry is getting quite the workout in the bathroom, dontcha think?
Olive oil has long been known to be a key player in the natural beauty routine. It makes an appearance in my hand-healing lotion, as well as in a detoxifying salt scrub and is likely the most affordable of the single-oil options.
Use these tips for buying olive oil if you're running low, otherwise use what you have!
Shea Butter
Another one-ingredient wonder, shea butter is reported to be able to take off even the most stubborn eye make-up. It's solid at room temperature, so I'd suggest rubbing a pea-sized amount between your fingers to warm it up before applying.
If you make lotions or cremes at home, you likely already have shea butter. I haven't seen it at any local stores, but again Amazon has it for a fair price.
Witch Hazel
Although more commonly used as a preservative in beauty DIY's, witch hazel is a natural makeup remover too! Witch hazel is a bit thinner than the oils mentioned above, so I would definitely recommend using a cotton ball or a cotton round/square for this method.
Witch hazel is fairly common, so check your local stores first. Although you should try to get an alcohol-free witch hazel if at all possible so it doesn't dry out your skin OR burn your eyes.
Oil + Water + Witch Hazel
Ok, so I lied when I said ALL of the methods were single ingredient, but since this method is essentially a combination of the ingredients above (plus water), I'm letting it slide.
This "recipe" is essentially 2 tablespoons of each ingredient measured together into a small travel bottle. Oil and water technically don't mix, so you'll have to shake it well before using each time.
This method will also be on the thinner side, so again, reach for a cotton ball or a cotton round/square.
Tips for Natural Makeup Removers While Traveling
If you're going to travel with any of these ingredients, you MUST invest in a leak-proof container.
The 3 oz plastic travel bottles pass TSA inspection, but they're not leak-proof and you could ruin whatever is in your carry-on bag. Kind of like the time my bottle of apple cider vinegar spilled while traveling to Costa Rica. (Thankfully I had the foresight to pack it in a gallon plastic bag first, but still – everything else in the bag stunk like vinegar!)
I can also attest that the small 5 gram pot jars – although super cute and functional at home – aren't leak proof. (Ah yes, it was a messy suitcase indeed!).
I highly HIGHLY recommend using a leak-proof squeezable silicone tube when you're traveling. They've proven themselves trip and trip again and I absolutely won't travel with any other type of bottle!
Natural Makeup Remover for the win!
In addition to goat's milk soap, coconut oil is a huge part of my natural beauty routine. I like to buy it by the gallon from Tropical Traditions. This brand on Amazon is great too. Or I find it at Costco when I'm waiting on a free shipping sale at Tropical Traditions.
Sweet almond oil and jojoba oil are best priced on Amazon (here and here, respectively). Same with shea butter. I usually buy olive oil at Costco but here are some ideas on finding a good brand.
This brand of witch hazel is the one I prefer. I use it in my after sun spray and homemade bug spray too. Multiple uses of ingredients makes me so happy!
For traveling with your oils you can put them in these squeezable tubes or these small bottles.
If you want more about the non-toxic, DIY natural living lifestyle, check out Kinda Crunchy! A hold your hand guide to a more natural life.
Have you tried any of these natural makeup removers yourself? Which method do you think would work best for you?