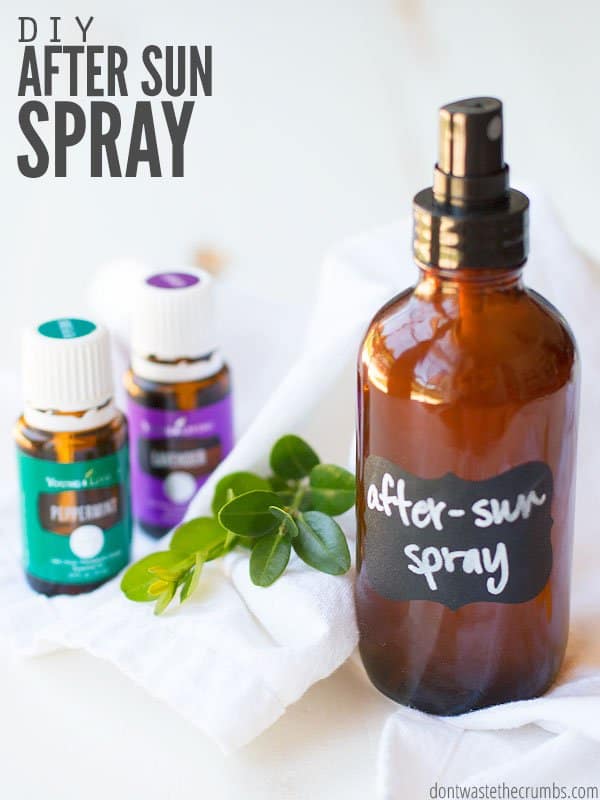 When we lived in California, I didn't have to worry about getting to much sun. Most days were cool and overcast and you'd freeze in a bathing suit anyway.
Now that we live in Georgia and temperatures make it hot enough to swim 7 months out of the year, dealing with the sun is a real concern.
We rely on both our homemade sunscreen and our favorite store-bought sunscreen to protect us when we know we're going to be in the sun for awhile, and now I'm adding this simple DIY after sun spray to our routine as well.
It's the perfect blend of cooling and soothing – just what you need when you stayed longer the pool or beach than you thought you would!
This after sun spray is new to our summer skincare line-up, but it's just as easy as my other tutorials… homemade toothpaste and DIY linen spray and homemade furniture polish and carpet deodorizer, just to name a few.
I'm all about saving money by making things myself, but let's be honest – if it's not quick and easy, I'm probably not going to do it!
Thankfully, making after sun spray is quick, easy and effective!
You don't need a ton of supplies or ingredients in order to pull this off, but there are a few things worth noting before you run to your local drug store.
Witch Hazel
There are a lot of varieties of witch hazel out there… witch hazel with aloe vera, witch hazel toner with rise, witch hazel extra deep strength cleaning astringent…
You want to buy witch hazel that has one ingredient listed: witch hazel!
I buy this brand, but if you spend a lot of time in the sun in the summer, I'd suggest getting the 4-pack!
Aloe Vera
Just like witch hazel, there are a lot of varieties of aloe vera out there and you can easily jump up in price without necessarily jumping up in quality if you're not careful!
First, avoid any aloe vera that's colored. Pure aloe vera (whether it's liquid or gel) is clear and or white. It isn't green, blue or any other color of the rainbow.
Second, don't pay attention to the front of the label. Some labels will say 99% pure aloe vera or 10% aloe vera gel. Ignore those claims and pay more attention to the list of ingredients on the back of the label. You want aloe vera listed as the first ingredient and less than 5 preservative and/or stabilizer ingredients listed afterwards. If you find an aloe vera with extracts and essential oils, those are fine.
Third, make sure you calculate the price per ounce! When you're looking at various sizes and various brands, it's easy to get mixed up!
I buy this aloe vera gel, but I like the ingredient list on this kind better. I might try going with just this aloe vera next time, instead of the gel, because it has just TWO ingredients!!
Whew – I know the quality stuff can sometimes be a bit too science-y for some, but it's important to me that you understand what you're looking for and what you're buying.
Heck, I'm telling you all about the top 5 ingredients to avoid in food and what to avoid in shampoo and what to avoid in dairy – it only makes sense that I tell you what to avoid in witch hazel and aloe vera too!
Essential Oils for After Sun Spray
You need just two essential oils to make after sun spray: peppermint and lavender.
Peppermint essential oil provides a cooling effect when applied topically to the skin.
Lavender essential oil is calming and soothing to irritated skin.
You have a lot of choices when it comes to which brand of essential oils you use, but after looking at different companies and their methods for growing, harvesting and distilling, I chose Young Living. You can read more about my decision here, but I can summarize it with just a few bullet points:
They're the only company to control every single aspect of oil production – ALL OF IT – and you can visit any of the farms to witness it first-hand.
Their standards are FAR superior to the FDA's organic labeling requirements. (If you thought the organic certification was all that and a bag of chips, I encourage you to read this article.)
They don't allow any pesticides on their plants at all, and use 3rd party testing to triple check that nothing is in a bottle of oil that shouldn't be there.
You do have to be a member of Young Living in order to buy their oils, but a lot of perks come with that, including being a part of my education group of 900+ people on Facebook and saving 50% off the highest quality oils available!
Plus I don't shop at Walmart or Target for anything household related since I joined Young Living, and not seeing that Dollar Spot has saved me TONS right there!!
Note: Many companies water down their essential oils with carrier oil (i.e. olive oil, fractionated coconut oil, etc.) or chemicals in order to increase their profits. Peppermint essential oil should NOT smell like a candy cane, and lavender essential oils should NOT smell like flowers. If your oils smell artificial, they likely are. Also, I would NEVER recommend putting any harsh chemicals (like those found in watered down bottles) on skin that has been in the sun too long!
DIY After Sun Spray
After Sun Spray Supplies
1-2 Tbsp aloe vera gel
10 drops pure lavender essential oil
10 drops pure peppermint essential oil
½ cup witch hazel
After Sun Spray Method
Add aloe vera to the spray bottle. Some people find aloe vera to be sticky, so if that's you, add just 1 tablespoon. Otherwise, you can add up to 2 tablespoons of aloe vera to support and moisturize the skin.
Add the 10 drops of pure lavender essential oil and 10 drops of pure peppermint essential oil.
Add ¼ cup of witch hazel and secure the lid tightly. Shake very well so that everything is mixed well and no ingredients are stuck to the side of the bottle. (This might be the case if you're using aloe vera gel.)
Add the remaining witch hazel, secure the lid tightly again and shake well to combine. Shake well before using
You can store this in your pool bag if you want, or you can store it in the fridge for an extra cooling effect!
Join my Young Living team with any Premium Starter Kit and enroll in Essential Rewards and I will give you a $25 product credit!
(FYI – Young Living does not require you to sell oils, nor is there a monthly commitment to buy.)
Here's how to get started:
Click HERE to visit the Young Living website. (Make sure 2298517 is in the member and sponsor field. Choose wholesale membership.)
Fill out your information, choose a starter kit (I recommend the Premium Starter Kit) and decide on whether or not to opt in to Essential Rewards.
Check out and confirm your order.
Young Living is the only essential oil company with the patented Seed to Seal process, ensuring you're only getting 100% pure therapeutic grade oils. You can read more about why I chose Young Living HERE, and how we afford to buy essential oils on a budget HERE.
Are you ready to detox your home?
Join the 5 Days to DIY Natural Living Challenge! In only 15 minutes a day you can take the next steps to a cleaner, healthier home. Whether you've been on a natural living journey for 2 years or 2 days, you will benefit from the practical steps to detox your home. The best part? It's completely FREE!
Sign up HERE to join the 5 Days to DIY Natural Living Challenge!
What type of products do you use in caring for your skin in the summer? I'd love to hear more about your summer skin care routines! Please leave your ideas and thoughts in the comments section below!