My after sun spray uses all natural ingredients that soothes and restores your skin. Using only 4 ingredients and 2 minutes to mix up, this is my go-to for anytime we've been out in the sun!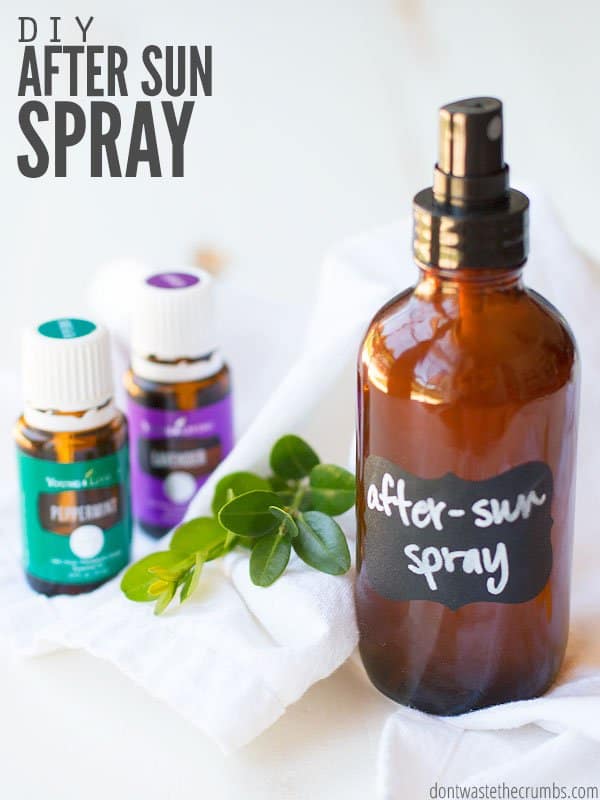 Now that we live in Georgia and temperatures make it hot enough to swim 7 months out of the year, dealing with the sun is a real concern.
We rely on both our homemade sunscreen and our favorite store-bought sunscreen to protect us when we know we're going to be in the sun for a while, and now I'm adding this simple DIY after sun spray to our routine as well.
This after sun spray is new to our summer skincare line-up, but it's just as easy as my other tutorials… homemade toothpaste and DIY linen spray and homemade furniture polish and carpet deodorizer, just to name a few.
You need just two essential oils: peppermint and lavender.
Peppermint essential oil provides a cooling effect when applied topically to the skin.
Lavender essential oil is calming and soothing to irritated skin.
Making after sun spray takes only 2 minutes to make and is effective! It's cooling and soothing and feels wonderful if your skin gets a touch pink!
Here's What You Need
Notes on Ingredients
Essential oils. You have a lot of choices when it comes to which brand of essential oils you use, but after looking at different companies and their methods for growing, harvesting and distilling, my first choice is Young Living. You can read more about how we afford to buy essential oils on a budget.

Many companies water down their essential oils with carrier oil (i.e. olive oil, fractionated coconut oil, etc.) or chemicals in order to increase their profits. Peppermint essential oil should NOT smell like a candy cane, and lavender essential oils should NOT smell like flowers. If your oils smell artificial, they likely are. Also, I would NEVER recommend putting any harsh chemicals (like those found in watered down bottles) on skin that has been in the sun too long!
However I understand the Young Living doesn't work for everybody and another good option is Plant Therapy. You can find their starter set here.

Aloe vera. Avoid any aloe vera that's colored. Pure aloe vera (whether its liquid or gel) is clear and or white. It isn't green, blue or any other color of the rainbow. I buy this aloe vera gel, but I like the ingredient list of this kind better. I might try going with just this aloe vera next time because it has just TWO ingredients!!

Some labels will say 99% pure aloe vera or 10% aloe vera gel. Ignore those claims and pay more attention to the list of ingredients on the back of the label. You want aloe vera listed as the first ingredient and less than 5 preservative and/or stabilizer ingredients listed afterwards. If you find an aloe vera with extracts and essential oils, those are fine.

Witch hazel. There are a lot of varieties of witch hazel out there… witch hazel with aloe vera, witch hazel toner with rose, witch hazel extra deep strength cleaning astringent.
You want to buy witch hazel that has one ingredient listed: witch hazel. I buy this brand, but if you spend a lot of time in the sun in the summer, I'd suggest getting the 4-pack!
Step by Step Instructions for After Sun Spray
Step 1. Add aloe vera to the spray bottle.

Step 2. Add the 10 drops of pure lavender essential oil and 10 drops of pure peppermint essential oil.

Step 3. Add ¼ cup of witch hazel and secure the lid tightly. Shake very well so that everything is mixed well and no ingredients are stuck to the side of the bottle. (This might be the case if you're using aloe vera gel.)

Step 4. Add the remaining witch hazel, secure the lid tightly again and shake well to combine. Shake well before using

Tips for Making After Sun Spray
Some people find aloe vera to be sticky, so if that's you, add just 1 tablespoon. Otherwise, you can add up to 2 tablespoons of aloe vera to support and moisturize the skin.
You can store this after sun spray in your pool bag if you want, or you can store it in the fridge for an extra cooling effect!
FAQS
What is the purpose of after sun spray?
The purpose of after sun spray is to repair and hydrate your skin after it's been in the sun for a while. Your skin will instantly soak it up and since it's non toxic, it is less likely to irritate your sun kissed skin.
Can you use after sun everyday?
You can use this after sun spray daily! It's totally safe and will keep your skin moisturized.
Can I use after sun instead of Moisturizer?
You can use after sun instead of moisturizer, they have the same benefits. After sun spray contains restorative ingredients for the skin that moisturizer tends to lack.
Buying Essential Oils for After Sun Spray
More DIY Recipes
5 Days to DIY Natural Living
Being healthy isn't just what goes IN your body, it's what goes ON your body too. Download my free guide 5 Days to DIY Natural Living to learn how to save money while getting rid of harmful toxins throughout your home.