Goat milk soap benefits your skin more than conventional cleansers. It can help with ace-prone skin and eczema. In this post, you will also learn how to buy quality soap.
If you watch skincare and beauty commercials, you'll notice that they highlight specific ingredients for their benefits. Some add collagen and claim to fight wrinkles, while others add salicylic acid and say it clears up acne.
I used commercial cleansers and scrubs for many years. But finally discovered a simple and all-natural beauty routine that helped clear up my acne-prone skin.
The first step that made an impact on my skin was eliminating the processed junk food from our diet. I didn't know it at the time, and the impact happened very slowly over time. For me, it's an affirmation that eating real food (and NOT eating real food) really does make an impact on the body.
The second step seemed to be a small one, but as hindsight is always 20/20. Switching to goat milk soap made me question all the other ingredients that are in my skincare and beauty items. Including the ingredients that are supposed to be good.
Finding Quality Goat Milk Soap
I admit that at the time, I knew practically nothing about goat milk soap. I've been thoroughly testing soap from Bend Soap Company for years and have come to the following conclusion:
The best goat milk soap is one that contains no more than three ingredients:
goat milk
nourishing oils (coconut oil, palm oil, and olive oil)
essential oils (for fragrance or health benefits)
That's it. Nothing more.
Many commercial soaps and cleansers, and even some homemade soaps, contain GMO products like soybean or corn oil. Do you see either of those two ingredients listed on your soap or cleanser? What about vegetable oil, canola oil, or modified rapeseed oil? If so, that oil was most likely created from a GMO crop.
I know there's controversy surrounding GMO crops and their effect on health, and given that every family is in a different place on their own health journeys, you won't find me preaching to you one way or the other.
However, I can say that we've decided to stay away from them whenever possible. The fact that so many other countries have banned GMOs and the lack of information on long-term studies is sufficient enough for me to keep my distance for now, and until I know more.
Resource Suggestion: If you're looking for literature on GMOs, "The GMO Deception" is a great eBook that's simple to read and packed with helpful research.
If your soap doesn't have a GMO oil, there's a really good chance it has another common ingredient among soaps and cleansers: sodium lauryl sulfate. This ingredient helps the soap to create a great lather, but it also strips the skin of natural oils, leaving your skin dry and irritated. If your skin has ever felt tight, dry, and itchy after washing, sodium lauryl sulfate might be to blame.
The chips and salsa version: The goat milk soap from Bend Soap Company is the best goat soap I've tried so far.
The whole enchilada: There was a lot of note-taking during my testing phase, both physical and mental, so here's what I thought of their soap.
My Honest Review of Bend Soap Company's Goat Milk Soap Benefits
1. The color is brown.
This was weird at first but makes sense when you consider the color of the original ingredients and the color that would result when you combine them. There are no dyes to hide this fact. The fact that this soap is brown makes me wonder what's in other soaps to make them white, pink, or green.
2. It doesn't sting my eyes.
This didn't dawn on me until I went back and tried my old goat milk soap, which stung almost immediately. Bend Soap's soap didn't sting at all, even when taking my time to wash, fumble around for a washcloth, scrub and then finally rinse… all while wearing contacts no less! Now, it very well might possibly sting if left indefinitely, but it's really nice to be able to wash my face without a) avoiding my eyes, or b) making a sprint to wash the soap off as soon as possible.
3. It doesn't dry out my skin.
When I finish washing, my skin is clean. It's not tight or itchy. I still use moisturizer, but if I forget to apply one morning, my skin isn't paying the price later in the day.
4. It washes off my makeup.
On most days, my makeup consists of homemade tinted moisturizer, homemade powdered foundation, and mascara – NOT the waterproof kind since it irritates my eyes. This soap took all of this off without any issues and no need for additional makeup remover.
5. It's gentle.
My skin is not red or irritated or showing any signs that the soap is bothersome. This doesn't surprise me though, since they began making this soap in an effort to heal their son's eczema.
6. It produces a very nice lather.
A foamy, creamy lather that rinses clean without any sticky or slimy residue. Who would have thought that a simple, clean lather would be so nice! I even started using this soap specifically to produce a lather for shaving too.
7. The smell is subtle.
So many soaps have this overpowering scent that lingers as the day goes on. Bend Soap's soap smells good for sure (the eucalyptus spearmint is my favorite!). But you don't walk around all day smelling like someone doused you in a spray bottle of mint. You just smell clean. And that's how it should be.
In the process, I ruled out Canus, Alpen Secrets, The Little Soap Factory (my old soap), Nubian Heritage, and Candlecopia because of their ingredients. Bend Soap is the most affordable soap for its quality.
Tips On How To Budget In Goat Milk Soap
Tip #1: Know the irregular ends of a big batch of soap.
Once or twice a year, Bend Soap Company sells 16 oz of bulk scrap soap for just $8. This brings the price down to just 50¢ per ounce! Plus I've heard from readers that these scraps are just the same size as regular bars! (Be sure to sign up for their newsletter to know when the sale happens. It's not always consistent!)
Tip #2: Recycle.
You can take those scraps and turn them into homemade liquid facial cleanser where one 8 oz batch costs just 30¢.
Tip #4: Keep it from dissipating too quickly.
Learn how to make goat milk soap last. Handcrafted soap is somewhat softer than commercial soap.
Tip #5: There are coupons when you buy directly from Bend Soap.
You can stack these with the scrap soap sales and stock up for the year!:
SOAP25 saves 5% on your order of $25 or more
SOAP50 saves 10% off your order or $50 or more
SOAP100 saves 15% off your order of $100 or more
Shipping is a flat rate of $5 on orders $50 or more
FAQS
Is goat's milk soap good for your skin?
Goat milk soap benefits your skin! Just two days' worth of washing made a noticeable difference in my skin and I decided to never switch back to commercial cleansers again. Give it a try!
Is goat milk good for wrinkles?
There are several goat milk soap benefits such as repairing the skin's barrier, preventing lines and wrinkles, preventing acne, and increasing moisture levels.
Does goat milk soap lighten your skin?
Goat milk soap contains lactic acids, vitamins, and high proteins. This results in the skin looking lighter and feel softer.
About The Company
Mr. Crumbs and I do our best to support small business owners who are like-minded and do their part to run a sustainable and ethical business. Bend Soap Company fits the bill. After reading their story, meeting the team and the family (they have 8 kids!), I knew this is a company we would want to support.
Marilee shared with me that they really want to help as many people as they can with their soaps. They've seen their soap alleviate eczema in their son firsthand. And it helped others with various skin sensitivities too. She's a mother of eight and knows firsthand what it's like to deal with these issues.
They want to help to heal and nourish the skin naturally. Without having to buy expensive creams and make frequent visits to the dermatologist. The hand-written note from Marilee, included in my testing package, sealed the deal.
If you're looking for a recommendation on goat milk soap, there it is.
More Ways I Use Bend Soap Company Products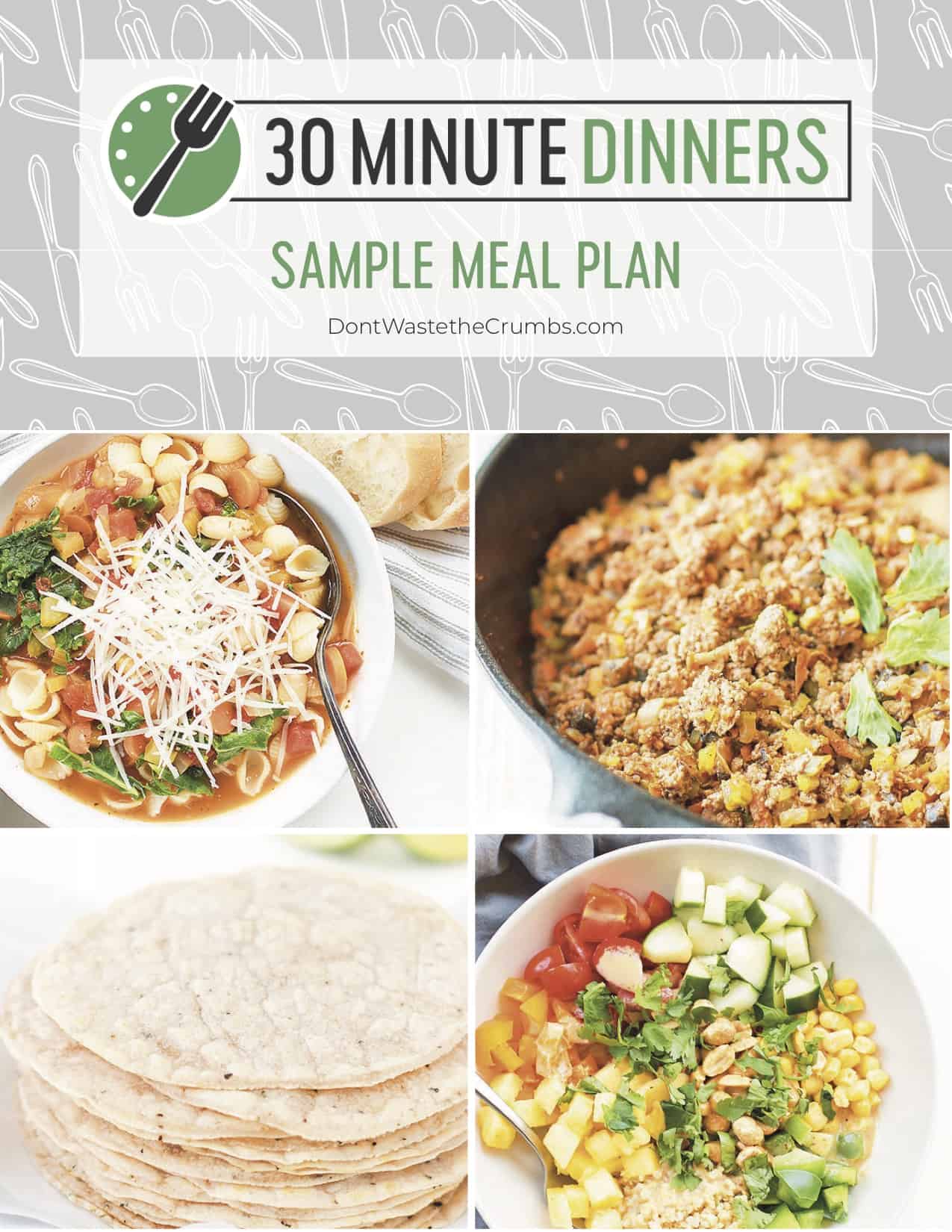 30 Minute Dinners Sample Meal Plan
Sign up to get instant access to my
30 Minute Dinners Sample Meal Plan
, complete with recipes and step-by-step instructions!
This post is brought to you by Bend Soap Company and Crumbs is honored to partner with them. One bar at a time, Bend Soap Company is healing and nourishing skin with their all-natural goat milk soap and lotions.