16+ easy & delicious slow cooker soups and chilis, using real food ingredients. Frugal & versatile recipes – perfect for chilly nights! Serve with my recipe for homemade, crusty No Knead Artisan Bread.
There is something so comforting about coming home from a long day and being able to dish up a warm bowl of healthy soup to fill up your tired body.
Truthfully, I enjoy slow cooker meals even after a lazy day at home! Not only are they easy, I love that my taste buds are tempted all day with the aroma of dinner cooking.
And now that fall is upon us, nothing screams dinner to me than a hearty soup or chili. Serve it up with a salad or some homemade bread, and my entire family is in heaven!
Best Slow Cooker Soups and Chilis for Fall
Let's start with the soups
Soups for the crock pot are so versatile, because you can modify just about any recipe to suit your family's needs and desires.
Don't like onions? Use onion powder.
Want to keep it vegetarian? Use vegetable stock or water.
Against cooking with alcohol? Use extra broth.
Have extra kale in your produce bin? Throw it in the soup instead of buying fresh spinach for a recipe.
You get the idea. These recipes are guidelines and you are encouraged to play with them and modify them to your preferences. No matter how you dish it, they're economical, time saving and some of my favorite comforting meals!
Slow Cooker Soups
Make your own chicken broth in the slow cooker and use it as a base for all of the following soup and chili recipes!
Soup recipes perfect for the slow cooker:
Best Minestrone Soup – Just the kind of soup you want after a long day out!
Easy Minestrone Soup – This soup is so versatile and easy to make in a slow cooker or an Instant Pot.
Red Lentil Vegetable Soup – Letting the red lentils dissolve into nothing is the whole point of this soup, making it an excellent candidate for the slow cooker!
Homemade Cream of Mushroom Soup – A perfect soup for a fall day! Enjoy it as is, or use it in my Classic Slow Cooker Pot Roast Recipe!
Northern Bean and Ham Soup – Ham and Bean Soup is one of my husband's favorites. He loved the Canned Bean and Ham Soup growing up, and this is my version of the soup without any nasty preservatives or additives.
Garlic White Bean Soup with Kale– I love that this soup makes white beans the star, but it makes the house smell like an Italian restaurant!! I also have a variety that I make in my Instant Pot with Sausage!
Soup recipes easily made with slow cooker chicken broth:
Homemade Ramen Soup – Use the slow cooker chicken broth to make an amazing bowl of homemade ramen! Perfect any time of the year!
Instant Pot Chicken Noodle Soup – I know it's not a "slow cooker" per se, but you don't have to be home to make it and I think that counts, right? Plus homemade chicken noodle soup is exactly what you need on a cold, chilly day.
Zuppa Toscana Soup – This delicious soup is just like the Olive Garden! It's so satisfying and filling, gluten-free and Whole30 friendly!
Homemade Tomato Soup– Nothing fancy here. Just lip smacking good soup. And a great suggestion of what to serve with this soup! (Not a plain old grilled cheese either!)
Roasted Red Pepper Tomato Soup – This is tomato soup's bigger brother. So good and so "fancy," yet SUPER easy!!
Homemade Tortilla Soup – Hands down one of our favorite soups ever! This is so comforting and so full of flavor. This is one you don't want to miss out on!
And then there are the Chilis – so hearty, so filling, so cheap!!
Chilis are the best fall weekend meals – especially for relaxing and watching the games on TV with family and friends!
Slow Cooker Chilis
Pumpkin Chili – Oh goodness, if you've never put "pumpkin" and "chili" together in a pot together, you're missing out! Hands down, this is my all time favorite chili. People are always amazed that it contains pumpkin!
White Chicken Chili – What's not to love? Tender chicken, white beans, and warming spices. This is just the kind of chili many "non" chili eaters love! And this is always what I crave when I feel worn down–I guess it is my version of chicken soup.
Easy Instant Pot Vegetarian Chili – Of course, not exactly a slow cooker recipe, but it is equally delicious in the slow cooker!
Psst! Want to up the flavor on any soup? Try a pinch of finishing salt! I love Ava Jane's Kitchen because it doesn't have microplastics (gross, right?) and it's SO GOOD! Plus, you can get a bag for just 1¢!!
Get your penny bag of salt on this page.
Do soups and chilis freeze well?
Yes! These are great recipes to double batch and freeze! You can freeze in individual portions or in freezer bags to save space. Allow your soup to thaw naturally in the fridge before reheating.
Go ahead and meal plan with these recipes so they are ready to go in less than 30 minutes on busy days! Here are some more freezer meal planning ideas!
Can you slow cook soup too long?
Unfortunately, yes! Just like any other method of cooking, slow cooked soups or chilis can cook too long, potentially causing unpleasant textures with the vegetables, meats and beans. So be sure that you are still timing your slow cooker soups and chilis as per the recipe instructions.
Did you forget to start the slow cooker? Make any of these meals in the Instant Pot!
A Few More Soups You Might Like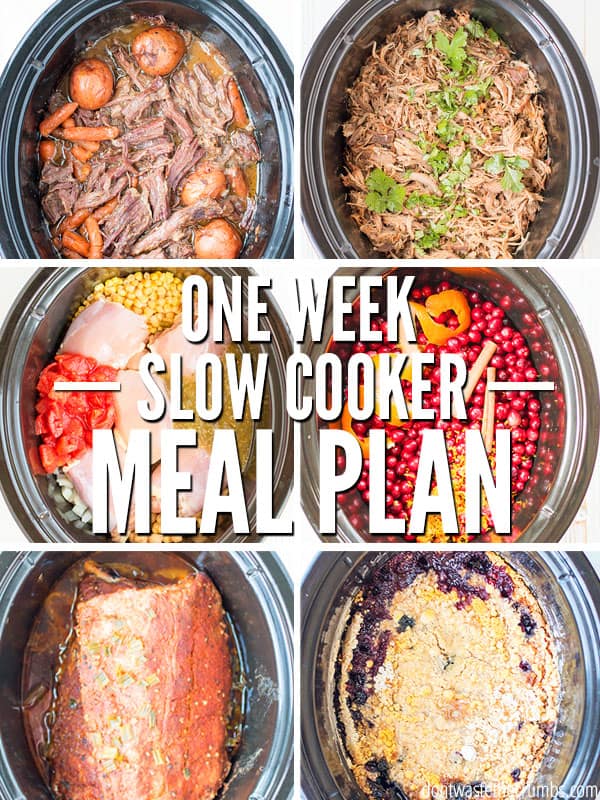 Slow Cooker Meal Plan
Sign up to get instant access to my
Slow Cooker Meal Plan,
complete with recipes and shopping list!!
Everyone loves a good soup or chili, right? Which one will you try first?