I'm living in a time/weather warp. The calendar says November and the ground is covered in yellow leaves, which makes me want to eat slow cooker soups every day forever.
But we're setting record highs for this time of year and every day teeters on the brink of shorts and salads.
Thank goodness for garlic white bean soup with kale, it is literally the best of both worlds!
Wait – are we putting salad on top of soup? Um… well… sort of. I've done weirder things, right? Beans in brownies? Liver in smoothies?
If you're new to this here blog, I'm sorry. I might have just given you nightmares and scarred your food-lovin' self for life.
If you've been reading this blog for awhile, you know I have a point. Thank you for not clicking away and reading this far. Here's the scoop.
We're putting kale in our soup, and kale is green like salad, but it's waaay better in soup than lettuce would be.
By itself, kale is bitter and has a super strong flavor. That's why you usually see it blended with other green leafy things in a salad and some salad recipes have you massage the kale early on.
The very awesome thing about bitter strong kale though is that it's super sturdy, while lettuce is super wimpy. Have you ever seen what happens to lettuce when it gets wet? It wilts. Green slimy lettuce hidden in the back of the crisper drawer? Case in point.
Kale, on the other hand, is like the ninja of leafy green veggies. Get it wet, cover it with dressing or add it to soup? No match. Bring it on, says the ninja kale, I can handle it AND I can even make it better.
Meet kale. Your garlic white bean soup BFF.
Garlic White Bean Soup with Kale
Speaking of garlic white bean soup, I should mention that I'm eating it RIGHT THIS MOMENT as I write this post, and I SO wish someone would invent smell-o-vision already because you guys, this soup is the bomb.
You know how you walk into a house and you can smell that something good has been cooking? You're not sure what, but whatever it is you know is HAS to be good because there's no way something that smells so amazing could NOT taste amazing too?
That's this soup.
And that smell? It's from four simple, nothing fancy, you totally got these in your pantry ingredients: navy beans, bay leaves, chicken stock and garlic.
Seriously – who knew such a boring pantry shelf was capable of such magic?!
And never mind the fact that these items are CHEAP! A pound of Bob's Red Mill navy beans is just a couple dollars (or even less if you buy in bulk), chicken stock is free when you make it homemade and garlic and bay leaves add a quarter and dime respectively. In the end, you're getting a magical bowl that keeps bellies AND your wallet full.
On top of that, navy beans have such a mild taste that even picky eaters can't turn up their nose.
I've eaten this soup no less than SEVEN times in the past two months and every single time I am shocked at two things:
How good it is
How easy it is to make
I mean, there are a total of 3 steps, but you can do one step ahead of time and skip another one altogether if you wanted to. Which then leaves a recipe consisting of filling a pot with food and waiting. Sounds easy, right?
See, I told you so.
Additional Recipe Tips
Before I let you loose with this recipe, let me offer a few been there done that kind of tips.
I wrote this recipe for the stove top, but you can adapt it for a slow cooker. Follow step 1 as written and pick up with step 3, dumping everything but the kale in the slow cooker and cooking on low for 4-6 hours.
This soup makes AMAZING leftovers.
You can freeze the beans ahead of time! Somewhere around test batch number 3 I doubled up on the beans in the soaking step and froze half for later. The soup I'm eating as I type this? From the frozen beans. WAY YUM.
I haven't done this myself, as I keep eating all the leftovers before I have a chance to, but I'm willing to bet this soup as a whole would freeze well, too.
And if you want more freezer meal ideas, take a look at the Freezer Family Bundle where all that hard work has been done for you!
Garlic White Bean Soup with Kale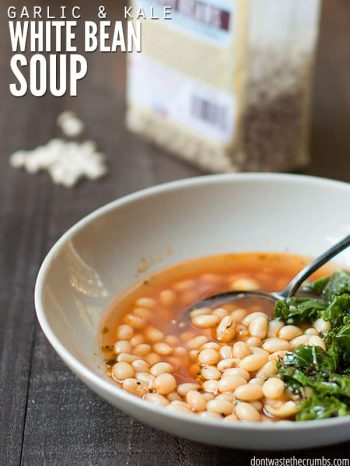 Make a pot of garlic white bean soup with kale and your house will smell like Tuscany! Four basic pantry ingredients make this affordable yet super healthy!
Author:
Prep Time:

8 hrs, 5 min

Cook Time:

3 hrs

Total Time:

49 minute

Yield:

3

-

4

meal servings

1

x
Category:

Soup & Salad

Method:

Stovetop

Cuisine:

American
Scale
Ingredients
1 cup

dry Bob's Red Mill navy beans

4 cups

of water

1 quart

of chicken stock

2 cups

water (to thin as necessary)

2

garlic cloves, smashed

1

bay leaf

1 cup

kale, chopped

1 Tbsp

olive oil

2 Tbsp

butter

2

garlic cloves, minced (about

1 Tbsp

)

1 tsp

dried oregano

1 Tbsp

tomato paste
Instructions
In a medium stockpot, combine dry beans with 4 cups of water. Bring just to a boil, then turn off the stove and cover. Let the beans soak overnight or until you're ready to cook dinner.
For dinner, drain and rinse the beans 3 times. Place the beans back into the same stock pot and add chicken stock, smashed garlic cloves and bay leaf. Turn the heat on a low simmer and cook the beans until they're al dente, about 1 1/2 – 2 hours. Add additional water 1 cup at a time if necessary.
During the last 30 minutes of cooking, combine olive oil, butter, minced garlic, oregano and tomato paste in a small pot. Heat over the lowest heat possible so the garlic and tomato paste permeate the oil and butter for 15 minutes.
Add the flavored butter/garlic and the kale to the beans and stir well. Let the soup continue to cook for about 15 minutes so the kale can wilt. Season generously with salt and pepper and serve.
What's your favorite fall soup recipe?