This light and healthy Greek quinoa salad with fresh vegetables and chickpeas is the perfect make-ahead lunch or side-dish. Top with dill or avocado if you can!
Everything You Need to Know About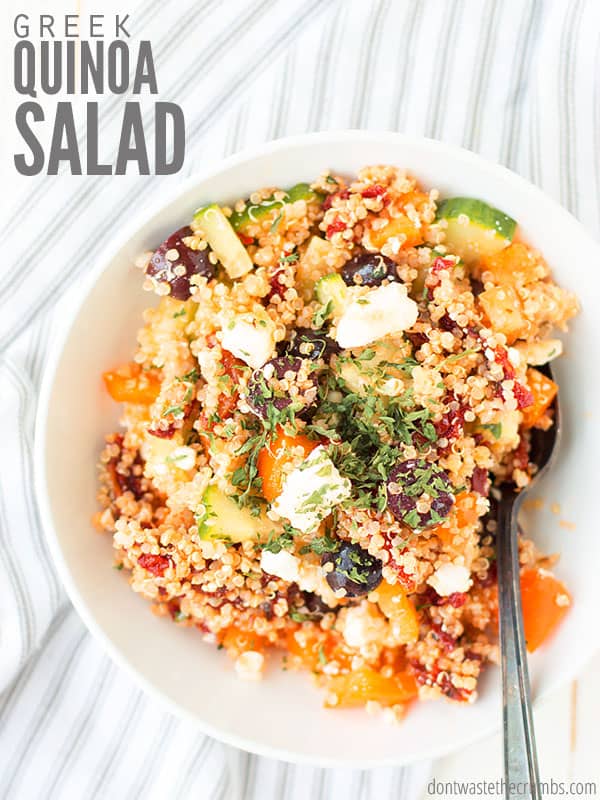 Have you ever gone out to eat and had something that was SO GOOD, you wished you could eat it every day at home?
I feel like this happens to me ALL THE TIME, and most recently the quinoa salad from Zoe's Kitchen is making me drool just thinking about it.
I haven't quite figured out what they put in their dressing, but I have come up with a Greek quinoa salad that is so good, it's giving Zoe's a run for its money.
So good in fact, that the husband had it for three days in a row and STILL asked for more!
I wish I was exaggerating here, but I'm really not.
I made this for dinner on a Monday, my husband took leftovers for lunch on Tuesday AND Wednesday. Wednesday night as he was getting ready for the next day, he literally said out loud,
"Man, that Greek quinoa salad was so good. I could eat that every day. I love tacos – don't get me wrong – but I'd trade those in for that salad in a heartbeat!"
You guys… coming from a man who survived on Doritos and Hot Pockets in college… who at one point swore off shredded meat, mushrooms, tomatoes, and beans of every sort…
Hearing him say things like this throws me for a loop, every time.
But still.
The fact that he not just eats, but ENJOYS a healthy meal with things like quinoa, bell peppers and cucumbers?
I'm stunned, every time.
If MY husband can learn to love real food, there's hope for every husband out there!
Note: If your husband isn't a big fan of Greek, try this crunchy quinoa salad with this Thai peanut dressing. It's just as good, but with a completely different flavor profile!
As I mentioned, as amazing as my Greek quinoa salad is, it's not a true copycat recipe of Zoe's quinoa salad.
Zoe's has lettuce. Mine doesn't.
Zoe's has cabbage. Mine doesn't.
Zoe's has a lemony-sort of dressing. Mine doesn't.
But my take on Zoe's quinoa salad uses ingredients you can easily get at the local grocery store, a dressing you can whip up with what's already in your pantry, and – my favorite part – it can be made in less than 30 minutes.
High fives for super fast and healthy dinners!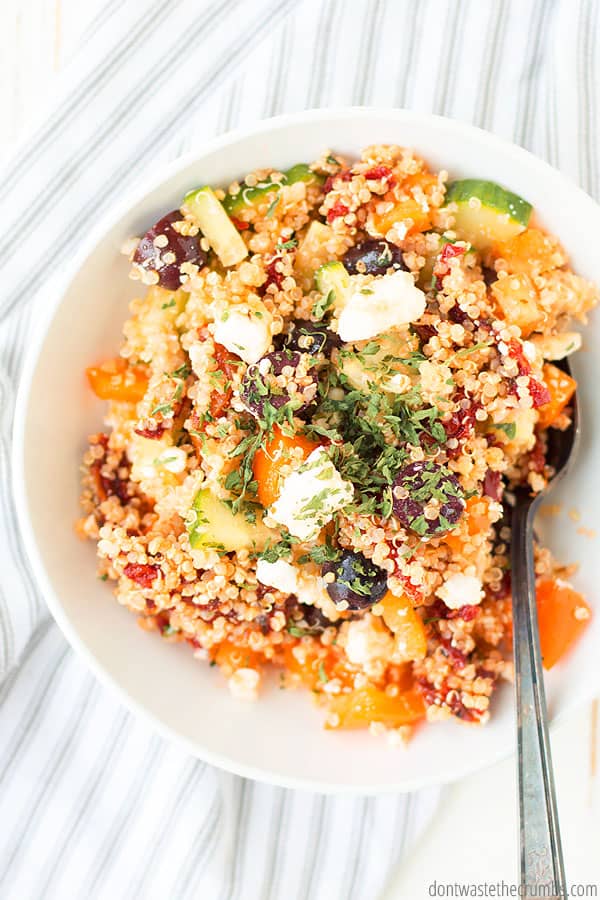 How to Make Greek Quinoa Salad
Let's breakdown what all we have going on here.
Quinoa
Obviously, you need quinoa. Ever since I learned how to make quinoa in the Instant Pot – IN JUST ONE MINUTE – I'm sold. We'd have quinoa every night if it were up to me!
A few notes about quinoa:
Rinsing quinoa is SUPER important. Take your time and don't rush the rinsing step otherwise your quinoa will taste soapy.
Quinoa can be frozen ahead of time! I cook in bulk, making massive batches of quinoa in my 8 quart Instant Pot and freezing it in 4 cup portions. I highly recommend doing something similar to help you save time in the kitchen.
Don't be fooled by pre-cooked quinoa at the grocery store. I saw an ad at Trader Joe's for 16 oz of cooked quinoa for $3.99…. which is like paying nearly $12 per pound of uncooked quinoa. YOU GUYS. You can get 4.5 lbs of organic quinoa at Costco for $9.99 – just $2.22 per pound! Save your self TONS of money and cook it yourself.
Vegetables (Required)
Personally, I don't think any meal can be called Greek unless you have kalamata olives and sun-dried tomatoes. But that's just me.
And I'd be lying if I said that when the budget is tight and I can't afford kalamamta olives and sun-dried tomatoes OR I've already used up both jars and I need to make do with what I have, I didn't use black olives and cherry tomatoes in a pinch.
But I'd also be lying if I said it was just as good. Because it's not. The kalamata olives and sun-dried tomatoes MAKE this recipe, so please don't skip if you don't have to!
Vegetables (Optional)
I'm a HUGE fan of adding as many vegetables as I can to my meals, so we're using cucumbers, bell peppers and red onions in this Greek quinoa salad recipe. All three of these veggies add crunch and authentic Greek flavor to the dish.
Other optional veggies include:
Kale. Chop it up into tiny pieces, massage with some Greek salad dressing (below) and toss with the salad.
Avocado. Dice it up and add it on top of the salad at the very end.
Fresh Dill or Parsley or Mint. Totally not a vegetable, I know, but if you happen to have any leftover fresh herbs from another dish, here's your chance to use them up before they get slimy in the back of the fridge!
Salad Dressing
I'm using my own homemade Greek salad dressing, which is so good, it could easily pass for a restaurant's Greek dressing.
You won't need the entire batch of dressing for the meal, so make sure you add another Greek night on meal plan later in the week to use it up.
Protein
The kids and I added shredded chicken (cooked in the Instant Pot!) to our salads and my husband added steamed shrimp to his.
You could also add leftover ground beef or sliced steak or even chickpeas if you're vegetarian.
Your protein options here are endless, and this is the PERFECT meal to add that random cup or two of leftover protein in the fridge.
This Greek quinoa salad could easily be a meal in and of itself with enough veggies, but you could also serve a side salad (with the extra Greek dressing!), or our favorite homemade hummus with sliced veggies and/or pita chips, or homemade pita bread (SO GOOD fresh out of the oven)!
Greek Quinoa Salad
Author: Don't Waste the Crumbs
Prep Time:

10 mins

Cook Time:

20 mins

Total Time:

20 minutes

Yield: Serves

4

-

6

1

x
Category:

Salad

Method:

Cook and combine

Cuisine:

Greek
4 cups

cooked quinoa, slightly cooled

1

English cucumber, quartered and sliced

1

bell pepper, diced (I used orange)

½

red onion, diced

1 cup

kalamata olives, halved

1 cup

sun-dried tomatoes

2

–

4

ounces crumbled feta cheese

½

batch Greek dressing (see recipe below or in THIS blog post.)

4 cups

raw kale, optional

2 cups

of protein, optional (shredded chicken, diced shrimp, chickpeas, etc.)
Greek Salad Dressing Recipe

1/3 cup

and 1 Tbsp olive oil

1 tsp

garlic powder

1 tsp

dried oregano

1 tsp

dried basil,

3/4 tsp

black pepper

3/4 tsp

salt

3/4 tsp

onion powder

3/4 tsp

spicy brown mustard

1/2 cup

and 2 tsp red wine vinegar (you can substitute up to half white vinegar without altering the taste)
In a large bowl, combine the quinoa, cucumber, bell pepper, onion, olives and tomatoes. Toss to mix together well.
Combine the salad dressing ingredients in a 16 ounce mason jar and shake vigorously to mix.
If using the kale, combine the kale and ¼ cup of dressing in a large bowl. Massage the leaves with the dressing until they are all thoroughly wet.
Combine the kale and protein, if using, with the quinoa salad and toss. Sprinkle with feta cheese and serve at room temperature.
Keywords: Greek quinoa salad
Now you have a delicious, easy greek quinoa salad recipe to serve your family!
Don't forget to grab an 8 quart Instant Pot Duo to make a big batch of quinoa in 1 minute.
Try the Greek Salad Dressing on other salads.
Using leftovers for lunch or other meals is one of my tips I share for cutting down your grocery budget and being able to afford to eat real food. Learn more great shopping and budgeting strategies like this in my FREE video course HERE.