Short on time? Get dinner done in 30 minutes and cook your WHOLE chicken in the Instant Pot. No need to thaw – you can even cook it from frozen! Season with homemade poultry seasoning, or blackened seasoning for a fun kick!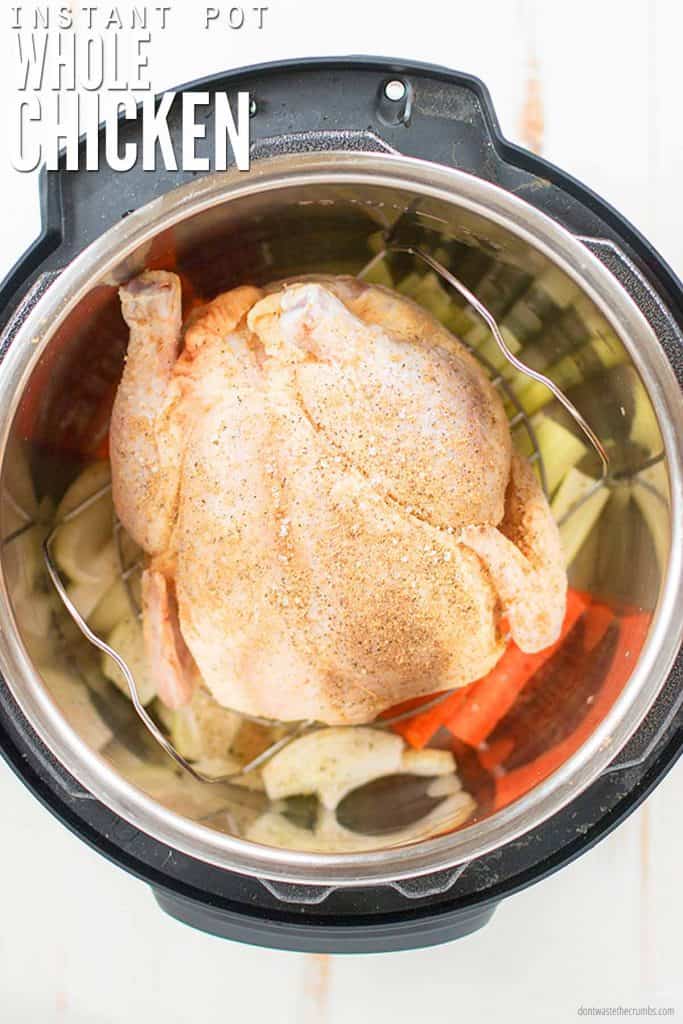 I love having shredded chicken – it makes for cooking any one of these 38 meal ideas that use rotisserie chicken.
The problem is, I need this chicken DONE when I get home from work!
Instant Pot Whole Chicken to the rescue! I love cooking chicken in the Instant Pot because:
Cooks in 30 minutes!
You don't have to thaw the chicken!
Great way to stock the freezer
Cook while you're away from home (or sleeping).
Here's What You Need
You really need just one ingredient: Chicken!
I like to use a simple seasoning blend on my chicken as well (salt, pepper, garlic powder, onion powder, maybe some thyme or oregano) or try my REALLY easy homemade poultry seasoning. Both are optional.
Optional Ingredients and Notes
Vegetables. Anything you add with the chicken will increase the flavor. Therefore, they're great for using up scraps or when you have just a half onion or a few baby carrots left.
Citrus. Add sliced or quartered lemons or oranges to the pot to brighten the flavor.
Fresh or Dried Herbs. They truly make Instant Pot whole chicken AMAZING, but they're not cheap. I usually use dried herbs without a problem, and only use fresh if I find them marked down.
Psst! Wanna kick this chicken up a notch? Try finishing this recipe with a pinch of finishing salt! Just wait until the chicken is fully cooked so the salt doesn't dry out your beloved bird! I love Ava Jane's Kitchen because it doesn't have microplastics (gross, right?) and it's SO GOOD! Plus, you can get a bag for just 1¢!! Just sprinkle some on after shredding and serve! (Get your penny bag of salt on this page.)
A Quick Word About The Chicken
Quality meat is a priority for my family, so we choose to buy organic. Organic chicken is becoming easier to find, but if you can't find it locally, check out Butcher Box. They offer organic chicken, heritage-breed pork and grass-fed beef delivered to your door EVERY MONTH!
I've shared my experiences with them a few times:
Exclusive for Crumbs Readers- Get FREE Ground Beef for life when you sign up!
Get 2 lbs of free 100% grass-fed, grass-finished ground beef in every order for the life of your membership.
Order through THIS LINK to take advantage of this offer.
Step By Step Instructions For The Instant Pot
Step 1: Add water and chopped vegetables (if you're using) TO the bottom of your Instant Pot. Place the trivet on top. (Note: Size of Instant Pot vs bird. I highly recommend checking to see if your bird fits in Instant Pot BEFORE cooking)
Step 2: Place whole seasoned chicken on the trivet, breast side up.
Step 3: Close the lid. Ensure the seal is in place and the pressure valve is on "sealed."
Step 4: Cook on High Pressure for 6 minutes per pound of bird.
For example:
4 lb chicken will take 24 minutes
5 lb chicken will take 30 minutes
6 lb chicken will take 36 minutes
Step 5: Let the pressure release naturally (i.e. do nothing) until the red pressure valve falls down.
Step 6: Open the lid carefully and remove the chicken. Serve as is or shred the chicken and portion for later.
Tip: Use can use a KitchenAid stand mixer to shred the chicken for you in minutes!
Step 7: Save the bones for chicken broth, if you want to.
Homemade chicken stock is FREE and super easy – here's the tutorial for the Instant Pot, and here's how to make slow cooker chicken stock as well.
FAQS
How long do I put the chicken in the instant pot?
FOR A THAWED CHICKEN (NOT FROZEN), allow 6 minutes per pound of chicken to cook in the Instant Pot.
3 lb chicken = 18 minutes on high pressure
3 ½ lb chicken = 21 minutes on high pressure
4 lb chicken = 24 minutes on high pressure
4 ½ lb chicken = 27 minutes on high pressure
5 lb chicken = minutes on high pressure
Why is my instant pot chicken tough?
This means that the chicken needed to be cooked in the Instant Pot longer. ( When cooking frozen chicken breasts, let the pressure naturally release.) This will help with the texture. 
Can you make Instant Pot FROZEN whole chicken?
Yes! You should allow 11 minutes per pound for cooking time. Be sure to remove the innards from the chicken (that are wrapped in plastic or paper) BEFORE cooking. 
How to Get Crispy Skin?
Put the chicken in the oven under broil for up to 7 minutes to get a crispy skin.
To Serve Instant Pot Whole Chicken
Try these sides:
Save Time & Money
We're all looking to save money on healthy food, and here's how you can do that with Instant Pot whole chicken:
If you need leftover chicken, portion that out FIRST and set it aside. Portion leftovers or lunches before serving dinner, accordingly.
Aim to get 3 meals out of one bird. One 5-6 lb chicken yields about 6 cups of shredded chicken. For most meals, 2 cups of chicken is enough.
Always save the bones! Homemade chicken stock is DELICIOUS and so easy to make. All you need are chicken bones!
For instance, these are my best tips for saving time while you're at it!
Cook more than one bird at one time.
As soon as the chicken is done, leave the juices inside the Instant Pot and immediately make Instant Pot chicken stock.
If you don't need chicken stock, remove the juices from the Instant Pot and save them! You can use these in place of stock in recipes.
More Chicken Recipes For Your Leftovers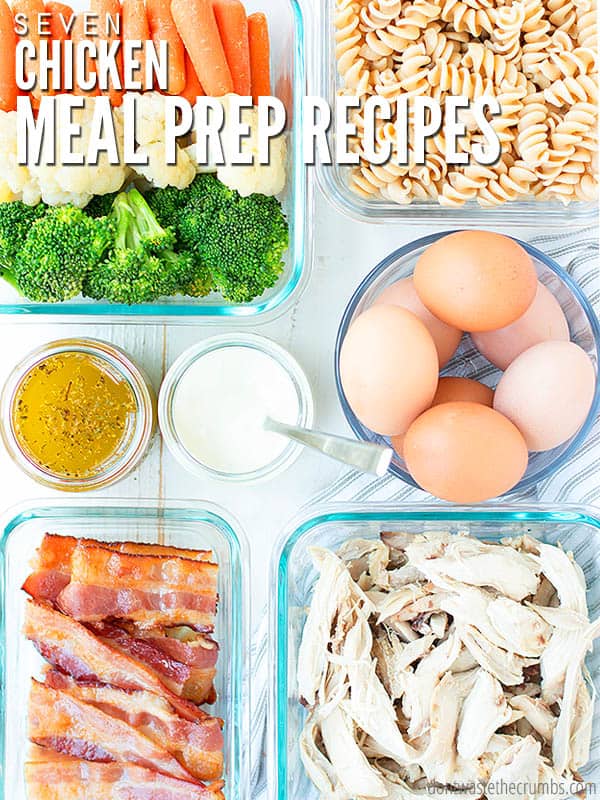 Chicken Meal Prep Plan
Sign up to get instant access to my
Chicken Meal Prep Plan
, complete with recipes and shopping list!
Instant Pot Whole Chicken
My favorite way to use a pressure cooker is Instant Pot Whole Chicken. Use a frozen or thawed bird, add a few vegetables, and dinner can be ready in just 30 minutes!
Author: Tiffany
Prep Time:

10 minutes

Cook Time:

30 minutes (up to 60 minutes)

Total Time:

40 minutes

Yield:

6 cups

1

x
Category:

Main Meal

Method:

Instant Pot

Cuisine:

American
1

whole chicken (thawed or frozen*), about 5-6 lbs

1 cup

water

1

onion, quartered (optional)

2

carrots, cut into 2″ pieces (optional)

2

celery ribs, cut into 2″ pieces (optional)

1 tsp

salt

1/2 tsp

pepper

1 tsp

dried seasonings as desired (Italian seasoning, oregano, basil and coriander are all good options)
Instructions
Place the vegetables in the bottom of the Instant Pot. Place the wire rack that came with the IP on top.
Place the chicken on the wire rack.
Add water to the bottom of the Instant Pot.
Sprinkle the chicken liberally with seasonings.
Turn the pressure valve to "sealed." Press "manual" or "pressure cook," make sure the setting is on "high" and cook for 6 minutes per pound of bird. My bird was just over 5 pounds, so I set the timer for 30 minutes.
Make sure the "keep warm" function is NOT set and use the natural pressure release method. When the pressure valve is down, the chicken is done.
Shred the chicken with two forks and serve as desired!
Notes
*If using a frozen chicken double the cooking time per lbs.
Keywords: Instant pot whole chicken