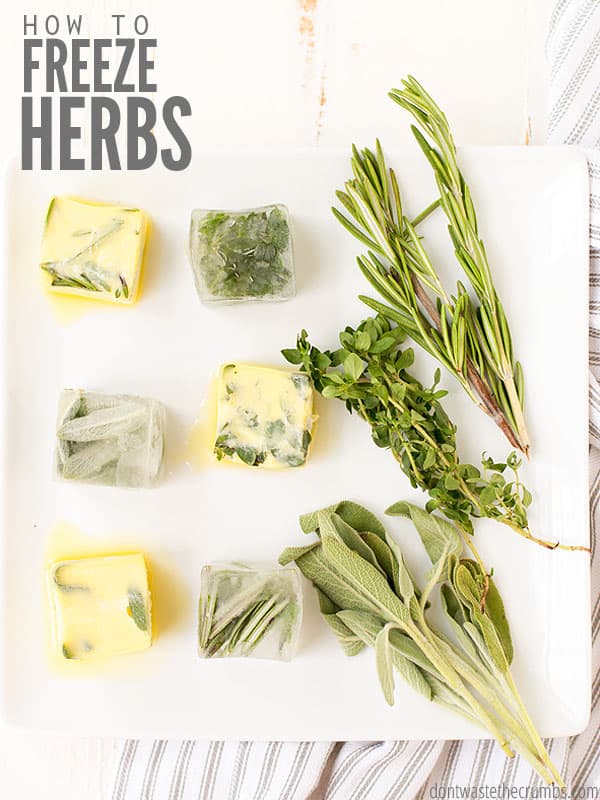 I love cooking and baking with fresh herbs. Whether it's fresh rosemary for rosemary sea salt flat bread or sage and thyme for Instant Pot whole chicken or a blend of herbs for 15-minute Italian meatballs, fresh herbs add a huge flavor punch.
As much as I try to plan my meals around those fresh herbs – so that I don't waste any of them – I can't always use them up.
I've dehydrated dill in the past and I've frozen yogurt and tomato paste, but I wanted a way to be able to freeze herbs so I can still get the benefits and flavor of fresh herb.
I've figured out how to do that, and it's SO easy!
Before I show you how to freezer fresh herbs, let's talk about two big reasons why.
First – the budget.
Unless you have herbs growing in your garden, or unless you have a rogue rosemary plant growing in the front yard (which we had when we lived in California!), fresh herbs aren't cheap. One 4 oz package of fresh basil costs over $3 at my local grocery store.
Most recipes will call for just a tablespoon or two of fresh herbs, so you're really only using half of that 4 oz package, MAX.
Unless you are really good about planning other meals that use up the rest of the basil, it's easy to put the rest of the basil back in the fridge and forget about it until it's brown and soft and smelly and obviously no longer edible.
What that happens, you've pretty much wasted $2. As in literally, thrown a couple bucks into the trash can.
I don't know about you, but when I'm working within a tight grocery budget, every dollar counts. I can't afford to throw even just a few of them in the trash can!
Second – it's a great alternative to using a dehydrator.
I was given this dehydrator as a gift many years ago and I absolutely love it. It's a little bit on the noisy side, so kept it on top of the dryer (which was in our garage) when we lived in California.
Our trash can was also in the garage so I was in and out of the area throughout the day, making it easy to keep tabs when I was dehydrating cranberries I found during a post-Thanksgiving sale or strawberries or bananas or apples or whatever else happened to be in the dehydrator at the time.
Here in Georgia though, I haven't found that sweet spot that's the perfect blend of NOT out of sight out of mind, yet far enough away from our daily activities so the noise doesn't bother us.
So until I find that perfect spot, I'm freezing fresh herbs instead.
And if you don't have a dehydrator, you don't have this dilemma! Freezing is your best bet to not let those fresh herbs – and your hard-earned dollars – go to waste.
Third – freezing herbs means having amazing flavor at your fingertips whenever a recipe calls for it.
You don't have to make a last-minute run to the store for that one particular item, because you'll already have it in your freezer!
Plus, you and I both know that 98% of the time, when we go grocery shopping with just one thing on our list, we walk out with a whole lot more!
One last thing to share before I show you how to freezer fresh herbs, is you have to consider how you are going to use the fresh herbs later BEFORE you freeze them.
The technique for freezing herbs that I'm going to show you works really well if you're going to be baking or cooking with the herbs later. It also works well if you're going to be using the herb when it's going to get wet, in perhaps an herbal infused water or tea.
However, if you want to use the fresh herb later as a garnish, then you don't want to freeze them. Garnishes are always best when fresh, so I usually either don't do them (unless I'm taking pictures for the blog), or DEFINITELY make sure I have other meals on my meal plan that will use up the herb fresh.
If you want to have a garnish though, buy fresh and freeze what's leftover using this method!
How to Freeze Fresh Herbs
How to Freeze Fresh Herbs: Supplies
Fresh Herbs (cilantro, parsley, rosemary, sage, thyme… any will work)
Ice Cube Tray (I found a super cute silicone ice cube tray at ALDI similar to this one that makes it easier to jam the fresh herb into each cavity AND it's easier to pop out each cube once it's frozen.)
Water OR Olive Oil**
** Both water and olive oil can be used interchangeably for the purpose of freezer fresh herbs. The only difference would be how you plan to use the fresh herb later on. If you would ordinarily use olive oil with the fresh herb in your cooking, then use the olive oil method. This makes adding herbs to stews, roasts, and soups super easy. If you would not normally use olive oil in your cooking with the fresh herb, then use water. Water will be the more versatile option, as well as the more affordable option. Oil however, can prevent some of the browning and freezer burn that can happen during the freezing process. (Here's how to choose quality olive oil.) Personally, I like to have a little bit of both available in the freezer.
How to Freeze Fresh Herbs: Method
Remove the edible portion of the herb from the non-edible portions (i.e. the leaves from the stems).
Roughly chop if desired, and then measure roughly 1 tablespoon into each cavity of the ice cube tray, pushing down slightly.
Fill each cavity with water OR olive oil, pushing down on the herb in order to keep it fully submerged.
Freeze the entire tray for at least 4 hours, preferably overnight, until the cubes are frozen solid.
Remove the ice cubes to a freezer safe container. Frozen herbs are good for 3-6 months in the freezer.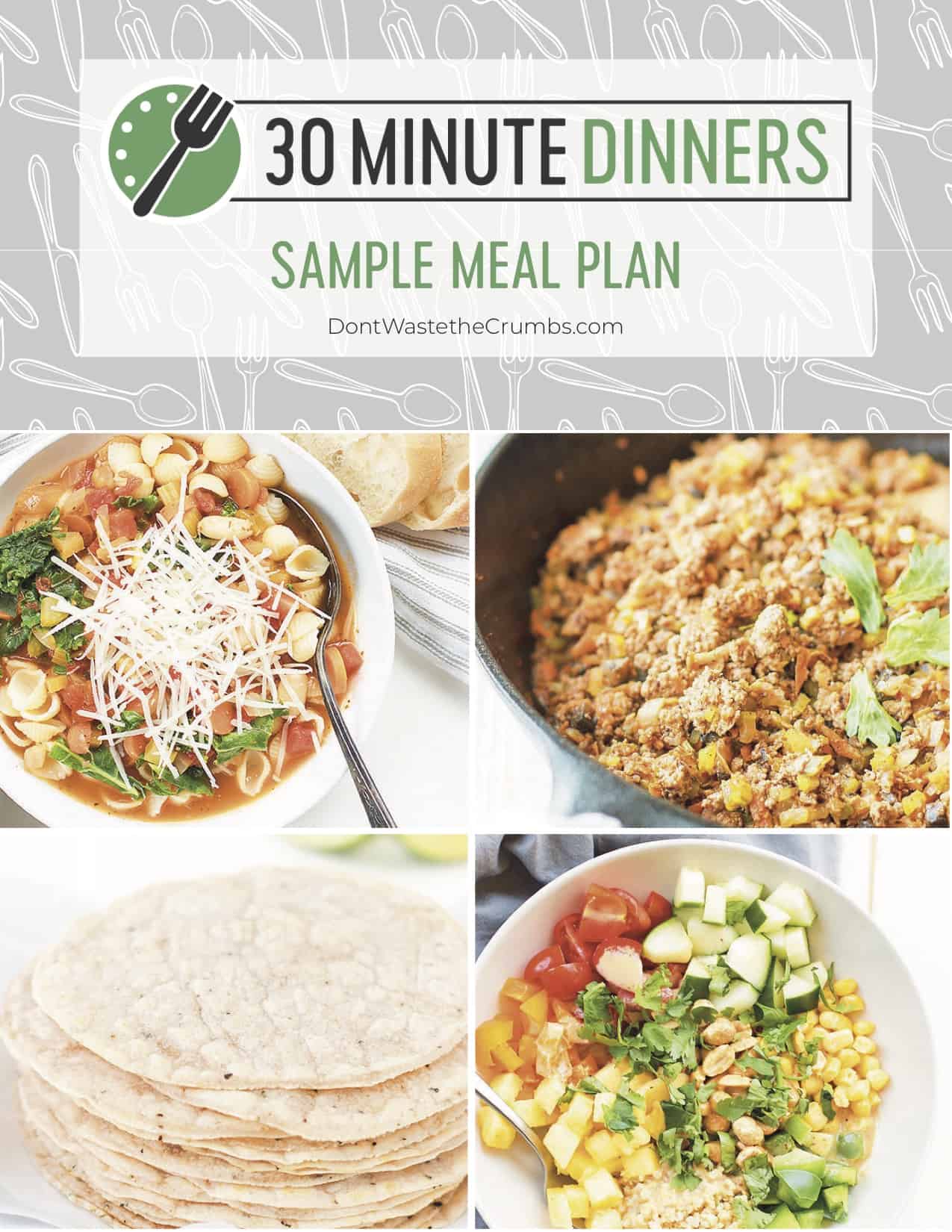 30 Minute Dinners Sample Meal Plan
Sign up to get instant access to my
30 Minute Dinners Sample Meal Plan
, complete with recipes and step-by-step instructions!
Do you freeze herbs when you can't use them up in a recipe? Have you tried olive oil or water? Do you have any tips to share in order to make this a success? Share your experience and ideas in the comments section below!