Shocking news: I've just realized the awesomeness of tomato paste.
Who knew so much awesome tomato flavor could be JAM PACKED into such a tiny little can?
To which another thought immediately followed: What do I do with a can of tomato paste minus 1 Tbsp?!
Enter the art of freezing. And an art it truly is, because you can't just willy nilly throw stuff in the freezer and expect it to be all fine and dandy when you pull it out eons later.
That is, unless your freezer has some anti-freezer burn mojo. In which case, can I have some?
So, back to tomato paste.
It all started a few weeks ago with homemade spaghetti o's. I bought a small can, made lunch, ate it up (while reminiscing about my childhood) and then made some more.
The kids ate that batch and gave it two thumbs up.
THREE batches of homemade spaghetti o's later and I STILL had tomato paste left in the can.
At this point, I was tired of looking at the darn can in my fridge. But since I can't quite bring myself to throw food away, I chose plan B: freeze tomato paste.
And that's how this little tutorial was born. 🙂
How to Freeze Tomato Paste
Supplies
tomato paste
a one Tablespoon measuring spoon OR a one Tablespoon cookie scooper (we have this one and LOVE it)
cookie sheet
parchment paper
plastic storage bag
Method
Line a cookie sheet with parchment paper.
Using either a measuring spoon or a one tablespoon cookie scooper, scoop a slightly rounded heap of tomato paste onto the parchment paper. Repeat with the remaining tomato paste, leaving 2-3″ of space on the parchment paper between each scoop.
Why one tablespoon? Because most recipes call for tomato paste in one tablespoon increments. Measuring it this way makes it easy to pull out what you need, double or even halve as necessary.
Why a slightly rounded heap? It's inevitable that some of the tomato paste will remain in either the measuring spoon or the cookie scoop. Aiming for slightly heaping means still having a full tablespoon when it's all said and done.
Place the cookie sheet in the freezer for 4-6 hours, or overnight if it's easier.
Pull the cookie sheet from the freezer and cut the parchment paper into squares so that each scoop of tomato paste is in the center.
Wrap the parchment paper around the ball of frozen tomato paste like a piece of salted taffy. Place all the balls into a freezer-safe plastic bag. Label and freeze.
When a recipe calls for tomato paste, pull out what you need and add it frozen – no need to thaw!
And just like that, you've saved money and avoided a trip to the grocery store for tomato paste!
Save more money by preserving more food: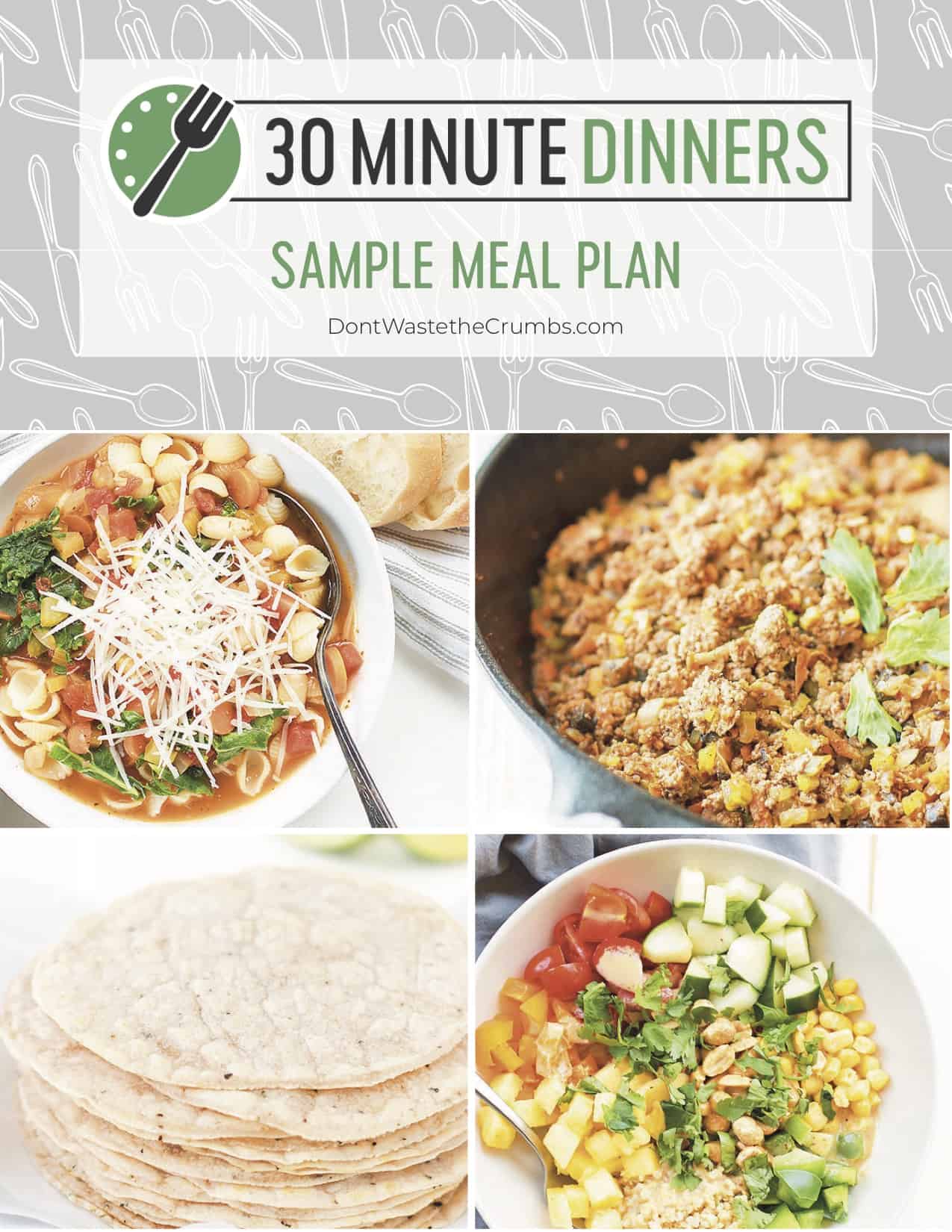 30 Minute Dinners Sample Meal Plan
Sign up to get instant access to my 30 Minute Dinners Sample Meal Plan, complete with recipes and step-by-step instructions!
A cookie scooper has radically changed my life, well beyond cookies. I'm curious – do you own one?