Do you have an overabundance of tomatoes? Try making tomato powder! It's versatile, doesn't take up space in the fridge or freezer, and uses all those great tomatoes before they go bad! Don't forget to try my other tomato recipes like 15-minute spaghetti sauce and tomato Caprese salad.
Let's just get this out of the way. The IDEA of harvesting bucketfuls of tomatoes when I'm planting seeds in April is a whole lot more fun than ACTUALLY harvesting bucketfuls of tomatoes in August.
The first couple of weeks of picking tomatoes is awesome. We have fresh tomato pizza sauce on Fridays, 15-minute spaghetti sauce with pasta on Wednesdays, tomato Caprese salad for lunch almost every day and gallons of hearty tomato sauce put up in the freezer for winter.
But then picking tomatoes gets old and tedious. And if you eat another tomato you swear you're going to go plow down those tomato plants so you can stop looking at them.
Enter tomato powder.
Tomato Powder
Yes, tomato powder "is a thing," and it's the break you need when you:
have so many tomatoes coming from the garden, you have no idea what to do with them.
find a bushel of tomatoes at the farmers market for CRAZY CHEAP and you know you'd be nuts for passing them up.
have a good-meaning neighbor drops off a bucket of tomatoes because THEIR garden is overflowing.
Whatever the reason you have too many tomatoes, the solution is ALWAYS tomato powder.
What is Tomato Powder?
It's dehydrated tomatoes, ground up into a fine powder that is stored in the pantry.
It doesn't take up the freezer room.
Or fridge room.
You don't have to boil water.
Or make an ice bath in the sink.
There's no coring or de-seeding.
Or even standing over a hot stove with a massive pot of water and glass jars.
All you need is a knife and a dehydrator.
Why Do I Need Tomato Powder?
Before I share the tutorial, let's discuss WHY you need this powder in the first place. After all, I'm pretty sure you've never seen tomato powder in the store before, right?
Neither have I, but here's why you need tomato powder: Because you can make just about ANY tomato product you can think of!
Tomato Paste: 2 Tbsp tomato powder + 1 Tbsp hot water + salt to taste (here's how to freeze tomato paste, if you make too much)
Tomato Sauce: ¼ cup tomato powder + ½ cup hot water + salt to taste (makes about 8 ounces)
Pizza Sauce: ½ cup tomato powder + 1 – 1 ½ cups water, then season according to this recipe
Tomato Juice: 2-3 Tbsp tomato powder + 8 ounces of water
Tomato Soup: ½ cup tomato powder + 1 cup water, then follow this tomato soup recipe OR this roasted red pepper tomato soup if you're feeling "fancy"
Note: The quantities above are not exact, since your tomato powder will taste different than mine due to where we live, the tomatoes we use, etc. Start on the low end for the quantity of tomato powder, and add more to suit your tastes.
How to Make Tomato Powder
The steps are pretty straightforward and easy. So let's get to it!
Supplies
Step 1. Prep the tomatoes.
Wash and set your tomatoes on a towel to dry. Lightly pat dry, just so they don't slip out of your hands as you handle them.
Step 2. Cut the tomatoes.
You want slices or pieces that are about ½" thick. If you are using cherry tomatoes like me, all you have to do is cut them in half. Here's the hack that I use to make this quick and easy:
Put all the tomatoes on a dinner plate.
Take the second plate and turn it upside down, on top of the tomatoes.
Hold the top plate gently but firmly, and slide your serrated knife back and forth, through the slit in the plates.
In less than a minute, you'll have halved all the cherry tomatoes!
If you're using regular tomatoes, you'll have to slice them. Sorry, no hack here other than you don't have to peel, de-seed, or core. Just slice.
(But I do have 24 time-saving hacks in this post!)
Step 3. Place the tomatoes in the dehydrator.
If you are using cherry tomatoes, place them cut side up. Otherwise, lay the slices on the tray. You want the tomatoes to be in a single layer, but it's fine if they touch.
Step 4. Dehydrate.
Set the dehydrator to slightly less than 135F. The time it takes to dehydrate will vary depending on the tomatoes you use, but they'll take at least 8 hours. Check them at the 8-hour mark first. If they seem close to completely dry, check again in an hour. If they still seem fairly moist, check again in 4 hours.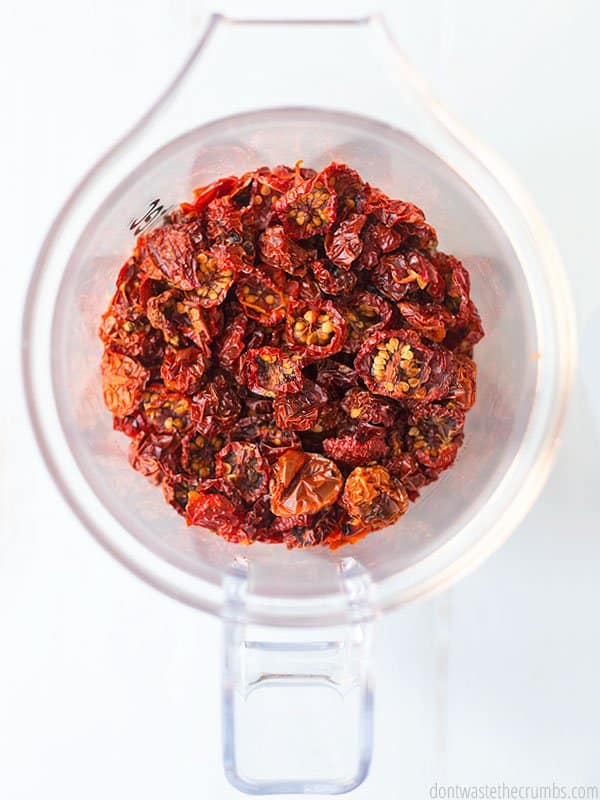 Once the tomatoes are 100% COMPLETELY dry, remove them to your blender or food processor. Blend the tomatoes for about 30 seconds, and then let the machine cool for about 30 seconds. Repeat until all the tomatoes are a fine powder.
Step 5. Storage.
Store in a glass jar in the pantry for up to a year. If you're not sure if your powder is completely dry, you can store it in the freezer as well.
Powdered Tomato Questions
What is tomato powder made of?
Tomato powder is made from dehydrated tomatoes! This is a great way to use up those extra tomatoes that you may have laying around.
What is the shelf life of tomato powder?
Homemade tomato powder can be stored for three to six months!
Is tomato powder good for your skin?
Tomato powder serves as a powerful cleanser for your skin! It's a useful ingredient for face washes, facial scrubs, and other similar products. Dehydrated tomato powder has exfoliating effects that get rid of dust, dirt, dead skin, etc.
Need more ideas?
Here are some more suggestions on how to use this homemade powder.
More Dehydration Tutorials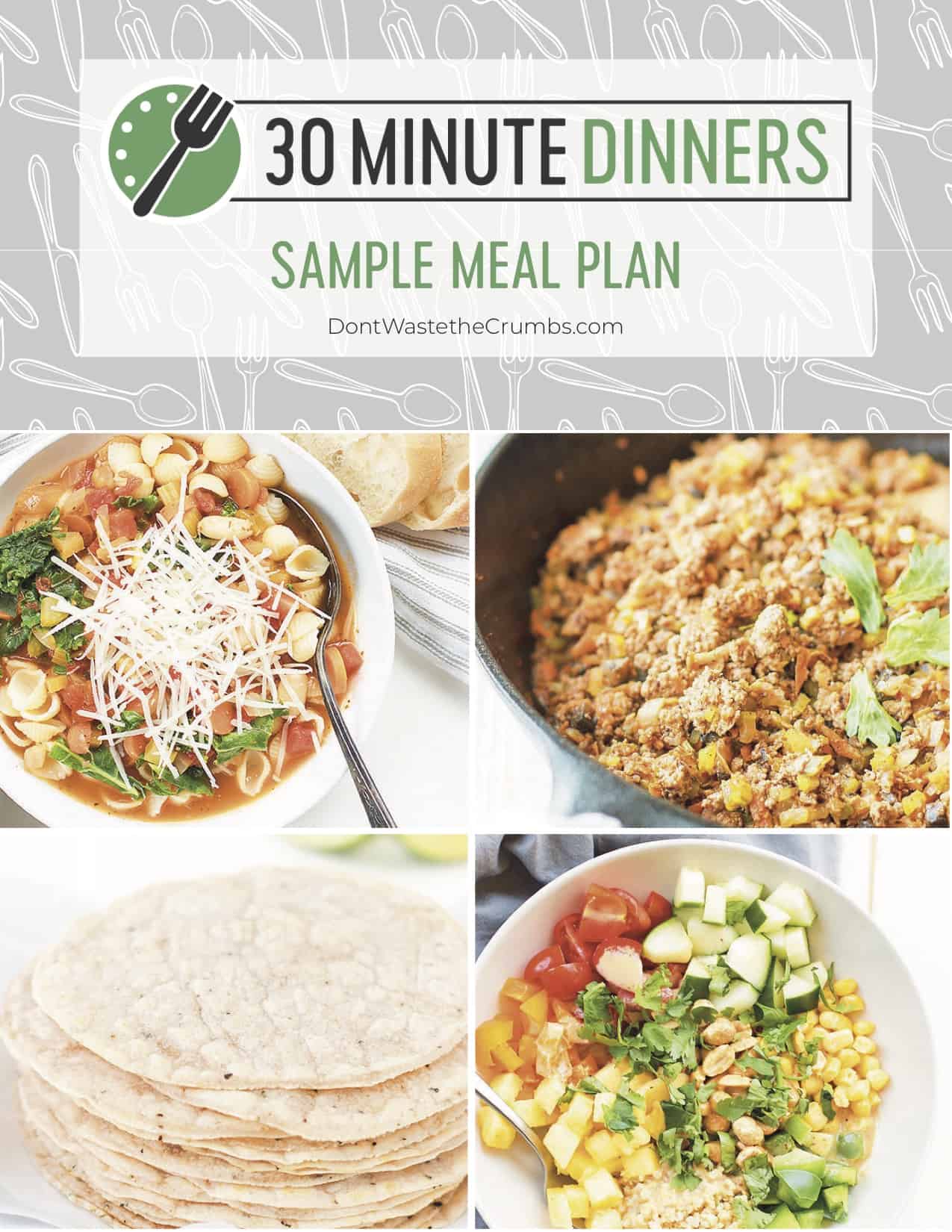 30 Minute Dinners Sample Meal Plan
Sign up to get instant access to my
30 Minute Dinners Sample Meal Plan
, complete with recipes and step-by-step instructions!