Whether you're on week 2 or week 4, this Whole30 meal planning hits the spot with breakfast, lunch and dinner. Every recipe is budget-friendly and kid approved! You'll love the almond crusted baked chicken and the sweet potato apple bake!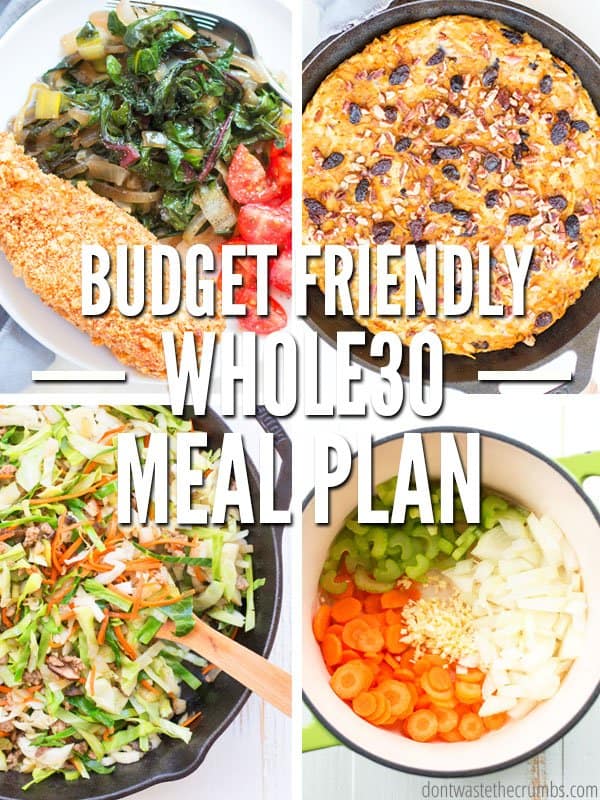 I've been talking a lot lately about the Whole30, which makes sense. When you're on the Whole30 your life pretty much revolves around your meals… planning, prepping, cooking, cleaning up… this coming from a FOOD BLOGGER and already plans, preps, cooks and cleans more than the average person… oy vey.
(If you haven't heard of the Whole30, it's an elimination diet. No grains, gluten, soy, dairy or sugar for 30 days. And no look-alike foods either, like eggs + banana = pancakes. Read more about it here.)
Having a plan in place before you begin is vital to success with Whole30 meal planning, so I took the best meals we've made, lots of lessons learned and created a Whole30 meal plan I think you'll love!
Psst! You WILL spend MORE money on the Whole30 because you're eating more protein and a whole lot more fresh fruits and veggies… but you can still eat Whole30 on a budget. This meal plan balances the heart of the Whole30, with the numbers in the checkbook and the practicality of a busy life.
Before You Jump In…
Always check the meal plan the day before.
Nothing will ruin your plan like not having thawed meat or running out of potatoes. I suggest checking what's on the plan for the next day, right before you cook dinner. This way you cover a lot of bases at once… you can prep (if you need onions for tonight and tomorrow, knock out both), you can pull meat to thaw and if you need to make a quick run to the store, you have enough time to check stock of a few essentials so it's not a one-item-only trip.
I HIGHLY HIGHLY HIGHLY recommend reading the entire meal plan through before you jump in.
You may not like what I've planned, or you may not have the time on certain days of the week. Whole30 meal planning is VERY different than any other meal plan because of the amount of time required to prep and cook. With that said…
I've done my best to note when to work ahead
When to double recipes
Time-saving hacks, etc.
Also, be careful if you change the order of the recipes.
Many of them are based on leftovers and re-using ingredients, so I don't want you to get stuck because you didn't have what you needed.
Deal with the monotony.
Being on the meal plan for Whole30 means you'll be in the kitchen A LOT. It's part of the territory. However, you can make your life easier by cooking in bulk and eating leftovers. I've done by best to include variety, but there are instances when you're going to eat potatoes for 3 days in a row and this is part of being on the Whole30 too.
This meal plan feeds 2 people.
Most people who embark on the Whole30 do it with a partner, or do it alone. In either case, a meal plan for 2 people is easiest to divide. Or, if the kids are doing it with you (like ours did with us), then this plan is easy to multiply as well.
I'm working on the assumption that you aren't home all day.
Most people don't have the luxury of working from home or having schedules flexible enough to spend 2-3 hours DURING THE DAY prepping meals for the next couple days. With that said, I'm including a dedicated prep day. This will set your Day 1 and your entire Whole30 off on the right foot.
Clean out the fridge.
Before you go shopping for more food, make sure you eat what you already have. Use items that are about to go bad (and that are compliant) as side dishes, add them to your hash… whatever you have to do, eat them. You already paid for that food, and not eating it is throwing money in the trash can!
Meal Prep Day
Make Instant Pot whole chicken. Pull the meat off the bones. This will yield about 6 cups of shredded meat, enough for 3 lunches for 2 people.
Peel and dice 20 carrots, 10 celery ribs; quarter 200 grapes, roughly chop 200 almonds. This will yield enough for 5 lunches for 2 people.
Make a double batch of fail-proof mayo.
Make a 5x batch of oven-roasted hash browns. This will be 5 days worth of breakfasts. (Feel free to substitute sweet potatoes if you prefer.)
Whole30 Meal Planner
Day 1
Breakfast: Potato Hash with Eggs
Tip: Put fat in the skillet, scoop out 2 cups of prepared hash browns and warm/crisp it up. Top with a couple fried eggs and you're done! (Or if you prefer, here's how to make the best scrambled eggs.)
Lunch: Chicken Protein Salad
The actual "official" version of this recipe is in the Whole30 book, but here's my favorite version of it
1 cup shredded chicken + ½ cup each diced carrots, diced celery, quartered grapes + ¼ cup chopped almonds + 4 Tbsp homemade mayo + salt & pepper. Mix it all up in a bigger-than-you-think-you'll-need bowl.
Dinner: Egg Roll in a Bowl
Egg roll in a bowl is one of the Whole30 dinners that comes together fast, and that's why I put it on the first day of the meal plan. One thing is constant on the Whole30 – there's a lot of chopping, prepping and cooking. Take the time after dinner tonight to prep (even more) for the coming days!
As tempting as it may be to eat the entire pan, be sure to set aside half of dinner for Day 3.
Day 2
Breakfast: Potato Hash with Eggs
See notes from Day 1.
Lunch: Chicken Protein Salad
See notes from Day 1.
Dinner: Almond-crusted Chicken, Caramelized Onions & Swiss Chard, 5-minute Asparagus
Almond-crusted chicken is so good, I'm 100% sure it will continue to be on our meal plan long after we finish the Whole30.
The onions and chard take the longest, so preheat the oven and get these veggies going in the skillet before you work on the chicken. We preferred boneless skinless chicken thighs for this recipe because they're just SO moist, but use whatever you have and/or whatever is on sale.
This is the asparagus recipe I was thinking of, but make it easy on yourself (and compliant) and use coconut oil and skip the lemon pepper seasoning. Despite the simplicity, it's fantastic.
Also be sure to double everything you make this night as you'll be eating leftovers in a couple days.
Day 3
Breakfast: Potato Hash with Eggs
See notes from Day 1.
Lunch: Chicken Protein Salad
See notes from Day 1.
Dinner: Leftover Egg Roll in a Bowl
I know firsthand that Egg Roll in a Bowl makes a lot of food, so here's your chance to take the night off from cooking… well, almost.
Since dinner is "done," spend the night getting ready for the next few days. Make a batch of breakfast sausage and chop up enough fruit and vegetables to cover breakfast for the next two days.
If you're not sure how much you need, err on the side of too-much. It's better to have leftover prepped veggies in the fridge than to run out of time in the morning to chop extras and end up hungry mid-morning.
Day 4
Breakfast: Veggie Egg Scramble, Breakfast Sausage, Fresh Fruit
A veggie scramble is nothing more than a bunch of vegetables scrambled up with some eggs. I highly recommend including veggies you don't normally have for breakfast, for variety. Olives, sun-dried tomatoes and spinach are all good options.
Lunch: Leftover Almond-crusted Chicken, Caramelized Onions & Swiss Chard, 5-minute Asparagus
Dinner: Lemony Spatchcock Chicken, Roasted Rosemary Potatoes, Roasted Broccoli
This is one of my favorite meals because it all cooks on one pan!!
I recommend taking advantage of the fact that your hands are free by shredding a few sweet potatoes and apples for breakfast on Days 5 and 6. You'll be making a double batch in the morning and while it comes together quickly, the few minutes head start on the prep work really helps.
While the oven is on, go ahead and bake sweet potatoes for Day 5 and 6 as well. You'll need four.
When dinner is done, pick all the chicken off the bones and make a double batch of Hawaiian Chicken Wrap filling (see below).
Day 5
Breakfast: Sweet Potato Apple Breakfast Casserole, Breakfast Sausage, Fresh Fruit
My kids LOVED sweet potato apple breakfast casserole, and I admit that it's a nice break from same 'ol same 'ol at breakfast. You're making a double batch, so save some at least half for breakfast tomorrow!
Note: Tonight is a slow-cooker meal. Be sure to get that meat in the pot before you leave the house!
Lunch: Hawaiian Chicken Wraps, Fresh Fruit
The idea is a spin-off of another recipe, except you're using chicken from dinner last night. To get the same flavor as the original recipe without the cooking, combine the following in a large bowl:
Leftover shredded chicken + 1 cup diced pineapple + ½ tsp ground ginger + ¼ tsp red pepper flakes + ½ tsp salt + ¼ tsp pepper + ½ tsp granulated garlic + ½ diced red onion. Add 1-6 Tbsp coconut aminos so that the mixture is wet enough to hold together, but not drenched.
Serve in a double layer of iceberg lettuce and top with diced tomatoes and sliced avocados.
Dinner: Carnitas Stuffed Baked Sweet Potatoes
The very best carnitas you'll ever have comes from this recipe and if you use chicken stock, it's naturally Whole30 compliant. Go ahead and use a 3lb roast – you're going to make it work for 3 meals.
You're going to serve it over baked sweet potatoes and garnish with diced tomatoes, cilantro, diced red onion and diced avocado. Pile that baby up friends, you can't go wrong here.
Tip: If you want to make the ranch dressing you need for Day 6 today, you can drizzle some of that on your stuffed sweet potatoes!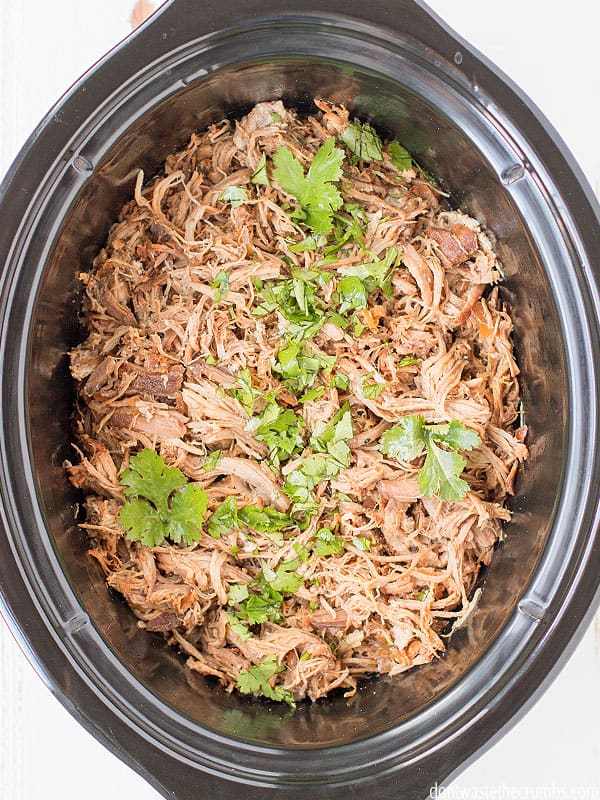 Day 6
Breakfast: Sweet Potato Apple Breakfast Casserole, Breakfast Sausage, Fresh Fruit
Lunch: Carnitas Stuffed Baked Sweet Potatoes
Use up those leftovers, friends. That carnitas recipes makes A LOT of meat and its DELICIOUS, so I know you won't have a problem having leftovers for lunch.
Dinner: Burgers, Guacamole, Pan-fried Potatoes, Grilled Pineapple, Simple Salad w/Ranch Dressing
The best burgers I've ever had were simple 1 lb of ground beef with homemade Dry onion soup mix, so we're doing that, but we're doubling the recipe. I recommend using your KitchenAid mixer (or other stand mixer) to mix it all up for you. Divide the mixture into 8 patties and reserve half of them for lunch on Day 6.
Here's my recipe for guacamole and this is my method for pan-fried potatoes. When they're done, add a little bit of additional fat to the skillet and cook the pineapple until it's dark golden brown.
A simple salad is just that – SIMPLE! You can add sliced cucumbers, grated carrots, halved cherry tomatoes or even fresh strawberries and blueberries. Whatever you want is fine, but you've done a lot of work so far so don't feel compelled to make it any more complicated than it needs to be. Lettuce is a vegetable, and ranch makes it palatable.
This homemade ranch dressing is Whole30 compliant and super delicious.
Day 7
Breakfast: Veggie Egg Scramble, Breakfast Sausage, Fresh Fruit
Follow the same method as Day 4, but use up any onsie twosie vegetables you have in the fridge. By the end of the week, there's inevitably a stray carrot, mushroom or a couple cherry tomatoes left. Use them up!
Lunch: Burger Salad
We kept dinner on Day 6 simple, so here's your chance to get complicated. A burger salad is in essence, leftover hamburger with lettuce. But it's all the other stuff that makes it worthwhile…
Since I have to give you a shopping list, I recommend putting hard-boiled eggs, olives, tomatoes, sliced avocado and red onions. Chop up the hamburger into tiny pieces and you're good to go.
Dinner: Hawaiian Pork, Tex-mex Cauliflower Rice, Simple Salad w/Ranch Dressing
Tonight's dinner is similar to the Hawaiian Chicken, except we're subbing pork:
Leftover pork + 1 cup diced pineapple + ½ tsp ground ginger + ¼ tsp red pepper flakes + ½ tsp salt + ¼ tsp pepper + ½ tsp granulated garlic + ½ diced red onion. Add 1-6 Tbsp coconut aminos so that the mixture is wet enough to hold together, but not drenched.
Serve it alongside Tex-mex Cauliflower rice, which is basically this simple recipe with homemade taco seasoning sprinkled liberally (my store-bought seasoning had added sugar, FYI).
We're keeping the salad simple again for the same reason as Day 6. Plus it's Day 7, and you deserve the break, right?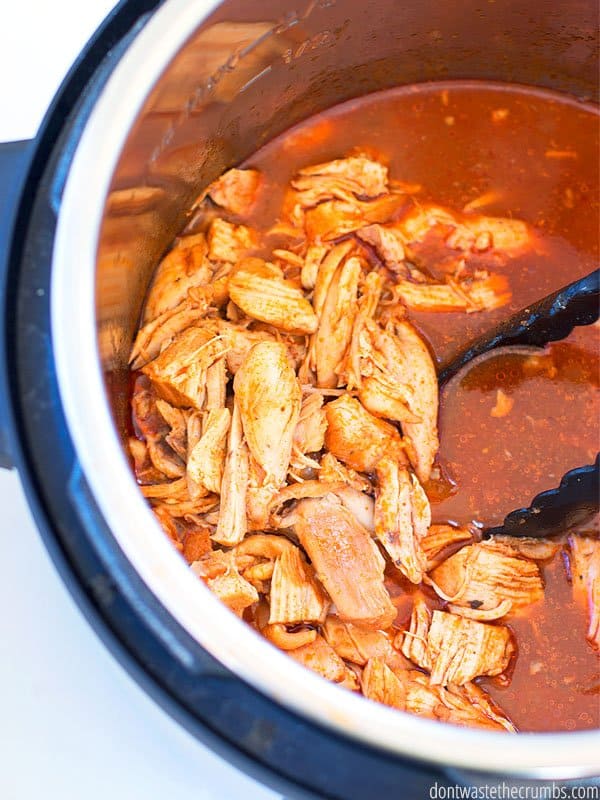 And that's it folks! Happy eating!!
FAQs
What is the Whole30 Meal Plan?
This Whole30 meal plan eliminates sugar, grains, legumes, dairy and all processed / packaged foods from your diet. Based on whole real foods, this Whole30 meal plan is both budget-friendly and kid approved!
What can I drink on Whole30?
You can drink water, seltzer, coffee, tea, almond milk, kombucha. Basically, whatever you choose to drink cannot have any added sugar or artificial anything.
Can you lose weight with Whole30?
Whole30 meals plans are not designed to be weight loss plans. Whole30 is a real food plan that eliminates sugar and other foods like dairy, legumes and grains from the diet for a period of time.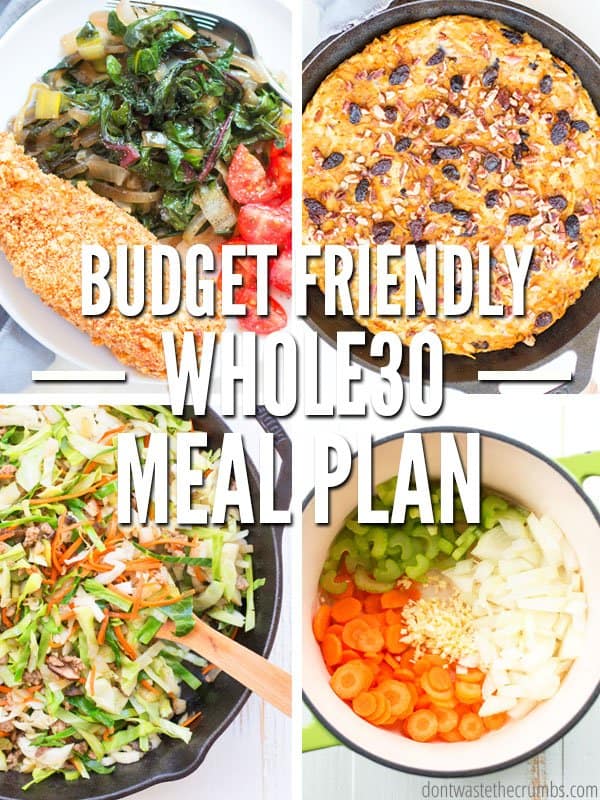 Whole30 Meal Plan
Sign up to get instant access to my
Whole30 Meal Plan,
complete with recipe and a shopping list!!