This is the best slow cooker carnitas recipe I've had, and I've eaten lots of tacos! We keep coming back to this recipe because it's so tasty and easy! Serve with delicious cilantro-lime coleslaw and your meal will be a hit!
I don't know who invented the slow cooker, but I'd like to give them a big squishy hug.
From whole chickens to peach cobbler to lasagna to beans and even bread – I can completely (and deliciously) cook dinner without even being home.
And now (drum roll please) I can add the BEST slow cooker carnitas you've ever had to my list of amazing dinners that don't need me to cook them.
Let me assure you, this is NOT me buttering you up in hopes that you'll give this recipe and try and like it.
Oh no.
You WILL like this recipe because two months ago 15 warm bodies devoured this during a one-week extended family vacation and my own family of four has eaten this no less than 12 times since then.
Yes, you read that right – we've eaten this carnitas recipe TWELVE times in the past 8 weeks.
No, we haven't gone crazy.
What kind of meat goes in carnitas?
In full disclosure, we didn't intend to eat so much carnitas in such a small time frame, but here's what happened:
I found a 7-pound bone-in pork shoulder roast on sale.

It was way too much for my own family, but perfect for my night to cook on our family vacation.

I bought it and put it in our deep freeze and completely forgot about it until we pulled up to the vacation house (10 hours away from home) 2 weeks later.
I still wanted to test this carnitas recipe though

, so I bought a roast on vacation and cooked it up. The crowd DEVOURED it.

When we got home, I thawed the massive hunk of 7 pounds

of pork in the freezer, made a slight adjustment to the recipe and cooked it up. The family INHALED the pork… for 4 solid days.
How often can you eat carnitas?
Yep, for four whole days, we ate carnitas for lunch and dinner and no one complained. When I told the kids we were having carnitas for lunch (again), they cheered!
When I told my husband we were having carnitas for dinner for the third night in a row, he asked if he should pick up some limes.
Then somewhere around meal #3, I remembered I hadn't taken pictures of the carnitas yet… You see, I was working on my new course Grocery Budget Bootcamp and everything that wasn't GBB was put on the back burner.
And that included taking pictures of delicious new recipes.
So that awesome carnitas recipe I wanted to share with you eons ago? It was happily filling our bellies by the time I remembered that I wanted to take pictures of it.
Which means we had to eat it, again…
And again, because as history tends to repeat itself, I made it a THIRD time with full intention to take pictures and promptly forgot!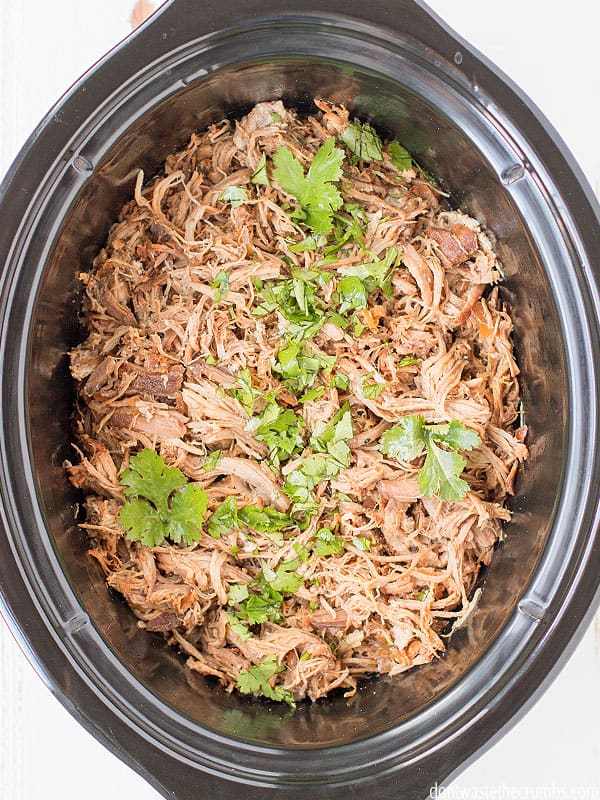 The Best Slow Cooker Carnitas
So what you're seeing now is no less than the FOURTH time I've made this recipe in 2 months. But here's the kicker – still, no one is complaining!
My husband once told me that he didn't like pork in the slow cooker, that beef was okay, but not pork.
Yet THIS SAME MAN is the one asking if I can make this carnitas recipe more often.
Yes, this recipe is THAT good!
The recipe itself is pretty straightforward, so let's talk about the other stuff before you dive in.
What size slow cooker should I use?
I have and love this 6-quart slow cooker for fall apart tender meat. It holds a full 7-pound roast when you cut it into quarters, although I usually use a 3-3 ½ pound roast.
Can I use a pressure cooker?
Sure, but one of the best parts of this recipe is the slowed cooked, melt in your mouth tender goodness of the pork butt or shoulder from the slow cooker. Plus, the convenience of the slow cooker lets you put it all together and go.
Can I freeze leftovers?
If you have any, yes! I like to freeze in 2 cup portions, adding about 2-3 tablespoon of water to prevent the meat from drying out. There's no such thing as meat that's too moist. Dry meat though? No bueno.
Any time you can make a big batch and freeze, you are saving time and money.
Slow Cooker Carnitas Ingredients
This perfectly balanced, authentic carnitas recipe is even better than carnitas from the best Mexican restaurant with just 10 simple ingredients! You'll need:
Pork Shoulder Butt/Shoulder. We get our pork from Butcher Box. Buying large cuts of meat in a custom box is how we afford quality meat every month.
Salt.

(and pepper, to taste)

Spices.

Wonderfully fragrant onion, garlic, cumin, coriander, cinnamon, and bay leaf.

Chicken Broth

(aka Chicken Stock) or water or beer. You need ½ to 1 cup or so and if you want chicken stock in a flash, try my super easy

Instant Pot Chicken Stock recipe

.
Wait, this recipe calls for cinnamon?!
Yes!! Don't knock it until you try it, mkay? Trust me on this one – you won't be disappointed!
Did you know this is a dump dinner recipe?
You can find this recipe in our Dinner Dump Freezer Cooking Meal Plan along with 4 other easy dinner recipes like Beef Ragu, and Sheet Pan Sausage and Peppers, and Slow Cooker Salsa Chicken and Homemade Hamburger Helper HERE! You can make 10 dinners in just ONE hour!
How to Prepare Slow Cooker Carnitas
Not only is this recipe amazing, it is SO easy. Putting all of the ingredients together takes less than 30 minutes, then you simply let the crock pot do it's slow cooker magic!
Spread the onion

evenly on the bottom of the slow cooker.

Lay the pork roast

on top of the onions, and add the liquid (we prefer chicken stock, beer or water to orange juice, which is common in other recipes).

Combine all the spices

in a small bowl. Sprinkle liberally over the pork shoulder.

Cover and cook

the pork on low for 10 hours.

Shred pork

with two forks when it's done. Enjoy!
What Do You Put on Carnitas?
While on vacation (and later at home) we paired this amazing carnitas with Lime Crema, which is SO much tastier than plain sour cream! Only the most delicious topping to ever grace a taco.
To mix it up, you can try some of these tried and true pairings for carnitas:
You can also top with some fresh pico de gallo and a squeeze of fresh lime juice.
And tacos wouldn't be complete without homemade flour tortillas (here's corn tortillas and here's cassava tortillas as well). Don't be afraid to make tortillas yourself! They truly are better than anything you can find in the store.
The process is much easier if you have a tortilla press and electric griddle BUT you don't have to have those to make them.
Are Carnitas Healthy?
I mentioned earlier that I originally found a great deal at the grocery store, but as we're looking to improve the quality of our meat, we now order grass-fed, pastured-raised and organic meat from Butcher Box.
I highly recommend considering Butcher Box if you're looking for better meat and you can't find it locally. Additionally, the National Institute of Health says that consuming grass-fed and pasture-raised meat is better for human and environmental health.
I've shared my experiences with them a few times:
Exclusive for Crumbs Readers:
Get FREE New York Strip Steaks & Bacon in your first box!
Click here to get your free grass fed/pasture raised meat.
Butcher Box delivers grass-fed beef, pasture-raised and organic chicken, and heritage pork directly to your front door each month. Who would pass up on free meat! CLICK HERE to get your offer!
Did you forget to start the meat in the morning? You can also make this recipe in the Instant Pot! Follow the conversion tips I share HERE. It's super easy!
More Easy Slow Cooker Dinner Recipes
The Very Best Slow Cooker Carnitas
This is the best slow cooker carnitas recipe I've had, and I've eaten lots of tacos! We keep coming back to this recipe, because it's so tasty and easy!
Author: Tiffany
Prep Time:

5 mins

Cook Time:

10 hours

Total Time:

10 hours 5 mins

Yield:

6 cups

1

x
Category:

Main Meals

Method:

Slow Cooker

Cuisine:

Mexican
1

onion, roughly diced

3

–

3 1/2

lb pork shoulder butt/shoulder (bone-in or boneless)

3 tsp

garlic powder

1 1/2 tsp

dried oregano

3 tsp

cumin

1 1/2 tsp

coriander

1/2 tsp

cinnamon

3 tsp

salt

4

bay leaves

1/4 tsp

crushed red pepper flakes

1/2

–

1

cup chicken stock or water or beer (how to make homemade chicken stock)
Instructions
Place the onion evenly on the bottom of the slow cooker.
Place the pork roast on top of the onion.
Add 1/2 cup liquid to the slow cooker.
In a small bowl or a mug, combine all the spices. Sprinkle liberally over the pork shoulder.
Cook the pork on low for 10 hours.
When the meat is done, shred the meat with two forks. Add the remaining 1/2 cup liquid if the pork has not released many juices. Stir to combine and serve.
Obviously we love tacos – but how else would you serve this carnitas recipe?