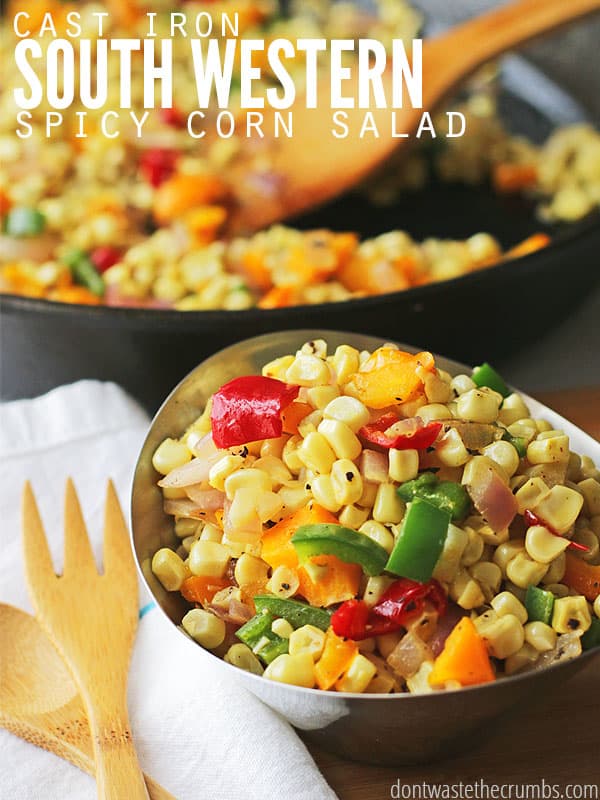 This post contains affiliate links.
Today's recipe is a knock-off of a dish my step-mom makes.  She's an amazing cook and makes a killer Caesar dressing.  No joke, she often makes more than necessary for the meal so that Mr. Crumbs has some leftover for his weekday lunch salads.
Hmmm… mental note to see if she'd be willing to share her recipe so I can share with you…
Anyway, corn is another Spring/Summer vegetable that doesn't need much of anything to be added to it in order for it to be good (unlike brussel sprouts!).  This recipe takes a deliciously sweet vegetable and transforms it into a savory one.  It may not have many ingredients, but it provides ample flavor for any meal, including our taco night and leftover taco salads!

Southwestern Corn
Ingredients
olive oil to saute
2-4 garlic cloves, minced (suit your taste)
½ onion, diced
½ bell pepper, diced (any color)
3-4 ears corn, kernals cut off (or 1lb frozen kernals)
salt
pepper
red pepper flakes
Instructions
In a saute pan on med-low heat, cook garlic and onions in olive oil until onions are not quite translucent.
Add pepper and cook until onions are translucent and peppers are soft.
Add corn and continue to cook until corn is cooked through.
Add a decent shake of red pepper flakes, plus salt and pepper to taste.
Disclaimer:  This post contains affiliate links.  By making a purchase through those links, you support the ministry of Crumbs without any additional cost to you. Thank you for supporting Crumbs in this way!  Read my full disclosure statement here.