Learn How to Roast Beets in the oven with this simple and easy foil method. Red and golden beet are sweet and delicious in season, especially in my Roasted Vegetable Kale Salad!
People tend to fall into one of two camps when it comes to beets: they either love them, or they hate them.
Personally, I love them! Ever since I learned how to roast beets, I'm ALL OVER these things. Plus roasting beets makes them naturally sweet so even picky eaters love them too!
You could also tell picky eaters that eating beets makes their pee turn red… which is true. (So don't freak out if your urine turns colors the next day, LOL.)
This is actually how I got my kids to eat them. I roasted them so they were sweet, served them in my Roasted Vegetable Kale Salad, and told them it would make their pee red. Now they're excited to eat beets!!
(Hey, you do what you gotta do sometimes, right?)
How to Roast Beets
You've heard that we're supposed to "eat the rainbow," right? Well most beets are red, which isn't a color that's easy to come by for vegetables. So when they are in season, we take advantage and eat them weekly. Plus, the Mayo Clinic says that it's hard to beat the health benefits of beets!
Roasting in the oven is my preferred method, because:
It's mostly hands-off
You don't have to peel the beets
Just set the kitchen timer and walk away
You can roast beets WHILE you're cooking other things too
Plus, roasting beets yourself is MUCH cheaper than buying the ones in the produce aisle that are already roasted. Yes, buying prepared beets is super convenient, but it's also expensive!
Once you see how doing it yourself is so easy, there's really no excuse to buy them done for you!
How to Roast Beets in the Oven (in Foil)
You only need three simple things in order to roast in the oven:
Whole beets (unpeeled if you're using foil).
Aluminum foil. Required if your beets aren't peeled. (See my note below on roasting beets without foil).
A baking sheet (here's a set I like).
How Long to Roast Beets?
Knowing how long to roast beets is a lot like baking potatoes. Set the timer for the minimum time and poke them with a fork to see if they're done.
Large ones will need more time, small ones will need less time.
Should I buy beets with stems and leaves? Or just the root itself?
This is up to you. The stems can be used the same way you use swiss chard or collard greens. We LOVE my caramelized onions and swiss chard recipe, but for us, the flavor of the stems and greens is just too powerful. We prefer to buy just the root itself.
Also, if your people find the taste of red beets too powerful, try golden beets. They're yellow and MUCH more mild in flavor.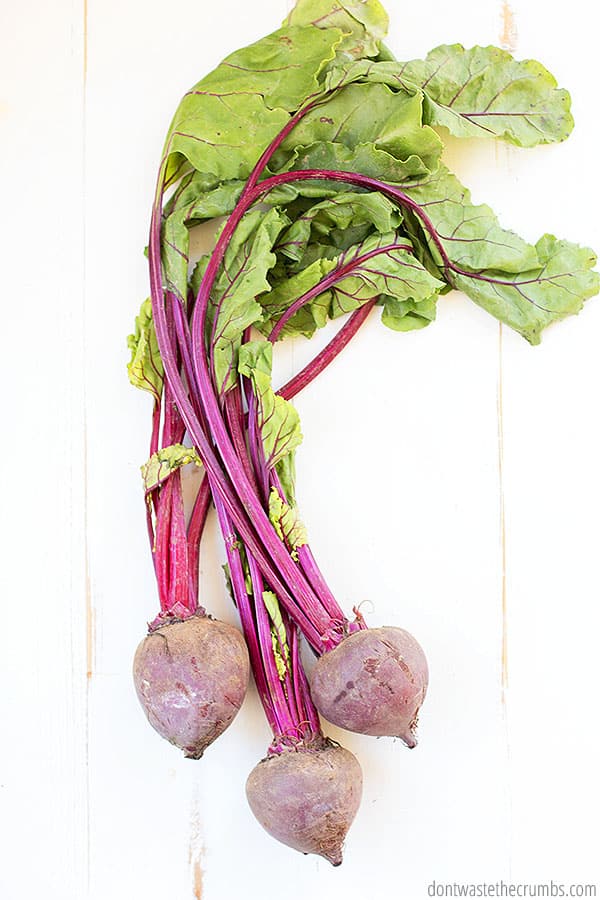 How to Roast Beets without Foil
The process for roasting beets without foil is a little different. When you use foil, the beet essentially steams inside. This is what makes the peel so easy to remove.
When you don't use foil, you remove the steaming option and you have to peel the skin off first.
Peel the skin using a y-peeler.
Roast the beet in the oven, whole or cut as desired.
Let cool and enjoy.
Do you have to peel beets before roasting? Do you really need to peel beets?
No! In fact, I prefer NOT to peel them before roasting simply because the skin comes off so easily afterwards. Plus, it keeps the mess in the kitchen down to a minimum.
What is the best way to peel beets?
If you choose to peel the beets before roasting, I recommend a y-peeler like this one. You have more control over the peeling process and it's a lot less messy. (Remember that even the flesh attached to the peel will stain the counters and clothes!)
How do you freeze roasted beets?
You can either slice or dice them BEFORE you freeze, or you can freeze them whole. Your choice! Either way, put the beets in a freezer-safe container and remove all the air before sealing. The air is what causes freezer burn.
How do you serve roasted beets?
I personally like to quarter roasted beets and serve them with a little salt and pepper. Some people add butter or balsamic vinegar or even goat cheese.
If you dice them, they're GREAT in salads like my roasted vegetable kale salad. That recipe also calls for roasted carrots, which is a great compliment to beets. Plus like beets, roasted carrots are on the sweet side too. Really, they are a great roasting complement to almost any fall root vegetable, like these October and November produce selections, so mix and match with seasonal favorites for added flavor and variation.
More Easy Kitchen Tutorials and How-To's: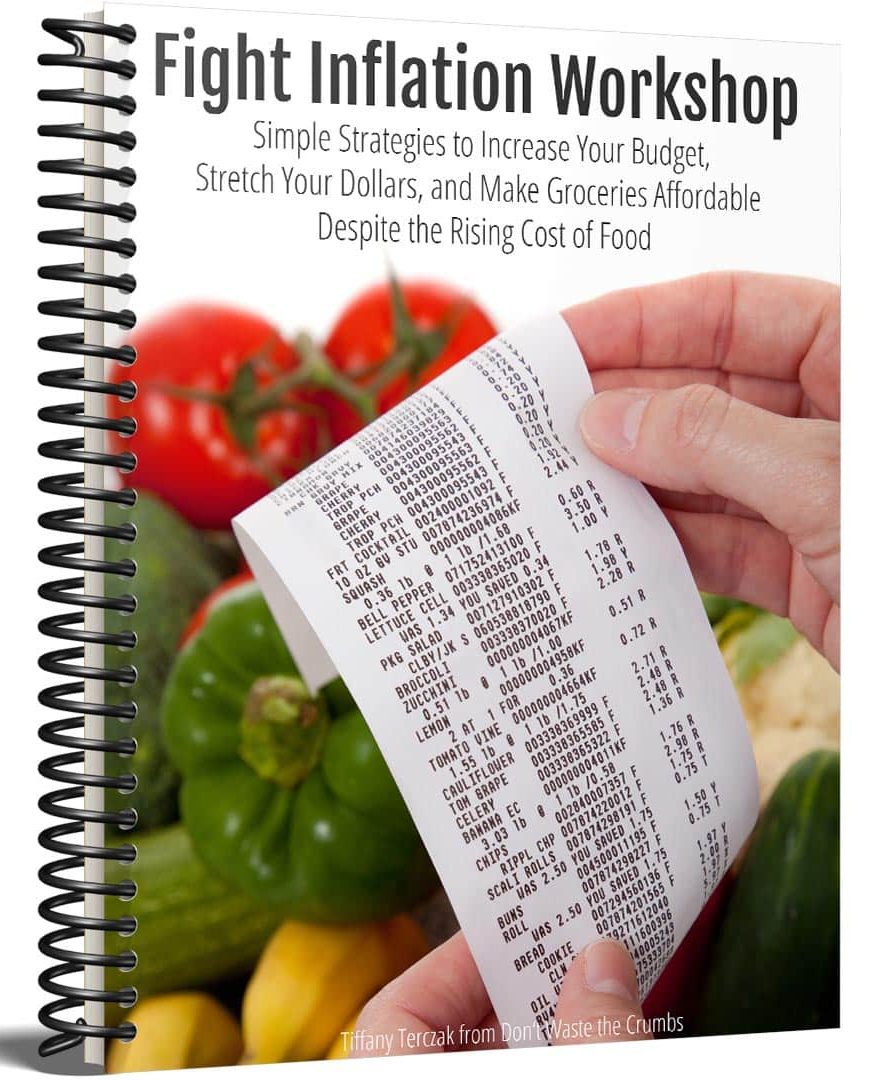 Fight Inflation Workshop
Sign up for my FREE
Fight Inflation Workshop
and learn simple strategies to save money, even with rising food costs!
How to Roast Beets
Learn How to Roast Beets with this simple and easy method. Packed with nutrition, beets are sweet and delicious in season, especially in my Roasted Vegetable Kale Salad recipe!
Author: Tiffany
Prep Time:

10 mins

Cook Time:

45 mins

Total Time:

55 mins

Yield:

4

–

6

servings

1

x
Category:

Sides

Method:

Oven

Cuisine:

American
1

–

2

lbs beets, whole
Note: Roasting beets using foil is the easiest method, so that's what I'm sharing here. I've included instructions for roasting beets without foil in the post content.
Instructions
Preheat the oven to 425F.
Wash and scrub the beets. Wrap each beet individually in aluminum foil.
Bake in the oven for 35-45 min, using a fork or a sharp knife to test for doneness. The beet is done when a knife or fork easily pierces the beet (once you get through the foil).
Use an oven mitt to remove the beets from the oven and still using the oven mitt, carefully remove the foil from the beet. Set the beet aside to cool for 5-10 minutes.
Once the beet is cool enough to handle, place the beet under running tap water and use your fingers and thumb to rub the skin off. It should come off fairly easy.
Then use a knife to cut off the stem and root of the beet.
Serve whole, or sliced or cut as desired.