Real food doesn't have to be complicated.
Don't get me wrong – it's a joy to create elaborate dinner plans for my family… slow cooker carnitas simmering all day, freshly made corn tortillas, freshly diced tomatoes and onions and cilantro and lime wedges… THIS is what will make my family think about dinner all day long.
But sometimes, I need something simple. Like spatchcock chicken. Like homemade Caesar salad. And roasted potatoes.
This is my go-to recipe for roasted potatoes. It's super easy, it's never failed me, and it's always a home run with my people.
Back when we did the Whole30, I learned pretty quick that when you can't eat gluten, dairy, soy, sugar, grains, legumes or anything that resembles junk or convenience foods, you spend A LOT of time in the kitchen cooking and cleaning.
Real quick – think of how many hours "a lot" is to you. Now double that.
Did your jaw just drop to the floor? Then yep… that's about right.
After three days or so, I literally felt like I was living in the kitchen. Between three meals a day for four people – two of which had to be packed for school – reading labels and double checking ingredients and then cleaning up the millions of dishes I dirtied, I don't think I ever left the kitchen except to go to the bathroom, to take a shower and to go to sleep!
I realized that this spend-all-day-in-the-kitchen lifestyle wasn't sustainable for a whole month (plus another 15 days or so during reintroduction… YIKES!), so I scaled WAAAY back on our meals and got back to the basics.
Basics are good. Basics are easy. Basics are great when you're in a busy season and don't have much time or energy to devote to complicated meals.
And basics are great when you're first making the switch from the Standard American Diet of pre-packaged, processed foods to eating real food.
Roasted Potatoes
As I mentioned before, this is my go-to recipe for roasted potatoes. Here's why I love it so much:
Potatoes
You can use ANY type of potato you want. Literally, ANY TYPE YOU WANT. Talk about versatility!
I normally use russet potatoes because they're cheap and easy to find (and because I often have them on hand for easy potato skins and crispy potatoes wedges), but I've used red potatoes, golden potatoes, fingerling potatoes… even sweet potatoes!
Every type of potato turns out delicious!
Seasoning
You can go simple or complex here, depending on how you're feeling and what else you're making for dinner.
I used coarse salt, pepper and dried rosemary when I took these photos. But I've add every dried herb in my spice cabinet too… i.e. oregano, basil, sage, thyme, etc.
I've also homemade poultry seasoning, homemade taco seasoning, the dry mix of homemade ranch dressing, and the dry mix of homemade Greek salad dressing.
I've even used fun spice mixes like Chinese 5 five spice, Za'atar seasoning and everything bagel seasoning!
The options are ENDLESS here, and I can't even say we have a favorite because we truly like them all!
Tip: If you go the sweet potato route, try salt + pepper + cumin + cinnamon. OMG YUM!
How to Cook Roasted Potatoes
Roasted potatoes are cooked in the oven. Oven temperatures can vary from 350F to 450F, but I like to make mine either at 400F or 425F, depending on whatever else I'm cooking, and then I adjust the cooking time accordingly.
For example:
If I'm making almond crusted chicken (which cooks at 425F), I'll make roasted potatoes at the same temperature and cook them for 30-40 minutes.
If I'm making lemon and herb sheet pan chicken (which cooks at 400F), I'll make roasted potatoes at the same temperature and cook them for 40-50 minutes.
If I'm making giant Italian meatballs (which cook at 350F), I'll make roasted potatoes at the same temperature and cook them for 50-60 minutes.
That way I'm not messing with the oven temperature throughout the course of cooking dinner. And if my potatoes are cooked through but I want them to be browner on top, I can turn the oven to broil and finish the potatoes off for 2-3 minutes!
And in case you're wondering, you CAN make roasted potatoes while something else is in the oven. You might have to add a few minutes of cooking time, but it's not a deal breaker.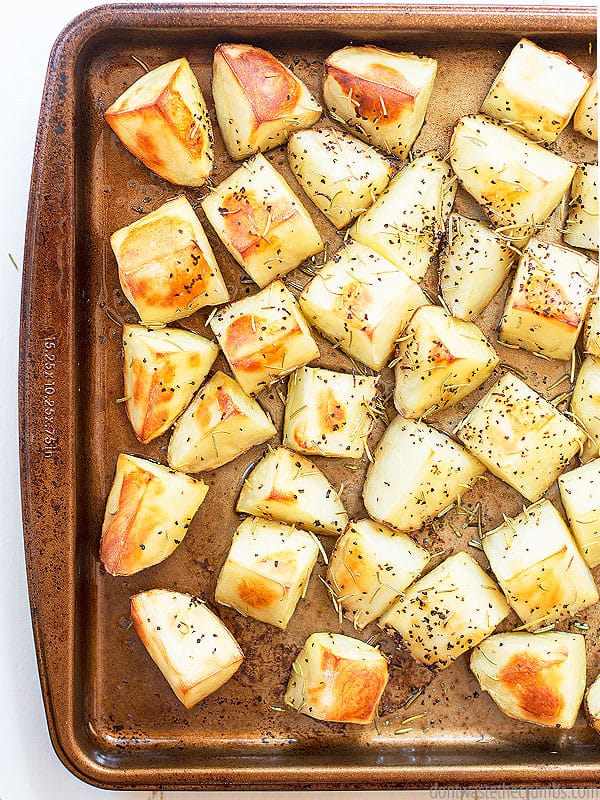 I try to work smarter, not harder, anytime I'm in the kitchen. Anytime I'm making roasted potatoes, I usually preheat the oven, prepare the potatoes and then move on to whatever else I need for dinner.
Then when the oven temperature is set, I can pop the potatoes in the oven and set the timer and keep going with the rest of dinner. The potatoes usually take the longest, so if they're in the oven FIRST, I can get the rest of dinner ready (or in the oven!) by the time dinner is done.
Also, while you have the oven on, use it for something else! You can use the leftover heat to season your cast iron skillet, bake cookies or brownies or even pancakes for breakfast the next day.
For me, preheating the oven is what takes the longest. Anytime it's already on, I try to make the most of it!
Easy Oven Roasted Potatoes
My easy, go-to recipe for crispy oven roasted potatoes. Add garlic and/or whatever herbs you have, or add carrots and onions for a quick healthy side dish!
Author: Tiffany
Prep Time:

5 mins

Cook Time:

30 mins

Total Time:

35 mins

Yield:

6

-8

1

x
Category:

Sides

Method:

Oven

Cuisine:

American
2

–

3

lbs potatoes (I used russet)

2

–

4

Tbsp olive oil
Salt
Pepper
Dried herbs or seasonings as desired
Instructions
Preheat the oven to 425F.*
Scrub the dirt off the potatoes. Cut the potatoes into roughly 1" pieces. Lay them on a cookie sheet, in a single layer. It's okay if they touch, but you don't want the potatoes on top of each other.
Drizzle the olive oil evenly over the potatoes. Sprinkle the potatoes with salt, pepper and dried seasonings or herbs as desired.
Roast in the oven for 30-40 minutes, or until the tops of the potatoes are dark golden brown.
Notes
* The oven temperature is flexible, but the higher the temperature, the quicker the potatoes will cook. If you cook at 400F, add 10 minutes to the cook time. If you cook at 350F or 375F, add 15-20 minutes of cooking time.
What's you're favorite EASY go-to side dish for dinner? The recipe that your family loves, and that you have memorized because you make it so often?