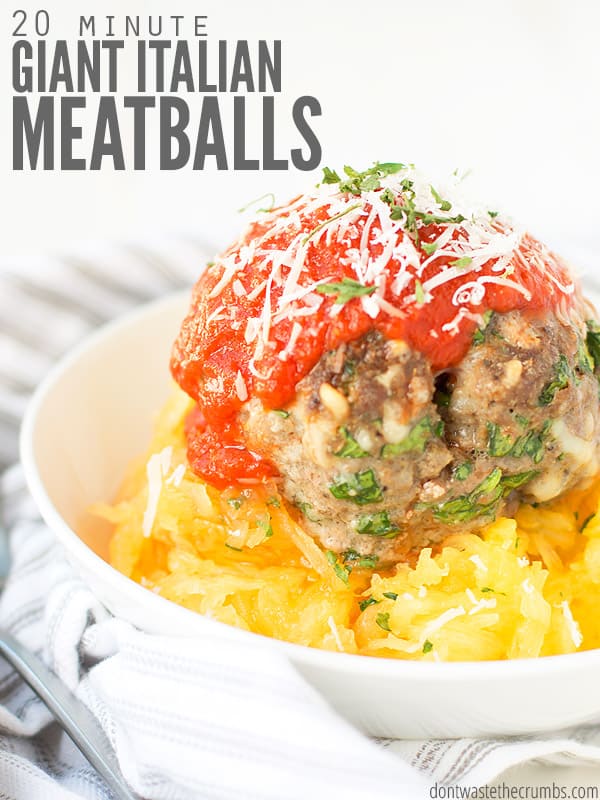 My kids love homemade meatballs… and ground beef taco meat (which is PACKED with veggies) and homemade breakfast sausage and the easiest burgers on the planet. So it didn't surprise me when my daughter asked to make BIG meatballs. There was a restaurant we loved to eat at in California where you could order three giant meatballs as an appetizer. They were big, juicy and definitely filled your belly. She wanted THAT kind of meatball. So here's what we did for a big, giant Italian easy meatball recipe! These giant meatballs are perfect for those who…
Love meatballs. If you don't love meatballs, you won't like this giant easy meatball recipe. Sorry.
Like Italian food. Nothing beats a giant meatball that sits on a mound of spaghetti, covered with marinara. Who's with me?
Need easy dinners. Use your stand mixer to mix up the meatball mixture in no time. Weigh the meatballs if you want, or eyeball it – your call. 20 minutes in the oven and dinner is DONE.
Like freezer meals. I have four giant meatballs sitting in my freezer, AS I TYPE, and I can't wait to NOT have to cook dinner one night next week.
Batch cook like a pro. If you regularly make 6x batches of blender cinnamon waffles, have multiple rotations of sheet pan pancakes going at one time and find it impossible to make no less than a triple batch of blender banana bread muffins, then you're going to love these giant meatballs.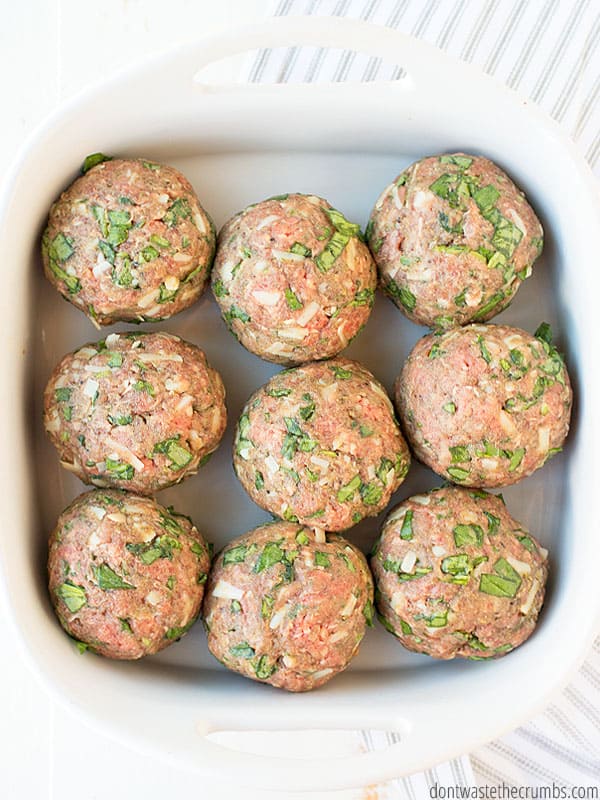 Surprisingly, here's really not a whole lot to this recipe. But then again, sometimes the super simple recipes (like slow cooker carnitas or slow cooker pot roast) are some of the best one. Still, let's talk about what makes these giant Italian meatballs so special.
Giant Italian Easy Meatball Recipe
Ground Beef… Or….
I used two pounds of grass-fed ground beef (that I got from Butcher Box.) You can easily mix/match with whatever ground meat you have and/or love… veal, pork, venison, turkey, and chicken would all be good options. It is important that you use meat that has some fat on it for flavor, so I recommend subbing just one pound of ground beef for a super lean meat. Otherwise your giant Italian meatballs might come out dry, and that's no fun.
Free Bacon For Life
The search for high-quality meat ends here. Amazing taste. Humanely raised. Delivered to your door. Sign up today and get 1 pack of bacon for free in every order for the life of your membership. Click this link to claim the offer!
Butcher Box
delivers grass-fed beef, pasture-raised and organic chicken, and heritage pork directly to your front door each month. You can read my honest review on Butcher Box
here
, and also my updated Butcher Box review
here
.
Vegetable(s)!
I added quite a bit of finely chopped spinach to these meatballs because, why not? You could probably add other vegetables, like grated carrot, onion, celery, mushrooms… You can also add non-vegetable items like oats or lentils or beans, if you're looking to stretch your ground beef as far as you possibly can. (More tips on stretching your meat HERE.) I'd recommend pre-cooking your vegetables so that they don't seep water in the cooking process (and thereby possibly making your meatballs NOT stick together).
Dried Spices
Fresh spices are really great in dishes like rosemary olive oil flatbread, but we're going the dried route in this giant Italian easy meatball recipe for three reasons:
It's easy.
It's cheap.
They're dry.
Obviously we're going to go the easy route whenever we can. And we're also going to go the cheap route too. We're going the dry route to help maintain that proper moisture balance that is OH SO IMPORTANT when you're making meatballs. Too much moisture up front means soggy meatballs. Too little moisture means dry meatballs. Neither of these two options are desireable.
Baked in the Oven
A lot of meatball recipes call for pan-frying, but we're SO not going that route. Baking them in the oven is not only easier, but it means not making a mess all over the stove too. Besides, with the meatballs in the oven, you have plenty of space to get your pasta ready!
We served our giant meatballs a few different ways… over spaghetti with hearty spaghetti sauce (very traditional), over rice noodles (Paleo version) and over spaghetti squash noodles (a la Whole30). If you make homemade hamburger buns (which are SO good), you could make meatball sandwiches.
No matter how you eat them, you CANNOT go wrong with this giant Italian easy meatball recipe!
Watch How to Make Easy Giant Italian Meatballs
Giant Italian Easy Meatball Recipe
Giant Italian easy meatball recipe for healthy, large baked meatballs. No breadcrumbs and my kids think anything jumbo is the best – I tend to agree!
Author: Tiffany
Prep Time:

10 mins

Cook Time:

20 mins

Total Time:

30 mins

Yield:

10

meatballs

1

x
Category:

Main Meals

Method:

Oven

Cuisine:

Italian
2

lbs ground beef (or your choice of ground meat)

1 Tbsp

salt

1/2 Tbsp

pepper

1 Tbsp

onion powder

1 Tbsp

garlic powder

1 1/2 Tbsp

dried Italian seasoning

2 cups

fresh spinach or kale, chopped finely

2

eggs

1/4 cup

flour (I used all-purpose)

4 oz

Parmesan cheese, shredded (using the rind, if possible)
Instructions
Preheat the oven to 350F.
Add all the ingredients to the bowl of a stand mixer and using the paddle attachment, mix until all everything is evenly distributed and mixed well. Alternatively, combine the ingredients in a large bowl and mix using your hands or a wooden spoon.
Either using a scale to weigh 4 oz of mixture OR eyeballing it, make 10 even-sized meatballs and place them inside a 9″x9″ baking dish OR a 9″x13″ baking dish.
Bake in the oven for 15 minutes.
Turn the oven on broil and set the timer for 2 minutes.
When the timer beeps, use a pair of tongs to turn the meatballs over and broil again for 2 minutes.
Serve with your favorite marinara or spaghetti sauce!
How do you prefer your meatballs – mini, regular or large? And do you have a favorite combination of ground meat? Maybe a family recipe passed down from generation to generation? I'd love to hear your thoughts in the comments!