Review: Is Butcher Box worth the cost? Just pick your plan & options, then be intentional with the recipes in your meal plan. This monthly meat subscription is so easy to manage, and it can SAVE you money!
Have you ever been reluctant to try something, but then ended up loving it? That's how I feel about Butcher Box.
I hemmed and hawed on trying their service for MONTHS. When I finally did, I actually loved having high-quality meat delivered to my door!
I shared my honest review on Butcher Box, and not too long after wrote a second Butcher Box review after being a customer myself for several months.
What may be a secret though, is how I make Butcher Box work for my family budget. I get emails asking me this all the time, so I thought now would be a good time to let the cat out of the bag! Here's how to make Butcher Box worth the cost.
Six Ways We Make Butcher Box Prices Affordable
1. We went back to viewing meat "on the side."
Several years ago when we were actively reducing our grocery budget, we couldn't afford a lot of meat. That's just the way it was. Fast forward and there was a time when we were eating Whole30, which requires a lot of produce AND a lot of meat.
We came to two conclusions:
We wanted to eat more plants and fewer animals.
The animals we did eat, we wanted them to be either grass-fed or pastured.
Fortunately, these two go hand in hand – eating less meat means being able to afford better quality.
Keep in mind that this is how MY FAMILY has chosen to eat. You should do what's best for you and your family and priorities.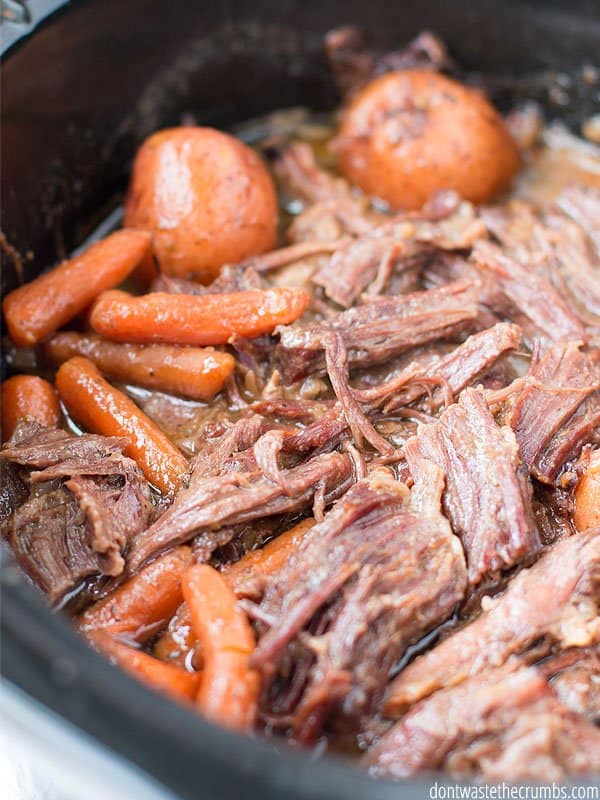 2. We buy the "Custom" Classic Box, and I'm intentional with the cuts I choose.
Being intentional with the cuts I put in my "custom" box means being able to save BIG TIME. Let me explain.
All cuts at Butcher Box have a value of "one" and you choose six cuts for a "classic" sized box. Here are some examples of what "one cut" looks like, just to give you an idea:
(1) 12 oz package of sugar-free and Whole30 compliant bacon
2 lbs of ground pork
5.5 lbs bone-in pork butt
3 lbs of boneless skinless chicken thighs
3 lbs chicken drumsticks
(1) 3.5 – 4.5 lb whole chicken
2 lbs ground beef
10 oz ribeyes
2.25 lbs chuck roast
I have one goal when I login to change my monthly order: get as many pounds of meat as I possibly can so I can make my Butcher Box subscription worth the cost. Here's how I do that:
Choose a whole chicken instead of the chicken breasts.
Select the center-cut pork loin instead of the pork chops.
Choose the chuck roast instead of the premium steak tips.
Bear in mind, this isn't exactly what I order every month. It's more of my methodology: Choose big roasts or whole pieces instead of individual cuts.
If I do the work myself, I can order 20+ pounds of grass-fed and pastured meat, delivered to my front door for about $10 per pound. It also means I can make the one box last us all month long.
Note: Doing the work myself is one of the key points I teach in my course Grocery Budget Bootcamp. If I choose to let Butcher Box do the work, I can order as little as 6 pounds of meat and pay close to $15 per pound.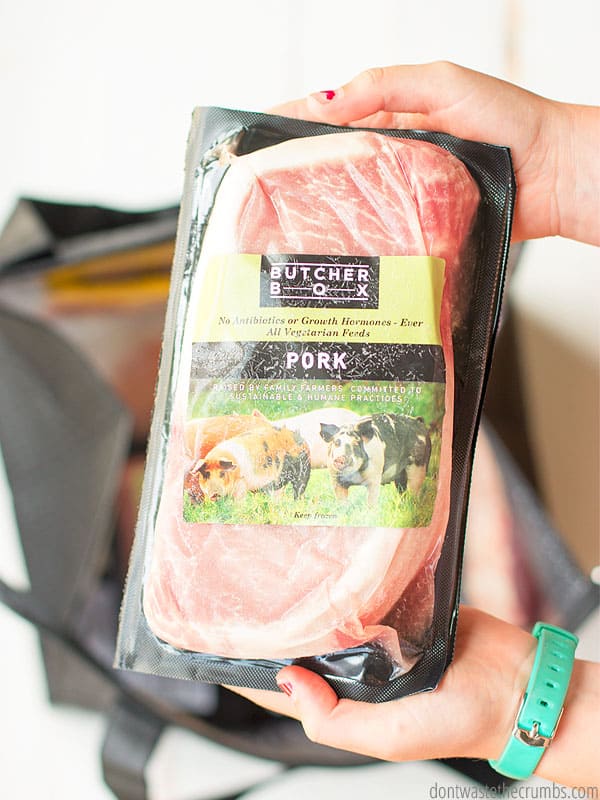 3. I bought my Butcher Box subscription during a promotion on the meat we eat often.
I bought my subscription when Butcher Box was offering free 2 lbs of ground beef with every box for the life of the subscription.
Not only is that free ground beef (which is a no-brainer), but it's also meat that I don't have to add to my box or that I'd have to buy at the store… every single month.
I've seen several Butcher Box promotions come through my inbox, but I chose the free ground beef promotion because…
4. I pay attention to the specials.
This used to be a monthly thing, but Butcher Box now has member-only specials that you can add to your order.
These might not be a good deal if you have access to a local butcher shop or find a great deal on grass-fed beef or pastured chicken, but for those who want to eat better meat and can't find it locally, this is a great option!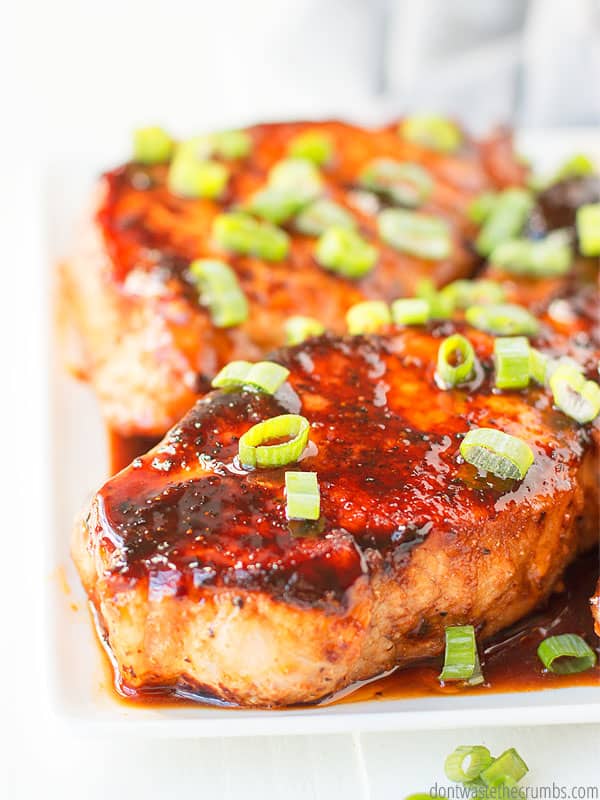 5. I waste NOTHING.
To make it worth the cost, I make sure that I waste absolutely NOTHING from my monthly Butcher Box subscription.
6. I stretch the meat I do buy.
And I can do all of this without my family feeling like we've been deprived.
Here's the kicker though – add up all those days and you have 24 meals out of just 3 "cuts" from Butcher Box. That's nearly a whole month of meals with only HALF of a Classic Custom box. You still have 3 other "cuts" left!
Bonus idea: Don't buy the cuts you can get locally. If you have a local farm that sells organic chicken at an amazing price, buy local. Just use Butcher Box for grass-fed beef and pastured pork! This way you are buying what you need at the quality you want for the best possible price.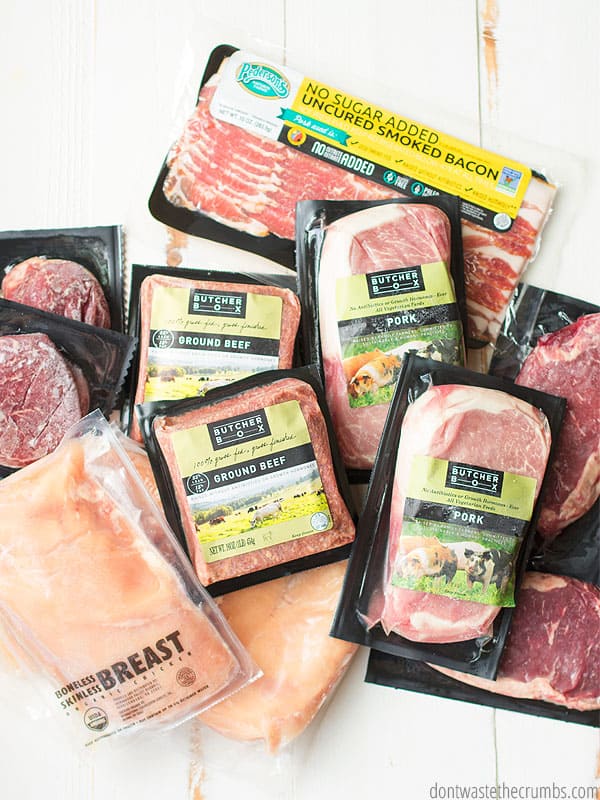 If you've been wanting to try Butcher Box and you've been holding out, here's your chance.
The search for high-quality meat ends here. Amazing taste. Humanely raised and delivered to your door. Sign up today! Click this link to claim the current offer!
FAQs
How much does Butcher Box cost?
I covered this pretty extensively in my honest review of Butcher Box, but here's the summary.
Butcher Box offers two boxes: Classic and Big Box.
The Classic Box is $149 and comes with 9-14lbs of meat. This comes out to an average of $10.64 to $16.55 per pound.
The Big Box is $270 and comes with 18-26lbs of meat. This comes out to an average of $10.38 to $15 per pound. Right off the bat, the Big Box is the better deal.
You can choose to have a box delivered once a month, or every other month.
If you decide on the once a month option, you can "postpone" delivery one month if finances are tight, or if you aren't ready for another delivery just yet.
Is Butcher Box worth the cost?
Yes! Use the same tips that I use, and you can actually save money! That price per box might sound like a lot, but consider how much you CURRENTLY spend on meat. Have you ever sat down and tracked your meat expenses? You might be surprised!
Is Butcher Box cheaper than the grocery store?
If you compare the prices of grass-fed meat in the grocery store, Butcher Box can actually save you money. Plus, the quality and convenience of Butcher Box meats beats out the grocery store grass-fed meat any day!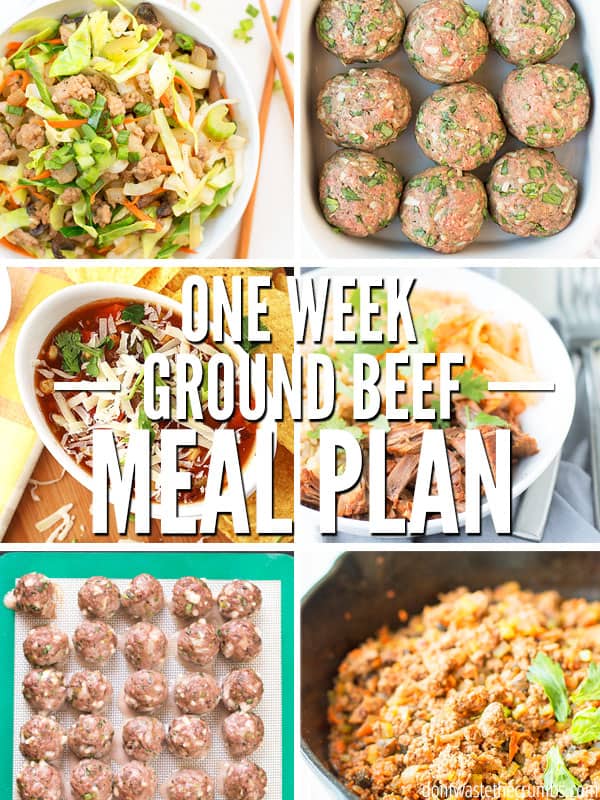 Ground Beef Meal Plan
Sign up to get instant access to my Ground Beef Meal Plan, complete with recipes and shopping list!
More Butcher Box Reviews