A delicious oven-roasted recipe for sweet and sticky chicken. This easy recipe will please the entire family and only takes minutes to prepare!
Earlier this year a family in our church welcomed their second child.
When the coordinator sent out the email last week for the women of the church to sign up for dinners, there was a note included that threw me for a loop: their 18 month-old daughter was gluten-free.
Now, I'm not completely oblivious to food allergies. I can make an amazing gluten-free yellow cake, mini chocolate chip scones that are SO addicting. I even know which are the best gluten-free foods at ALDI.
But none of that will put dinner on the table for this family, and that means digging into the recipe archives and pulling out something that is lip-smacking delicious.
A hearty and filling dinner that elicits purrs of "mmm's", kids asking if they can have more and husbands rubbing their bellies in delight. Friends, meet your new family favorite: sweet and sticky chicken.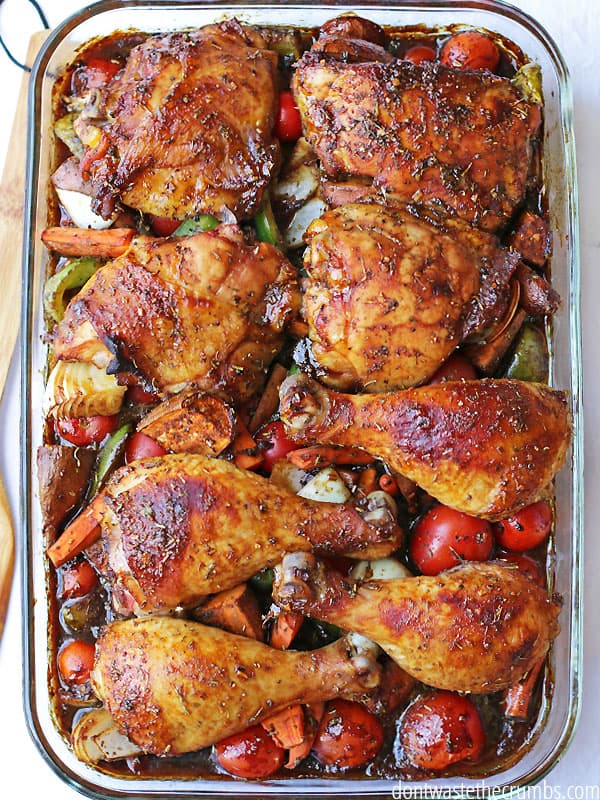 Have you ever licked your fingers because a sauce was so good? Ever scooped extra vegetables – especially the ones you don't like – just because they were coated in that sauce?
That's this dish. The combination of molasses and honey coats the chicken with a sweet and sticky sauce that you wish was slathered on almost everything, and thankfully, – it is!
Layers of vegetables on the bottom, chicken on top and then SAUCE OVER EVERYTHING means every last green bean or potato or whatever vegetable you decide to use gets covered with sweet and sticky goodness. A bit of onion and garlic deepens the flavor and if you're really in the mood, try adding some crushed red pepper to the sauce too. OMG! YES!
Sweet and Sticky Chicken
I'm pretty sure the sauce alone will win you over, but just in case you need a better reason: this is an easy dish that pleases the "meat and potato" people that doesn't cost a lot of money.
Chicken thighs and drumsticks are the most affordable cuts of chicken available, and potatoes are super cheap too. Use any type of potato you have, but sweet potatoes would be exceptionally good.
The recipe serves four people in an 8″ x 8″ glass baking dish, but you can easily double the recipe and use a 9″ x 13″ glass baking dish instead.
Better yet, buy your ingredients in bulk to save money and make two extra pans when you're making this for dinner one night. These disposable aluminum pans are freezer and oven safe, and they come with a lid so you can easily stack them in your freezer and pull it out whenever you need a meal without much work…
Like when you're coming home from vacation to an empty fridge… or when you're not feeling well but the family still has to eat… or when a friend welcomes a new baby to the family!
Watch How to Make Sweet and Sticky Chicken with Veggies:
Sweet and Sticky Chicken: Oven Roasted Recipe
Author:
Yield:

4

servings

1

x
Category:

Main Meals

Cuisine:

American
Scale
Ingredients
2

carrots, cut into

1

" pieces

2

medium potatoes, cut into

1

" pieces

1

onion, cut into

1

" pieces

1

bell pepper, cut into

1

" pieces

4

pieces of chicken

2 Tbsp

molasses

2 Tbsp

ketchup

2 Tbsp

honey

2 Tbsp

maple syrup

1/2 Tbsp

Italian seasoning

1/2 tsp

salt

1/2 tsp

pepper

1/4 tsp

garlic powder

1/4 tsp

onion powder

2 Tbsp

butter, cut into small pieces

1 Tbsp

cornstarch + 3 Tbsp water (optional)
Instructions
Preheat the oven to 350 degrees. In an 8×8 oven-proof dish, layer the vegetables.
Combine molasses, ketchup, honey, maple syrup and all seasoning in a medium bowl. Place chicken in a separate bowl.
Add about 1/4 cup of liquid mixture to the chicken and stir to coat well. Place chicken and the sauce it was in on top of vegetables. Place butter on top of chicken.
Bake for 25 minutes. Meanwhile, heat remaining sauce in a saucepan and bring to a simmer. Combine cornstarch and water in a small bowl.
Add cornstarch slurry to sauce and stirring constantly bring to a boil, then reduce to a simmer.
Add this thickened sauce to the top of the chicken and continue to bake for another 20-25 minutes, or until the chicken is cooked through. You might need to remove the chicken so it doesn't overcook, yet continue to bake the vegetables until they're done.
Enjoy the sweet and sticky chicken!