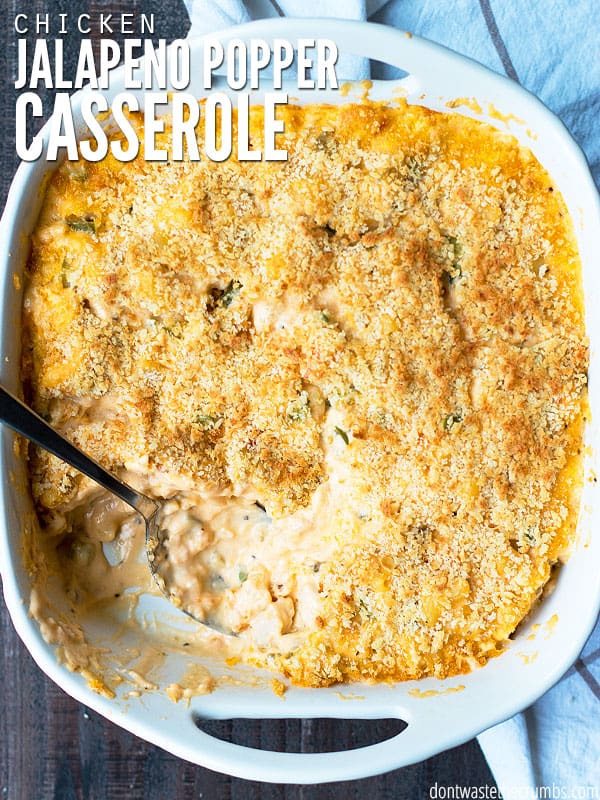 Everything You Need to Know About Chicken Jalapeno Popper Casserole
We're not a big casserole family, but we do love (and the kids have been asking me to make) creamy spinach and chicken enchiladas.
We also love Frank's hot sauce. On buffalo chicken pizza, on buffalo chicken salads and even our homemade hot sauce – we love a good spicy kick to our food!
So then, it only makes sense to take my homemade stove-top mac and cheese, douse it with Frank's, toss it with chicken and jalapenos and call it chicken jalapeno popper casserole, right?
Of course it does! And let me tell you this – my husband and my son LOVE this dish. To prove it, here's a recent conversation between my son and I:
Me: What would you like in your lunch tomorrow, a sandwich or spicy mac and cheese?
Him: Um, I don't want mac and cheese.
Me: Are you sure? You really want a sandwich?
Him: I don't want mac and cheese unless it has the chicken and jalapenos in it like you made that one time. The casserole one.
Me: Well that's what this is. I just called it something different. I have leftover chicken jalapeno popper casserole or I can make you a sandwich. Which would you prefer?
Him: Oh, okay. Then I want the spicy mac and cheese. The one with chicken and jalapenos.
Spoken like a true 9 year old, right?
I've been on a massive comfort food kick lately. Maybe it's the fact that I'm launching Grocery Budget Bootcamp and the early mornings and late nights means my brain (and body) is mush by 6pm.
Or maybe it's because the cold weather outside makes me want to curl up under a blanket and read a book by the fire (this one is on my nightstand right now).
In either case, I'm reaching for my pyrex pans on most nights and filling them up with rich, creamy goodness, like chicken jalapeno popper casserole.
While the idea of a "casserole" makes my husband crinkle his nose, this particular dish goes over especially well when the husband goes to Costco on an empty stomach. Another true story, here's the conversation between my husband and I just last weekend:
Me: Ok, next on the list is coffee. (turns down the aisle)
Him: Mmm, mozzarella sticks. Ooh, jalapeno poppers… chicken nuggets?! Oh man, I know this stuff is bad for you but I'm hungry!
Me: Did you eat that granola bar like I told you to?
Him: No.
Me: How about we do the chicken jalapeno popper casserole for dinner?
Him: Yes! That will work.
(Like father, like son, right?)
This casserole fits the bill with junk food cravings (jalapeno poppers) with real food priorities, so we all get that junk food "fix" without compromising our health goals.
Chicken Jalapeno Popper Casserole
In case your family is like my daughter and not big fans of spicy things, let me assure you that this dish can easily be toned down and I've included substitution ideas in the recipe for this.
If you DO like things spicy, feel free to add more jalapenos or serve with a side of Frank's hot sauce. Or add more jalapenos. Or swap more jalapeno juice for milk.
If your family is split 50/50 with spicy versus non-spicy, save the peppers and hot sauce for the very end. As you make the recipe, portion out some casserole "plain" into one end of your pan first, and then add the peppers and hot sauce in. Stir well and pour into the other half of the pan. Top the spicy side with jalapenos over the breadcrumbs so it's easy to see which side is which when you serve.
Another tip is to make this in a dish that has a lid. I have these pyrex dishes that come with lids, so I can just put a lid on it if they're leftovers. I do this BECAUSE I prefer this dish reheated in the oven than in the microwave. Leaving it in the original pan means keeping the panko breadcrumb topping in place when you reheat, so you still get that crunch the next day.
With that said, there's nothing wrong or bad about dumping the casserole into a leftover container and getting the breadcrumbs all mixed up. I've done that too and it tasted just fine and no one complained (the two criteria for successful leftovers in my kitchen).
One last money saving tip for this chicken jalapeno popper casserole – use shredded chicken or leftover chicken from previous meals. Sound strange? I explain it in this video.
Chicken Jalapeno Popper Casserole
Chicken Jalapeno Popper Casserole tastes just like jalapeno poppers minus the junk! This made-from-scratch meal also has chicken. My family loves this dish!
Author: Tiffany
Prep Time:

5 min

Cook Time:

30 mins

Total Time:

35 mins

Yield:

6

–

8

servings

1

x
Category:

Main Meals

Method:

Oven

Cuisine:

American
cooking spray OR a butter wrapper

8 oz

pasta

4 Tbsp

butter

4 Tbsp

flour

1 ½

–

2

cups milk

4 oz

cream cheese, cubed

8 oz

cheddar cheese, shredded

¾ cup

Greek yogurt

¼ tsp

each nutmeg, onion powder, garlic powder

½ tsp

pepper

3 Tbsp

Frank's hot sauce
up to

6 oz

sliced pickled jalapenos, drained, juice reserved

2 cups

shredded or diced chicken

½ cup

panko breadcrumbs
cooking spray
Spray an 8×8 baking dish with cooking spray OR grease using a butter wrapper.
Cook pasta according to package directions. Drain and set aside. Preheat the oven to 350F.
In the same pot, melt the butter over medium heat. Add the flour, stirring constantly until the flour is dissolved. Cook the flour about 4 minutes, stirring often.
Add 1 cup of milk and the juice from strained jalapenos (or milk for a mild dish) and stir until a sauce is formed.
Turn the heat to low and add the cream cheese, cheddar cheese and yogurt and stir. Allow the cheese to melt, stirring often so the cheese doesn't burn and the milk doesn't curdle.
Add the spices, hot sauce, jalapenos, chicken and pasta and stir to combine well. (For a mild dish, start with 2 oz jalapenos. Taste and add more to desired level of spice.)
Add additional milk if the sauce is too thick, a few tablespoons at a time.
Transfer the mixture to the prepared baking dish. Sprinkle the breadcrumbs evenly over the top and coat generously with cooking spray. Bake for 20 minutes, until the breadcrumbs are golden brown and toasted. Serve with additional hot sauce as desired.
When the weather is cold and your soul needs some comfort, what's your favorite casserole?