Traditionally when I think of a slow cooker, I think of thick, hearty soups like slow cooker white chicken chili.
But with a very hot summer approaching, I plan to use my slow cooker as often as possible to cook as many meals as possible, starting with classic slow cooker chicken.
One of the reasons I want to make slow cooker chicken as opposed to a traditional roasted chicken is that I need to cook dinner without heating up the house.
Humidity in Georgia ain't no joke, adding 10 degrees or more to what the thermostat says. Plus our kitchen faces west, which means we get at least 3 hours of full-on sun every afternoon.
I also want to make slow cooker chicken to save on electricity. Using a slow cooker uses as much energy as light bulb, and when you compare 8 hours of non-stop cooking versus 1 hour in the oven, I'm not sure how much you truly save.
However, because it's summer, my electric company charges more for energy that's used between 2pm and 7pm. By making slow cooker chicken instead of roasted chicken in the oven, I can easily have all the chicken cooked outside of those peak hours.
Aside from keeping the house cool and saving on electricity, slow cooker chicken has other advantages too:
Easy "set it and forget it" cooking method
Don't have to be home
Don't have to be awake
Chicken comes out tender every time
Makes slow cooker chicken stock easier
Can batch cook chicken for the whole month
Methods for Shredding Slow Cooker Chicken
Shredding the chicken using a regular fork and a big serving fork gives chunkier shredded chicken, but did you know you can use a mixer to shred the chicken too?
Just place the chicken – without bones – in a mixer bowl. Use either the paddle or dough attachment and set your speed to low. Stop the mixer when it's shredded to your liking. Just be careful – the chicken can get mushy if you let it go too long. As you portion it out, pick out any bones that accidentally made it in the bowl.
Stretching Slow Cooker Chicken for a Month
The fact that you can cook enough chicken for a whole month is my favorite reason. We use shredded chicken in all sorts of meals, and having it done in one fell swoop is a huge time saver.
Once the chicken is shredded, I portion it out into two cup portions, since that's what most recipes using shredded chicken call for. Each 2 cup portion goes into a freezer-safe bag, and then just to help keep the freezer organized, I keep all the bagged 2 cup portions in a larger gallon size bag together in the freezer.
Each whole chicken will give you about 6 cups of shredded meat, which equals to about 3 meals. To stretch the actual meat from slow cooker chicken, I use some of these ideas as I'm preparing the meal, but if you want more meals, just make more chicken!
I have a this 6 quart oval slow cooker and it fits two whole chickens without a problem. I might be able to fit more if I cut chicken into pieces first, but I haven't tested that yet.
Larger families might want to consider investing in more than one slow cooker, adding a bigger 7 quart slow cooker to their arsenal or just making slow cooker chicken more than once a month.
Don't have a slow cooker? I've added this Instant Pot to my kitchen and it easily cooks a whole chicken, even if it's frozen!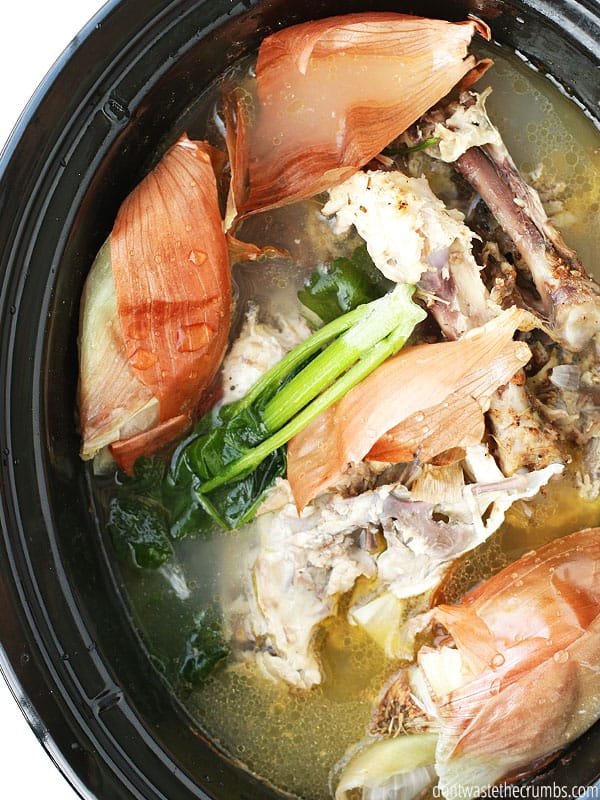 Making Chicken Stock from Slow Cooker Chicken
Since I'm in the kitchen anyway, I like to prep the chickens at night just after cleaning up from dinner. I'll set the timer to cook the chickens while I'm sleeping and it'll automatically shut to "warm" when it's done.
Then in the morning before breakfast, I turn the slow cooker off, take the crock out and remove the lid so the chicken cools quicker. By the time we've eaten breakfast and cleaned up, the chicken is cool enough for me to shred.
I like to put a colander in a large stock pot and dump everything out – chicken, liquid and bones. I'll sort through the chicken piece by piece, placing bones back into the slow cooker crock and chicken in a bowl.
When all the chicken is pulled off the bones, the original cooking juices go back into to the crock along with my container of vegetable scraps and make slow cooker chicken stock.
Slow Cooker Chicken with Crispy Skin
Many folks would say that the downside to slow cooker chicken is that you don't get the crispy skin you'd normally get with an oven-roasted chicken, but that's not true!
If your oven has a broiler function in the main oven, strain some of the juices out from the crock and set them aside. Then place the whole crock in the oven with the setting on broil. Watch the chicken for a few minutes until the skin is golden in color and crispy to your liking.
If your broiler is underneath the main oven, carefully remove the pieces of chicken from the slow cooker. You might have to use sharp kitchen shears to cut the pieces away from the whole first. Place the pieces of chicken skin side up on a cookie sheet and broil for a few minutes until the skin is crispy and dark in color!
Classic All-purpose Slow Cooker Chicken
Skip the oven this summer and make slow cooker chicken instead. Perfectly moist chicken that lasts us 4-7 meals without heating up the kitchen.
Author: Tiffany
Prep Time:

10 mins

Cook Time:

6-8 hours

Total Time:

6-8 hours

Yield:

2

whole chickens

1

x
Category:

Main Meals

Method:

Slow cooker

Cuisine:

American
2

whole chickens

1/2 tsp

salt

1/2 tsp

pepper

1/2 tsp

Italian seasoning

1/2 tsp

coriander
Instructions
Remove the innards/giblets from the chicken and set aside for chicken stock. Rinse the chicken and pat dry.
Place both chickens inside a large slow cooker and sprinkle all the seasonings on top.
Cover and cook on low for 6-8 hours.
Shred chicken with 2 forks, or with tongs and a fork.
Notes
I can fit two chickens in my 6 quart oval slow cooker. If your slow cooker is smaller, use just one chicken and halve the spices.
Where do you get your whole chicken? 
Exclusive for Crumbs Readers 
Sign up today and get a 10-14 lb turkey free in your first box!
Click this LINK to get the offer.
Butcher Box delivers grass-fed beef, pasture-raised and organic chicken, and heritage pork directly to your front door each month. You can read my honest review on Butcher Box here, and also my updated Butcher Box review here.
What's the most creative way you use your slow cooker?