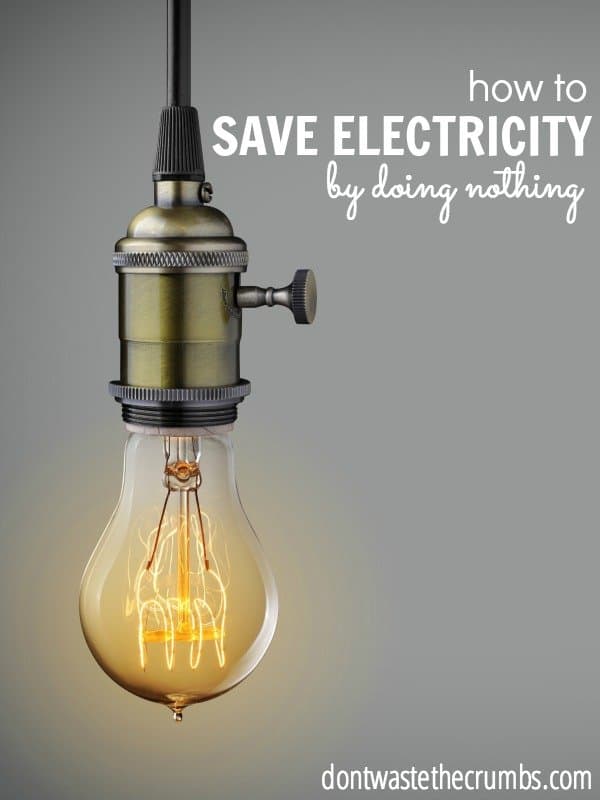 I can't believe I'm sharing this one trick to save electricity as an actual post. There are lots of ways to save money on electricity, but this one? I mean, it's so simple that you're going to shake your head at me.
But it really works, and it would be a disservice if I didn't share this totally legit way to save electricity with you. So here goes…
Have you heard that some appliances use power when plugged in, even if they're turned off?
I've heard that before, but didn't really believe it…
Until I read an article where a family reduced their electric bill from $200 to $35 by unplugging their "vampire" appliances.
This, my friends, makes my wheels turn. After all, I don't have anything to lose by unplugging stuff, right? There is only savings to gain!
So my husband and I set out to experiment.
To Save Electricity, Identify What's Using It
For one month, we committed to unplugging as many things as possible when they weren't in use. Our last electricity bill was for April, and it was $76.75. Which is not a high bill to start with compared to most families. However, we don't have air conditioning and it's rare to use the heat during the day in the winter.
With neither the air conditioning and the heater being an issue, the focus becomes big appliances in the kitchen. Then it's the small things that have actual plugs, which requires a walk around the house to really see what's plugged in.
On the first pass, I noticed LOTS of things that were plugged in and not being used. Here's just a handful of items I found when I went through the house, room by room:
television (we don't have cable, so I'm not sure why we even kept this plugged in!)
laptop charger (unless it's actually charging, this is just silly)
coffee pot (our coffee brews into a carafe, meaning we don't have a burner… once it's brewed, there's really no need to have it plugged in!)
microwave
lamps (can you believe we had some plugged in, in rooms where they rarely get turned on because we only use the room during the day?)
toothbrush charging stations
While it might not seem like a big deal to have these items plugged in, none of them were actually in use.
So, is "vampire" electricity really a thing? Can you save electricity by unplugging everything that you're not using?
How to Save Electricity: One Simple Trick
Here's the big secret to save electricity: unplug it all.
I know, who would have thought it was that easy?
After I took inventory of everything that was plugged in, I promptly unplugged as much as I could.
The only items I left plugged in were the oven, dishwasher, washer and dryer. The oven and dishwasher mostly because they're very difficult for me to pull out and unplug on my own.
I kept the washer and dryer plugged in for convenience. We use an indoor clothesline as much as possible to reduce using energy from the dryer.
There are two lamps in the master bedroom and one in the kid's room that I also left plugged in because they all require a switch to be turned on.
Finally, I left the printer plugged in since it's in an awkward spot under the desk. But when I'm done printing I'll make sure to turn it off, rather than letting it sit in stand-by mode.
How Much Does this Trick to Save Electricity Save?
Remember that we committed to unplugging as many items as we could – and turning off everything else – for one whole month.
How much did we save when the month was over?
Our next electricity bill was just $56.44!
We saved 26% off our electricity bill in a month! For simply unplugging and/or turning off items we didn't use. Pretty amazing, right?
If only we discovered this when we cut our monthly expenses in half!
Think Unplugging to Save Electricity is Inconvenient?
The biggest issue people have when I share this awesome way to save electricity is that they think unplugging items is inconvenient.
Honestly, I haven't found this to be the case at all.
We use a power strip for the entertainment center. The TV, Wii and DVD player are all plugged into it. When we want to watch something or play a game, we simply flip the red switch and turn it on. The TV and Wii turn on automatically. The DVD player is the least used electronic, but since it still requires the power button to be pressed, we're not wasting money by having it plugged into the power strip.
Our microwave isn't built-in above the oven. Rather it sits on the kitchen counter. Whenever we want to use it, we simply plug it in, use it, and unplug. It's really that simple.
If our microwave WAS a built-in above the oven, I probably wouldn't unplug it after every use. However, the plug is relatively easy to reach in a cabinet above it, so it's easy to unplug at night when we go to bed. That saves us at least 8 hours of electricity!
We're fortunate that most of our plugs are not behind heavy furniture, but I know that's an issue for some families. This surge protector with an 8 foot cord might be helpful. Or if you have a very large entertainment center, consider this massive 3 foot long power strip on a 15 foot cord!
I don't have the energy to be an unplug nazi and follow everyone around the house all day, but I can take one minute in the morning and one minute at night to save electricity by up to 26% each month. Those two minutes are definitely worth it in my book!
How much or how little you unplug is a matter of personal preference – it all adds up to save electricity in the end. The only downside to this trick to save electricity is that I didn't try it sooner!
What random way do you save electricity in your home? Share your ideas in the comments!