Learn how to save money on produce with this helpful guide. I share tips and tricks for meal planning, shopping for produce, and how to store produce.
There's a stigma that eating healthy food is expensive. It's true that if you walk into a fancy grocery store and buy whatever suits your fancy at the time, you'll likely spend more money.
However, there are PLENTY of ways you can save money on healthy food, especially on produce.
Here are my proven strategies, and the best ways on how to save money on produce.
How to Save Money on Produce
Before You Shop
1 – Meal Plan!
Never buy anything unless you've made a meal plan, first. Here's my simple method for making a meal plan.
2 – Keep a price book.
Tracking the price of produce over time means never second-guessing whether something is a good deal or not. You'll know right away if an item is too expensive, or if you should buy extras!
I teach students in my course Grocery Budget Bootcamp how to create and keep up with a price book. If you're not in my course, you can read my article on how to create a price book to get started (and make sure you join the waitlist!).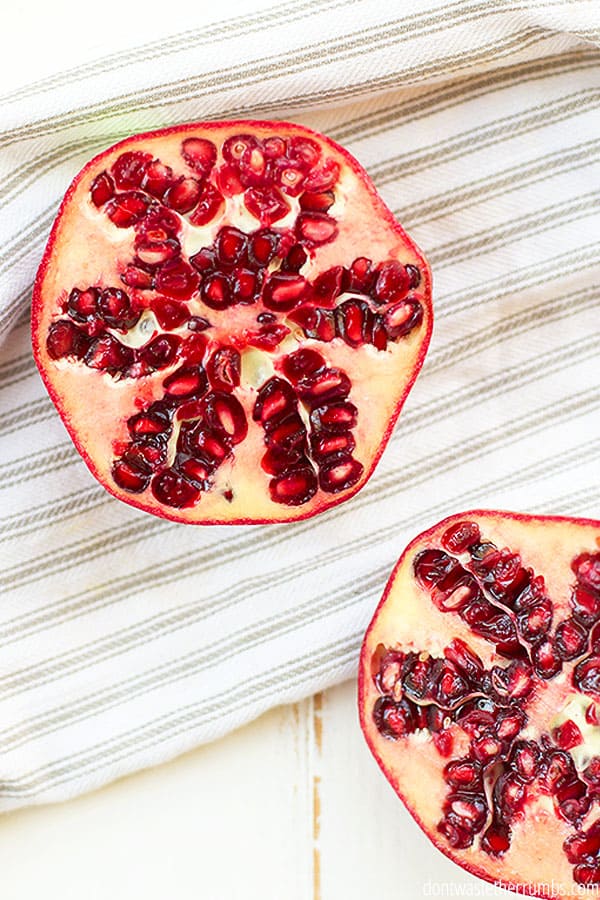 How to Save Money on Produce – Shopping
1 – Shop discount stores.
Like ALDI, Grocery Outlet, Lidl, or 99¢ Store. These stores carry produce – sometimes organic – for a much lower price than regular grocery stores. Not every store has a good selection, but it's worth a quick stop to see if your local store is worth a weekly trip!
2 – Shop ethnic stores.
Asian stores will have great deals on produce commonly used in Asian dishes, while Mexican stores will have great deals on produce commonly used in Mexican dishes. I once went to a local Asian store and found a banker's box of bananas – at least 30lbs – for $5!
3 – Shop in bulk, if it makes sense.
Costco, BJ's and Sam's Club often have good deals on produce, but it only makes sense if you can eat it before it goes bad. Small families can buy produce that lasts a long time, like potatoes, carrots, and onions. Larger families can do the same, but also buy produce that goes bad quickly, like bananas, avocados, and spinach.
4 – Shop what's on sale.
You've probably heard this one before, but you always want to shop the sales. I aim for $1/kb for conventional and $2/lb for organic. Make sure you keep a price book to know for sure whether or not something is a good deal.
5 – Shop seasonally.
Produce that's in season is abundant, and prices are lower when there's a lot available. If you're not sure what's in season, you can check out our monthly produce guides on this page.
6 – Shop the Clearance Section.
Not all stores have them, but if your store has a clearance produce section, pay attention! You can find great deals on a variety of items that need to go ASAP. Just a heads up, these foods might be bruised or ugly or overripe, so be prepared to do something with them when you get home.
7 – Don't overbuy.
Buy enough for your meal plan, and try to shop with blinders so you're not tempted to buy things just because they look good.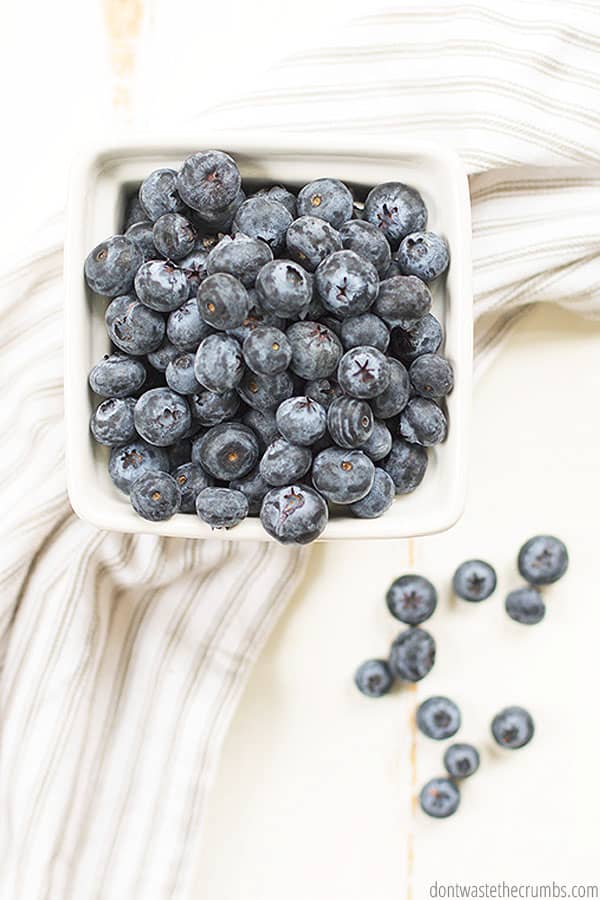 8 – Pay attention to pricing.
Some items that are sold per bag (like grapes) are actually priced per pound. So you may think that bag of grapes costs $1.99, but since that bag weighs 3 pounds, you're paying closer to $6!
9 – Compare unit pricing.
Produce is sold either per item, per pound, or per bag. There's no way to know which is cheapest, so take the time to calculate the price each time you shop. A perfect example is bell peppers. Sometimes it's cheaper to buy individual peppers than it is to buy the 3-pack!
10 – Avoid buying what you don't eat.
Take broccoli for example. If you don't eat the stalk, then choose heads of broccoli with as little stalk as possible. The stalk is heavy, so you'll reduce how much you spend per pound AND reduce food waste at home. (If you need help using up broccoli stalks, my Costco-copycat Sweet Kale salad is delicious!)
11 – Stock up on good deals.
Take advantage of super low prices, but make sure you have a plan to use the produce.
12 – Buy items that last longer.
Think cabbage, carrots, kale, apples, oranges. This isn't an exhaustive list, but by buying more items that last longer, you'll end up throwing less food away.
13 – Buy frozen…
If what you need isn't on sale or in season. Make sure to compare against fresh, just in case!
14 – Weigh fixed-priced, bagged items.
A 5lb bag of potatoes may weigh anywhere from 4 lbs to 7lbs… you want to make sure that you're getting the heaviest bag you can!
15 – Count how many are inside fixed-priced, bagged items.
Apples and bananas are a great example of this. When you eat an apple, you generally eat one, right? If you choose the bags that have more apples inside, you'll get more servings. Pair this with weighing the bag too, and you'll score an even better deal.
16 – For fixed-price items, buy the largest you can.
Most times pineapples are sold at a fixed price, like $1.99 each. If this is the case, buy the biggest pineapple (or cauliflower or head of lettuce, etc.) you can!
How to Save Money on Produce at Home
1 – Store your produce properly.
Wash berries with all-natural produce wash JUST before eating them and dry them well. Hearty produce like cabbage and Brussels sprouts can be pushed to the back, while more perishable produce like mushrooms and lettuce should be front and center (so you don't forget they're there!)
2 – Consume the most perishable produce items first.
Mushrooms, cucumbers, lettuce, and squash should be eaten earlier in the week. Carrots, onions, kale, potatoes, and peppers can wait for the end of the week.
3 – Don't overcook.
Prepare enough for the meal(s) your family will eat, but don't make so much that you have days and days worth of leftovers.
4 – Have a plan for leftovers.
Come up with a way to use leftovers as soon as you know you'll have them. This can be as simple as lunch for tomorrow, or you can reinvent leftovers into something else (like using leftover pork roast in my pork and potato soup).
5 – Do SOMETHING with random pieces/leftovers.
I like keeping a plastic tub in the fridge for smoothie scraps, and a tub in the freezer for scraps to make chicken stock.
We also often have "kitchen sink" recipes like fried rice or chopped quinoa salad where anything in the fridge is fair game and will taste good!
Other Ways to Save
1 – Grow your own.
It's not hard to grow herbs or even a few tomato plants. Pick just one vegetable that you enjoy eating and try growing it next season.
2 – Ask for "seconds" or "jam berries" at the farmers market.
These are bruised and not as good-looking as the other fruit, but they're just as good!
3 – Consider u-pick farms.
When berries or apples are in season, you can find local produce for as low as 99¢ per pound!
4 – Consider using apps.
Ibotta or Checkout 51 are great grocery rebate apps. Also, check your grocery store apps for coupons!
5 – Double Dip on Rebate Apps.
Most rebate apps require a photo of your receipt, so make sure you double-dip and upload that photo to all the apps you can!
6 – Consider a produce delivery subscription, like Imperfect Foods or Misfit Market or Hungry Harvest.
7 – Look at Groupon for deals.
I once found a Groupon for $10 off a local shop I'd never been to before. While there, some fruit (apricots, peaches, nectarines, plums, etc.) was priced at $2 per bag – a big brown grocery store shopping bag! It came out to over 13 lbs for $2, and I still had the rest of my Groupon to use!
Need Ways to Save Money on Meat?
5 days to save $75
Need to save money on real food? Download my free guide to saving $75 in 5 days using easy, practical baby steps.