Learn how to make and can applesauce with this easy, freezer-friendly, step-by-step tutorial. Option for chunky applesauce and canning with peels!
With fall comes apples… lots and lots of apples! If you haven't made at least a batch of homemade apple chips, then I'm going to assume you don't like apples.
Me? I love apples! (Almost as much as I love pumpkin.)
But honestly? One of my favorite apple treats is pretty basic. I love homemade applesauce!
Today I want to show you just how easy it is to make, and how easy it is to can your own homemade applesauce.

What types of apples for homemade applesauce?
Tart, crunchy, pie apples are my favorite to use in applesauce. Apples like the ones we picked from our aunt's tree.
If you don't have a tree in your yard, then your next best option is apple picking with the kids at a local orchard. While you are there, make sure to pick up a gallon of fresh apple cider. Sooo yummy!
The farmer's market is another good option, and of course, there's the grocery store. McIntosh or Jonagolds are good choices for homemade applesauce.
My general rule of thumb: you will need 12 – 14 pounds of apples to make 7-8 pints of applesauce.
How to Can Applesauce (step by step tutorial)
1. Prepare the apples.
Wash your apples well with a natural produce wash. Quarter apples and remove stems as well as any bad spots.
If you have a food mill, your apples are ready to be cooked down. If you do not have a food mill, you will need to both peel and remove the core before cooking. (An apple peeler and corer would be a good investment if you make applesauce every year.)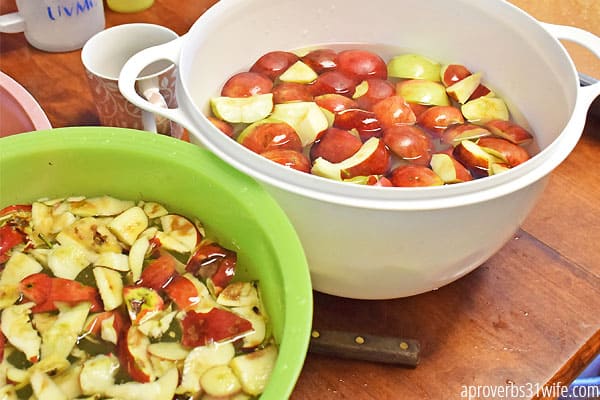 As you are cutting your apples, place the ready-to-cook ones into a large bowl of water with a small amount of salt in it to prevent browning.2. Cook the apples.
Once your apples are cut, dump out the saltwater and give them a rinse with fresh water. Transfer the cut apples into a large pot and add a few inches of water to the bottom.
Turn the burner on medium-high heat and cook for 20 minutes – 30 minutes or until apples begin to turn to mush. You will need to stir the apples on occasion to prevent them from sticking.
Run your cooked and tender apples through your food mill. If you do not have a food mill, use a high powered blender (like this one) or food processor to turn the apples into sauce. Don't cook them too long, you'll end up making apple butter.
If you prefer chunky applesauce, you can use a potato masher (like this one). This will leave some chunks of apple in your sauce.
3. Fill the jars
To can 7-8 pints of applesauce you will need:
Apples are naturally high in acidity and do not require any additional ingredients. However, adding lemon juice will help maintain the color of the apples. Because of the lemon juice, the applesauce will become a little more tart and that's why we add the sugar.
You can do without the sugar completely if you like, but keep in mind that the kids may not like it (my toddler wasn't a huge fan). If you don't want to add sugar, try a sweeter apple like a Braeburn.
Add the lemon juice to your apple sauce first and mix well. Then stir in the sugar, tasting as you add and adjust according to your taste.
Since Ball has changed the design of their jar lids, they no longer require boiling to prep the lid. Use warm soapy water to clean and set aside. Boiling may cause the seal to not work properly.
Use the funnel to guide around 1 1/2 cups of applesauce into each jar.
You want to leave a good inch of headspace at the top of the jar. Much less than an inch could result in them "boiling over" right through the lids and preventing a good seal.
The funnel should keep the rims of your jars clean, but double-check to make sure there is no food on the rim, and wipe the rim for good measure.
Use tongs to remove a lid from the hot water and place it on the jar. Tightly screw the ring over the lid and set aside.
4. Water bath canning the applesauce
If you don't have a hot water bath canner, a large stockpot will work IF you have a rack to place on the bottom to keep the jars from directly touching the bottom of your pan.
If you plan on canning much though, I highly recommend buying a canner like this one. There are a lot of kitchen appliances you don't need, but something that saves you time and money is worth the investment!
Place the jars in the bottom of your canner and cover with 1 inch of water.
The temperature of the water needs to resemble the temperature of your filled applesauce jars. This way the jars heat evenly with the water and the risk of breaking is minimized.
Bring the canner to a good strong boil and set the timer for 15 minutes.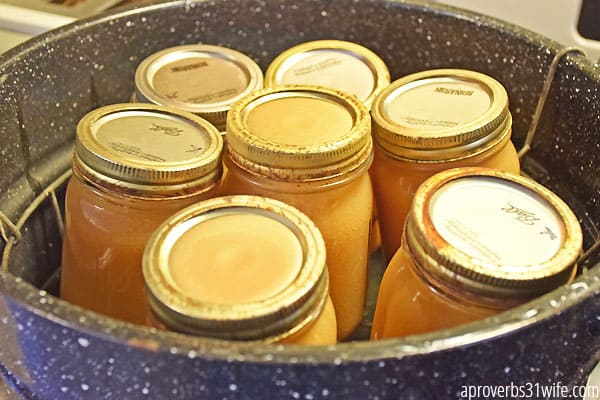 After the timer goes off, turn the heat off and carefully remove jars from the water. If your room is extra cool or there is cool air blowing directly on the canner, you will need to divert that air and just remove the lid for a few minutes before lifting jars out of the water.
Be sure to add your home-canned goods to your kitchen inventory. The purpose of canning is so you actually eat it and save money!
To Finish Your Home Canned Applesauce
Let your jars cool for 12+ hours before removing the rings. Mark the contents on the lid or labels with the date.
Pop open a jar of applesauce in January and let the warm inviting smell of fall rush over you.
Other great ways to use apples:
How do you preserve apples for the winter?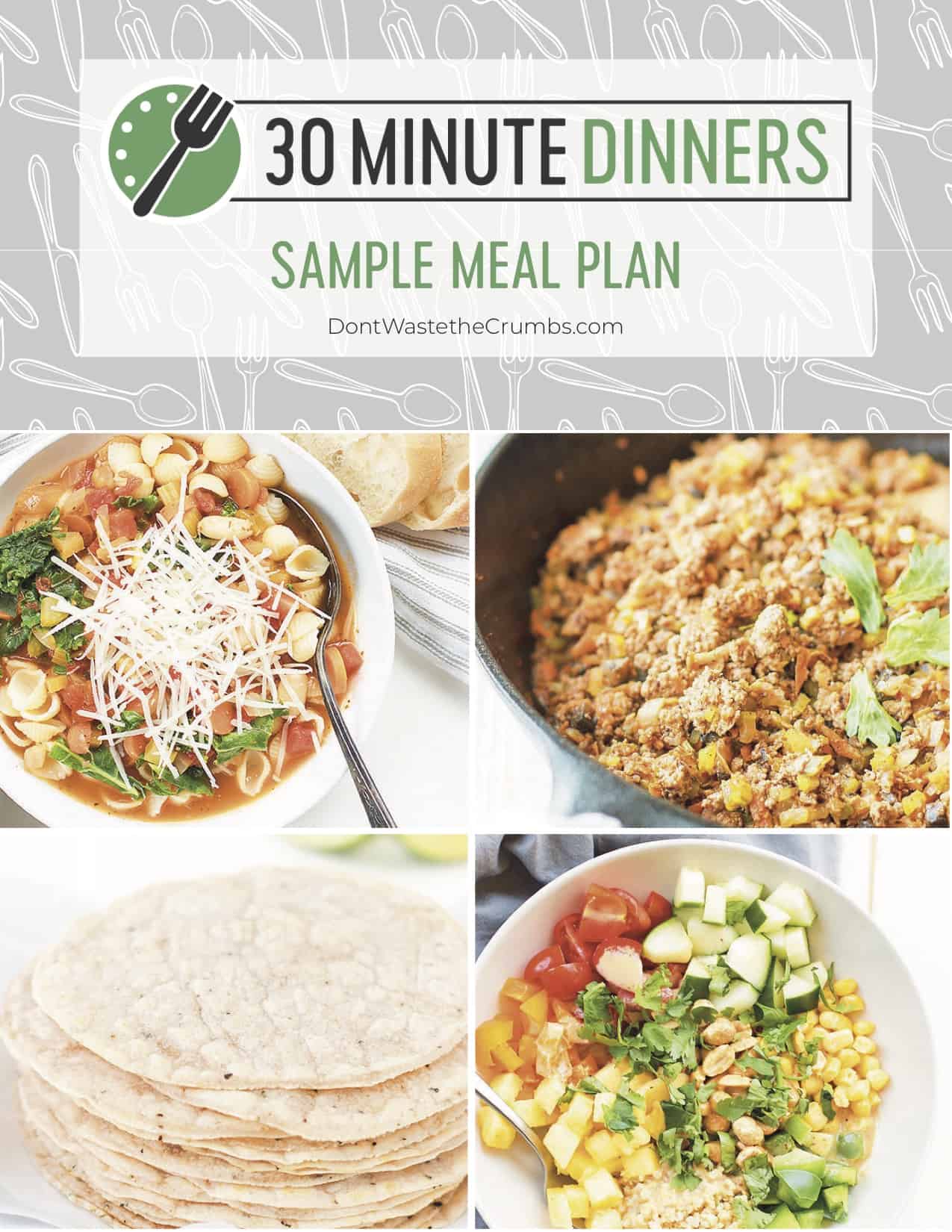 30 Minute Dinners Sample Meal Plan
Sign up to get instant access to my
30 Minute Dinners Sample Meal Plan
, complete with recipes and step-by-step instructions!
This post was originally written by Kendra at aproverbs31wife.com