Make your own easy fruit and vegetable wash 11 different ways! Save money over expensive store-bought produce wash and get rid of the yucky stuff naturally.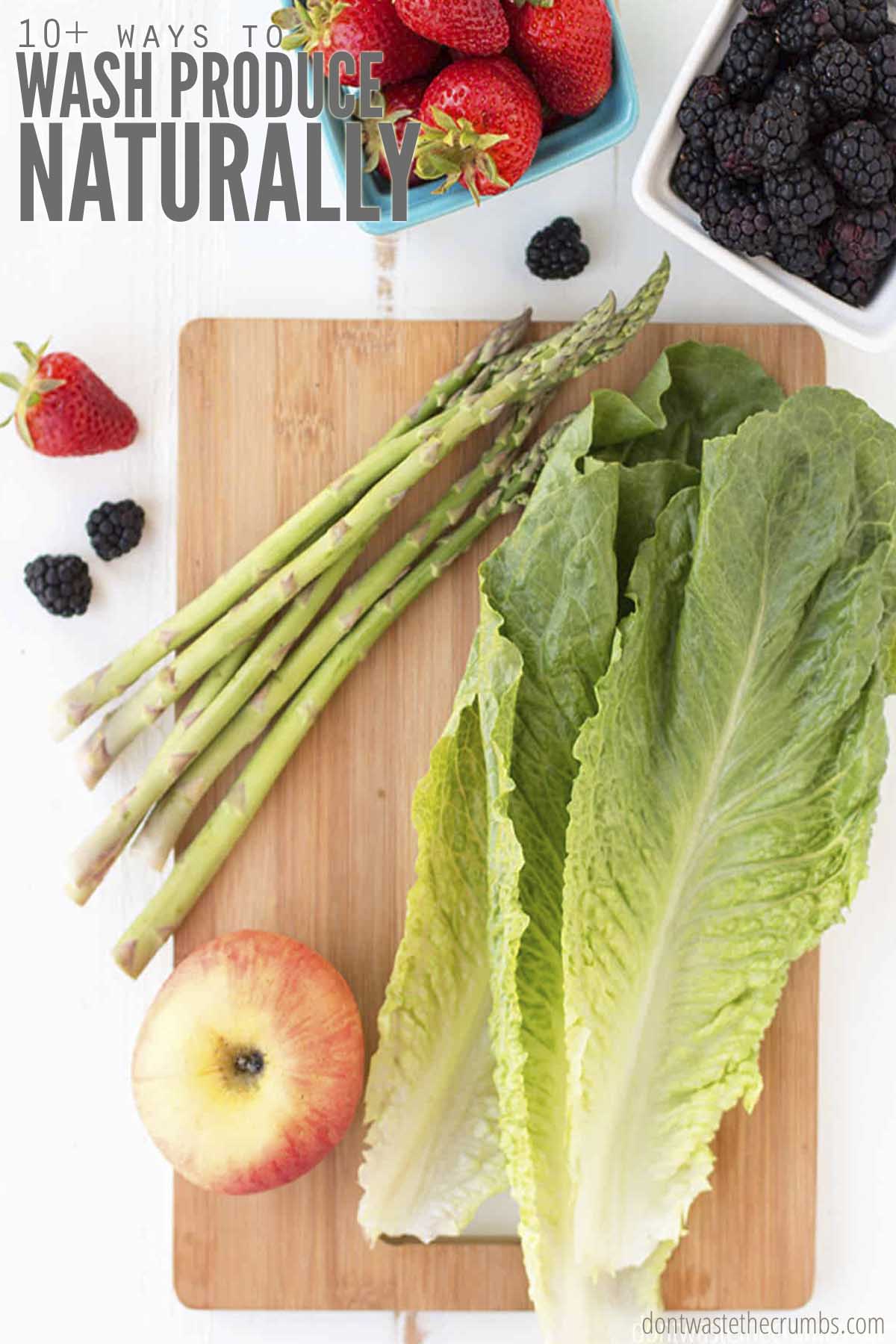 Warning: If you haven't seen strawberries yet this season (or made a batch of Easy No-Cook Strawberry Jam), they're coming!
And this post is the early sign we all need to get our ducks in a row when it comes to washing our fruits and vegetables. Have you seen the price of store-bought veggie wash? Way out of my budget!
HOMEMADE VEGETABLE WASH BENEFITS
Homemade vegetable wash will save you money, especially if you use ingredients you already have on hand. I know I have at least nine of these in my house right now!
And it's better for the environment too, because not only are you using more natural ingredients, but you're also saving on packaging by using things you already have around the house. That's a win-win!
Homemade vegetable washes are also better for your health. You won't be ingesting some of the questionable chemicals in commercial veggie washes, while still removing dirt and pesticides from your produce. Pesticides are sprayed on all commercial produce – yes, even organic – and since it's not a great idea to ingest pesticides if we can help it, let's talk about how we can clean our produce naturally!
Here are 11 homemade fruit and veggie wash recipes, each using ingredients you already have at home!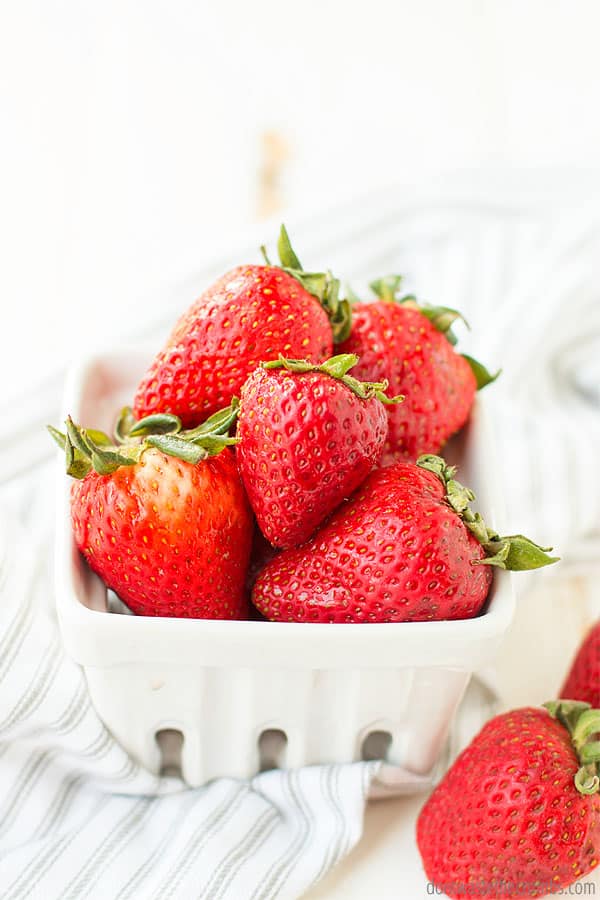 11 HOMEMADE FRUIT AND VEGETABLE WASH RECIPES
1. WATER
To restate what the University of Maine and the FDA advise, just use water. A soak and a good scrub, using a scrub brush like this one, will do the job.
2. WHITE VINEGAR
Washing vegetables with vinegar is one of the most popular methods, and for good reason. It's so easy!
Because almost every home has white vinegar, it is an excellent option for all sorts of cleaning purposes. (My husband isn't a fan of the smell, so I make citrus vinegar first, and then clean!)
To use white vinegar in a homemade produce wash:
Step 1. Combine 1 part vinegar to 3 parts room temperature water.
Step 2. Let the produce soak for 5-10 minutes.
Step 3. Scrub, rinse well, and set aside to dry.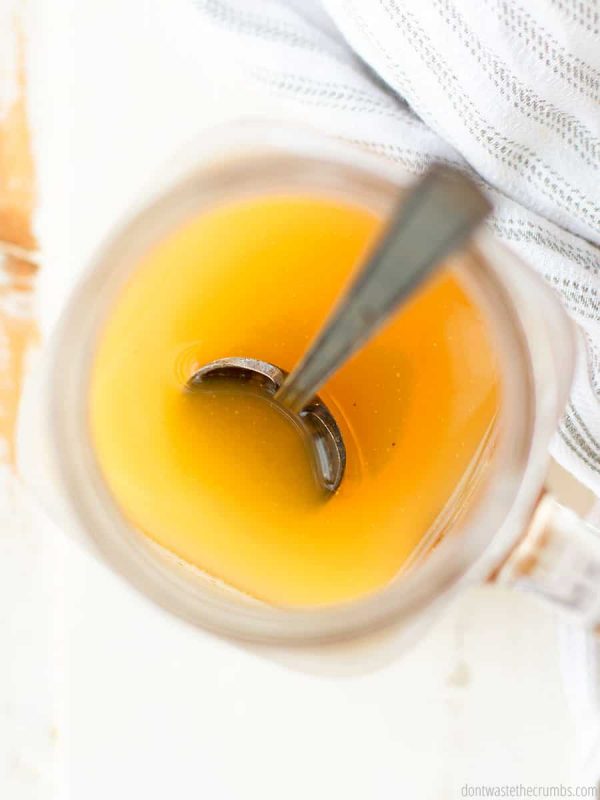 3. APPLE CIDER VINEGAR
If apple cider vinegar can detox the body, be used to condition your hair, and even remove moles, no wonder we use it to wash our produce. Apparently, though, I'm not the only one!
According to Dr. Oz, apple cider vinegar removes pesticides and bacteria more effectively. He recommends 1 part ACV to 10 parts water. Again, let the produce sit for about 5 minutes, scrub if necessary, rinse, and set aside to dry.
Ps… ACV typically costs more than white vinegar, so shop around for the best deal. The best price I've found online is at Amazon (just 15¢ per ounce, for organic ACV with the mother) BUT you can make your own ACV for even less if you aren't in a rush and have apple peels and cores on hand. Here's the easy tutorial.
4. LEMON JUICE
If you've tried using white vinegar or apple cider vinegar as a vegetable wash and noticed a slight aftertaste, try lemon juice instead.
For a lemon juice fruit and vegetable wash:
Step 1: Mix ½ cup freshly squeezed lemon juice with 2 cups water in a spray bottle.
Step 2: Spray onto fruit, and let the fruit sit for 3-5 minutes.
Step 3: Rinse.
Step 4: Air dry.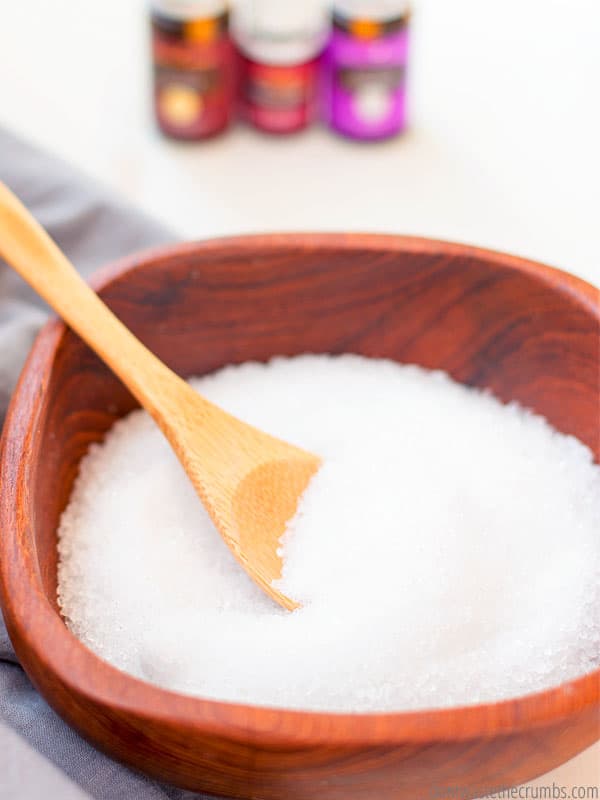 5. SALT
I would never have thought to use salt in a DIY produce wash, but this article claims that salt is a natural disinfectant that helps to eliminate pesticide residue!
To make a salt-based fruit and veggie wash:
Step 1. Measure 1 tsp salt for every 1 cup of water.
Step 2. Let the produce sit for about 2 minutes.
Step 3. Scrub.
Step 4. Rinse.
Step 5. Air dry.
6. BAKING SODA
Baking soda also works as a vegetable cleaner to remove pesticide residue.
To make a baking soda vegetable wash:
Step 1. Measure 1 tsp baking soda for every 2 cups of cold water.
Step 2. Submerge produce, and let soak for 12-15 minutes.
Step 3. Rinse.
Step 4. Air dry.
7. PEEL AND TRIM
Now this isn't exactly a vegetable wash, but if your concern is the pesticide residue on the outside of the produce, then peeling and trimming the produce can take care of that!
8. HYDROGEN PEROXIDE
This method was recommended to me by a reader, but upon further searching, it seems to be fairly popular!
Step 1. Combine 1 Tablespoon of 3% hydrogen peroxide to 1 gallon of water.
Step 2. Soak.
Step 3. Scrub.
Step 4. Rinse.
Step 5. Dry.
9. BLEACH
This isn't my top recommended method, for obvious reasons, but also because we use a Homemade Bleach Alternative instead of traditional bleach in the laundry – so I don't even have bleach in the house!
However, using bleach to sanitize produce (not just washing produce) is a common method in commercial produce production, and this guide from Oklahoma State University shares the FDA-approved guidelines for sanitizing produce with bleach.
Actually, using bleach to sanitize produce is especially common in countries where standards for food handling aren't necessarily the best and your chances of getting sick are high.
To sanitize produce using bleach:
Step 1. Mix 2 teaspoons with 1 gallon of water.
Step 2. Soak produce for 1-5 minutes.
Step 3. Rinse.
Step 4. Dry.
10. CITRUS ESSENTIAL OILS
Enzymes in citrus essential oils (orange, lemon, grapefruit, etc.) contain monoterpenes, which have the ability to dissolve petroleum-based substances. Since many pesticides are petroleum-based, citrus essential oils can remove them!
The catch though, is that oil and water don't mix. In order to use essential oils to wash produce, you have to combine them with castile soap.
P.S. I know there are a lot of essential oil companies out there and I've certainly tried my fair share of brands. After testing and researching and more testing, I've landed on Plant Therapy as being the best quality while still affordable. You can find Plant Therapy on Amazon.
11. CASTILE SOAP
To wash produce using castile soap and essential oils:
Step 1. Combine 1 teaspoon castile soap + 7 drops citrus essential oil + 1 gallon of water.
Step 2. Soak.
Step 3. Scrub if necessary.
Step 4. Rinse.
Step 5. Dry.
You can also use castile soap without essential oils as an effective produce wash as well. Use the same ratio as above, just omit the essential oils!
If you go this route, the best deal I've found on castile soap is also through Amazon, for just 22¢ per ounce.
FRUIT AND VEGETABLE WASHING TIPS FOR CLEAN PRODUCE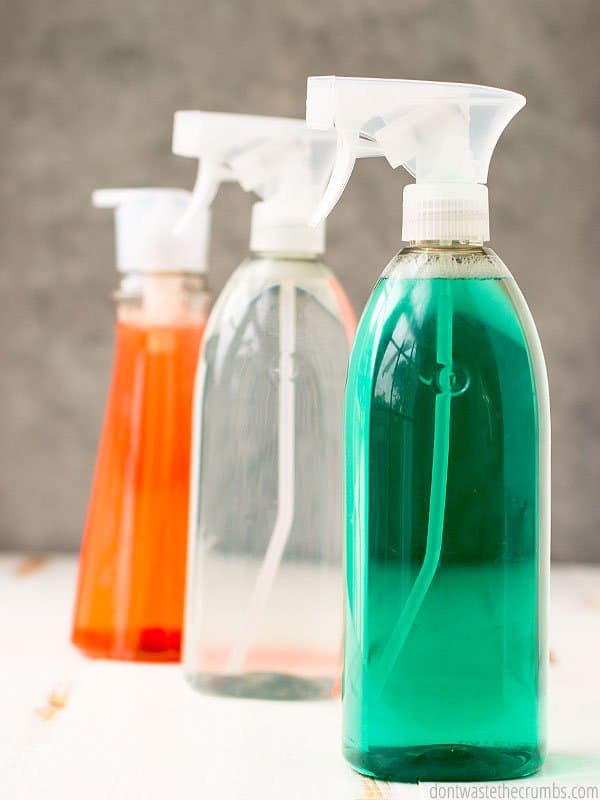 OTHER VEGGIE WASH CONSIDERATIONS
VEGETABLE WASH FAQS
Is Vegetable Wash necessary?
The Food and Drug Administration (FDA) advises against using commercial vegetable washes because the safety of their residues has not been evaluated and their effectiveness has not been tested or standardized. The FDA also recommends washing produce in cold tap water.
So with all that said, check out my list on how we can wash our produce as best as we can, using ingredients we already have!
Does vinegar kill bacteria on fruits and vegetables?
Cleaning your fruits and veggies with vinegar ABSOLUTELY helps kill bacteria, making it safe to eat. If you're not a fan of the smell, try my citrus-infused vinegar.
Which vinegar is best for cleaning vegetables?
How can I make my produce last longer?
Choose produce that isn't bruised or damaged. When you use a vegetable wash, make sure your produce is fully dry before storing it to help it last longer.
TO SERVE AFTER VEGGIE WASH
Now that we have covered how to wash fruits and vegetables in the most natural ways, I want to give you some veggie-filled recipes that I know you'll love:
MORE DIY RECIPES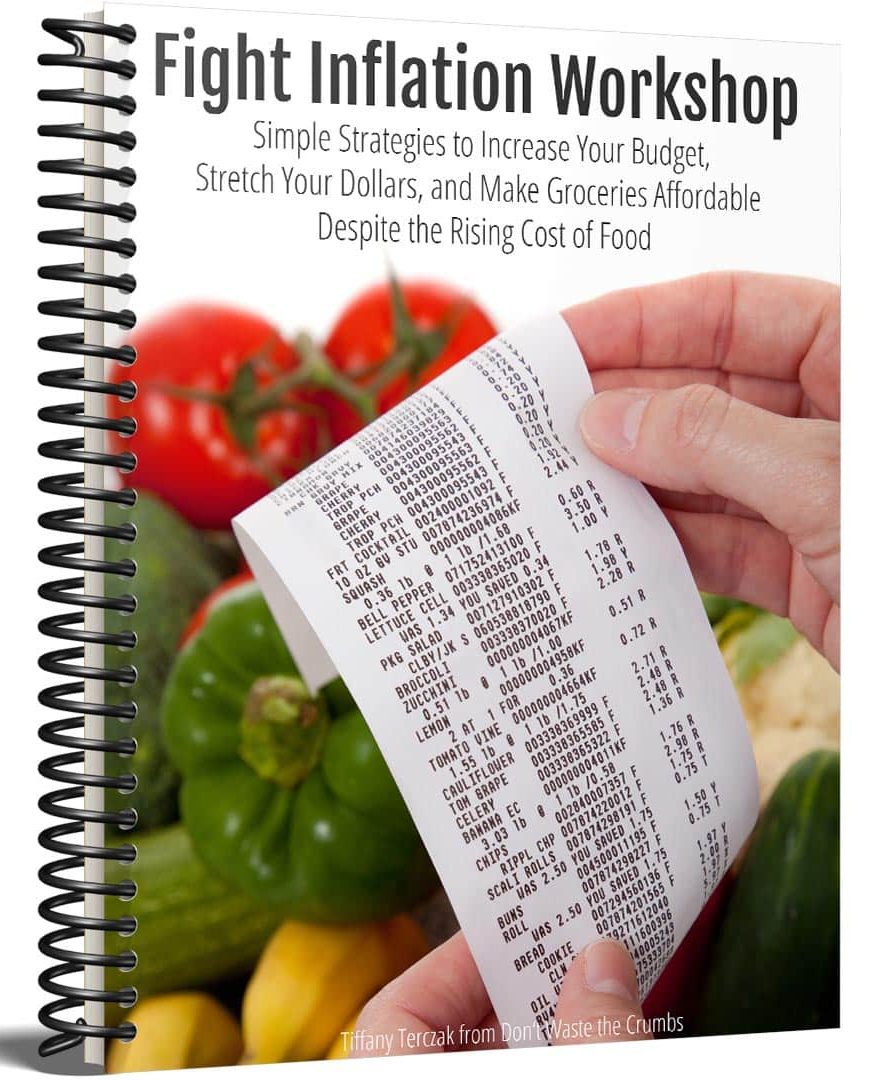 Fight Inflation Workshop
Sign up for my FREE
Fight Inflation Workshop
and learn simple strategies to save money, even with rising food costs!