This roasted vegetable salad with kale is flexible, naturally vegetarian & vegan. It's delicious with root veggies, carrots, quinoa, and a creamy Asian dressing!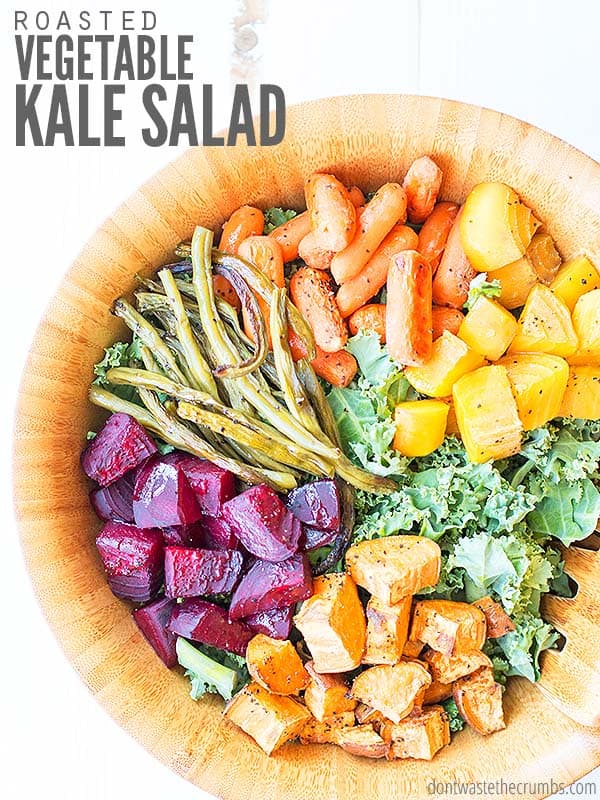 My husband doesn't think a salad can qualify as a main meal, but I'm determined to prove him wrong.
I spent a whole summer trying new salad recipes (like Cobb pasta salad and chicken southwest salad) to see which would earn two thumbs up, or which would get tossed…
And this roasted vegetable salad with kale was a huge winner!
I know what you're probably thinking… "My husband will NEVER eat kale."
That's what I thought too until I made this salad and LET ME TELL YOU THIS:
Not only did he eat it, but we went back for more AND had it the next day for lunch!
Roasted Vegetable Salad Recipe
Let's talk about the amazingness of this roasted vegetable salad:
Use whatever vegetables you have on hand, or whatever is in season, or whatever came in your CSA box that you have no idea what to do with.
Use the leftovers! When you find random leftover veggies in the fridge, use them up here! A quick roast in the oven will bring them back to life. Speaking of oven…
Sheet Pan!! Sheet pan dinners are the busy mom's saving grace and it's another reason why I love this meal.
Make-Ahead. If that dinner prep hour is just not working in this season of life, enjoy the fact that this can be made ahead earlier in the day (or week!)
Filled with antioxidants! Kale (which is rich in antioxidants) is the base of this salad. Your family will gain the health benefits of antioxidants like beta-carotene and vitamin C.
Serve Hot or Cold. Both ways work, so decide on what you're in the mood for and let's get cooking!
Ingredients for Roasted Veggie Salad with Kale
As if LEFTOVERS and MAKE-AHEAD and SHEET PAN haven't already won you over, let this list of ingredients speak for itself.
Kale. That weird green vegetable we should eat more of but can't seem to like? We're going there.
Carrots. A must in our book, but only because we ALWAYS have them in the fridge.
Potatoes. I chose sweet potatoes, but you could go white. You do you.
Beets. Gold (yellow) beets are milder in flavor versus red beets. If you've never cooked beets for your family before, this is a great recipe to try!
Green Beans. Because you gotta have something green!
Sesame Ginger Dressing. HELLO YUM!
I mentioned earlier that this roasted vegetable salad is FLEXIBLE, and I mean it. Use whatever vegetables you have on hand, or whatever is in season.
I've made this salad with a variety of vegetables, including:
Parsnips
Turnips
Rutabaga
Broccoli
Cauliflower
Zucchini
Summer Squash
You can even add diced avocado or shredded Parmesan at the end too. YUM!
Just change the roasting time depending on what you're using!
How to Make Massaged Kale Salad with Roasted Vegetables
This recipe isn't hard by any means, but I have one trick that makes this recipe a winner, every time: Massage the kale.
All kale is naturally bitter, so while the vegetables are roasting, put the kale in a big bowl and add 1 teaspoon (or so) of olive oil. Use your hands to massage the oil into the kale for a good 2-3 minutes. This will help soften the flavor of the kale, as well as physically make the kale easier to eat.
Choosing the Kale Salad Dressing
We all know the best part of a salad is the dressing, and this recipe is no different.
I highly recommend making either sesame ginger dressing OR Thai peanut dressing to drizzle over your kale salad.
Both are thick, packed with flavor, and help to mask any weird vibe coming from kale or any other vegetable you chose to add to the meal.
Can I make this a kale quinoa salad?
Of course! If you want to add some leftover quinoa to clean out the fridge or if you just need an excuse to make my one-minute Instant Pot quinoa, definitely add it in here. Those little nuggets of deliciousness will nestle themselves among the kale leaves nicely.
Other Main Meal Salads
Roasted Vegetable Kale Salad
This roasted vegetable kale salad is flexible, naturally vegetarian & vegan. Delicious with root veggies, carrots, quinoa, and a creamy Asian dressing!
Author: Tiffany
Prep Time:

15 mins

Cook Time:

30 mins

Total Time:

45 mins

Yield: Serves

6

-

8

.

1

x
Category:

Soup & Salad

Method:

Oven Roast

Cuisine:

American
1

–

3

Tbsp olive oil

6

–

8

cups raw vegetables (your choice of carrots, broccoli, green beans, potatoes, sweet potatoes, beets, parsnips, turnips, etc.)

4 cups

kale, washed and dried well

½ tsp

salt

½ tsp

pepper
One batch of Sesame Ginger Dressing
Instructions
Preheat the oven to 400F.
Spread the raw vegetables (not the kale) on a baking sheet (I love this half sheet set) in a single layer. Drizzle with 1-2 Tbsp of olive oil and use your hands to mix up the vegetables so that they're all coated with oil. Season with salt and pepper.
Roast in the oven until they're cooked through and charred, but not burned. This could be anywhere from 15 minutes to 45 minutes, depending on the vegetables you chose.
Meanwhile, place the kale in a large bowl and drizzle 1-2 teaspoons of olive oil over the leaves. Use your hands to massage the oil into the kale for 2-3 minutes. Set aside until the vegetables have finished roasting.
Make a batch of Sesame Ginger Dressing: Add ¼ cup almond butter, 3 Tbsp soy sauce, 2 Tbsp lime juice, 2 Tbsp sesame oil, 2 Tbsp maple syrup, 2 tsp granulated ginger, ¼ tsp red pepper flakes, and 1/8 tsp salt (optional), to a blender or food processor. Process for 30 seconds to one minute, until the sauce is smooth.
When the vegetables are roasted, add them to the kale. Just before serving, drizzle the dressing over and toss the salad.