An incredibly delicious Sweet Kale Salad Recipe with cranberries, almonds, & a creamy homemade greek yogurt dressing. Healthier than Costco's bagged salad, and super easy to make! You can even use homemade dried cranberries and homemade greek yogurt.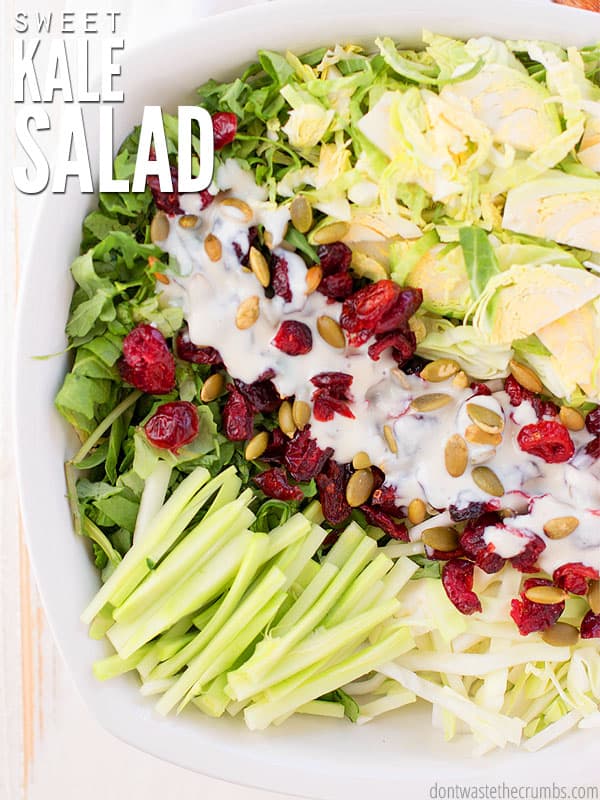 Have you ever had a bagged salad that was just SO good, you couldn't help but keep buying it? I used to do this with the Sweet Kale Salad from Costco. I normally don't buy bagged salad (because of the unhealthy dressing ingredients), but I caved with this kale salad.
It was great as leftovers, like my winter wedge salad is too. But it was not great on my wallet. One of the most practical ways to save money on groceries is by NOT purchasing items for convenience.
I wanted to include an kale salad recipe in our monthly meal plan because it was so good and healthy, so I did what any food blogger would do and learned how to make the kale salad recipe myself!
Why Make this Sweet Kale Salad
This kale salad recipe is the perfect addition to lunch or dinner for various reasons:
Fast.
Make-ahead. The flavors come together even more with some time.
Picky eater approved.
Flavorful.
Healthy. This salad is jam-packed with healthy, superfood ingredients! Kale is rich in antioxidants.
Ingredients for Sweet Kale Salad Recipe
After a few months of testing, I came up with a great recipe for sweet kale salad. I also created a dressing that is out of this world. The whole recipe, dare I say, is BETTER than the bagged version at Costco!
Let's talk about the kale salad ingredients:
Kale. The star of the show! Both baby and curly kale leaves are good but chop the kale finely.
Cabbage. Thinly sliced.
Brussel Sprouts. Thinly sliced.
Broccoli. We're not using the florets in this recipe – we're using the stems. It's a great way to avoid food waste.
Dressing. This can be made with ingredients you normally have on hand: oil, lemon juice, greek yogurt, apple cider vinegar, maple syrup, and salt and pepper.
How to Make Sweet Kale Salad
Making kale salad is as easy as 1, 2, 3!
Chop ingredients & make the dressing.
Mix ingredients and dressing together.
Let sit, and enjoy!
Tips for making the perfect kale salad recipe
Chop the bunch of kale, cabbage, and Brussels sprouts finely!
It makes a huge difference if these ingredients are chopped finely, even smaller than bite-sized pieces. For the Brussels Sprouts:
Chop off the bottom of the sprout, where it attaches to the stalk. Cut the sprout in half, lengthwise. Place the sprout on the cutting board, cut-side down. Slice it thin, starting at one end and working your way to the other. Repeat with the other half.
For the Broccoli, you'll want to julienne the stems, and here's how you do that:
Cut the crown of the broccoli off the stem so that you have one big stem (i.e. not one big stem with small stems shooting off of it). Then, cut off the very bottom of the stem, where it attaches to the plant. Cut the stem into 1-1 ½" pieces. Stand one piece on its end and, working from one end to the other, slice the stem into thin pieces. Take about half of the pieces and stack them on each other so that a flat piece is on the cutting board and a round piece is on top. Slice the stem lengthwise again. Repeat with the remaining pieces of broccoli.
Make before prepping a meal.
You'll want to make this sweet kale salad recipe before you make anything else for dinner. It's amazing what an extra 15 minutes can do to the flavors.
Another option is to make it earlier in the day, or even the day before. Whatever is easier for you!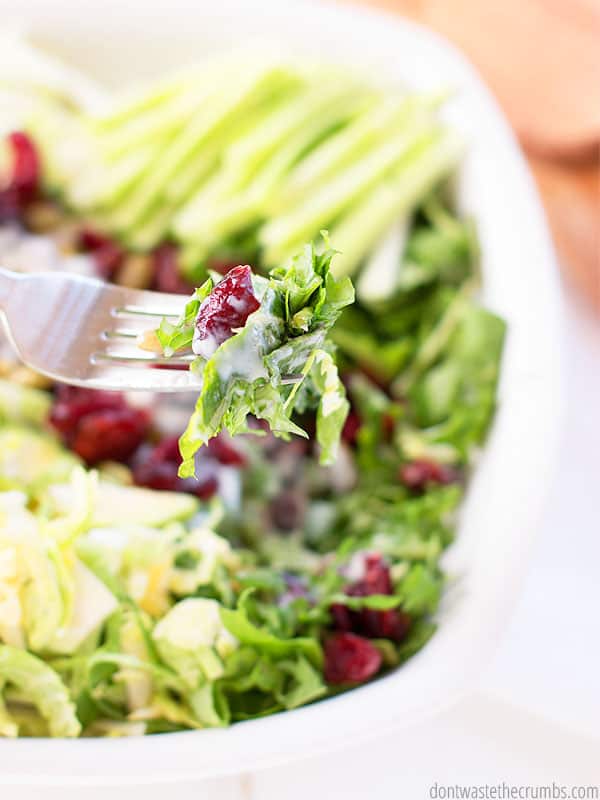 More Delicious Salad Recipes
Dinner on a Dime
Subscribe to my newsletter and get instant access to "Dinner on a Dime": 15+ family-friendly and kid-approved recipes that are quick, cheap and healthy!
Sweet Kale Salad (Costco copycat)
An incredibly delicious recipe for sweet kale salad with cranberries, almonds, & a creamy homemade greek yogurt dressing. Healthier than Costco's bagged salad!
Author: Tiffany
Prep Time:

15 mins

Total Time:

15 minutes

Yield: Serves

4

1

x
Category:

Salad

Method:

Bowl

Cuisine:

American
8 oz

Brussels sprouts, sliced thin

4 cups

kale, loosely packed and then finely chopped

1 cup

julienned broccoli stems (from about

2

heads of broccoli)

2 cups

thinly sliced cabbage (from about

1/4

head)

1/2 cup

dried cranberries (how to make your own dried cranberries)

1/4 cup

pepitas or sunflower seeds or chopped almonds*

1/2 cup

Greek yogurt (how to make homemade Greek yogurt)

1 Tbsp

olive oil

1 Tbsp

lemon juice

3 Tbsp

apple cider vinegar (how to make homemade apple cider vinegar)

1 Tbsp

maple syrup or honey (I preferred the taste of maple syrup)

1/8 tsp

salt
Instructions
Place all chopped vegetables, dried cranberries and the seeds/nuts in a very large bowl.
Combine the remaining ingredients in a small bowl and whisk together until the dressing is smooth and creamy.
Add the dressing to the vegetables and toss thoroughly so that everything is coated well.
Ideally, let the salad sit for an hour for the flavors to develop. Or you can serve immediately.
Notes
*The bagged salad from Costco came with pepitas, but sunflower seeds are a less expensive alternative. I've also made this salad with chopped almonds when I ran out of pepitas and thought that version was even better!