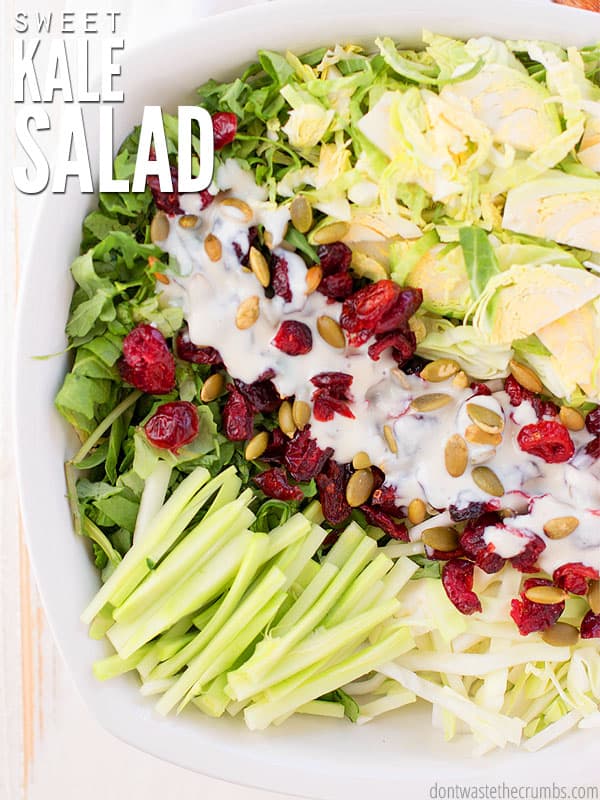 Not too long ago, as I was doing my regular Costco shopping, a bagged sweet kale salad recipe caught my eye.
Now, I normally don't buy bagged salad (because of the unhealthy dressing ingredients), but it was one of those "well I wonder if it's REALLY as bad as I think it is" moments, so I turned the bag over and read the ingredients.
After standing way too long in the refrigerated section and probably looking like a goober putting the bag back and then picking it up again (and again), I finally caved, stuck the bag in my cart and walked away.
Surely I'm not the only one who has done that before, right?
Anyway, we had the bagged sweet kale salad recipe for dinner the next night and it was a hit! The whole family ate it and oddly enough, the salad got better the longer it sat. The leftovers for lunch the next day were awesome! The only other salad that is great as leftovers is my winter wedge salad. But even then you have to package the toppings separate.
The sweet kale salad though? All mixed up – dressing and everything – is is SO GOOD as leftovers!
Here's the catch though: one of the most practical ways to save money on groceries includes NOT buying things for convenience. Which I totally did when I bought that bagged sweet kale salad.
So the next time I was in Costco, in order to save money (knowing I'd be tempted because that salad was so good!), I didn't go into the bagged salad section at all.
I walked in, got my bag of plain spinach or plain baby kale for my daily green maca smoothie, purposely LOOKED AWAY from the bagged salads and got out of the refrigerated section ASAP, lest I have a repeat of the previous pick-up-put-down incident.
But that kale salad recipe was really good, and it was such a shame to not include something so good and so healthy on our monthly meal plan, just because it came pre-packaged!
So I did what any food blogger would do and learned how to make the kale salad recipe myself!
Sweet Kale Salad Recipe
I'll admit – the salad ingredients were pretty easy to figure out. All I had to do was look at the back of the bag!
The dressing though, now that was tricky. And if I'm completely honest, I always make a change to the salad dressing that comes in the bag anyway. It was never quite enough to coat the ingredients like it should.
So after a few months of testing, I finally came up with a version of both the sweet kale salad recipe AND a dressing that are out of this world. And dare I say, BETTER than the bagged version at Costco?
Let's talk about the salad ingredients. We have four major players:
Kale
If the name of the recipe didn't give it away, this is the star of the show. I've tested baby kale and curly kale and they're both equally as good. They key to this salad though, is to chop the kale finely, regardless of the type you choose. Do NOT put in big pieces of kale and assume they'll wilt after the salad is topped with dressing. They won't.
This salad passed my picky eater test, but chopping the kale finely is vital to avoiding a mouth full of kale.
Cabbage
My husband and I used to both hate raw cabbage, but this salad changed our minds. The key to making it taste good is very similar to method used to make kale taste good: slice it very thin.
The thinner the better in my opinion, but you don't have to get nit picky about it. Just aim for thin, not thick. If you're not sure if you've sliced it thin enough, run your chef's knife over the cabbage so it's roughly chopped too.
Brussels Sprouts
If you aren't a big fan of Brussels sprouts unless they're alongside bacon, I promise you this sweet kale salad recipe will change your mind.
Like the cabbage, you'll want to slice the Brussels sprouts thin. This might sound hard because they're small and round, but here's how you can do that quickly:
Chop off the bottom of the sprout, where it attaches to the stalk.
Cut the sprout in half, lengthwise.
Place the sprout on the cutting board, cut-side down.
Slice it thin, starting at one end and working your way to the other.
Repeat with the other half.
Broccoli
Broccoli is usually know for its likeness to "little green trees," but we're not using the florets in this recipe – we're using the stems. It's a great way to avoid food waste, but really, the broccoli stems add so much flavor to the salad!
You'll want to julienne the stems, and here's how you do that:
Cut the crown of the broccoli off the stem so that you have one big stem (i.e. not one big stem with small stems shooting off of it).
Then, cut off the very bottom of the stem, where it attaches to the plant.
Cut the stem into 1-1 ½" pieces.
Stand one piece on its end and working from one end to the other, slice the stem into thin pieces.
Take about half of the pieces and stack them on each other so that a flat piece is on the cutting board and a round piece is on top. Slice the stem lengthwise again.
Repeat with the remaining pieces of broccoli.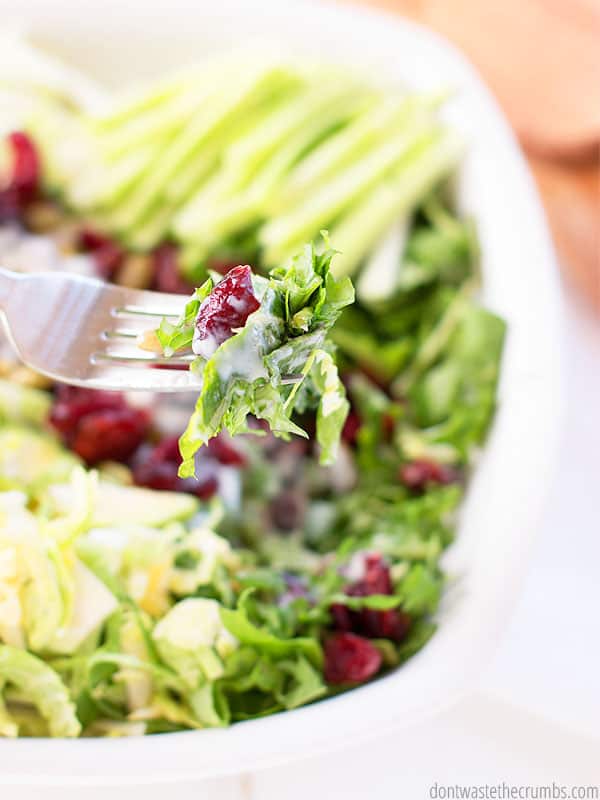 Finally, let's talk about the dressing. The dressing that came in the bagged sweet kale salad recipe was a "Lemon Poppyseed Dressing."
But here's the thing. I didn't taste the lemon. And do poppyseeds even have a taste?
This dressing is REALLY similar to the one that came in the package, except it can be made with ingredients you normally have on hand.
If you happen to have poppyseeds on hand, feel free to add them. But definitely do not make a trip for them just for this recipe because they're not needed!
And I mentioned this earlier, but this salad makes EXCELLENT leftovers thanks to the sturdy vegetables. Plus somehow the flavors really do get better with age.
With that said, you'll want to make this sweet kale salad recipe before you make anything else for dinner. It's amazing what an extra 15 minutes can do to the flavors.
Another option is to make it earlier in the day, or even the day before. Whatever is easier for you!
Planning quick meals like this one is one of my key points in this free course on Getting Dinner on the Table FAST. Plus going with a meatless main course, like a salad, helps keep the grocery budget in check! 

Sweet Kale Salad (Costco copycat)
Instructions
Place all chopped vegetables, dried cranberries and the seeds/nuts in a very large bowl.
Combine the remaining ingredients in a small bowl and whisk together until the dressing is smooth and creamy.
Add the dressing to the vegetables and toss thoroughly so that everything is coated well.
Ideally, let the salad sit for an hour for the flavors to develop. Or you can serve immediately.
Notes
* The bagged salad from Costco came with pepitas, but sunflower seeds are a less expensive alternative. I've also made this salad with chopped almonds when I ran out of pepitas and thought that version was even better!
Have you ever bought a bagged salad recipe that you loved? Which one was it and where did you get it from? Leave it in the comments!!