How we cut our monthly expenses by 50%. Here are the practical & simple tips that worked to save money and give me more time with the kids!
When my husband and I first got married, reducing our monthly expenses was not a priority.
We were newlyweds with two good-paying jobs. We bought what we wanted, when we wanted, including two new cars, a new house and nice things to fill the house.
And we also had a six-figure debt bill to match.
Two weeks after we moved into our new house, I took a test that passed with two pink lines. We were pregnant, and with the joys of expecting a baby came the realization that I wanted to stay at home after the baby was born.
Which in turn meant one good-paying job was going to disappear. Paychecks would drop drastically while the bills kept coming. Unless we made some extreme changes in our home, our debt level would continue to climb.
My husband and I sat down and talked about how we could live off his income alone AND pay off our debt. It boiled down to one daunting task: cutting our monthly expenses in half.
We were ruthless, leaving no bill or expense unturned. In the end, we found a way to cut our monthly expenses in half AND start setting aside money towards an emergency fund.
Here's how we did it and how you can possibly cut your monthly expenses in half too.
How We Cut Our Monthly Expenses in Half
1. Examine the Current Monthly Expenses
First and foremost, see where your money is going. If you don't know what you are spending your money on, you won't know where to cut expenses.
Leave no stone unturned, no purchase unaccounted for. Print off bank statements, credit card statements, dig up receipts, old bills, even open the checkbook you may rarely use – whatever you can get your hands on. Use it all to help you write down every single thing you're responsible for every month.
Just being aware of what your current monthly expenses are is a huge step, and all of these line items are essentially now items in your household budget.
Related: Stop Living Paycheck to Paycheck – The Household Budget
2. Cut the Obvious Monthly Expenses
Once you know where your money is going, it's time to start cutting – starting with the monthly expenses that are not needed.
For us, some of these monthly expenses were in areas we grossly overspent, like dining out and groceries.
Dining out went from $600 to just $80 each month. Everything food-related that was not part of our monthly grocery shopping trip came out of this, but we were still able to have weekly date nights (splitting fajitas and savoring free chips and salsa) and sharing a cup of coffee together a couple of times each month.
The grocery budget – which didn't exist really – became fixed at $400. Shopping once a month and planning our meals helped us when we initially created our grocery budget.
In this process of writing down our monthly expenses, we realized that we were paying for two separate cell phones. What made this just plain silly was that we were with Verizon Wireless back then (before we switched to Republic Wireless) and any minutes you used to call "friends and family" were free. And guess where the majority of our minutes were going? To each other!
We combined the accounts into one, made sure that our calls to each other didn't count towards our monthly minutes, and then took an average of how many minutes we used each month. That total came out to be less than the lowest plan available and switching to that plan saved us $90.
We knew that cable wasn't necessary, but it was a small token of entertainment that we enjoyed. But to keep it, we had to reduce the cost.
After shopping around for better prices, we switched from the cable company to satellite service AND reduced the plan to the bare minimum. This saved us another $50 each month. (We ended up canceling satellite service altogether about a year later.)
What type of monthly expenses are you paying for that simply aren't needed?
Old memberships that you no longer need or use?
House cleaning or dry cleaning for anything other than what's absolutely a must?
Clothing/Gifts/"Miscellaneous" Items
Review your monthly expenses line by line and ask whether or not it's needed, and cut it if the answer is no!
Related: 3 Tips to Reduce the Cost of Eating Out/5 Ways to Save Big on Electricity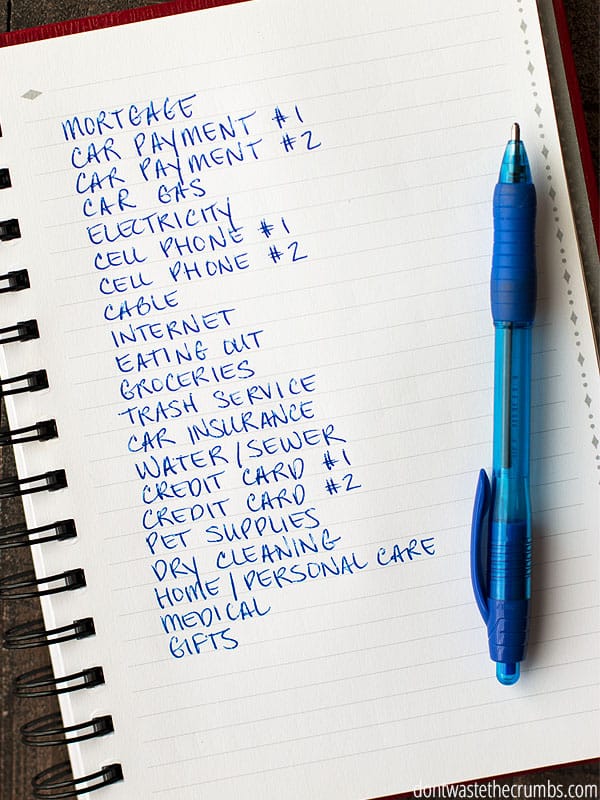 3. Cut Even More Monthly Expenses
We had made some serious progress at this point. Just about any family would be cheering to "find" an extra $1000 each month! But for our goal of being able to live on just my husband's income, it wasn't enough.
We had to cut our monthly expenses even more, and we had to get creative.
One of the ideas we had was to trade in our cars. It might sound counter-intuitive to do this, but it meant lower monthly payments – which was the short term goal. Just by trading in our two cars, we saved $380 each month.
Another reason for trading our cars though was to choose models that were more efficient with gas. We also determined exactly how much gas my husband needed to go to and from work for the month AND the amount of gas needed for the family car each month for typical errands and such. Then we "fixed" the gas budget at $100 for the month, saving at least $50.
Since we needed the internet for a small business I was running at the time, we couldn't cancel it. But since we didn't stream anything or watch movies, we could lower the speed without effecting what we needed the internet for.
I noticed that some of our neighbors had smaller trash cans, and since we weren't making that much trash with just the two of us, I called the waste management company and asked if we could have a smaller trash can.
I learned that not only did the smaller trash cans cost less each month, but that a recycle bin was free. This meant we could increase our recycling each month AND lower our trash. This saved us $20!
Here are a few other ideas that might help you think of creative ways to save money:
Once you save enough in an emergency fund, increase the deductible of car insurance to lower the premium.
Contact your energy provider and see if they have plans that allow you to pay a bill each month that's equal to the average bill over the past year. This didn't lower the bill, but it helped to make it consistent each month.
Although controversial for many (and a very hard decision for us to make), we found a new loving home for one of our pets. He was a puppy (8 weeks old) destined to be a very big dog, and the money needed every month to care for him just wasn't there. We found him a new home with a family who lived on a farm – who happened to be a co-worker!
In the end, all of these changes helped us reach our goal. We cut our monthly expenses by 50% and we were able to live off of just my husband's income!
Related: 9 Creative Ways to Save on Water/How to Save 15% on Water with a DIY Water Displacement System
The Biggest Hurdle to cutting monthly expenses
It's important to realize that the biggest hurdle we had to overcome wasn't number-related. It was our mindset.
We thought we "deserved" nice things because we made nice money. But we didn't really own any of it and felt chained to the bills that came in every month.
Once we wrapped our heads around the bigger goal, and getting over our egos, cutting our monthly expenses and living with the aftermath from that became easier.
Trading in a luxury SUV for a compact sedan was not glamorous.
It wasn't easy postponing errands or appointments because there wasn't enough gas.
To offer an inexpensive homemade gift in lieu of a more costly store-bought item was sometimes embarrassing.
But in the end, our sacrifice was worth it. In 2 1/2 years, we paid off our debt and saved enough for a small emergency fund!
5 days to save $75
Need to save money on real food? Download my free guide to saving $75 in 5 days using easy, practical baby steps.
What creative ways have you cut your monthly expenses?