These helpful tips and insights, like tracking your spending and meal planning, will help you learn how to stick to your grocery budget – month after month!
Have you ever worked your tail off to scrimp and save and pinch every penny possible to meet your grocery budget one month, only to go way over the next month?
I'll be honest – it's not easy to work within a grocery budget in the beginning. It can feel restrictive and you might even feel like you're missing out on some of your favorite things while the world around you is having their cake and eating it too… literally!
However, it does get easier after a few months – I promise!
Whether you're just starting out or if you've been grocery budgeting for a while, these tips on how to stick to your grocery budget will help you meet your budget early on, and help you continue to meet it – OR BEAT IT – month after month!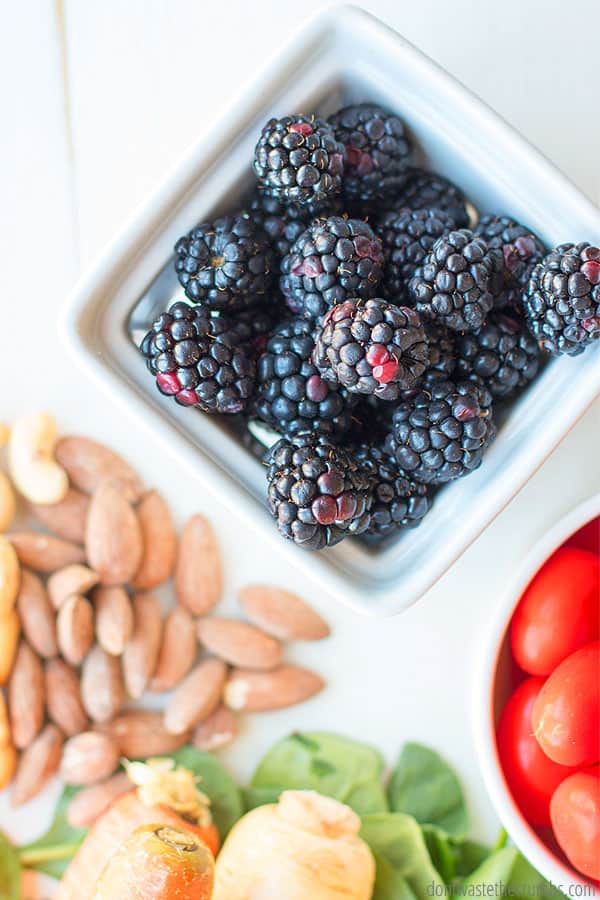 How to Stick to Your Grocery Budget
Shift Your Mindset
Instead of telling yourself that this is a one-month ordeal, know that this is a life-long endeavor.
Just like you won't suddenly lose weight and get healthy by eating one salad at lunch, you won't totally understand grocery budgeting and master it the first month you try.
However, you WILL get better with practice, so keep going! The longer you employ these tips and the more you consider your budget as part of your regular life, the more likely you are to meet it each month.
Create a Budget
This should be obvious, but you need a budget in order to MEET a budget!
I walk students through this process step-by-step in my course Grocery Budget Bootcamp, and we take into consideration things like where you live, the food you like to eat, and whether or not you have allergies before coming up with a number that fits each family.
If you're not in my course, you can use my "how much should I spend on food" article to get a baseline for how much you should spend.
You can also add up what you've been spending in the past six months and get a monthly average; then going forward, make it your goal to not go over that number. (And join the waitlist for my course here!)
Be Realistic About the Numbers
There are hundreds of articles on Pinterest touting how they "feed their family of 8 all organic food for just $82/week!"
Be realistic and definitely don't compare yourself to others.
If you don't have a garden and prefer to eat healthy, real food, odds are you won't spend mere pennies each week.
And if you have any food sensitivities or allergies, odds are even less.
Keep Track of Your Spending
Record what you spend, and where you spent it, each time you go shopping.
I created a Grocery Shopping Tracker for those in my Grocery Budget Bootcamp course, but you can use your planner as well. Just write down the store and the total on the day you went shopping.
Review Your Spending Every Week
At the end of every week, add up how much you've spent that week. If you're past the first week of the month, also add up what you've spent for the month so far.
Next, subtract your spending-to-date from your monthly grocery budget to see how much you have left. Write this number down too.
Then, review how much you have left and gauge how many days are left in the month. Ask yourself these questions and answer honestly:
Based on your current spending habits, will you make it?
Do you need to get creative with meals now, so that you what you have will work for the rest of the month?
Did you make any unnecessary trips?
Did you buy anything that was a "want" and not a "need?"
Don't be ashamed of your answers, and you can't change the past. Just be honest with yourself and adjust your spending habits going forward so you can meet your budget this month, as best as you can.
Hold Yourself Accountable
After you've crunched the numbers at the end of each week, share your numbers with your spouse and/or family so that everyone is on the same page.
Then, at the end of the month, have a family meeting. If the goal was met, celebrate! It if wasn't, determine where the money is going and how you can tighten the spending for next month.
(Note: I know it sometimes feels like there's nothing to eat in the house, despite having just gone to the store. That's why in my course Grocery Budget Bootcamp we have a lesson called "What Exactly Did You Buy?" where we determine EXACTLY where our money is going. It's a life-changing lesson for sure, and one of our students' favorites!)
Make a Meal Plan
My article on how to make a meal plan will walk you through the bare essentials, but we also have a meal planning lesson in Grocery Budget Bootcamp that's more in-depth.
Either way, meal plans can make or break your grocery budget. If you want to stick to your grocery budget, you must have a meal plan!
Reduce Food Waste
The average American family wastes up to 40% of the food they buy, so eating the food you already have AND reducing what you throw away could save you a big chunk of money each month.
Consider making chicken stock from kitchen scraps, apple cider vinegar from apple peels and cores, and re-using leftover items (like oatmeal) to make other foods (like chocolate oatmeal snack cake).
Think Outside the Box & Get Creative
Think outside the box for ways to save on things you didn't think you could, like 10 ways to save on coffee. Be willing to crunch numbers on things to see if canned beans are cheaper than dry beans.
Be Willing to Cook from Scratch
You don't necessarily have to make everything from scratch, but a willingness to make some things from scratch in order to save a few dollars will go a long way.
These are the best foods to make from scratch, meaning they're easy to make and can save a lot of money. If you're not sure what to make versus what to buy, I highly recommend starting with that list!
Postpone Shopping by One Day
This is a mental trick because most of us have enough food to get through one more day. In fact, when we did a no-spend challenge, we went 33 days without grocery shopping!
The idea here is to put off shopping by just one day. For example, instead of shopping tomorrow, plan on going shopping in two days. What meals can you make with what you have at home? How creative can you get?
If you know you can postpone shopping by one day, can you postpone shopping for two days? Give it a shot… rummage through the freezer and see what you can find. Will a homemade loaf of bread and a bag of frozen vegetables round out a meal?
Now, do you think you could go three days?
You get the point. Obviously, you'll have to shop at some point in time, but the longer you skip the shopping, the more money you're not spending – and the more money you're saving!
Know When to Cut Corners
If money is running low and there's a lot of days left in the month, consider cutting corners.
Little cheats like not added shredded cheese on top of a dish, stretching ground beef with minced vegetables or lentils, or even making no-yeast bread instead of biscuits to save the butter can all add up to savings each month.
I also use flaxseed or chia seed 'eggs' for baked goods to make regular eggs last longer, and save ALL fruit & vegetable scraps to make either smoothies or chicken stock.
Other Ways to Stick to Your Grocery Budget
There are other strategies to sticking to your grocery budget, like shopping less often in general, shopping the clearance section when you do go shopping, and eating from the pantry as often as possible. However, the strategies in this post should get you started on the right food without overwhelming you.
When you're ready, you can dig deeper into saving money on food with these posts:
Dinner on a Dime
Subscribe to my newsletter and get instant access to
"Dinner on a Dime"
: 15+ family-friendly and kid-approved recipes that are quick, cheap and healthy!