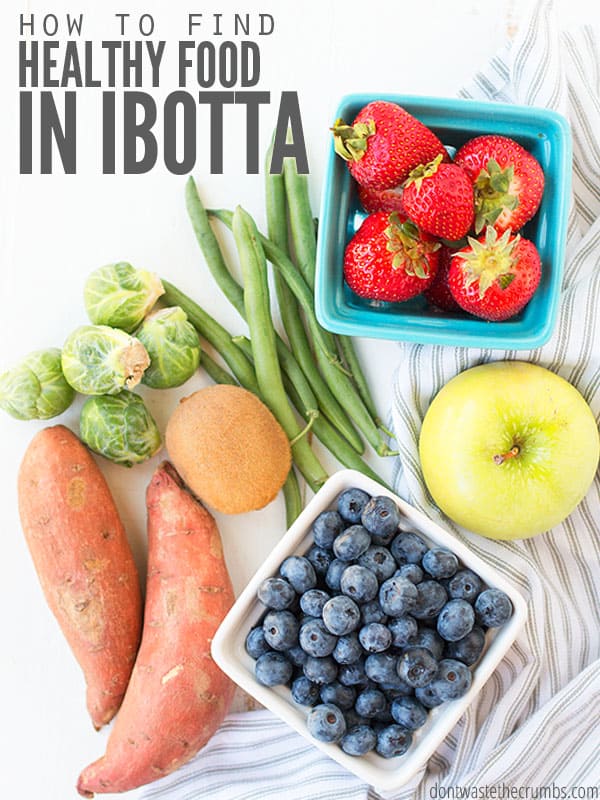 I don't keep it a secret that I quit using coupons years ago because there weren't many coupons for healthy foods back then (and because it took WAY too much time).
I still don't use coupons (unless Kroger sends them to me), but manufacturers have caught on that there are a lot of people are trying to save money AND eat healthier too.
So instead of coupons, I use just one app that has consistently saved me TONS of money on healthy food: Ibotta.
I've never thought twice about saving money on healthy food with Ibotta. Given my extreme couponing background, I know how to weed out the stuff I'm NOT looking for (i.e. rebates on junk food) in order to find rebates on the foods I AM looking for (i.e. real food).
That's why I shared my honest review about Ibotta – I wanted you guys to save money too!
And when I get excited that I've found a good deal, I like to share with you guys (since y'all are on a budget too!). However, when I shared on Facebook how to maximize your savings and even MAKE money with Ibotta, a lovely reader countered me, saying:
"Ibotta isn't worth it for me-I keep trying but my diet is so allergy free and whole food based that it's not worth it for me."
I was truly shocked! I've used Ibotta on a real food diet, I use it now that we eat more Paleo-ish AND I used Ibotta back when we did the Whole30 and that's one of the most restrictive diets there is!
So I figured one (or more) of these three things were possible.
1. She might not have used Ibotta recently.
If this is the case, I agree with her opinion.
Ibotta (a free rebate app) didn't have many health food rebates a really long time ago. However, they've added TONS of healthy food rebates in the past several months – so many, that it's nearly impossible to go shopping without redeeming at least a rebate or two.
2. She might not know how to find rebates for healthy food in Ibotta.
If you haven't used Ibotta much, it will seem like a hassle to scroll and scroll (and scroll some more) through rebates until you see one that might work for you. At first glance, it's not worth your time spent searching just to save a measly 25¢.
But because I use Ibotta every week, it's given me plenty of opportunities to learn how to quickly find all the healthy food rebates in just a few minutes.
3. Both.
Simply put, she might not have used Ibotta recently to know that there are plenty of whole food rebates available, AND she might not know how to use Ibotta effectively.
Odds are that she's not the only one either.
Since there really are only few ways to save money on real food (outside of learning the tried-and-true system I teach in Grocery Budget Bootcamp, that is), I'm sharing today both how to use Ibotta quickly and efficiently, and how to find all the deals on the healthy food that YOU buy.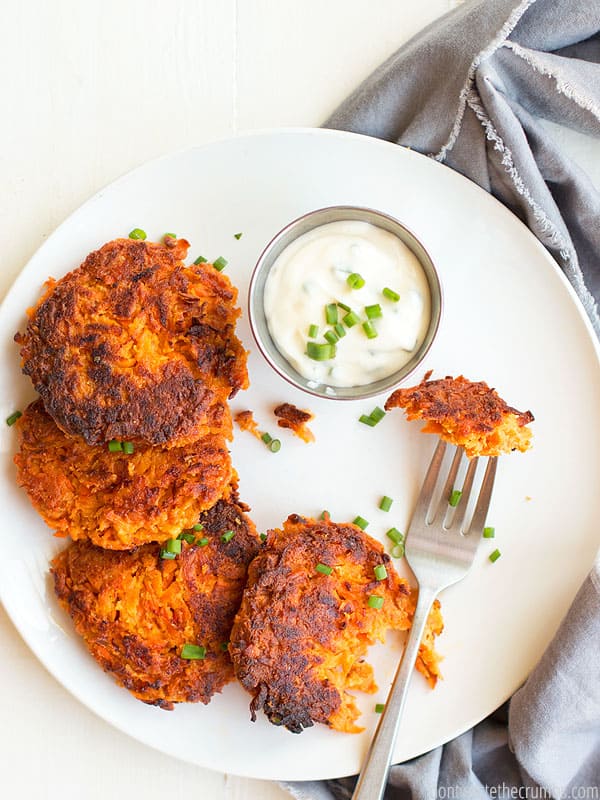 Before you can use Ibotta quickly and find healthy food in Ibotta, you need to sign up for a FREE account! Here's how it works:
Download the Ibotta app for free. Click HERE to do that (it works whether you're on the computer or on your smart phone).
Open the app and browse through the available rebates, unlocking any rebates for things you were going to buy anyway. (You unlock the rebate by tapping the plus sign – keep reading for the quickest way to find the best rebates!)
Shop at the store like you normally would.
Upload your receipts.
Get paid.
How to Use Ibotta Effectively
When you first log into Ibotta, you're going to see a list of "Recommended Retailers". This list is based on your browsing history, so if you check Kroger or Walmart or Target often, you'll likely see those listed first.
→ Choose the ONE store you shop at most often.
The next screen you'll see will have a menu of sorts near the top of the page. You should see categories like ALL, FOR YOU, WHAT'S HOT, NEW OFFERS…
If you swipe to the left, you'll start to see more specific categories like FROZEN, DAIRY & EGGS, BREAKFAST, BEVERAGES, etc.
→ Any time you're in Ibotta, look for rebates ONLY on the specific categories.
The broad categories like ALL, FOR YOUR, WHAT'S HOT, etc. contain rebates from all of the specific categories – even the ones that you don't need.
For example, we don't have any pets and I don't buy any beauty or personal care items from local stores (I buy those things from Young Living). When I'm looking for rebates on Ibotta, I completely ignore both the PETS category and the BEAUTY & PERSONAL CARE categories.
→ Don't look in the categories that don't apply to you.
In additional to the PETS and BEAUTY & PERSONAL CARE categories, I don't look at these either:
CANDY & SWEETS
BEER & CIDER
SPIRITS
WINE
HOUSEHOLD
KIDS & BABY
FLAVORED ALCOHOLIC BEVERAGES
HEALTH & WELLNESS
Looking at the categories that don't apply to me is a huge waste of time. If I focus my efforts ONLY on the categories that contain things I actually buy, of the 22 specific categories listed, I only look in 8. That's less than half!! That right there cuts down my time spent looking for healthy food in Ibotta DRASTICALLY.
Once I'm done looking through the store I shop at most often, I make sure I'm not missing anything from the OTHER store I shop at most often.
→ Look at ONE other store you shop at frequently.
Anytime you add a rebate to your list, that rebate is added for all the other stores offering that rebate as well.
For example, if I add a strawberry rebate under Kroger and the same strawberry rebate is available under Walmart, then when I go look under Walmart, it will already have the blue checkmark and will be added to my list.
The point of checking one other store you shop at frequently is to make sure that you're not missing any healthy foods you are going to buy, AND to help you decide which store would give you the greater savings that week.
Let's go back to the strawberry example and let's pretend I'm shopping at Kroger this week and I've already gone through the rebates available at Kroger.
My shopping list has strawberries (with an Ibotta rebate) and bananas.
Before I leave the house (or as I'm making my shopping list), I double check the Walmart rebates (another store close by that I shop at frequently).
As it turns out, there's a bananas rebate at Walmart AND the strawberry rebate. I add the banana rebate to my list.
This means that I can get rebates for BOTH items on my shopping list, and that I should shop at Walmart this week instead of Kroger.
Looking at your second store on Ibotta should literally take 1-2 minutes because you're stilling only checking the categories that apply to you.
However, because you have already added several rebates to your list (showing up as blue check marks on the rebate), the number of possible rebates that apply to you at this second store will be lower (showing up as red plus signs).
I view this second store as a "just in case" glance. "Just in case there are more rebates for the things I'm buying anyway, let me check Walmart real quick."
I did that just now as I'm typing this post and found asparagus, apples and sweet potatoes at Walmart – three things I would buy anyway that were NOT available for rebate at Kroger!
Finding Healthy Food in Ibotta
I mentioned earlier that I use Ibotta weekly, and every week I see a huge variety of rebates for healthy food in Ibotta.
To give you an example of what you can find – and how much you can save – I wanted to share with you a list of healthy food rebates I found in Ibotta.
A few things to consider:
I spent one afternoon writing down every single rebate from the two stores that I shop at most often (Kroger and Walmart) that could apply to a whole foods diet.
I also wrote down a few rebates from memory that I had redeemed in the past couple weeks.
Some of these rebates work for multiple purchases on one receipt, meaning if you buy more than one item, you get the rebate for all of them (up to the rebate limit in Ibotta).
Now I know you won't buy EVERYTHING listed in every category, but I want you to see the potential Ibotta has to help you save money on real food.
I put stars ** next to the items that I personally would typically buy (on a regular basis OR as a back-up to have on hand) and included a "Total Potential Savings" so you can see how much you could potentially save.
AND… because I found all of these rebates for healthy food in Ibotta in just one afternoon (plus a brain dump of recently redeemed rebates), you can easily redeem all of these within a one month grocery budget cycle and save BIG TIME.
Note: Because these rebates are time-sensitive (i.e. they have expiration dates) AND it's not always easy to save money on real food, I encourage you to buy healthy food in bulk whenever you can.
Dairy/Dairy Alternatives
Halo Top Ice Cream, 50¢**
Grass-fed Organic Milk, $1
Yogurt, $1**
Eggs, 50¢**
Cottage Cheese, 75¢
Brick Cheese, $2**
Shredded Cheese, $1
Almond Milk, $1**
Coconut Milk, $1**
→ Total Potential Savings: $23
(All of the potential savings totals include redeeming rebates multiple times. Each rebate has a different rebate limit. For example, I would redeem the ice cream 5 times (because there's a limit of 5), the yogurt rebates 3 times, etc. Your purchases may or may not be required to be on the same receipt, so read the rebate in Ibotta carefully.)
Of course you can make some of these things from scratch too:
Homemade Ice Cream // Homemade Yogurt // Homemade Almond Milk // Homemade Coconut Milk
Pantry
Oatmeal Cups, $1 wyb 2
Black Olives, 25¢ wyb 2**
Green Olives, 50¢ wyb 2**
Almond Butter, $1.50**
No HFCS Ketchup, $1**
Organic Ketchup, $1
Extra Virgin Olive Oil, $2.50**
Chocolate Chips, 50¢**
Stevia, $1
Vinegar, 75¢**
Mayo, $4.50**
Mustard, $1
Chickpea Pasta, 50¢**
Hemp Hearts $2 wyb 2
Honey, $1
Sauerkraut, $1.50**
All-purpose Flour, 50¢**
Kale Chips, $1
Pure Organic Fruit Bars, $1.50**
Pasta Sauce, $1**
BBQ Sauce, $1**
Larabar, $1.50
Larabar, $2
RxBar, $3
→ Total Potential Savings: $58.75
Homemade Mayo // Homemade Pasta Sauce // Homemade BBQ Sauce // Homemade Ketchup // Pumpkin Larabar Bites // Homemade Instant Oatmeal Packs
Beverages
Coffee, $1**
Cold Brew, $2
100% juice (apple, pineapple, etc.), 50¢ **
Kombucha, $1**
Bottled Water, 25¢
Tea, 50¢
Coconut Water, $1
Water Kefir, 45¢
Coffee Creamer, $2
→ Total Potential Savings: $12.50
How to Make Kombucha // Homemade Coffee Creamer
Produce
Asparagus, 25¢**
Apples, 50¢**
Sweet Potatoes, 25¢**
Kiwi, $1**
Apples, 25¢**
Green Beans, 25¢**
Brussels Sprouts, 50¢**
Artichoke, 50¢**
Strawberries, 25¢**
Blueberries 25¢**
→ Total Potential Savings: $10
Meat
Ribs, 75¢**
Sausage Links, 75¢**
Pork Chops, $1.25**
Tuna, 50¢**
Turkey Breasts, $1**
Tilapia, 75¢**
→ Total Potential Savings: $8
There's a significant savings right there in these individuals rebates alone, but at least half of these healthy food rebates qualified for bonuses too. If I took advantage of all the rebates I mentioned above, I'd qualify for another $14.50 back in bonus rebates…
That means the total amount I could save in ONE MONTH through rebates on healthy food in Ibotta is $95.05.
HOLY SMOKES!!
I'll be honest – I know I've been saving money on healthy food trough Ibotta, but this is the first time I've actually calculated the potential savings. THAT'S INCREDIBLE!
New rebates are added on Thursdays, so I recommend making a habit of uploading your receipts by Wednesdays and checking for new rebates on Friday morning, or before you go grocery shopping.
Using Ibotta is part of my weekly routine – I meal plan for the family, look at recipes I'm making/shooting for the blog, make my shopping list and then check Ibotta for any rebates for the things I am planning on buying anyway.
If you use the four steps I shared earlier, you can potentially rack up enormous savings every month in just a few minutes each week!
Join Ibotta for super savings on healthy food!
You can CLICK HERE to join my team on Ibotta. Team bonuses are a GREAT way to stack up the savings!
Add Ibotta to your arsenal of tools learned in Grocery Budget Bootcamp to really make the most of every single grocery dollar spent!
Tell me – do you use Ibotta? Have you figured out how to use it quickly AND save money at the same time? Know any "insider tricks" that could help the rest of us save even more? Share your stories in the comments below!